Thursday, December 01, 2011
Evelyn Madrid Erhard Announces Run for Congress in 2nd District

Evelyn Madrid Erhard, a Democrat, formally announces on Wednesday, November 29,2011 her campaign for Congress in New Mexico's second district.
Erhard invites members of the media and the public to a press conference on November 30, 2011 at
MVS Studios, which is located at 535 N Main St; Las Cruces, NM 88001. Participants will begin
gathering at 5:30pm and the event will start at 6:00pm.
During this event Erhard will deliver a speech and answer questions. The media will receive copies of
an additional press release. The campaign website will also be unveiled.
December 1, 2011 at 09:32 AM in Candidates & Races, Evelyn Madrid Erhard, Las Cruces, NM-02 Congressional Race 2012 | |
Monday, October 17, 2011
Democrat Evelyn Madrid Erhard Rallies Supporters in Quest for CD 2 Seat
Contributing writer Stephen Jones checks in with more on-the-ground coverage from Southern New Mexico.
Evelyn Madrid Erhard ramped up her campaign to recapture the 2nd Congressional District on Sunday at the home of Delia Narvaez in Las Cruces. The fundraising house party was one of several planned over the next two months. Erhard, a Democrat who announced her candidacy for Congress a few weeks ago, promises a spirited grassroots campaign to recapture the Congressional seat now held by Steve Pearce (R-CD2). In her remarks to the gathering, Erhard promised a tough issue-oriented campaign that would focus on jobs, strengthening public education, affordable health care, and protecting Social Security and Medicare.
"I am a lifelong New Mexican and have lived in this community for thirty six years. I'm sorry to say that for thirty of those years we have been represented by only two people, Steve Pearce and Joe Skeen, and neither of them has done anything for the people of southern New Mexico," Erhard said. "You know, I also have to say this, because it's true, and because it has a lot to do with why I decided to run for Congress. The Republicans have gotten all these people to be against other people; they pit people against other people, and that is just wrong. You know those Republicans, like us, who are '99%-ers' too, they really need the same things that we need. They really do. So it's sad, really sad, that they fall into the trap of being pitted against other people who are just like themselves," Erhard said.
"I'm running for Congress because for too long we have been ignored," she said, referring to her opponent, Congressman Pearce. "I've heard people say, 'well, he's tough.' You know he's not tough. He's really just mean," she said, "and there gets to be a point in time, like in a children's story, where the kids get fed up and say 'Boo!' back. So I just want you to know, I want to tell you now, I'm not afraid of him. We've seen that play before. So when he comes around with his attacks, like he always does, I plan to say back to him, you know you've been around a long time and you've never done anything for anyone in our district. I plan to say, you backed the people who took us to the brink, then stood back while the whole economy went down the tubes. You voted for two unfunded wars, you backed the Ryan budget that would strip our seniors of their Medicare. You are responsible for the situation that we're in," Erhard said.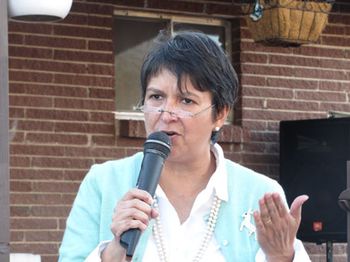 "I've been to the neighborhoods and to the communities in this district and I've heard the voices of people who live and work here," she said. "People are hurting here. I want you know that I've heard what people have to say, the challenges that they're facing, and I want to say here, right now, I'm the one who is going to go back to Washington and speak for them, speak for the people of this district. I plan to be a voice for all of New Mexico, and I hope, with your support, that I will be the person who speaks out in Congress for the things that we need. First and foremost, we need good jobs!"
Erhard also promised to work hard to protect and strengthen the Affordable Care Act, and to support legislation that protects consumers against the abuses of the insurance industry. She stressed the importance of a good public education system as the foundation for growing economy for the region.
"Jobs are the number one issue," she said, "and we need to protect Social Security and Medicare. Pearce and the Republicans have signed on to the Ryan budget bill, so it's real important we elect someone with a priority to stand up for health care and to work for our seniors," Erhard said. "After that we need to be looking to protect human and civil rights. Those seem to always be under attack from the Republicans." Erhard said she supports collective bargaining rights "absolutely," and also will work to protect the landmark Voting Rights Act, which is again under attack from the right. She also supports the Employment Non-Discrimination Act (ENDA) that would protect the LGBT community nationally against employment discrimination. "It's important to speak out for human rights and civil rights more than ever, because the Tea Party and the Koch brothers have made such an effort to use people's fears to encourage hate among people, and cause great division to cover up their own political and economic failures," she said.
Erhard took aim at her opponent's cozy relationship with the oil and gas industry. "Oil and gas are important to the economy of this District," she said, "but we need to support the job-creating new energy industries in solar and wind, and in biofuels that we in this area should be the economic leaders in," she said. "Southern New Mexico is blessed with so much sun, it needs to become the engine of a strong, renewable economy in New Mexico." Erhard also hopes to enlist New Mexico State University, which she termed "a world-class institution in the field," in helping to train workers, and to develop and add research skills to the emerging renewable economy of the area.
Erhard also promised to support wilderness protection for the iconic Organ Mountains near Las Cruces. "We are blessed with such incredible natural beauty here in New Mexico," she said, "we need to do everything we can to be good stewards of our wild lands."
Evelyn Madrid Erhard is a lifelong New Mexican who grew up in Española and is a resident of Mesilla, New Mexico. She earned a Master's Degree in Communications Studies. She has worked as a technical writer, and teacher at Doña Ana County Community College and at New Mexico State University. She also owned and operated a small storefront shop for six years.
Photos by Stephen Jones. Click images for larger versions. To see more posts by Stephen, visit our archive.
October 17, 2011 at 06:15 AM in By Stephen Jones, Contributing Writer, Evelyn Madrid Erhard, Events, Las Cruces, NM-02 Congressional Race 2012 | Permalink | Comments (0)
Sunday, October 09, 2011
10/16: Fundraiser for Evelyn Madrid Erhard for Congress in NM-2
From Madrid Erhard for Congress:
Evelyn Madrid Erhard for Congress Fundraiser
Democrat for New Mexico CD-2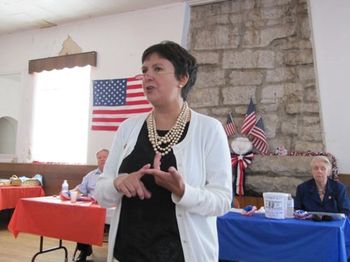 Sunday, October 16
Delia Narvaez Home
4:00 PM to 6:30 PM
1435 Grover Dr., Las Cruces, NM
BBQ (and Mexican food donated by Roberto's of Las Cruces)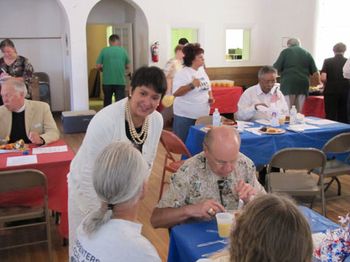 Directions: West on Avenida de Mesilla to Roberts Dr.; left (south) on Roberts to Grover Dr.; right on Grover Dr. The suggested donation is $30.00 and an RSVP is appreciated by calling: Maury Castro, ph. 575-541-6099 or 575-571-1923 (cell) or email maurycastro33@yahoo.com.
Photos by Stephen Jones, from Otero County Democrats Labor Day Breakfast.
October 9, 2011 at 11:05 AM in Evelyn Madrid Erhard, Events, NM-02 Congressional Race 2012 | Permalink | Comments (0)