« 1/9: Re-Election Campaign Kickoff for Bernalillo County Clerk Maggie Toulouse Oliver | Main |
Thursday, December 29, 2011
1/17: Occupy the New Mexico Roundhouse
Opening day of the 2012 New Mexico Legislature Occupy New Mexico has got great plans for the Roundhouse. "Come ready to exercise your rights to free speech and assembly — speaking your own voice while actively listening to and respecting the voices of others."
The Occupy New Mexico website lays out the days activities. "A unified Gathering of statewide New Mexico Occupy groups and diverse allies will converge in Santa Fe at the NM State Capitol for opening day of the 2012 NM Legislature, on the corner of Old Santa Fe Trail & Paseo de Peralta, at 10:30 a.m. At 11:30 am, a march will start at the Railyard Station (North) and make its way to the Roundhouse. We will then all merge together and march in a continuous circle around the Roundhouse – OUR HOUSE!"
"As the 2012 New Mexico Legislature convenes on Tuesday, January 17, 2012 for a 30-day session, come create history and join the 99% to reclaim our Capitol from the 1% who think they own it. In this centennial year marking 100 years of New Mexico statehood, the citizens of New Mexico will take back our democracy from the corporations and make it work again for the People!"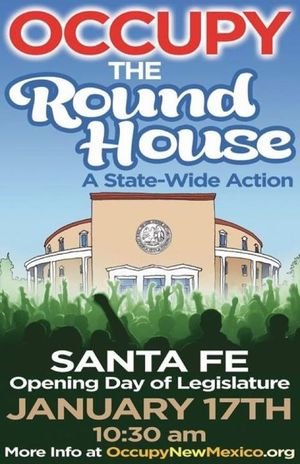 December 29, 2011 at 07:46 PM in Action Alerts, Events, NM Legislature 2012, Occupy Wall Street | Permalink
Comments
Great turn out, great messages, the opposition has its smear campaingn and censorship. We had chanting, nearly 600 protestors, music, supporters, and clear messages to end corporate control and to restore "Our House" back to the 99%.
Posted by: RobertPFrancis | Jan 18, 2012 10:39:35 AM
Post a comment