« 4/14: OFA-NM ABQ Westside Office Opening Party | Main |
Friday, April 13, 2012
NM-1: United Food and Commercial Workers Union (UFCW) Local 1564 Endorses Eric Griego for Congress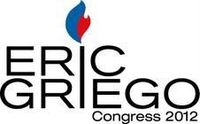 On Thursday, Eric Griego for Congress in New Mexico's First District announced the endorsement by the United Food and Commercial Workers Union (UFCW) Local 1564, which represents 3,300 members working at Smith's, Albertson's, Safeway and John Brooks stores in New Mexico.
"The middle class is under assault by powerful corporate interests fighting for millionaires, and we need more proven fighters for middle class workers and their families in Washington," said Greg Frazier, President of UFCW Local 1564.  "UFCW Local 1564 is proud to endorse Eric Griego for Congress because he has always stood with workers and their families to fight for their rights."
"I'm proud of receiving the support of New Mexico's supermarket and grocery store workers represented by UFCW," Eric Griego said.  "Together, we will fight to strengthen worker rights and build the middle class in New Mexico."
UFCW Local 1564's endorsement follows Griego's recent endorsements by the American Postal Workers Union (APWU) Local 380 and CHILE-PAC.
Griego's fast-growing Democratic coalition consists of labor unions, environmental groups, national and local progressive organizations, and leaders on women's issues.  They include:
New Mexican Democratic Leaders:
Senators Dede Feldman, Public Affairs Committee and Interim Committee on Health and Human Services Chair   ●   Steve Fischmann   ●   Mary Jane Garcia, Senate Majority Whip   ●   Tim Keller   ●   Richard Martinez, Judiciary Committee Chair   ●   Cisco McSorley   ●   Cynthia Nava, Education Committee Chair   ●   Jerry Ortiz Y Pino   ●   John Pinto, Indian Affairs Committee Chair   ●   Former Senate Pro Tem Richard Romero   ●   Representatives Eleanor Chavez   ●   Miguel Garcia, Labor Committee Chair   ●   Antonio Lujan   ●   Antonio "Moe" Maestas   ●   Henry "Kiki" Saavedra, Appropriations Committee Chair   ●   Mimi Stewart, Health and Government Affairs Chair   ●   Former State Representatives Delano Garcia and Al Otero   ●   Albuquerque City Councilors Isaac Benton and Rey Garduño   ●   Former Councilor Michael Cadigan   ●   County Commissioners Don Holliday, Valencia County and Kathy Holian, Santa Fe County
Progressive Organizations and Leaders:
Congressman Raúl Grijalva and Congressman Keith Ellison, Co-Chairs of the Congressional Progressive Caucus   ●   Blue America PAC   ●   Bob Fertik, Democrats.com   ●   CHILE-PAC   ●   Citizens for Global Solutions PAC   ●   Democracy for America (DFA)   ●   eQuality Giving   ●   Jim Hightower, Populist Author and Commentator   ●   Martha Burk, former Chair of National Council of Women's Organizations   ●   MoveOn.org Political Action   ●   Progressive Change Campaign Committee (PCCC)   ●   Progressive Democrats of America (PDA)   ●   Progressive Push   ●   Students for a New American Politics (SNAP PAC)   ●   The Daily Kos
Labor Organizations and Leaders:
American Federation of State, County and Municipal Employees (AFSCME)   ●   American Federation of Teachers (AFT)   ●   American Postal Workers Union (APWU) Local 380   ●   Bakers, Confectionaries, Tobacco Workers and Millers International Union (BCTGM) Local 351   ●   Christine Trujillo, Immediate Past President, New Mexico Federation of Labor, AFL-CIO   ●   Communications Workers of America (CWA)   ●   District 1199NM National Union Hospital and Healthcare Employees   ●   International Brotherhood of the Teamsters (IBT)   ●   Sheet Metal Workers International Association (SMWIA)   ●   United Food and Commercial Workers Union (UFCW) Local 1564
Environmental Organizations:
Conservation Voters New Mexico (CVNM)   ●   League of Conservation Voters (LCV)   ●   The Sierra Club
About NM-01: Top national target, Democratic district
New Mexico's First Congressional District includes Albuquerque and most of its suburbs and parts of surrounding counties, and is 45% Hispanic.  It is a DCCC "Red to Blue" district that is rated as "Likely Democratic" by both the Cook Political Report and Larry Sabato's Crystal Ball.
The district has been held by Democrat Martin Heinrich since he won the open seat in 2008.  Heinrich is vacating the seat to run for the U.S. Senate seat currently held by Democratic Sen. Jeff Bingaman.  In every election since 2000, the Democratic presidential nominee has carried the district.  In 2008, President Obama won the district by 20 points and Heinrich by 12 points.
Even during the 2010 Republican wave, Heinrich held the seat with 52% of the vote.  The seat trended Democrat since at least 2006, when former Republican Rep. Heather Wilson barely won by only 875 votes.  The district is a prime pick-up opportunity for a real progressive.
April 13, 2012 at 03:30 PM in Candidates & Races, Eric Griego, NM-01 Congressional Race 2012 | Permalink
Comments
Post a comment