« US Senate Candidate Congressman Martin Heinrich at Pre-primary Convention | Main | State Senator George K. Munoz Announces Film Jobs Headed to Gallup »
Wednesday, March 14, 2012
CD1 Candidate Michelle Lujan Grisham at Pre-primary Convention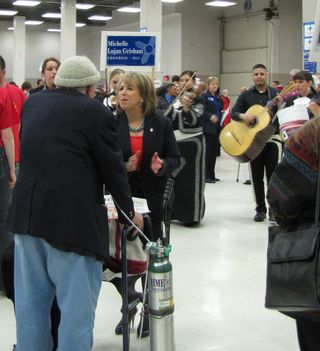 Bernalillo County Commissioner Michelle Lujan Grisham started the convention day off with a Mariachi Band in the large hall prior to the convention being called to order. Michelle was dancing with possible delegates trying to get votes down to the very end.


Michelle was nominated by a fire fighter and seconded by her daughter. She had her daughters and mother on the stage with her. Her speech focused on her work with seniors and her work as a commissioner creating jobs. How she has been an advocate for those who can not advocate for themselves.
Below is the Michelle Lujan Grisham speech delivered to the delegates at the Democratic Pre-primary Convention.
Michelle Lujan Grisham sent out the following thank you letter to the CD1 Pre-primary delegates:
Thanks to you, Michelle received solid support at the Democratic Party Pre-Primary Convention this weekend and is officially on the ballot for the June 5th Democratic primary. She has only been in the race for six months; yet she shocked her opponents, both longtime party insiders by attracting more than a quarter of the party faithful. Your hard work, your donations, and your votes made all the difference.

She is in a great position, with the most money and resources, to surge into the June election, but she needs your help more than ever.  Michelle showed this weekend that this is a competitive, three-candidate race. She needs your support to get her message out to the broadest possible audience. We all know that people who get to know Michelle will get on board and support her. 
Michelle said on Saturday: "I am prepared for an aggressive primary campaign that lets voters know that I will stand up to the bullies who are waging the Republican War on Women; I will stand up to the insurance companies and fight to bring down health care costs for our small businesses, seniors and families; and I will stand up for all New Mexicans who need a job or want the opportunity to work."
March 14, 2012 at 09:37 PM in 2012 DPNM Pre-Primary Convention, Democratic Party, Michelle Lujan Grisham, NM-01 Congressional Race 2012 | Permalink
Comments
Michelle was introduced by Kyle Hartsock, President of the Bernalillo County Deputy Sheriff's Association
Posted by: Catherine Sherwood | Mar 15, 2012 9:28:09 AM
I feel that Ms. Lujan-Grisham is the best of the best and should be the one in Congress to represent District 1 and New Mexico.
Posted by: Deborah | Mar 16, 2012 3:22:22 PM
Michelle Lujan-Grisham is the best choice for CD1. She has demonstrated she can accomplish goals instead of yelling about problems without finding solutions. We will not have to worry about ethics and scandals if she is elected.
She is the best candidate the Democrats can put up against Jones.
Posted by: Tony | Mar 18, 2012 10:44:14 AM
Post a comment