« May 2011 | Main | July 2011 »
Thursday, June 30, 2011
PPP Poll: Heinrich, Wilson Lead in Senate Primaries, Bachmann in GOP Prez Primary
According to results of more early Public Policy Polling (PPP) surveys released today, Congressman Martin Heinrich leads State Auditor Hector Balderas by a whopping 47-24 in the Dem primary for the Senate seat open due to the retirement of Senator Jeff Bingaman (D-NM). PPP opines that Heinrich is "bolstered by greater name recognition" and notes:
Although Heinrich is weaker among Hispanics, who make up 46% of the Democratic primary electorate, he still leads Balderas 39-36. However, since a majority of Democratic voters are still unwilling to give an opinion of Balderas, Balderas has more room to grow.
A total of 29% of those surveyed have a favorable opinion of Hector Balderas, with 19% unfavorable and a large number -- 51% -- not sure. In contrast, 50% of those polled see Martin Heinrich in a favorable light, with 20% unfavorable and 27% unsure.
In the GOP primary for U.S. Senate, Heather Wilson holds the lead against all the other possibles mentioned, 43% to Gary Johnson's 22%, John Sanchez's 18%, Greg Sowards' 4%, and Bill English's 3%. Without Johnson, Wilson's reaches majority support with margins of 52% to 24% for Sanchez, 8% for Sowards, and 4% for English. PPP comments that:
Wilson leads by strong margins across the Republican ideological spectrum. She leads Sanchez 48-19 among Moderates and 48-31 among very conservatives.
As for the GOP presidential primary:
Michele Bachmann has surged to become Mitt Romney's chief competitor in each state PPP has polled since the last Republican presidential debate, and New Mexico is no different. With Sarah Palin and Gary Johnson in the race, Bachmann leads the pack with 21% to Romney's 18%, Johnson's 13%, Palin's 11%, Herman Cain's 10%, Tim Pawlenty's 7%, Newt Gingrich's 6%, and Ron Paul's 5%. It's hard to see how Johnson can win the nomination if he's stuck in third place in his home state.

Without Johnson, the race is tied with Bachmann and Romney each getting 22% of the vote. They are followed by Palin with 14%, Cain with 10%, Pawlenty and Paul with 7%, Gingrich with 4%, and Jon Huntsman with 3%. Without Palin or Johnson, Bachmann has the lead. She takes 27% to Romney's 23%, Cain's 12%, Paul's 8%, Pawlenty's 7%, Gingrich's 6%, and Huntsman's 4%. Bachmann's advantage stems from her strength with very conservative voters where she leads Romney more than 2-1.
An article on PPP's blog expands on what the numbers mean in the GOP presidential primary, pointing out that:
Bachmann's lead in New Mexico is built on strong support from the far right. 28% of 'very conservative' voters say she's their top choice to 16% for Palin and 12% for Romney. Johnson has the upper hand with moderate voters- 21% to Romney's 18% and Bachmann's 14%. And Romney has the advantage with voters just to the right of center- 27% to Bachmann's 14% and Johnson's 13% with 'somewhat conservative' folks. But that 'very conservative' voter bloc is the largest part of the Republican electorate in New Mexico at 43% and that lead with them gives Bachmann the overall advantage.
Rather surprisingly:
Johnson has the weakest favorability numbers with his home state Republican primary voters at 47/40. Some of his unorthodox positions aren't playing well with the base, even if they do give him an unusual level of popularity across party lines with Democrats and independents.
Full results and crosstabs are here. PPP surveyed 400 usual New Mexico Republican primary voters and 400 usual Democratic primary voters, with a +/-4.9 margin of error, from June 23th to 26th.
See other recent posts on political polling in our archive.
June 30, 2011 at 03:21 PM in 2012 NM Senate Race, 2012 Presidential Race, Gary Johnson, Heather Wilson, Hector Balderas, Polling, Rep. Martin Heinrich (NM-01) | Permalink | Comments (5)
How to Help ABQ Roadrunner Food Bank Respond to Fire with Santa Fe Food Depot
From Roadrunner Food Bank:
In response to the evacuation of Los Alamos, the Santa Fe Food Depot has begun preparing for food response to evacuees of the Las Conchas Fire. The Santa Fe Food Depot has asked Roadrunner Food Bank to help in its support of the efforts.
"To enable our community partners like the American Red Cross and Salvation Army meet the request of fire responders and those evacuated from their homes, we are launching special disaster relief drives now," said Sherry Hooper, executive director of the Santa Fe Food Depot.
Hooper continued, "We have asked Roadrunner Food Bank of New Mexico to aid in our collection activities and help us collect food and funds in the Albuquerque area."
Roadrunner Food Bank has already sent a load of water to the Santa Fe Food Depot. Roadrunner Food Bank will also be serving as a collection point for food and monetary donations. All donations earmarked for this effort will be given to the Santa Fe Food Depot. See below for details.
HERE'S HOW TO HELP:
Monetary Donations
1) Online Donation – please check the box labeled "Las Conchas Fire."
2) Text to Donate $10 – Text RRFB FIRE to 20222. Visit www.hmgf.org/t for Mobile Foundation terms
3) Call 505.349.8909 to donate during operating hours.
Food Donations
Food donations will be accepted at Roadrunner Food Bank during our regular business hours Monday-Friday from 7:30 AM to 4 PM. Or, people can visit our established food off sites throughout Albuquerque. A list can be found on our website at:
https://www.rrfb.org/take-action/donate-food/food-drop-off-locations/
Types of Food to Donate
Bottled water
Handheld snacks such as granola and breakfast bars, trail mix, nuts, dried fruit
Protein items such as peanut butter and beef jerky
Meal supplies such as dried beans, rice and pasta
Personal care items such as deodorant, toothpaste/toothbrushes, bar soap, shampoo/conditioners, hand wipes
Paper products such as toilet tissue, napkins, cups, plates, towels, plastic cutlery
Please note that we are unable to take donations of clothing and/or furniture
June 30, 2011 at 11:32 AM in Food and Drink, Los Alamos | |
NM Senate Majority Whip Mary Jane Garcia to Receive National NEA Civil Rights Award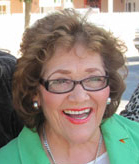 Mary Jane Garcia (D-Dona Ana), Senate Majority Whip of the New Mexico Senate, has been selected to receive the 2011 National Education Association (NEA) Reg Weaver Human and Civil Rights Award. Senator Garcia will receive the national award at the NEA annual meeting that is being held in Chicago on June 30—July 5. NEA will present the Reg Weaver Award to Senator Garcia at the Human and Civil Rights Award dinner on Friday, July 1, 2011 at 6:30 PM. Congratulations Senator Garcia!
Upon receiving notice that she had been selected, Senator Garcia said, "Of the many awards I have received in my tenure serving in the state Senate of New Mexico, this is probably the most prestigious and significant." Senator Garcia added, "I will continue to fight for the dignity and respect of the disadvantaged and I will always work to ensure that their civil and human rights are protected."
As most of us know, Senator Garcia's priorities during her elected service have always been related to poverty, children and human rights. Her legislative successes include creating the Act of Human Trafficking in 2008; Life Sentences for Deadly Child Abuse in 2005, which increased penalties for child abuse; the Hate Crimes Act of 2003; the Subdivision Reform Act of 1995, which instituted requirements for colonias in New Mexico; Megan's Law, which created a sex offender registry in 1995; and the Family Violence Act of 1993.
The Reg Weaver Human and Civil Rights Award is a prestigious national award, and nominees are evaluated on the merits of educating the public on issues related to the impact of poverty on children; working actively to promote economic opportunities for all people; inspiring public engagement in the elimination of poverty; promoting public policy that positively affects the economic health and welfare of families; and working in partnership with other agencies/groups to give a voice to those marginalized by poverty.
Photo by Stephen Jones.
June 30, 2011 at 11:00 AM in Children and Families, Civil Liberties, Education, NM Legislature 2011, Poverty | |
Wednesday, June 29, 2011
PPP Poll: Obama's NM Approval at 50%, "Dark Horse" Gary Johnson Fares Best Among GOP Possibles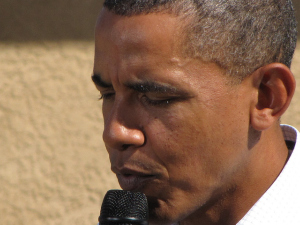 Obama in Albuquerque last fall
Survey results released today by Public Policy Polling show that President Barack Obama still leads the pack of "serious" 2012 GOP contenders in New Mexico (full results here):
Like the Senate race, the presidential contest in New Mexico has gotten closer since PPP last polled this nominal swing state in February, but only two of the potential Republican nominees make it a single-digit race—the frontrunner and a favorite son dark horse.
As for Obama's approval ratings here
50% of voters in the state approve of the job Obama's doing to 44% who disapprove. When PPP polled New Mexico in February Obama was at a 55/40 spread. Since then he's seen a significant decline in his standing with independents, from 60% giving him good marks to just 49%. And he's also seen a more modest drop with Democrats, from 77% pleased with his performance to 72%.
Regarding the President's "serious" GOP rivals:
Obama's still a strong favorite against any of the serious Republican candidates for President though. Only Mitt Romney fares significantly better than John McCain did in 2008 when he lost the state by 15 points. He trails the President by 7 points at 49-42. Obama blows away the rest of the field- he leads Michele Bachmann and Tim Pawlenty by 15 points each at 52-37 and 51-36 respectively, has a 16 point advantage over Herman Cain at 52-36, and trounces Sarah Palin by 20 points at 56-36.
New Mexico's former governor Gary Johnson actually does better against Obama than Romney, but he's not considered a "serious" contender by PPP:
... one GOP candidate who is an asterisk in national polling actually comes closer to Obama than he [Romney] does- the state's former Governor Gary Johnson who trails by only 3 points at 46-43. Although Obama leads the rest of the Republican candidates by 16-26 points with independents, Johnson actually tops the President with that voter group at 46-37. He also picks up more than 20% of the Democratic vote. 

... Johnson's unusually popular for a Republican...with voters who aren't Republicans...his problem is the primary voters who hold the key to the nomination. Numbers we'll release tomorrow show he's not doing terribly well on that front even in his home state.
PPP notes that:
While independents gave the President leads of 25-51 points in the previous survey, and voted for him by 15 over McCain (according to exit polls), he now leads by only 16-26 against the more prominent candidates and trails Johnson by nine with unaffiliated voters. The president has also slipped a little with his own party, which makes up more than half of voters. While he was pulling 73-86% of Democrats in February and losing only 12-19% of them to the Republicans, he now locks up only 70-80% of his partisans and erodes 13-21%.

But there is more crossover support on both sides; both Obama and McCain won 91% of their respective parties, and the president has bumped up from a 10% to a 16% approval rating with Republicans since February, and jumped from 7-12% of their vote to 10-18%.
PPP's bottom line:
Out of the Bush 2004/Obama 2008 states New Mexico seems the least likely to flip back to the Republicans in 2012.
PPP used automated phone calls to survey 732 New Mexico voters from June 23th to 26th. The margin of error for the survey is +/-3.6%.
Photo by M.E. Broderick.
June 29, 2011 at 04:30 PM in 2012 Presidential Race, Gary Johnson, Obama NM Campaign, Polling | Permalink | Comments (3)
NM Supreme Court Agrees to Hear Case for Intervention in Industry Appeal of Carbon Cap Rule
Progress: Today, the New Mexico State Supreme Court agreed to hear a case filed by the New Mexico Environmental Law Center (NMELC) on behalf of its client, New Energy Economy (NEE). The NMELC filed an emergency petition asking the Supreme Court to review a Court of Appeals' ruling that barred NEE from participating in an appeal filed by PNM.
In its appeal, PNM, the state's largest source of carbon pollution, is asking the Court of Appeals to invalidate New Mexico's carbon pollution reduction law, which was adopted by the Environment Improvement Board (EIB) in December of 2010. NEE and NMELC led a two-year public process that resulted in the creation of New Mexico's landmark carbon cap law.
"It is essential that NEE be allowed to participate in the appeal," says Bruce Frederick, NMELC Staff Attorney. Frederick explains that both PNM and the new members of the EIB, all appointed by Governor Martinez, oppose the rule. "So neither party in the appeal has any interest in defending the rule," he says. "We will defend the rule because we provided the hundreds of hours of scientific and economic expert testimony" that persuaded EIB to adopt the rule. "It would be a great injustice if our client was now barred from explaining this testimony to the court on appeal."
"Since PNM is opposed to the carbon reduction law and Governor Martinez's EIB is as well, it's only fair that we be given an opportunity to defend the carbon pollution reduction rule," says Mariel Nanasi, Executive Director of New Energy Economy.
The rule requires facilities that emit more than 25,000 metric tons of carbon pollution per year to reduce these emissions by 3 percent per year from 2010 levels starting in 2013. The law has been lauded by national experts for its capacity to improve New Mexico's energy security by means of predictability, market-based mechanisms and extensive compliance flexibility.
The Supreme Court has ordered that responses to this petition be filed with the court on or before July 11, 2011. (Click for order (pdf).
June 29, 2011 at 02:55 PM in Climate, Energy, Environment, Legal Issues, Regulation | |
Bill McCamley Guest Blog: Drawing Districts -- Why Constituents Should Care

This is a guest blog by Bill McCamley, a former Doña Ana County Commissioner who is currently employed with ROJO Apparel (a Las Cruces Clothing Company), and was recently the Chair of the Las Cruces Ad-Hoc Citizens Redistricting Committee.
"We are in the business of rigging elections."
--Former State Senator Mark McDaniel (R-NC)
Warning: before you read this article, know that the topic of redistricting can be extremely boring. Yet it is also one of the most important fundamentals to democracy in the United States and is happening right now at the local, state, and federal level.
What is redistricting? Generally, every ten years (when the results of the census are reported) governmental bodies redraw the lines of the districts that determine which person represents which geographic area. This is done from the city council and school board level all the way to the United States Congress, and happens because, to put it very simply, people move and populations grow. If we didn't redraw these lines, some representatives would end up representing very few people, while others would represent many more. That is not fair for either the representatives or the constituents living in those bigger areas.
Though necessary, the process has been used since the nation's founding to favor one group over another.
Cracking, Packing, Gerrymandering
As an example, let's say you are a group of vegetarians who have been in power for a while (creating laws favoring the serving of hummus and lentils), but there is a growing meat-eating community in your state located in a city center (interested in a more pro-steak policy). However, they are surrounded by a slightly larger population of vegetarians living in the suburbs. Two districts must split the area. So the vegetarians in power divide the district in half leaving a minority of meat eaters in each district, therefore decreasing the chance any of them will be elected. This process is called cracking.
Or, a group of dog owners in a state has traditionally had power and spent time and money on pro-dog public policy issues (fire hydrants, squeaky toys, Milk Bones, etc.). However, there is a growing cat-owning population in one city, and they are much more concerned about their issues (laser pointers, scratching posts, catnip, and so on). This population is getting so big that it is impossible to crack them effectively. If there are three districts, however, the dog owners in power can still curb the cat-lobby influence by drawing a circle around the cat-owning population and limiting that area to only one likely pro-cat representative, leaving the other two districts representing a majority of dog-owners. This process is called packing.
Packing and cracking are both examples of gerrymandering, a term that comes from a district drawn in Massachusetts during the early 1800's by a Governor named Elbridge Gerry. In many cases, gerrymandering can create lines that look like something put on a refrigerator by a proud parent of a kindergartner.
In today's political environment, gerrymandering is generally used to create advantages for a political party and protect incumbents. Computer technology has made professional demographers very good at using census information to predict the results of future elections using packing and cracking.
Damaging Impacts of Gerrymandering
There are many reasons this can be bad for democracy. First off, it leads to a reduction in competitive elections. For instance, there are 435 representatives in Congress. In most years, over 350 run in "safe" seats, meaning that only 20% of representatives face any sort of competition. This creates:
1. Less participation in elections (why vote if you are already pretty sure who is going to get elected?).
2. Less complete representation (fewer people turning out means party stalwarts who vote in primaries are more influential than the public at large).
3. Less accountability (if representatives are assured of election, why bother listening to their constituents?).
4. More partisanship (as there is no reason to moderate a vote if the only people you are trying to please are more likely on the extremes of your own party).
Alternatives
Over the years, some bodies have tried to implement changes to the redistricting practices so that more representative districts are drawn. This generally puts more power for drawing lines into the hands of citizen committees instead of the bodies that stand to benefit from the redistricting process. They vary from simple advisory boards to a recent California decision that completely stripped the legislature of redistricting power and placed it in the hands of a commission of citizen volunteers picked through an exhaustive process, with their recently released initial map drawing many incumbents out of their districts.
In New Mexico, the City of Albuquerque has had a redistricting committee for the last thirty years, while Las Cruces and Doña Ana County are currently experimenting with similar advisory boards. These committees educate themselves and the public on how redistricting processes work, get input from interested citizens on concerns regarding community changes, and make recommendations to their respective Boards on how new districts should be drawn to accurately and fairly represent their populations. The Mayors, Councilors, and Commissioners from these areas should be congratulated for delegating responsibility for redistricting to more neutral boards that do not stand to directly benefit from the process.
Come Together
When Henry Ford originally sold the Model T, he once said that his customers could "have any color they want as long as its black." While that may work for a private company, it is a terrible model for representative government. Unless voters have real, actual options to consider in an election, public officials become less accountable and our democracy is greatly weakened. For that reason, voters of all political stripes and across all parties should come together and demand that gerrymandering stop.
This is a guest blog by Bill McCamley. If you'd like to submit a piece for consideration as a guest blog, contact me by clicking on the Email Me link at the upper left-hand corner of the page.
June 29, 2011 at 12:25 PM in Guest Blogger, Redistricting | |
Former ABQ Mayor Martin Chavez Enters Race for Congress in NM-01
With the release of a 4-minute plus video (see above) on his new campaign website, former three-term Albuquerque Mayor Martin Chavez -- who now serves as Executive Director of ICLEI USA, a group that is dedicated to advancing climate protection and sustainable development -- today announced his entry into the Democratic primary race for Congress in New Mexico's First Congressional District. The seat is being vacated by Dem Rep. Martin Heinrich, who is running for U.S. Senate.
So far, the only other House candidate on the Dem side is current State Rep. Eric Griego, who once ran unsuccessfully against Chavez for mayor of Albuquerque and is a long-time political rival of Marty. Griego served on the Albuquerque City Council while Martin was Mayor. Today, former Lt. Governor Diane Denish stated she would not be running for the NM-01 House seat.
Chavez's announcement video takes a talk-to-the camera, down-home approach, and puts significant emphasis on education. He discusses his family roots and his days growing up in Albuquerque when he would spend hours each week, around the corner from his home, reading at the Ernie Pyle Library, which was once the home of the world-famous war correspondent. Chavez is standing in front of the library during the video. He says:
Everything I've worked for in public service grew from these years in this library -- my commitment to public education, my belief that every child needs a place where they can feel safe and where they can learn, and my determination to strengthen the economy and prepare out children for the next generation of jobs with the best education we can give them.
Mayor Chavez then discusses his work fighting for financial support for education as a New Mexico legislator and supporting various education initiatives, saying:
Now in Congress I'll be a tireless advocate for investments in education and for New Mexico's schools. With so much at stake in this national budget crisis, I'll never sacrifice the education of our children. I know from my own life how important those early years are.
He moves on to a Washington isn't working theme, saying Congress needs leaders "who know how to get things done," and follows with a litany of what he sees as his achievements as Albuquerque Mayor. He says,
That's the record I'll bring to Washington as a New Mexico Democrat -- a forward-looking, progressive record of change and getting things done at a time when we need it most. Right now Washington is mired in partisanship and brinkmanship. Instead of working to create good-paying jobs, Republicans in Congress are using the struggling economy as an excuse to destroy Medicare, roll back investments in education and turn back the clock on health care reform -- all in order to preserve tax breaks we can't afford to the wealthiest Americans.
Why is Chavez running?
I'm running for Congress to stand up for New Mexicans who don't have a voice in Washington.
He closes with a statement about the need for all of us to work together to solve our economic problems and says:
The key to rebuilding our economy is investing in education and innovation because that's how we create jobs. For me, it all comes back to the promise I found in this small library -- if you give a child a book and a glimpse of all they can achieve, from that small beginning anything's possible.
The release of the video this morning was preceded by an article in today's Albuquerque Journal that focused on Chavez's entry into the race:
Chávez said Tuesday that as a House member, he would seek to balance the federal budget while supporting programs such as Medicare and Social Security to protect society's "most vulnerable."

"It really is about the economy and how perilous it is," he said. "And you can't have a strong economy unless you balance the budget."
The article discussed Chavez's current job and how it has shaped his views of Washington:
Since losing the 2009 mayoral race to Albuquerque Mayor Richard Berry, Chávez has served as the executive director of ICLEI USA, an international nonprofit organization that works with local governments to improve energy and environmental sustainability in development.

Chávez said that his recent work, which has required him to spend significant time in Washington D.C., has given him a better idea of how the federal government is operating.

"I have watched the way the federal government works, and, frankly, it doesn't work," Chávez said. "This is one of the most dysfunctional places I've ever seen."
The article also quoted Chavez on what his focus would be in Congress:
Chávez said he would focus on bringing green energy and technology jobs to the district. The federal government's role in education will be another priority, an area Chávez said is not competitive with other countries.

Chávez said he would fight the Republican budget plans that include proposed overhauls of Medicare and Medicaid funding. He said he would oppose cutting tax rates while safety net programs are on the chopping block.
June 29, 2011 at 10:53 AM in Martin Chavez, NM-01 Congressional Race 2012 | |
Media Matters: Rep. Steve Pearce Lies to Elderly Constituent on Medicare Cuts in GOP Budget Plan
In a post on its Political Correction blog, national media watchdog group Media Matters reports that GOP Rep. Steve Pearce (NM-02) lied when an elderly constituent at a town hall meeting in his district asked him about the fact that Medicare privatization in the GOP budget plan "primarily affects women and the poor." In his response to the question, Pearce claimed there were no Medicare cuts in GOP Rep. Ryan's budget and that, in fact, only the health care reform law has cuts to Medicare:
CONSTITUENT: Medicare privatization and cuts in Social Security primarily affect women and the poor and I was wondering if there is any way that that can be addressed so that everybody feels some of the pain.

PEARCE: You bet, right now there is a lot of discussion going on about Medicare and all that was suggested. Frankly, under the Ryan plan, you can like it or dislike it, but under that plan there were no cuts proposed for Medicare at all. And then under -- there was no other plan suggested, the Democrats haven't suggested one, so right now there haven't been cuts. Now the health care bill that was passed last year, had 500 billion cuts to Medicare so you still want to be aware of that, Medicare Part A or part -- anyway Medicare Advantage is where the cuts were coming out of. So right now, I don't see any cuts at all for Medicare especially for people 55 and older. Again, those things are kind of lost in all the discussion, but nobody is suggesting we change the program for people who are in it.
Watch:
Rep. Pearce either didn't read the budget he voted for or he's lying to his constituents. The House-passed GOP budget calls for the repeal of the Patient Protection and Affordable Care Act, but keeps the $500 billion reduction in Medicare Advantage spending growth that Republicans decry as "cuts."
But the budget also goes much further. Contrary to Rep. Pearce's assertion that nobody over 55 would be affected, the GOP budget would reopen the Medicare "donut hole," cut Medicaid (which nine million poor seniors also qualify for), and almost double the cost that seniors have to pay out of pocket by 2022, eventually rising to a 68 percent increase in out-of-pocket costs. All that, and it only reduces the deficit by $155 billion because of increased tax cuts for the wealthy. As Rep. Pearce's constituent points out, and rightly so, the GOP budget does not spread the burden around, but instead focuses it squarely on current and future senior citizens. (h/t OLE)
Bottom Line: Rep. Pearce apparently believes it's OK to lie to his constituents in order to hide the fact that Republicans are dead set on cutting Medicare benefits. Is he ashamed of the policies he and his Party are supporting? If not, why isn't he telling the truth about the real consequences of the GOP budget plan?
June 29, 2011 at 09:33 AM in Healthcare, Republican Party, Right Wing, Steve Pearce | |
Animal Protection Voters Endorses Martin Heinrich for U.S. Senate
Yesterday, Animal Protection Voters () released the following statement endorsing Martin Heinrich for U.S. Senate, saying he "has a proven and substantial record of both leadership on and support of animal protection issues" like these:
• When serving on the Albuquerque City Council, Heinrich was a leading advocate for wildlife, environmental protection, and companion animals;
• In the U.S. Congress, Martin has fought to protect the jobs, chimpanzees, and federal dollars at the Alamogordo Primate Facility on Holloman Air Force Base from leaving New Mexico. He is an original cosponsor of the Great Ape Protection and Cost Savings Act of 2011; he cosponsored a bill to ban horse slaughter and has voted in support of service dogs for Veterans, to ban animal "crush" videos, and against environmental exemptions for the largest factory farms in the United States;
• Martin responds generously and strategically to constituents who care about the humane treatment of animals.
"Martin has taken his signature approach of creating collaborations among parties to solve difficult problems from New Mexico to Washington, D.C.," said Laura Bonar, Program Director for Animal Protection Voters. "Voters appreciate his diligent work for basic human decency and compassion toward animals."
APV noted that New Mexicans value legislators and other elected officials who respect the role that animals play in all our lives. Many citizens believe the government should play an active role in ensuring that animals receive humane care and protection from cruelty and exploitation.
Animal Protection Voters, the political voice for people who care about animals, works to build political capital for animal advocacy across New Mexico.
June 29, 2011 at 08:59 AM in 2012 NM Senate Race, Animal Protection, Rep. Martin Heinrich (NM-01) | |
Tuesday, June 28, 2011
PPP Poll: Dems Hold Slight Lead in 2012 U.S. Senate Race in NM
Public Policy Polling has released the results (including crosstabs) of a new survey of New Mexico voters on the race to replace Senator Jeff Bingaman (D-NM), who is retiring in 2012. Both Dem primary candidates -- State Auditor Hector Balderas and Rep. Martin Heinrich -- hold slight early leads over their potential GOP rivals:
Balderas 39% v. Lt. Gov. John Sanchez 35%
Balderas 45% v. former Rep. Heather Wislon 39%
Balderas 42% v. businessman Greg Sowards 28%
Heinrich 45% v. Gov. John Sanchez 39%
Heinrich 47% v. former Rep. Heather Wilson 42%
Heinrich 46% v. businessman Greg Sowards 34%
In terms of favorability:
Balderas
Favorable: Hispanic 30% -- White 15% -- Other 23%
Unfavorable: Hispanic 16% -- White 19% -- Other 13%
Heinrich
Favorable: Hispanic 39% -- White 32% -- Other 36%
Unfavorable: Hispanic 31% -- White 35% -- Other 28%
PPP notes that:
While crossover support is either even or to the Republican's advantage in each matchup, the Democrats have a significant advantage with independents aside from the Sanchez-Balderas race. In a state where Democrats outnumber Republicans 51-32, that's a recipe for a Democratic victory.

Aside from Wilson, the field is relatively unknown with 32% or more unwilling to venture an opinion one way or the other on the other candidates. Both Democrats are slightly in positive territory among those who know them. 22% see Balderas favorably compared to 17% who see him unfavorably. Heinrich is better known and about as popular with a 36-32 rating. The Republicans on the other hand are not well liked. Sanchez rates most favorably 23-28, followed by Wilson at 38-45, and Sowards at 7-17. With such low name recognition among the candidates, the race has the potential to be very fluid and the Democrats can't take it for granted.
The PPP conclusion:
"This race is going to be competitive but it has a clear lean toward the Democrats," said Dean Debnam, President of Public Policy Polling. "Wilson and Sanchez probably aren't strong enough candidates to win the seat if Barack Obama simultaneously takes the state by double digits as he did in 2008."
The poll was conducted via automated telephone interviews from June 23th to 26th, and has a margin of error of +/-3.6%.
June 28, 2011 at 12:53 PM in 2012 NM Senate Race, Hector Balderas, Polling, Rep. Martin Heinrich (NM-01) | Permalink | Comments (3)
6/28 and 6/30: Heinrich for Senate Fundraisers in Albuquerque
The Martin Heinrich for Senate campaign has announced two fundraisers in Albuquerque before the end-of-quarter FEC reporting deadline:
Tuesday, June 28 - 5:30 - 7:30 PM
RECEPTION at the PARK PLAZA CONDOMINIUMS
1331 Park Avenue SW (one block south of West Central on 14th Street SW) Hosts: Bob McNeill, Mark Michel, Fred Harris, Nancy Berry, Yasmin Dennig, Bob Collins, Susan Harris
Suggested Contribution: $100 - Click here to make a donation online.
Thursday, June 30 - 5:30 - 7:30 PM
END OF QUARTER FUNDRAISER at O'NIELL's IRISH PUB
4310 Central Ave SE, Albuquerque, NM
Suggested Contribution: $100 or whatever you can afford. Click here to make an online donation.

Can't make an event but want to help Martin before June 30th? Click here.
June 28, 2011 at 11:48 AM in 2012 NM Senate Race, Events, Rep. Martin Heinrich (NM-01) | Permalink | Comments (0)
Conchas Fire: Labor Council Calls for Help for Los Alamos Residents

Looking NW from south edge of municpal airport in Los Alamos
The Santa Fe Reporter notes that the Conchas Fire in Northern New Mexico has now grown to 60,000 acres in two days and counting. So far, it is zero percent contained. Yesterday, a mandatory evacuation of the town of Los Alamos was ordered, and that evacuation proceeded in an orderly fashion with some traffic backups. Here's a link to the latest map of the fire based on an infrared flight last night. Here's a list of shelters, pet shelters, hotels that are offering reduced rates for evacuees and other helpful webites.
Frequently updated info is available on the website https://nmfireinfo.wordpress.com/, which reports today that no fires burned on Lab property overnight, that all nuclear and hazardous materials, including those at the Lab's principal waste storage site known as Area G, are accounted for and protected, and that LANL monitoring teams detected no releases of radiological or other contaminants. That's the official word, anyway. It's been confirmed that EPA/DOE radiation air monitoring crews were sent in last night to monitor the Las Conchas fire.
KSFR's 101.1 tower was knocked out when the fire covered Pajarito Mountain in Los Alamos. The Santa Fe Public Radio station is still streaming info about the fire at ksfr.org/. 
The Northern New Mexico Central Labor Council -- serving Santa Fe, Los Alamos, Rio Arriba, Taos, San Miguel, Mora, and Colfax Counties -- issued a statement saying it's joining with area labor and community organizations In asking the community of greater Santa Fe to assist Los Alamos residents who have had to evacuate their homes and move to shelters or seek help from friends and family. Food and other items are needed.
Donations Need--The FOOD DEPOT, located at 1222 Slier Road In Santa Fe (505) 471-1633, is collecting the following:
BOTTLED WATER and
Handheld snacks such as granola and breakfast bars, trail mix, nuts, dried fruit
Protein items such as peanut butter and beef jerky
Meal supplies such as dried beans, rice and pasta
Personal care items such as deodorant, toothpaste/toothbrushes, bar soap, shampoo/conditioner, hand wipes
Paper products such as toilet tissue, napkins, cups, plates, towels, plastic cutlery
NO clothing or household items will be accepted
Area labor unions and other socially active organizations are being asked to donate money to help purchase some of these items -- or to go out and buy $100-200 worth of these items and deliver them to The Food Depot. Items should be delivered Tuesday afternoon (1:00 PM to 4:00 PM, or on Wednesday morning 9:00 AM to 12:00 Noon, and Wednesday afternoon from 1:00 PM to 4:00 PM, and Thursday if necessary). Thanks to all who can lend a hand. Please pass this information to your friends, neighbors and colleagues. Click for a flyer (pdf) that can be downloaded and copied.
Santa Fe New Mexican resource page for Conchas fire.
Photo credit: Los Alamos National Laboratory Flickr account.
June 28, 2011 at 11:32 AM in Labor, Los Alamos | Permalink | Comments (0)