Thursday, March 22, 2012
Chavez Statement on Paul Ryan/House Republican Budget
From the Marty Chavez for Congress campaign.
Today, Congressional candidate and former Albuquerque Mayor Marty Chavez released the following statement on the Paul Ryan Budget plan that prioritizes tax cuts for the rich over creating American jobs.
"The House Republicans have submitted a budget that increases the burden on the middle-class, low-income families, and seniors in order to fund new tax subsidies for multi-national corporations, Big Oil companies, and billionaires. The distance between their values and priorities and mine could not be farther apart.
"While everyone can agree we need to fix this deficit, I refuse to do it on the backs of New Mexico's working families and seniors who did nothing to create the problems we face today.
"At a time when it's incredibly clear that what we need are more American jobs, the GOP has created NEW tax breaks for shipping jobs overseas while lining the pockets of Big Oil and billionaires with even more tax cuts. Economists say the shock to aggregate demand from the devastating cuts in this budget would result in losing roughly 4.1 million jobs through 2014. Again, this is the exact opposite of what we need to be doing right now.
"Most importantly, this right-wing budget destroys Medicare and Medicaid as we know it. In Congress, I will hold Republicans accountable and fight to strengthen and improve these programs because it's unfair to ask seniors to shoulder higher costs while giving a tax breaks to the richest few.
"While these are the most egregious examples of how out of touch the Republican Party is with the needs of central New Mexican families, I am also very disappointed that this budget undermines our nation's clean energy policy. Instead of cutting funding for the technologies that will drive New Mexico's clean energy economy in the future, we should be increasing funding for the green jobs we can create right here at home while expanding education opportunities for our children to compete in our global economy.
"I know something about taking on tough fights and winning. There's no question that it will take tough leadership in Congress to beat back these ideas and prevail with real solutions for our economy and rebuilding our middle class."
March 22, 2012 at 01:23 PM in Candidates & Races, Green Economy, Jobs, Martin Chavez, NM-01 Congressional Race 2012 | Permalink | Comments (0)
Wednesday, February 08, 2012
ACTION ALERT: Call Today! New Homebuyers Tax Credit in Committee

ACTION ALERT: NEW HOMEBUYERS ENERGY SAVINGS TAX CREDIT IN HOUSE TAXATION AND REVENUE COMMITTEE TODAY
Today, House Bill 177 will be heard by House Taxation and Revenue. This top priority NMGCC bill provides a one-time refundable tax credit to new homebuyers.
The bill is designed to kick-start the construction sector by providing an incentive to consumers to buy newly constructed, energy efficient homes or renovate foreclosed homes.
This bill is revenue positive for the state of New Mexico.
If the public was to take full-advantage of this tax-credit it would create 4,500 jobs, induce $282 million in construction spending, and generate $43 million in new state and local government revenue.
This bill has bi-partisan support and has been endorsed by the Santa Fe, Central New Mexico, and New Mexico Homebuilders Associations, the New Mexico Green Building Council, and the New Mexico Green Chamber of Commerce.
This bill is critical to restarting our construction sector and our economy.  New Mexico finished last in the U.S. among all stages of construction employment last year, losing 6,000 construction jobs. Foreclosures last year totaled 8,797 with 950 in December alone.
HB 177 is scheduled in House Taxation and Revenue today. Please take a moment and call your legislator. Members of the House Tax and Revenue Committee include:
Edward Sandoval (Chair-Albuquerque)
Jim Trujillo (Vice-Chair-Santa Fe)
Don Bratton (Roswell)
Ernie Chavez (Albuquerque)
Anna Crook (Clovis)
George Dodge (Santa Rosa)
Thomas Garcia (Ocate)
Sandra Jeff (Crownpoint)
Tim Lewis (Rio Rancho)
Ben Lujan (Santa Fe)
Rudy Martinez (Silver City)
Dennis Roch (Texico)
James Strickler (Farmington) 
Thomas Taylor (Farmington)
Bob Wooley (Roswell)
You can be connected to your State Senator by calling the legislative switchboard at: (505) 986-4300.
February 8, 2012 at 10:51 AM in Action Alerts, Energy, Environment, Green Economy, NM Legislature 2012 | Permalink | Comments (1)
Wednesday, February 01, 2012
Experts: Chavez Green Jobs Program Exactly What New Mexico Needs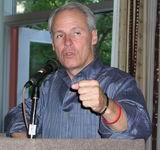 From the Marty Chavez for Congress Campaign.
On Monday, former Albuquerque Mayor Marty Chavez held a press conference at Jefferson Green, New Mexico's first USGBC LEED Gold Certified building, to discuss his plan to stimulate job growth in New Mexico's clean energy economy.
The plan, titled "A Vision for A World Class Economy in New Mexico," is a framework for creating jobs and strengthening the foundation of New Mexico's clean energy future based on encouraging innovation in new technologies and investing in public education and job training.
"New Mexico's future lies in leading the nation towards a 21st century clean energy economy. To reach these goals, we must focus on large-scale ingenuity and innovation," said Chavez. "As your Representative, I will forge a strong bond between our Congressional delegation, state and local leaders, the national labs, educational systems, as well as business and labor interests to craft legislation that utilizes our natural and high-tech resources to promote sustainable, long term job creation in New Mexico's clean energy economy."
Marty's plan covers a wide array of initiatives that take advantage of central New Mexico's incredible resources that will serve as a launch pad for our new economy including technology transfer from the national labs for commercialization, integrating intellectual infrastructure into public schools, regulatory reform, streamlining of funding processes, engaging private investment, updating best practices of government and other public entities, expanding PACE programs, modernizing electrical production and distribution, green grid development, support for bio-fuel research, recognizing the importance of natural gas as a bridge fuel and perhaps most importantly, protecting and respecting the natural environment.
Marty was joined by a number of local innovators and job creators including Karen Cook, President of EECOM; Jack McGowan, owner of Energy Control; Former New Mexico Secretary of Economic Development Fred Mondragon; Mike Mattioli, co-founder of Consolidated Solar Technologies; and Jason Lott, Director of Leasing for Mesa del Sol.
"It's exciting to see a candidate that has this vision for the future and recognizes how we can bring to bear all the resources that are available to pursue not just smart grid but also smart energy on a larger scale," said Jack McGowan. "We've got some award winning projects here in New Mexico that have been done at the University and elsewhere, along with all the work underway out at Mesa del Sol that presents an even greater opportunity to take a smart grid and turn it into a job engine for our communities and for our state."
Karen Cook, speaking about Marty's ability to get thing done said, "Words are easy to print, but it's very difficult to be effective in actually implementing strategies - and [Marty's] done that. When [Marty's proposals] come into effect, they will bring us a far better community in the future."
Fred Mondragon talked about his time in the Chavez Mayoral administration, noting, "[Marty] understood what the issues were in terms not only of global warming, not only about jobs but also the importance of energy efficiency, in terms of national security, in terms of exports versus imports, in terms of job creation, and that's where we were able to work together. Marty worked with Science and Tech Park at Sandia to create many, many jobs by bringing in, keeping and maintaining the first alternative energy companies in the country. And we were able to keep companies that transferred technology from Sandia National Laboratories, [such as] Emcore, and others. He really was part of the group that initially built the Science and Technology Park. And Emcore was one of the results of that with breakthrough technology that's creating wonderful opportunities for jobs in New Mexico."
"I truly believe that one of the unique things [about Marty as Mayor] was that [he] always had a fast forward future vision," added Mattioli. "Whether it was looking at information technologies, as when we did the fiber optic all throughout Downtown Albuquerque, or now when we started to do solar projects, it's that vision that we need inside of our communities, inside of our cities and inside of our state to continue to drive these things forward so that we have strength and continue to see a change from looking at fossil fuels."
Lott, on behalf of Mesa del Sol, also spoke to Marty's time as Mayor. "I want to first talk about the vision under Mayor Marty Chavez. And his vision is actually taking place right now. [Mesa del Sol] is probably the only developer in the country who's moving forward with the housing program with the size that we're building at in Mesa del Sol. These will really be eco-friendly houses, with solar and water catching and all these things that the Mayor had the vision so many years ago to implement. But it's also all about jobs. That's where we come in. We're actively out there, getting companies to move to New Mexico and take advantage of this great infrastructure we have. Sure the sunshine is great but without the proper legislation, the proper universities, the proper economic tools, it's really just lines on paper. We have the infrastructure in place and it's being utilized. At Mesa del Sol alone we have over 2,000 people working out there today. Right now. These are real jobs and real salaries paid to New Mexicans. So we really feel that this next step that [Marty wants to] implement is the next step to create more jobs and we're in support."
In closing, Chavez added, "Throughout my career, when I set out to accomplish something on behalf of New Mexican families, I got the results they needed. I am the the only candidate in this race who has actually helped to create meaningful green jobs in this district. I worked tirelessly to bring innovative solar companies like Schott Solar to Albuquerque, expand Emcore and K-Tech's local operations and attract the film industry with Albuquerque Studios and am proud to have helped create the Sandia Science and Technology Park. Plainly, I am the best prepared candidate to lead in our clean energy economy."
The full plan, "A Vision for A World Class Economy In New Mexico," is available at www.martychavez.com/greenjobs.
February 1, 2012 at 05:09 AM in Building Code Energy Efficiency, Candidates & Races, Energy, Environment, Green Economy, Martin Chavez, NM-01 Congressional Race 2012 | Permalink | Comments (0)
Monday, January 30, 2012
02/03: Support Fair Business Taxes, Renewable Energy, and Encourage Local Incentives!
The New Mexico Green Chamber of Commerce
will be hosting a
legislative action day for our members in Santa Fe on
Friday, February 3rd.
What is the Green Chamber Legislative Action Day?
An opportunity for you to talk with your legislators about the issues important to your business.
What will I have to do?
Come to Santa Fe on February 3rd. We will train you on talking to your legislator and make sure that you understand the issues and talking points on legislation important to you and our Green Chamber members across the state.
Top Four Reasons you should attend:
1. Advocate for a Level Playing Field for Small Business
2. Keep New Mexico Investing in Clean Energy
3. Encourage New Energy Efficient Construction
4. Network with Important Decision Makers and Like-Minded Businesses
Legislative Action Day Agenda : Friday, February 3rd
One-page Issue briefs on top five key issues to be provided to all participants by Wednesday February 1. 
NMGCC has a block of rooms on hold at Garrett's Desert Inn for $69 per room including parking (tel 800-888-2145). The Inn is located one-block from the New Mexico Legislature.
7-8:30 AM NMGCC Directors Legislative Breakfast
Location: Garrett's Desert Inn 311 Old Santa Fe Trail Santa Fe, New Mexico 
9AM Lobby Day Training Briefing Welcome: Lawrence Rael, President, NM Green Chamber of Commerce
Issue Review: Allan Oliver, CEO, NMGCC
Lobbying Tactics: Traci Cadigan, Board of Directors, NMGCC
Location: Garrett's Desert Inn
10:30AM Constituent Businesses Lobby Senators, Representatives on House/Senate Floor
12:30-1PM Rolling Debrief/Brown Bag Lunch with NMGCC staff: Location: to be confirmed
2pm Legislative Committee Hearings
5pm+NMGCC Green Drinks:  Location: to be confirmed
Please RSVP by Wednesday, February 1st to info@nmgreenchamber.com .
This will help us plan to have materials ready and your legislators identified before you arrive.
To see entire flier click here: Support Fair Business Taxes, Renewable Energy, and Encourage Local Incentives!.
January 30, 2012 at 09:00 AM in Action Alerts, Building Code Energy Efficiency, Energy, Environment, Green Economy, NM Legislature 2012 | Permalink | Comments (0)
Tuesday, January 24, 2012
Representative Egolf Introduces New Homebuyers Energy Savings Tax Credit Bill
From the The New Mexico Green Chamber of Commerce:
Representative Egolf Introduces New Homebuyers Energy Savings Tax Credit Bill Short-term Tax Credit Encourages Consumers to Buy New Energy Efficient Homes or Upgrade Foreclosed Homes, Creating New Construction Jobs, Improving the Existing Unsold Home Market and Generating Net State Revenues.
Today, Representative Brian Egolf introduced HB 177 the New Homebuyers Energy Savings Tax Credit plan that will create new construction jobs and generate important revenue. The plan, analyzed by the non-partisan research organization Architecture 2030, builds on the success of the federal First Time Homebuyers Tax Credit, as a means of increasing new homes sales and renovations in a distressed housing market. The plan marries a refundable state tax credit with energy reduction targets in order to dramatically increase private spending, stimulate new building construction, expand the local tax base and generate much needed jobs and tax revenue.
"I and my colleagues are focused on ideas that will create well-paying jobs and benefit our state's economy as a whole," said Representative Brian Egolf. "The Energy Efficient Home Income Tax Credit will create well-paying construction jobs, help New Mexico's working families save money on their utility bills, and make homes more affordable. The proposal will also bring major benefits to small businesses statewide and help move foreclosed properties off the auction block and into a family's future. This will be a big win for our recovering economy."
The Plan includes a refundable:
$4,000 State tax credit or rebate for purchasing a HERS 50 or equivalent home;

$6,000 State tax credit or rebate for purchasing a HERS 25 or equivalent home;

and a $8,000 State tax credit or rebate for purchasing a zero-net-energy or HERS 0 home.
Under the Plan, each dollar ($1) of State incentive would not only pay for itself, but would generate approximately:
$14.10 in construction spending and $7.19 in indirect and induced spending creating much-needed jobs;

$1.36 in State and Local Government taxes from construction spending, and $0.70 from indirect and induced spending; and

$0.11 in property taxes
"The New Homebuyer Energy Savings Tax Credit'-like the popular First Time Homebuyer Tax Credit-is focused on encouraging new homes sales which will help revitalize the construction market," said Ed Mazria, CEO of Architecture2030. "This tax credit also helps the existing home market, as it offers the same tax credit for purchasing and upgrading foreclosed properties that are sitting vacant and reducing property values in communities across our state."
"Our member businesses support the NM Homebuyers Energy Saving Tax Credit because it will create jobs, will help our construction sector get back on its feet, and will help families move into energy-saving homes," said Allan Oliver, CEO of the NM Green Chamber of Commerce. "This is a fiscally responsible measure, since the state receives the additional revenue prior to paying off the credit and it will sunset automatically in two years."
"Our state's homebuilding industry needs all the help it can get. This bill addresses the demand side of the energy efficient home market and could help stimulate new home construction. New Mexico home builders are national leaders in energy efficient home building, but we need customers demanding homes built beyond code minimums." Kim Shanahan, Executive Officer, Santa Fe Area Home Builders Association.
The New Mexico Green Chamber of Commerce is a non-partisan association with over 1,100 business members dedicated to advocating on behalf of clean energy, seizing the green business advantage, and supporting local economies. The NM Green Chamber of Commerce members believe that responsible business invests in people, protects air, land and water, and creates long-term sustainable profits
January 24, 2012 at 05:20 PM in Brian Egolf, Energy, Green Economy, Jobs, NM Legislature 2012 | Permalink | Comments (1)
Tuesday, November 29, 2011
LCV Action Fund Endorses Eric Griego for Congress (NM-1)
The following press release was issued by the Eric Griego for Congress Campaign:
Today, NM-1 Democratic congressional candidate Eric Griego is thrilled to announce his endorsement by the League of Conservation Voters (LCV) Action Fund, one of the nation's leading environmental advocacy organizations.  Griego is one of the first House endorsements of the 2012 cycle from the national League of Conservation Voters (LCV).

With the LCV Action Fund endorsement, Griego now has the support of the two largest political spending national environmental groups, including the Sierra Club.
Statement by Gene Karpinski, President of LCV Action Fund
"Eric Griego has demonstrated that he cares deeply about curbing harmful pollution and building a clean energy economy," said Gene Karpinski, president of the League of Conservation Voters Action Fund.  "We're proud to endorse Eric Griego for Congress because we know that he'll fight for a cleaner, safer New Mexico by standing up to corporate polluters and making them pay their fair share.  In Congress, Eric will be more than just another vote for clean energy policies; he'll be a champion for a clean energy future."
Statement by Eric Griego, Democrat for New Mexico's 1st Congressional District
"LCV Action Fund's endorsement recognizes my proven record as State Senator and Albuquerque City Councilor of supporting investments to create the clean energy jobs of tomorrow in the great State of New Mexico.  As Congressman, I will continue to fight for bold investments to turn the U.S. into the world leader in clean energy and create manufacturing jobs. I believe that creating 21st century clean energy jobs is important, as is protecting the health of future generations."

Read about my record on our new website. While you're there, check out some of the ways that you can get involved:
No matter your level of support, every bit helps in this grassroots, people-powered campaign.
Thank you for your commitment to bold progressive change for New Mexico and our nation.

Eric Griego
Democrat for New Mexico's 1st Congressional District
November 29, 2011 at 03:22 PM in Energy, Environment, Eric Griego, Green Economy, NM-01 Congressional Race 2012 | Permalink | Comments (0)
Friday, November 11, 2011
Green Jobs Award Goes to Sacred Power!!
The New Mexico Green Chamber would like to congratulate Sacred Power for winning the 2011 Green Jobs Award from the SJF Institute and Citi Foundation.  Sacred Power's accomplishment once again highlights the importance of green jobs to New Mexico's economy and demonstrates how New Mexico businesses are national leaders in the field of clean energy. Press release below:
2011 GREEN JOBS AWARD HONOREES ANNOUNCED
These inspiring companies together have created more than 2,500 quality jobs
New York, November 8, 2011 - On November 10th from 6PM to 8 PM, SJF Institute will recognize the 2011 Green Jobs Award honorees at a reception at the Citi Executive Conference Center keynoted by Jonathan Greenblatt, the Director of the White House Office of Social Innovation and Civic Participation. The Green Jobs Award honors private businesses that contribute to both the economy and the environment. Applicants are judged on their contribution to environmental quality, the quality of their jobs and benefits, the diversity of employment opportunities, and their level of community engagement.
As noted in the recent Brookings Institute report, Sizing the Clean Economy, the emerging clean economy is challenged, in part, by a lack of standard definitions and examples. The Green Jobs Award program and recipients of the award are crucial in helping to provide needed examples and best practices within the green jobs sector.
The 2011 Green Jobs Award honorees are: Better World Books, Pacific Biodiesel, Power Partners Inc., Sacred Power Corporation, SolarCity, Sungevity, and The Taylor Companies (see brief summaries of each below). These firms are based in Georgia, Ohio, New Mexico, California, and Hawaii, with operations in many other states, and represent diverse industries - from traditional industry innovators, to renewable energy and energy efficiency, to consumer products. Together the companies employ more than 2,540 people and their aggregate revenue exceeds $150 million. 
"These seven exemplary companies show you can have true sustainability while creating real, quality jobs at all levels," said Bonny Moellenbrock, SJF Institute Executive Director. "By acknowledging the tremendous work these companies are doing, we hope to both support their efforts and inspire other businesses to follow their lead."
The Green Jobs Award is made possible by the support of the Citi Foundation, which is sponsoring the program for the second straight year.
"The Citi Foundation is proud to support the 2011 Green Jobs Awards," said Pam Flaherty, CEO and President of the Citi Foundation. "These seven honorees demonstrate that a triple bottom line business strategy can be successful for any size organization. As the U.S. strives to create more high quality employment opportunities, these businesses are contributing to this effort in a way that also adds value to the environment and our communities."
Green Jobs Award sponsors include iContact, Tides, and Southern Energy Management. In addition, Service Sponsor B Lab helped identify Certified B Corporation Service Partners to provide complimentary business services to the Award winners. Service Partners include Adam Shay CPA, PLLC, Beyond the Bottom Line, Big Vision Media Group, Compass(x) Strategy, Conscious Brands, Green Retirement Plans, Hanson Bridgett, Relevance, Restorative Leadership Institute, Social(k), Springleaf Strategies, and Thinkshift Communications.
Press and other attendees can register for the event at www.greenjobsaward.org. Press passes are available.
Awardee Summaries:
Better World Books (Alpharetta, Georgia) - With three additional locations in Indiana and another in Edinburgh, Scotland, Better World Books is an online book resale company with 349 employees that also supports literacy efforts worldwide.
Pacific Biodiesel (Kahului, Hawaii) - With an additional location in Honolulu, Pacific Biodiesel operated the first retail biodiesel pump in America, and now produces and sells approximately 1 million gallons of ASTM standard biodiesel annually in Hawaii. Founders Kelly and Bob King partnered with Willie and Annie Nelson and Darryl Hannah in 2007 to create the Sustainable Biodiesel Alliance.
Power Partners (Athens, Georgia) - Power Partners manufactures pole-type distribution transformers, solar water heaters, and adsorption chillers while creating 360 great jobs with benefits and lean manufacturing training.
Sacred Power (Albuquerque, New Mexico) - A Native American-owned firm, Sacred Power manufactures and deploys patented remote power systems, energy efficient telecommunication shelters, and grid-tied photovoltaic carports to remote Native American homes that otherwise might be without power and refrigeration.
SolarCity (San Mateo, CA) - A full service solar provider with 25 business locations around the U.S., SolarCity is growing rapidly with over 1,350 employees and more than 15,000 projects completed or underway in 10 states.
Sungevity (Oakland, CA) - With an additional Berkeley location, Sungevity is a residential solar installer that has pioneered an online 24-hour iQuote process allowing it to use satellite images and aerial photography to assess customers' roofs remotely. The firm offers great pay and excellent benefits for its 240 fully-engaged employees.
The Taylor Companies (Bedford, Ohio) - With a second location in Lynwood, California, Taylor is a seventh generation furniture manufacturer and a green pioneer in a traditional industry. Taylor is the first furniture manufacturer member of The Climate Registry; the firm publishes its greenhouse gas emissions and other key sustainability information on a Sustainability Facts Label that is included with all its products.
November 11, 2011 at 02:46 PM in Energy, Environment, Green Economy | Permalink | Comments (0)
Tuesday, November 01, 2011
Albuquerque Families Call on President Obama to Finalize Mercury Protections at "Mercury Pollution is Scary" Halloween action
Sierra Club event demonstrates public demand for federal protections from toxic mercury from coal-fired power plants like Four Corners Power Plant
On October 31, dozens of Albuquerque moms, dads and children gathered on Coal Avenue for a "Mercury Pollution is Scary" Halloween action, demanding strong federal protections from toxic mercury pollution. The Halloween-themed family event was sponsored by the Sierra Club, and demanded that President Obama bring protections from mercury emitted by coal-fired power plants "across the finish line" by the end of 2011.
"All the children look cute in their Halloween costumes, but knowing what toxic mercury could do to their little bodies is truly scary," said Shrayas Jatkar, Organizing Representative with the Sierra Club in New Mexico. "It's up to President Obama to get us across the finish line with strong mercury protections by the end of the year."
Currently, power plants are currently allowed to spew mercury pollution without national limits. As a statement released by the Sierra Club explains, dirty coal-fired power plants are the number one source of mercury pollution in the U.S., emitting more than 130,000 pounds of toxic mercury pollution in 2009. Once power plants emit mercury into the air, it rains down into rivers and streams and eventually makes its way to human bodies via contaminated fish.
Mercury exposure has been linked to developmental disorders and learning disabilities. According to the Environmental Protection Agency (EPA), at least 1 in 12, and as many as 1 in 6, American women of childbearing age have enough mercury in their bodies to put their babies at risk.
Local residents have long been concerned that Four Corners Power Plant emits life-threatening air pollution including mercury. Four Corners ranks 12th highest in mercury emissions among all U.S. coal plants according to an Environment America report released earlier this year.
"Mercury is a real problem for New Mexicans," said Christina Glessner, a volunteer leader with the local Sierra Club. "Four Corners Power Plant is emitting toxic mercury into the air we breathe and the water we drink, right now. President Obama and the EPA need to step in to protect our health and the environment."
More than 800,000 Americans have already demonstrated their support for strong EPA protections from mercury pollution which were proposed in March. The new protections would reduce mercury in our air and water by over 90%.
Monday's event featured parents and kids in Halloween costumes waving signs that highlight how scary coal pollution is to passers-by on Coal Avenue, as a fun way for families to call on President Obama to protect their health from toxic mercury.
If enacted, federal mercury protections will save money for working families suffering health problems from toxic pollution, and create jobs installing pollution-control equipment on outdated power plants and in the expanding clean energy industry.
November 1, 2011 at 10:33 PM in Energy, Environment, Green Economy | Permalink | Comments (0)
Thursday, October 27, 2011
NM Business Leaders Urge Secretary Salazar to Support Responsible Clean Energy Development on Public Lands
On the heels of a successful statewide renewable energy conference, the New Mexico Green Chamber of Commerce announced this week that 31 New Mexico business leaders have sent a letter to U.S. Interior Secretary Ken Salazar, encouraging him to support the development of clean-energy projects on New Mexico's public, private, and Tribal lands for the benefit of the state's economy and environment. The complete text of the letter can be found here (pdf).
"These New Mexico businesses believe responsible clean-energy development on our state's abundant public lands will help spur economic growth and job creation, and urge Secretary Salazar to push on this transition to a new clean-energy economy," said Allan Oliver, CEO of the New Mexico Green Chamber of Commerce.
The New Mexico Green Chamber of Commerce's September conference in Las Cruces attracted 200 business leaders, representatives of industry, government, higher education, and research laboratories, as well as policy-makers from across the state and region.
Interior Department Adviser Alan Gilbert was a keynote speaker, and carried a message from the Secretary: "Encouraging new sources of renewable energy for our country on our public lands is a high priority for President Obama and Secretary Salazar, both for the energy people will be able to use and for the jobs these new and important businesses will bring."
To encourage a continued conversation with Secretary Salazar, New Mexico business leaders this month sent a letter to him asking that he work with them to "create local jobs while protecting our national treasures," adding that "New Mexico has some of the best clean energy resources in the nation but we are behind other states in harnessing new energy development... We would welcome the opportunity to work with you to develop additional new projects in New Mexico that meet your goals to both build America's new energy future and protect our treasured landscapes."
"This letter to the Secretary underscores the commitment of New Mexico's business leaders to clean energy," Oliver added, "and reflects our ambition for New Mexico to be a leader in the responsible transition to job-creating renewable energy sources like solar, wind, and biofuels."
According to the Brookings Institution, New Mexico has over 17,000 clean economy jobs, with each job producing approximately $10,000 in exports on average, but ranks 36th in the nation in the overall size of its green economy industry.
October 27, 2011 at 07:16 AM in Energy, Environment, Green Economy, Las Cruces, Obama Administration | Permalink | Comments (0)
Monday, September 26, 2011
Marianne Dickinson Guest Blog: Mayor Marty Chavez's Greenwashing Doesn't Wash
This is a guest blog by Marianne Dickinson of Albuquerque, who is a former journalist, a lifelong community organizer and currently runs her own design/ planning/ marketing business. She has observed New Mexico politics for 30 years and still believes we could have ethical, capable, accountable government some day.
I assume Kathleen Rogers was sincere in reporting her experience of Marty Chavez's "green" accomplishments (see her guest blog od 9.17.11), but I have to just as sincerely differ with her on his record of actions (and inaction) on environmental and sustainable growth issues. Marty Chavez had three terms as Albuquerque mayor -- 12 years of the last 18 -- to address our substantial problems with land use, air quality, water conservation and quality, public transportation, noise pollution, environmental justice, etc.
Although in his last term Mayor Chavez did start talking the talk of making ABQ a greener city, many of the items mentioned as his accomplishments were actually initiated and long fought for by City Councilors, former Mayor Jim Baca, community organizations and advocacy groups. He formed the committee Ms. Rogers mentions; what major new efforts recommended by them did he implement? 
Rather than campaign rhetoric, study the Mayor's full record -- what he did before it was safe to become "green" and not lose the development/corporate support he has always given priority.
Supported a TIDD (tax giveaway) for Suncal, an out-of-state developer that wanted to develop the Westland Corp. land, the old Atrisco Land Grant in which the Chavez family are heirs, located at the south end of the Petroglyph National Monument. 
Opposed a Planned Growth Strategy, which aimed to control sprawl and leapfrog development, efficiently manage costs, and conserve open space. (Part of the reason utility and infrastructure costs are going up in the metro area is cost of extending utilities and services so far from existing City service areas.) The PGS was very watered down before being adopted, and the City's Comprehensive Plan was not revised to align with the PGS. 
Fought against impact fees (eventually watered down and adopted) citing the need for affordable housing. Since 2008 that "affordable" housing on the West Side has had the highest foreclosure rates in the city.  He did not support lower fees for infill development. 
(The recent West Side growth boom facilitated by Mayor Chavez is why redistricting is now taking seats from progressives east of the river to add to the West Side legislative and city council districts--- e.g. Dede Feldman's and Ike Benton's seats.)
Fought against mandatory water conservation measures. 
(His staff) fought EPA's reduction in arsenic levels permitted in drinking water 
Fought communities on helicopter and air traffic noise reduction
Did not push for clean-up of jet fuel leak at the Base, discovered 10 years ago and now threatening ground water in the SE Heights
Transportation staff gave low priority to funding and implementing bike trails and lanes advocated by bike community 
DT Growers Market was a Downtown Action Team project ... did Mayor have anything to do with it except to ok the location? (Their solar and recycling/composting programs were put in place after he left for DC.)
Showed no concern for environmental justice or cultural issues (South Valley sewage plant and many other problems, North Valley bosque preservation vs. Montano Bridge, Pueblo natives' religious use of the areas around the petroglyphs and volcanos vs. road through the Monument, etc.)
This is only a partial list of the things I remember and others have brought up this week. (Many won't go public because of Marty's reputation for "vindictiveness.")
My suggestion to Democrats (and independents) is to look closely at the record and follow the money trail to see who has and will continue to truly stand up for a green economy and for Democratic values. My bet is on Eric Griego, who has done so all his career. Lobbyists know they can't seduce Eric with power by showering him with money.
This is a guest blog by Marianne Dickinson. If you'd like to submit a piece for consideration as a guest blog, contact me by clicking on the Email Me link at the upper left-hand corner of the page.
September 26, 2011 at 02:54 PM in Environment, Eric Griego, Green Economy, Guest Blogger, Martin Chavez, NM-01 Congressional Race 2012 | Permalink | Comments (8)
Thursday, August 25, 2011
8/28: NM PRC Commissioner Jason Marks to Speak at NM Solar Fiesta
On Saturday and Sunday, August 27 - 28, New Mexico Public Regulation Commissioner Jason Marks (District 1) will participate in the New Mexico Solar Energy Association's Solar Fiesta, which will be held at Albuquerque Academy this year. This will be Commissioner Marks' third year presenting at the Solar Fiesta.
Commissioner Marks, a popular speaker at this annual event, will speak on August 28th on "Solving our Energy Challenges in a Toxic Political Environment," and later that day will join a panel of experts on "The Future of Rooftop Solar."
The PRC will also host a booth to provide information to the general public about Commission activities and utility programs.
"NMSEA's Solar Fiesta is a terrific event for both people familiar with the solar industry as well as for those who want to get acquainted with it," Marks said. "People should understand what our current and future options are in the solar energy area, and how it will affect them in terms of their utility bills and the availability of power."
August 25, 2011 at 03:37 PM in Energy, Environment, Green Economy, NM Public Regulation Commission | Permalink | Comments (0)
White House Urged to Speed Up NM Clean Energy Development
More of this, please, especially at a time when clean energy advocates are conducting civil disobedience demonstrations in front of the White House urging President Obama to stop the Canadian tar sands oil pipeline from the Canadian border to refineries on the Gulf coast.
Sacred Power Corp., a member of the New Mexico Green Chamber of Commerce, issued the following release yesterday:
Nearly a dozen New Mexico business leaders have written to the White House advocating that President Obama and Interior Secretary Ken Salazar quickly transition to clean energy using public, private and tribal lands. David Melton, chief executive officer of Sacred Power Corp., delivered the letter and the message in person.
Before Obama left on vacation, he met with people at various stops in the Midwest. Melton, who visited with the president in Iowa, says the letter urges the president to work more quickly with tribal, federal, state and private partners to create local jobs while protecting national treasures using solar power.
Melton says, "Switching to solar would be good for the environment and add thousands of jobs to New Mexico's rural economy through the entire development process. You have the job creation at the module level, at the inverter level -- these are all large-scale manufacturing operations. You also have the integration level, the construction level, and finally, the operation level."
New Mexico Green Chamber of Commerce President, Lawrence Rael, also commented on this job creation potential saying, "Responsible clean energy development on public lands offers great opportunity for green jobs in New Mexico. According to a recent New Mexico State University study, green jobs represent more than 35,000 New Mexico jobs and is a fast growing part of our economy."
The Interior Department is finalizing its plan for siting solar energy projects on public lands in six Western states. It has identified three study areas which encompass more than 100,000 acres as potential solar energy zones in New Mexico.
More nformation about the solar-energy zone locations is online at doi.gov.
The New Mexico Green Chamber of Commerce creates new opportunities for business by advocating on behalf of renewable energy, strengthening local economies, and seizing the green business advantage. Our members believe in investing in people, protecting our air, land and water, and creating long-term profits. We are where profits and values meet. More information is available at www.nmgreenchamber.com.
August 25, 2011 at 08:07 AM in Climate, Energy, Environment, Green Economy, Native Americans | Permalink | Comments (0)