« Happy 100th Birthday to the Great State of New Mexico | Main | 01/19: Balderas for New Mexico Headquarters Open House »
Sunday, January 08, 2012
Sen. Wirth and Rep. Egolf to Hold District Meetings to Discuss 2012 Legislative Session and Redistricting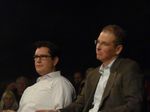 State Senator Peter Wirth (D-Santa Fe) and State Representative Brian Egolf (D-Santa Fe) have scheduled two meetings with residents of their districts.
Tuesday January 10th from 6:00 to 8:00 pm at the Santa Fe Community Convention Center in the Lamy/Peralta Rooms;
Wednesday January 11th from 6:00 to 8:00 pm in Eldorado at the "Performance Space at La Tienda," 7 Caliente Road across from the Agora Shopping Center.
"Representative Egolf and I look forward to the opportunity to visit with our Santa Fe constituents," Wirth said.  "Constituent input and ideas are critical as we head into the legislative session."
Senator Wirth and Representative Egolf have made district meetings a regular part of their legislative duties, and both underscore their importance.
"These meetings are one of the most important things we do," Egolf said.  "They are a way for us to better understand individual and neighborhood concerns, while discussing the best way to proceed on legislative issues."
Wirth represents State Senate District 25.  Egolf represents State House District 47.  Since their districts overlap, they work together whenever possible in addressing issues of concern to Santa Fe residents.
January 8, 2012 at 04:24 PM in Brian Egolf, NM Legislature 2012, Peter Wirth, Redistricting | Permalink
Comments
My first question for rep. Egolf: Why did you f@ck us over on Congressional redistricting?
Posted by: Proud Democrat | Jan 9, 2012 9:11:34 PM
Post a comment