« No More Injustice: The Executions of Troy Davis and Willie McGee | Main | NAACP, LULAC Denounce Gov. Susana Martinez's Extremist Allies on Driver's License Issue and Discriminatory Anti-Immigrant Agenda »
Thursday, September 22, 2011
Sen. Keller's Bi-Partisan Jobs Bill Back on Track Despite Veto by Gov. Martinez in Regular Session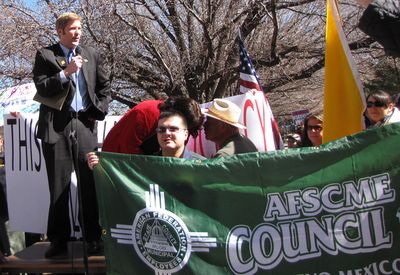 Sen. Keller at labor/jobs rally during 2011 regular session
Take Action: Please contact your Representative and urge him or her to support Senate Bill 1, In-State Preference.
Senate Bill 1, a jobs bill sponsored by Senator Tim Keller (D-Bernalillo-17), moved out of the Senate on a bi-partisan 39-0 vote today. The bill is a clean-up of the original measure vetoed by Governor Susana Martinez following the 2011 regular session that ended in March. SB-1, the "In-State Preference Bill," has been praised by New Mexico business and labor leaders alike, who said it would help create more than 3,000 jobs each year for New Mexico companies by closing loopholes in the definition of what is an "in-state business."
The Governor rejected the original jobs-creating bill that would have put New Mexicans back to work. She said she disagreed with wording in the bill because it could subject some businesses to the state's procurement code. That original bill, SB-19, passed with overwhelming support in the Senate 35-1, and House of Representatives by 58-0.
Senator Tim Keller said the measure corrects multiple loopholes that are currently in the law that is supposed to allow an advantage to in-state companies when competing for government contracts -- so that state tax dollars stay in New Mexico. "However, in practice, out-of-state companies have been able to abuse the system by creating shell companies that pretend to be local businesses in order to win state contracts," Senator Keller said in a statement released today.
Senator Keller and co-sponsor Rep. Larry Larranaga (R-Bernalillo-27) worked with the business community, the Governor's Office and the Senate Jobs Task Force convened by Majority Floor Leader Senator Michael S. Sanchez (D-Valencia-29), to revise the language in question in SB 19 and produce SB 1 for the special session.
Senator Keller said he was glad the "In-State Preference" bill passed during the special session following the veto. "People have put this important policy over their politics. We can go home and say we worked together. Through compromise, we created jobs," he added.
"This bill will strengthen the New Mexico economy by creating a win-win situation for economic development and the private sector in our state," said Rep. Larrañaga. "As a result, SB 1 enjoys widespread support from the legislature, governor and the entire business community," he continued.
"The past year's employment numbers indicate our construction industry in New Mexico is having a tougher time than anywhere in the nation. Our top priority remains putting our construction companies and families back to work. We appreciate our elected leaders making this their top priority, too," said Vicki Mora, CEO of the Associated General Contractors - New Mexico Building Branch. "I think businesses in New Mexico are very uncomfortable seeing over half a billion dollars worth of projects go out of state," said Don Power, Jaynes Corp. Chairman and CEO.
SB 1 now moves on to the House of Representatives and the Governor for their approval.
Take Action: Please contact your Representative and urge him or her to support Senate Bill 1, In-State Preference.
September 22, 2011 at 06:04 PM in Jobs, NM Legislature 2011, NM Legislature Redistricting 2011, Susana Martinez, Tim Keller | Permalink
Comments