« 8/25: Campaign Kickoff for Democrat Tara Lujan for Santa Fe County Clerk | Main | Democrat Brad Gallegos Announces Candidacy for PRC District 3 »
Tuesday, August 23, 2011
Animal Protection Voters Endorses Marty Chavez for Congress in NM-01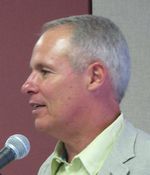 Animal Protection Voters () released a statement today saying it is "proud to announce its endorsement of Marty Chavez for U.S. Congress-District 1 in New Mexico. Marty Chavez has been an outspoken and determined leader for animal protection issues, both when he served in the New Mexico Senate and throughout his tenure as Mayor of Albuquerque."
Laura Bonar, Program Director for Animal Protection Voters, said, "Marty Chavez's leadership on animal protection issues in New Mexico is so substantial that when serving as Mayor of Albuquerque, he was given Animal Protection of New Mexico's highly competitive Advocacy Milagro Award in 2004." The Advocacy Milagro Award is given for promoting the compassionate treatment of animals.
Bonar continued, "Marty Chavez's extraordinary efforts on behalf of New Mexico's animals is a lengthy and substantial list of accomplishments that includes protecting prairie dogs, lobbying for antifreeze safety for animals and children, promoting spay/neuter programs, lobbying for a ban on cockfighting, challenging the mistreatment of former research chimpanzees, highlighting issues of animal cruelty with the public and insisting on creating and adequately funding an Animal Welfare Department within the city of Albuquerque. New Mexico voters who care about animals won't find a better candidate for Congressional District 1 than Marty Chavez."
APV pointed out that Marty Chavez got his start in public animal advocacy efforts in 1997 when he worked with actor and animal advocate, Kim Basinger, to challenge the appalling treatment of animals in circuses, after Albuquerque police found an elephant dead in a cramped and sweltering semitrailer. Since then, circuses with animals have not been welcome in Albuquerque venues.
"Marty Chavez understands that our society is better off when we treat the most vulnerable among us with respect and kindness. Animal Protection Voters looks forward to having Marty Chavez serve in the U.S. Congress, fighting hard for New Mexicans and the humane values we cherish," added APV's Executive Director, Elisabeth Jennings.
APV added that New Mexicans support lawmakers and other elected officials who respect the role that animals play in all our lives. Many citizens believe the government should play an active role in ensuring that animals receive humane care and protection from cruelty and exploitation. Animal Protection Voters, the political voice for people who care about animals, works to build political capital for animal advocacy across New Mexico.
For more posts on the NM-01 congressional race, visit our archive.
Photo by M.E. Broderick.
August 23, 2011 at 05:18 PM in Animal Protection, Martin Chavez, NM-01 Congressional Race 2012 | Permalink
Comments
I totally agree. Marty has my vote for the same reasons you state plus more.
Posted by: Steve Ritzau | Aug 23, 2011 6:38:02 PM
No word about the way our food is treated? CAFOS and chicken/egg production and pig farms are not a separate issue from animal protection. Conditions under which our food is raised is appalling.
Posted by: qofdisks | Aug 24, 2011 7:24:39 AM
Post a comment