Saturday, July 21, 2012
Once Again New Mexico Posts Worst Job Losses In West
From ProgressNow NM:
3,800 fewer workers on payrolls in June, 7,400 fewer than April.
Numbers just released from the US Department of Labor show that New Mexico again lost jobs in June –with 3,800 fewer New Mexicans on payrolls in June 2012 than May 2012, and still 2,100 fewer than a year ago.
"New Mexico, Vermont, and Wisconsin experienced the largest over-the-month percentage declines in employment" according to the BLS release. Other Western states added 65,000 jobs last month.
While New Mexico's unemployment rate dropped slightly since last month, the civilian labor force also shrunk by 4,000 people, an indicator that many New Mexicans have simply given up on finding work.
June's decline in employment continues a trend that ProgressNow NM has been chronicling for months. New Mexico has seen three straight months of job loses – and three straight months of having the worst job growth in the West.
Since April, New Mexico has lost 7,400 jobs.
"The administration in Santa Fe doesn't seem to have a jobs plan," says Pat Davis, Executive Director of ProgressNow New Mexico, a public interest watchdog group. "They won't even talk about jobs and we are living the consequences."
According to the governor's website, she has issued just one news release relating to new jobs in the past two months, while making 29 political appointments. And the consequence is that fewer New Mexicans are working.
Read more at ProgressNowNM.org/blog
July 21, 2012 at 08:40 AM in Jobs, ProgressNow New Mexico, Susana Martinez | Permalink | Comments (1)
Thursday, July 12, 2012
Martinez Repos Economic Development Secretary Barela's Super Computer
The following press release is from ISPAC:
Governor Susana Martinez to repo New Mexico's super computer. So says the Albuquerque Journal article today by Kevin Robinson-Avila.
The state claims that the operator of the super computer, the New Mexico Computer Applications Center (NMCAC), who Martinez intends to repo the computer from owes money primarily due to the default by Cerelink, the largest customer who owed the operator NMCAC $934,000.
What the Journal article failed to mention, just as KRQE's Larry Barker failed to mention back when he did a story last year blaming the Richardson administration for the costs of the computer, is that John Barela, Martinez's Economic Development Secretary, has had a key role in Cerelink. It is believed that Barela helped to found the company while Barela was still with Intel.
Barela's 2011 financial disclosure form lists him as a "shareholder" of Cerelink. Barela also sits on the board of the NMCAC. So he is both debtor and creditor.
So why was there no mention of Barela's involvement by either media outlet? The Journal did mention that Martinez has wanted to privatize the state computer since she took office.
Did Barela's involvement with Cerelink have anything to do with the company's failure to pay its debts to the operator? Was Cerelink's failure to pay the operator a convenient mechanism for Martinez to repo and privatize the computer?
DFNM did a little more research on this topic.
It sure smells bad, but again if gone unchallenged the republican administration which has touted itself as anti-corruption will get yet another pass by main stream media.
Is it corruption? That decision is above my pay grade for sure. However, researching briefly I found this article in The Independent (rip, still a bummer) written by Marjorie Childress on 10/11/10; Barela ducks questions about state film rebate program.
Hypocrisy at its best. A quote in the Independent article; "Republican Jon Barela continues to avoid questions posed by The Independent about the business his company gets due in large part to government programs."
How can this be so, that NM Economic Secretary John Barela can rise to wealth on government welfare subsidies for this super computer?
Remember back when Heinrich and Barela debated in October 2010? No? Well read this other great article; Heinrich challenges Barela on film rebate program written on the Independent by Marjorie Childress to refresh your memory.
An excerpt of Marjorie's article is here:
"You know, it's funny that the small business, the high tech business that my opponent just mentioned, Cerelink, it's a business that relies, actually, on a tax-payer funded super-computer, to do the work for them, to render movies here in New Mexico," Heinrich said.
"They couldn't do that work if they had to do it on their laptop at home. They utilize our taxpayer resources to do that work. In addition, they wouldn't be competitive if they didn't have a 25 percent tax credit to do that work here rather than somewhere else."
Barela repeated his position that government doesn't create jobs and that regulation and taxes should be reduced. Heinrich said Barela couldn't "wag your finger on one side and have your hand out on another," in reference to the use by Barela's company of New Mexico's supercomputer and the state's film tax credit program to acquire business.
Heinrich said he didn't have a problem with those policies, that public/private partnerships are good policy, but that Barela can't "wag your finger on one side and have your hand out on another." 
That last line somes up so many of the matters facing us.
Here we are in our the richest country in the world (supposedly) and in New Mexico. Barela uses this supercomputer for movie graphics, while we need energy research to mention one extreme need that our country could be researching and NM profiting from the research and knowledge weaned from this supercomputer.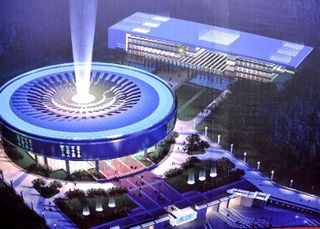 The above image is from Computer World the article is: China breaks ground on futuristic supercomputer complex. China will be using its supercomputing capability for scientific research such as climate models, but also for military purposes
July 12, 2012 at 01:57 PM in Government, Independent Source PAC, Jon Barela, Susana Martinez | Permalink | Comments (0)
Monday, July 02, 2012
Dirty Downs Deal

Looking for a hot summer sizzler to read? Check out this More McCleskey Email Problems For Dirty Downs Deal. 07.02.12. Exposing the insiders within the Martinez administration and how "pay to play" is alive and well in the state of New Mexico. And while you are reading don't forget this previous good read by ISPAC - Investigative report behind The Racino Contract and the Martinez Administration: A Sole-Source Contract Concealed Behind an RFP, dated Jan. 20, 2012. These guys and gals at ISPAC are relentlessly exposing more and more about the non transparent Gov. Martinez administration.
Back in main stream media; the Albuquerque Sunday Journal decided to run an update on Bill Richardson on the front page yesterday. Re-hatching the old scandals that brought ole Bill down, and that prevented LG Denish from getting the Governorship. No need for the Journal to run new articles regarding all the new information coming out about the current scandal with the Republican administration now in office. The documents that have surfaced show Pat Rogers sending emails at 3:40 AM talking about the Racino Downs Dirty Deal. Looks like Pat had some sleepless nights conducting the dark business, of behind the scenes government work, he and Jay McCleskey were running.
What makes matters worse is that the people in this Dirty Downs Deal are cunning and persistent. Pat Rogers sits on the board of the FOG- Foundation for Open Government. Opportunists like Pat Rogers do not actually want open, transparent government, they like to pretend they do. They pretend open and honest government as they manipulate our tax dollars for their own good. Heath Hausemann asks for Pat Rogers to resign from his position on the FOG board in an article on NMPolitics.net.
Pat is no stranger to being in the news and controversy. He has been the point man of many a republican scandal. Barb in the past has wrote about Pat Rogers many many times on this blog you can read a good piece here, having links to other backup pieces.
In summary, Governor Martinez's bold statements of no more government corruption and no more pay to play are just empty words. We can see in the documents from ISPAC that the Martinez administration has been conducting business with her cronies, behind closed doors, in secret, and not for the good of the citizens of New Mexico. What is the likelihood that this corruption scandal gets a full investigation? What is clear now are the emails were concealed from the public, and that the emails authors were conducting state business, spending our tax dollars, in secret, colluding with their friends, not conducting the good honest governmental business for us the citizens of NM.
Below is a quote from the FOG website:
In order for government to truly be of the people and by the people, and not just for the people, our citizens must be able to know what their own public servants are doing in their name.
New Mexico Supreme Court opinion in San Juan Agricultural Water Users Association v. KNME-TV (2011), written by Chief Justice Charles Daniels
July 2, 2012 at 09:59 PM in Government, Independent Source PAC, Susana Martinez | Permalink | Comments (0)
Thursday, June 21, 2012
From AFT NM: SusanaPAC is Targeting YOU.

This past week many news outlets reported on the PED utilizing government resources to create lists of emails for Governor Martinez's SusanaPAC.
Below is a press release from AFT NM about this heinous targeting of teachers across the state and the blatant usage of Governmental Resources for Political Purposes. American Federation of Teachers Speaks out against Government Resources being used for Political Purposes.
According to a report in the Santa Fe New Mexican, Independent Source PAC unearthed an email exchange between high level PED officials and administrators at the Governor's Office. As representatives of educational employees across the state, American Federation of Teachers New Mexico is speaking out against the apparent violation of using government resources for political purposes.
Based on the article, the Public Education Department utilized the PED's Information and Technology Department to create a list of all teacher emails. The IT department then manipulated the list to target non-union teachers.
The lists were sent from the personal email of Larry Behrens, Public Information Officer at the PED, to the personal emails of Jay McCleskey, Political Director of SusanaPAC, Keith Gardner, Chief of Staff at the Governor's Office and Scott Darnell the Director of Communications at the Governor's Office. In addition the email was sent to Secretary Designate Hannah Skandera and Christine Stavem, the newly resigned Chief of Staff at the PED.
"It is evident that government resources including computers and staff were utilized to pull lists of educational employees for SusanaPAC," said AFT NM President Stephanie Ly. "Using government resources to develop a targeted list for political purposes is a potential ethical violation."
The email, sent during work time, contained lists compiled by the PED's Information and Technology Department, filtering non-union educators from union educators which creates a larger issue for union officials.
"It is never okay for a political organization to request information separating union members from those who are not protected under a collective bargaining agreement. This was a questionable request with questionable intent and conducted in a questionable manner," said ATF President Ellen Bernstien, "My members are accountable for our actions, and we are holding the governor to the same standards"
Governor Martinez and Secretary Designee Hannah Skandera have continued to push failed Florida Reforms instead of working with educators and community partners to address New Mexico's education challenges appropriately. This information was requested a month before the primaries on June 5th. In addition contributors to Susana PAC funded Reform for New Mexico which played heavily against AFT endorsed candidates statewide.
June 21, 2012 at 06:02 PM in Susana Martinez, Unions | Permalink | Comments (2)
Wednesday, June 20, 2012
McCleskey and Martinez Should Come Clean to the Voters: Guest Blog by Eli Lee
Following is a guest blog by Eli Yong Lee, Consultant, Albuquerque, NM.
New Mexico's primary election is over, and what a bruising season it was.
From my days as a political consultant and as the former Executive Director of the Center for Civic Policy, I am no stranger to giving and receiving attacks. I believe strongly in the right of any nonprofit to highlight the wrongdoings and achievements of elected officials. Similarly, I believe in the right of candidates and political committees to point out differences and make one's best case for why a candidate should be elected or defeated.
However, I believe it is essential that everyone play by the rules. That is where Governor Susana Martinez and her campaign operative, Jay McCleskey, may have done a tremendous disservice to the voters.
The Center for Civic Policy and I were involved in a series of court cases against New Mexico's Attorney General about the right of nonprofit organizations to hold elected officials accountable for their voting records. The Center meticulously followed the state and federal rules of civic engagement for nonprofits. A New Mexico district court judge, New Mexico's Court of Appeals, and the federal courts agreed that our actions were in full compliance with state and federal law. Many disagreed with our approach, but the indisputable fact is that we followed the rules.
Last month, McCleskey and Martinez created a new political action committee with an innocuous-sounding name: the Reform New Mexico Now PAC. This PAC is run by McCleskey and shares an office with Susana PAC office.
Reform New Mexico Now quickly raised $205,000, primarily from two of Governor Martinez's largest campaign donors – the Chase Oil Corporation with a $130,000 contribution and the Mack Energy Corporation with a $50,000 contribution.
McCleskey originally reported these contributions as received on April 24th. If true, then McCleskey failed to report these contributions to the State on May 14th, when all other candidates and political committees were required to do so. Further, McCleskey did not report the existence of his PAC until May 29th, when state law requires filing as a political committee within ten days of raising or spending $500. If those contributions did arrive on April 24th, then McCleskey and Martinez's PAC would have violated state law.
After several media reports, Reform New Mexico Now filed an amended report on June 2, changing the dates of these contributions – and three other contributions – to late May. McCleskey's PAC stated, "There was a typo in the initial report filed with the Secretary of State by listing all contributions as 4/24/12….We were instructed on how to file an amended report and did so. The Secretary of State's office has informed us that we are in total compliance with the law."
McCleskey and Martinez's PAC spent over $100,000 in last minute attack efforts via mailers and radio ads during the final weekend of the Democratic Primary election.
Governor Martinez and Jay McCleskey have the right to criticize candidates with whom they disagree, and even to set up a front group so that the attack seems to be coming from someone other than Governor Martinez. Both activities are well within the rules. But Governor Martinez and McCleskey do not have the right to hide PAC information from the voters, as required by law. Their actions are a slap in the face to all voters. We all have to play by the rules, no matter one's political persuasion.
Several candidates have filed ethics complaints and the Secretary of State has opened an official investigation into the McCleskey/Martinez PAC. McCleskey and Martinez have until June 21 to answer the charges. The Attorney General should act even more quickly and demand notarized copies of all bank statements from Wells Fargo, Reform New Mexico Now's bank, to find out what the truth is, rather than simply taking McCleskey's word for it.
The voters deserve to know that everyone – even Governor Martinez and Jay McCleskey– have to play by the rules.
June 20, 2012 at 07:46 AM in Ethics & Campaign Reform, Guest Blogger, Susana Martinez | Permalink | Comments (1)
Saturday, June 16, 2012
NM AG King Asked To Investigate PED'S Larry Behren's Email to Political Director Jay McCleskey
Using our tax dollars Governor Susana Martinez uses her senior administrative staff in the Public Education Dept. as her own private work force for political gain in the state. Or she is using her political office and our public workers to push her political agenda of busting unions, and blaming teachers and dividing teachers, or worse things like blackmailing the teachers for their own job protection. Anything can be fair game for our Governor Martinez, after all we saw her go after her own Repub. Legislators who did not agree with her fully. So one could expect the same kind of strong arming will go on with the already battered down teachers across the state.
Bear in mind this all comes from a Governor who ran on no corruption and restoring trust in the state government. Attorney General King should pick this matter up and dig into it, there is no automatic entitlement for any elected officials at any level.
ISPAC has broke and researched much of this story, Steve Terrell of the Santa Fe New Mexican was the first to pick it up, read Steve's article here.
Press release below from the Senate Democrats.
Senate Rules Committee Chairman Linda M. Lopez and House Education Committee Chairman Rick Miera have asked Attorney General Gary King to open an investigation into possible violations of the New Mexico Government Conduct Act by high government officials, including the Governor and her top political advisor. The request is in response to an email sent from Public Education Department (PED) spokesman Larry Behren's private e-mail account to Governor Susana Martinez' Political Director Jay McCleskey. The e-mail was also sent to the Governor's Chief of Staff Keith Gardner and her spokesman Scott Darnell, using their private email accounts at the Governor's Political Action Committee, and copied to PED Secretary designate Hanna Skandera and her Chief of Staff, also on their private e-mail accounts. According to the e-mail, and reports in the Santa Fe New Mexican and Albuquerque Journal, PED's Information Technology Division and budget staff compiled a list of all New Mexico teachers that contained their e-mail accounts, a list of which school districts have union contracts, and another list of nonunion teachers' emails.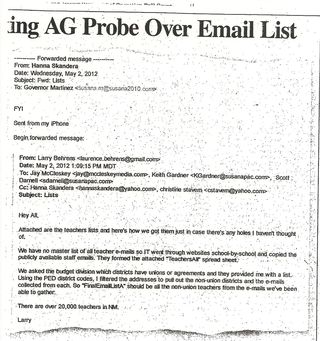 Email above from Behren to McCleskey
"It is very clear from this e-mail that government employees were ordered to spend their time and state tax dollars on behalf of the Governor's private political consultant," said Senate Rules Committee Chairman Linda M. Lopez. "Use of government resources for political purposes is strictly forbidden under the Government Conduct Act."
"Today we are asking the Attorney General to investigate violations of state law by what can only be described as a Who's Who of New Mexico's most powerful government officials," said House Education Committee Chairman Rick Miera. "The Governor's creation of a list of union teachers versus non-union teachers, using state resources, is a divisive act that will create discord among our state educators at a time when we should all be working together to improve our educational system."
"There is no doubt in my mind," said Senator Lopez, "that these data bases developed by PED employees is intended for the Republican Super PACs, who will use them to anonymously inundate our hardworking educators' school e-mail accounts with mountains of ugly political spam. We are further asking that Governor Martinez direct her Political Manager to immediately put a halt to this activity."
Attached is the letter that was sent to Attorney General King.
June 16, 2012 at 06:53 AM in Linda Lopez, Susana Martinez, Transparency, Unions | Permalink | Comments (1)
Friday, June 08, 2012
Lack Of Transparency In NM Governor Martinez Downs Deal
From ISPAC: So Why All the Secrecy from the Sunshine Governor?
There's an old joke that goes something like this, "how can you tell when a politician is lying?" Answer: "Her lips are moving".
Susana Martinez is the self-described "transparency governor", and spent much of her time on the campaign trail attacking Governor Richardson, accusing him of secrecy and corruption.
In October 2011, ten months into her term, Martinez told the New Mexico Press Association, "I have promised since day one that state government will be more transparent, more accessible, and more accountable."
Her lips are moving and her pants are on fire!
Martinez's administration routinely waits the maximum allowable 15 days to provide information requested under the Inspection of Public Records Act. That is, if they provide any records from her administration at all.
Here is a real life example of how they attempt to skirt the law: As part of our investigation into the "Dirty Downs" deal, ISPAC has made multiple requests for records pertaining to the First Gentleman, Chuck Franco's, hunting trip to Louisiana in early September 2011.
The significance of this lies with the majority owners of the Downs at Albuquerque, John S. Turner, Jr. and William C. Windham. Both live in Louisiana. Both are wealthy guys with extensive property and business interests, including hotels, gaming, oil and gas, and marine (boating) throughout the state. They both own lots and lots of land too.
These two men have access to a lot of places for Mr. Franco and his security team to stay, to hunt, to fish, and to gamble while showing them some old-fashioned southern hospitality.
Mr. Franco's trip happened to occur after the Downs and Laguna Development Corp had submitted their competing proposals to operate a racino at the state fair, but before Charles Gara, gave the Downs a perfect score for "management expertise" (completely absurd considering their actual track record).
This perfect score ensured that the Louisiana folks, who gave huge sums of money at very questionable times to Susana Martinez and Susana PAC, won the contract worth a billion dollars over twenty-five years.
It is illegal for the First Gentleman, or anyone in the Governor's administration, to receive any gifts from a bidder during the procurement process controlled by his wife.
This would force the termination of the Downs' contract. It is also criminal conduct.
Under state and federal law, interstate travel in furtherance of bribery (receiving gifts to sway the bidding process) is a very serious offense.
In response to our IPRA, the Martinez administration first claimed they had no documents responsive to our request.
However, the Department of Public Safety provided one document; a spreadsheet showing the dates, times, and locations of gas purchases by the security officers on their state credit card for the state vehicle they used for the hunting trip.
This one document shows that Mr. Franco and his security team passed through Shreveport/Bossier City where Mr. Turner and Mr. Windham both live, and stopped in Natchitoches, the location of Mr. Turner's company---the one that operates hotels.
Yet the Martinez administration said no documents (invoice, emails, or even postcards) exist showing where they stayed while they hunted. No documents exist showing who paid for the accommodations, hunting guides, or on whose land they hunted.
Is it credible that the governor did not know where her husband and his security team were for 5 days?
A Deputy Chief with the state police told us that the trip had been planned as a vacation for the two members of the security team, and that Mr. Franco asked to come along.
This is counter to a statement from Martinez's spokesman Scott Darnell made April 18, 2012:
"...it was first gentleman Chuck Franco who made the trip to Louisiana, for a hunting vacation, paid for by him, with two security officers sent at the direction of the State Police chief."
So whose vacation was this? The First Gentleman's or two security team officers?
A source with extensive security detail experience told us that security team officers are on the clock whenever they are in the company of the person they are assigned to protect. That would seem to include this hunting trip, regardless of who initiated it
We next requested leave/vacation requests and time sheets for the security officers. One or the other of these documents must exist. The time sheets are the most likely since they did charge their gas to the taxpayers and drove around in a state vehicle for the entire trip while accompanying the First Gentleman.
Yet despite the trip having occurred way back in September 2011, the Martinez administration is claiming that the governor and the first gentleman's safety would be compromised by disclosing where they stayed, who paid for it, and on whose land they hunted.
In an interesting coincidence, the governor hired the wife of one of the security detail officers into a high paying job in February 2012. This happened only a few weeks after we issued our first investigative report on the "Dirty Downs" deal.
The job was for an exempt position that conveniently did not have to follow the normal hiring process--- the process of publicly announcing the position, collecting applications, and selecting the most qualified.
This same State Police officer assigned to the Governor's security detail was convicted on two counts of contracting without a license in 2010.
There is no legitimate or discernible threat to safety here. However, there does appear to be a serious effort to conceal any information from the public that could reveal the Louisiana bidders showing the First Gentleman a good time during the procurement process.
If nothing improper happened, why go to such great lengths to hide it? Surely, the public's right to investigate corruption and illegal conduct outweighs any unfounded claim of personal safety, especially when the trip took place nine months ago. We will find out.
This is the "transparency" governor?
June 8, 2012 at 04:17 PM in Independent Source PAC, Susana Martinez, Transparency | Permalink | Comments (4)
Monday, June 04, 2012
Mitt Romney's Decision to Skip a Visit to New Mexico
Republican Presidential nominee Mitt Romney decided to skip a visit to New Mexico for our primary. Romney's decision to ignore New Mexico and skip a visit to our state is unprecedented in the history of GOP presidential candidates and shows how out of touch he is with New Mexico's middle class. Instead, Romney will spend the day in Texas at a high-dollar fundraiser with big donors.
One would presume Romney and gang feels the state is getting sufficiently screwed up and corrupted by our own homegrown Republicans.
With the latest events of fat cat oil donors providing fat cash for the Reform NM Now PAC, and then the so called "Reform PAC" sending out mailers favoring a democrat of their choice in hotly contested democratic primary races, the captain of the republican ship here in NM is doing a fine job without Mitt needing to parachute in. Maybe when Romney flies out of Texas he can fly low over NM and throw some bails of money out to the Susana PAC's.  
The democratic primary races which Susana PAC's are meddling in are all in NM district's that do not have a republican running. "Reform New Mexico Now" targeted David Coss and therefore sent out mailers supporting Carl Trujillo, they targeted Jack Sullivan and supported Sen. Phil Griego in mailers within that district.
Lastly, that we know about, Reform NM targeted Eleanor Chavez with direct mailers to try to influence that race for the benefit of the republican of their choosing - James Taylor. Representative Chavez has filed a complaint to Secretary Duran's office, you can see the Reform New Mexico Now Complaint Press Release here. Sounds like Senator James Taylor is the beneficiary of that mailer, no wonder, Taylor still has a bone to pick for loosing 4 years ago to Eric Griego. X dem Senator Taylor would for sure cozy up to the Republican Martinez anti reform PAC to win back his office. Remember Shannon Robinson, he at least had the courage and fortitude to change parties from dem to republican, so he could run against Senator Tim Keller who won X dem Senator Robinson's seat 4 years ago as well.
The whole thing makes me throw up a little bit into my mouth.
Reading the blogs and news today was disappointing. The fact that republicans are influencing our democratic primaries through the obscene money allowed into campaigns through the Citizens United decision, is appalling.
And that reminds me, I really admired the civility of the Dem Senatorial debate on Sunday evening. Two very smart democrats talking about the issues. Some blogs called it a love fest, I saw it as mature senatorial performances. Good going Hector and Martin, Thank you for making me proud to be a Democrat. People are hurting out here. We need solutions and people to help us get jobs not more payoffs with no results for the people.
June 4, 2012 at 11:49 PM in 2012 Primary Election, Candidates & Races, Citizens United, Susana Martinez | Permalink | Comments (1)
Sunday, June 03, 2012
David Coss Files Ethics Complaint Against Republican Front Group Reform New Mexico Now and Urges Immediate Investigation
David Coss filed an Ethics Complaint today asking Secretary of State Dianna Duran and Attorney General Gary King to immediately investigate the actions of Governor Susana Martinez, her campaign consultant Jay McCleskey, Susana PAC, the Reform New Mexico Now political committee and any other entities involved, for illegally hiding money from voters and failure to disclose the formation of their political committee in a timely manner.
Download A-120529 reform nm now ethics receipt
Download B-120531 susana pac report
Download C-120531 reform new mexico SOS report
Download D-120531 reform new mexico SOS report AMENDED
Reform New Mexico Now is Susana Martinez's Republican front group funded by Governor Martinez's major oil and gas donors from Artesia, NM. They are spending over $200,000 in Democratic primaries across the state. This Republican oil and gas PAC has endorsed Carl Trujillo for House District 46.
David Coss said: "It is outrageous that Susana Martinez would get involved in a Democratic primary, especially in northern Santa Fe County and then try to hide her involvement from the voters."
Coss campaign manager Sandra Wechsler added, "We've wondered all along where Carl Trujillo stands. Now we know – with Republican Governor Susana Martinez and big oil and gas."
Reform New Mexico Now sent mailers to Democrats in HD46 endorsing Carl Trujillo and attacking Coss on Friday and Saturday. The election is June 5th.
DFNM editorial two cents:
Thank you Mayor Coss for connecting the dots here and discovering violations of campaign PAC money raised by Governor Martinez. Gov Martinez ran her campaign on stomping out corruption in NM. NO more "Pay to Play". No more cronyism. The longer Martinez is in the office the more she violates her own promises to the people of New Mexico. The buck stops with Gov Martinez.
June 3, 2012 at 04:48 PM in 2012 Legislature Races, Candidates & Races, Santa Fe, Susana Martinez | Permalink | Comments (1)
Tuesday, May 15, 2012
NM Job Growth Last in West, Trending Downward Neighboring States Add Jobs at 4x, 5x NM Rate
For the second straight month, job growth in New Mexico came in a full point behind the national average and is now the lowest in the West, according to statistics compiled by the federal Department of Labor Statistics and published by the Martinez administration.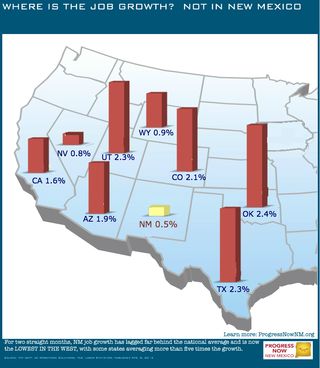 The latest job reports numbers show that New Mexico added just 804 jobs in March 2012; virtually unchanged from March 2011 (800).  By comparison, our neighboring states have continued to add jobs at a rate near or above the national average of 1.5%.  Oklahoma: 2.4%, Texas 2.3%, Colorado 2.1%, etc.
Even Utah, with a similar population and rural density far surpassed New Mexico with job growth coming in at 2.3%, a full 0.8% more than the national average.
Despite Martinez's claims that New Mexico is more business friendly under her watch, corporate CEO's recently lowered New Mexico's business friendly rating in its first reporting of New Mexico's business climate judged entirely by policies under a Martinez administration. 
"This governor has had almost eighteen months to turn jobs around.  While the rest of the West as a whole is leading job creation in the nation, New Mexico is bucking the trend," says ProgressNow NM's Pat Davis.  
"It's not enough to talk about jobs anymore.  We have to level the playing field for local businesses to incentivize Main Street job creation and stop vetoing critical public programs which create jobs in our small towns."
"Governor Martinez has spent more time in office talking about her next job in Washington than the one she has now in Santa Fe.  It's time to shelve the rhetoric and veto pen and get money back into our communities where people need to work."
A full analysis and links to the data is available online at ProgressNowNM.org
May 15, 2012 at 11:40 AM in Economy, Populism, Jobs, ProgressNow New Mexico, Susana Martinez | Permalink | Comments (2)
Friday, May 11, 2012
Health Care Director Brings History of Scandal and Corporate-Run Regulation (ALEC) to NM
From ProgressNow New Mexico.
Governor Susana Martinez's appointee to lead the design of New Mexico's Health Insurance Exchange has a long and sordid history with ALEC, scandals involving the improper use of taxpayer resources and suspect businesses dealings using non-profit foundations for big personal gains.
Michael Leavitt is a former Bush administration EPA Administrator and HHS Secretary.  ProgressNow NM has discovered that during his tenure in those positions, and in his private life throughout and since, Leavitt has drawn criticism for his close associations with corporations he was charged with regulating, using government emergency aircraft as a private jet service and "suspect" behavior to funnel hundreds of thousands of dollars through a non-profit and into his private bank accounts.
Among the items reported by ProgressNow NM (view the full report and citations online):
As EPA Administrator, Leavitt was a featured speaker at a 2004 ALEC event sponsored, in part, by ExxonMobil and other entities he was charged with regulating.  ALEC is the shadowy corporate-backed bill factory now under IRS scrutiny and investigation in several states for allowing corporations to write legislation and regulations about their own industries and feeding it to legislators to pass, avoiding anti-lobbying laws in the process.
As HHS secretary, Leavitt used a CDC emergency response aircraft as his personal charter jet on more than 90 trips - forcing the CDC to find other transportation in at least two actual emergencies
Congress proposed a law to stop Leavitt and others from funneling more than $500,000 in corporate and non-profit money through a non-profit scholarship foundation, then receiving all of that money back while placing those students in housing owned by Leavitt.
In 2014, small businesses and the uninsured (mostly young, old and poor) will be required to obtain health insurance and most will do so through the state-run insurance exchange.  The exchange is supposed to connect uninsured with insurers providing affordable insurance plans.  New Mexico has an estimated 430,000 uninsured residents, the second-highest in the nation.
Martinez is responsible for setting up that exchange, and she has delegated that task to Leavitt, along with a $1 million payment.  
"As a regulator, he was closer to those he regulated than those he was charged to protect.  As a health secretary he saw no problem with utilizing government emergency health response resources as his own private charter jet company and in private life he funneled hundreds-of-thousands of dollars in charitable money through a non-profit foundation and into his personal bank accounts," says ProgressNow NM's Executive Director Pat Davis.
"Insurance companies Leavitt will negotiate with are surely happy with this appointment, but New Mexico's uninsured and small businesses who are already pinching pennies are right to wonder about a man whose experience shows such disregard for individuals and taxpayers."
May 11, 2012 at 09:40 AM in Corporatism, Healthcare, ProgressNow New Mexico, Susana Martinez | Permalink | Comments (1)
Saturday, May 05, 2012
ISPAC Responds to GOP'S Frivolous Retaliation
From ISPAC, Michael Corwin.
Retaliation: The New Mexico GOP filed frivolous allegations with the FEC against ISPAC in retaliation for blowing the whistle on pay-to-play activity by Governor Susana Martinez and others regarding the awarding of the billion dollar plus racino contract (Dirty Downs Deal).
Unable to attack the information we developed, the GOP has resorted to attacking the messenger. ISPAC exposed Susana Martinez's actions in the Dirty Downs Deal which scuttled her political team's (Jay McCleskey) efforts to turn her into a top tier VP selection and to be the national figurehead in the drive to mislead and siphon Hispanic votes away from Barack Obama and Joe Biden.
We have targeted Susana Martinez through our federal PAC because she is in a position to impact the presidential election and we need to prevent that from happening.
On April 5, 2012 ISPAC held a press conference documenting the latest information we developed and forwarded those documents to the New Mexico Attorney General's Office. On April 8, Governor Susana Martinez announced to the world via the Albuquerque Journal that "no means no" when it comes to a vice-presidential bid.
We have more than enough documentation to submit to the FEC to justify our using the federal PAC to benefit President Obama and Joe Biden in their quest to maintain the Hispanic vote.
Presidential Campaign: Before ISPAC received any money from CWA, the Hispanic Leadership Network, (HLN) a national Republican group founded by Jeb Bush, a strong proponent of having a Hispanic on the 2012 GOP ticket, announced that Susana Martinez would be the keynote speaker for this national conference aimed at convincing Hispanics to vote Republican in 2012. By that time, Susana Martinez was mentioned time and again as a possible VP candidate.
Republican presidential nominee-to-be, Mitt Romney, often identified Martinez as a good vice presidential selection throughout his primary campaigns.
Martinez has been mentioned in countless news articles (including those pieces written by the McCleskeys themselves) about her ability to draw high percentages of the Hispanic vote.
Gary Johnson, former Republican presidential candidate turned Independent presidential candidate, has directly attacked Susana Martinez on the presidential campaign trail trying to keep her off of the Republican ticket. He has taken her to task over her efforts to repeal driver's licenses for illegal immigrants.
Martinez has constantly cited President Obama as supposedly supporting her education reform agenda, including sending out mailers to Democrats.
State Super PAC: In May 2011 ISPAC sent notification to both the New Mexico Secretary of State and the New Mexico State Attorney General that we intended to form an independent expenditure PAC.
We provided legal reasoning as to why the $5,000 campaign contribution cap was illegal (per the US Supreme Court) when it came to independent expenditure groups that do not coordinate with campaigns or the party.
We requested a formal opinion, but made it clear that we fully intended to raise unlimited contributions within the state PAC to address state races.
The New Mexico Attorney General's office responded that they were unable to issue a formal opinion unless a state official requested it. We then asked the Secretary of State to make the request. The SOS prepared the request, but never sent it to the AG.
Since that time, the Republican Party has filed a lawsuit to block the $5000 cap and a federal judge has ruled that it cannot be enforced regarding independent expenditure PACs. The judge's ruling was in essence the same as our legal argument.
We believe that the legal argument, and lack of response to our request, are solid enough to support our endeavor.
Finally, we are not going to back down. While the Republicans in this state spend their days promoting an agenda that favors campaign contributors and an elite class of business interests, ISPAC is proud to fight on behalf of working families. Powerful politicians can and should be held accountable.
May 5, 2012 at 09:00 AM in Independent Source PAC, Republican Party, Susana Martinez | Permalink | Comments (3)