« 8/31: UNM Center to Host Forum on Electoral College; Similar Forums in Santa Fe, Las Cruces in Coming Months | Main | 8/31: Juárez from the Eyes of a Human Rights Worker »
Tuesday, August 30, 2011
Susana Martinez/GOP to Sen. Mary Jane Garcia: Na Na, Na Na Na!
As the Santa Fe New Mexican's Steve Terrell Tweeted yesterday afternoon, State Senator Mary Jane Garcia (D-Dona Ana), the Majority Whip, appeared with Governor Susana Martinez at a press conference about the governor's bill to stop social promotion -- to hold third graders back a grade until they can read at the appropriate level. Although Garcia had supported a similar bill last session, yesterday she unexpectedly said the bill shouldn't be debated in the upcoming special session:
"It's premature," Garcia said of the bill. She pointed out that taxpayers will have to fork out about $50,000 a day for legislators to attend the special session, and she stressed it's not the right time to push for educational reform, given the need to focus on redistricting of political boundaries based on the latest census numbers.

... "I'm sorry I didn't get to talk to you beforehand. But I made this decision just last night," Garcia said to Martinez. "I was mobbed with calls from everybody, saying, 'You can't do that. You can't take away a parent's rights. We don't want our kids to be held back. We want them to go on and achieve.' " 
Sen. Garcia then apologized again to the governor, and Martinez replied, "that's ok, everyone is entitled to their opinion." I guess Susana was more miffed at Sen. Garcia than she let on. Or she believes that revenge is best when served up (at least somewhat) cold.
Later in the afternoon, the Republican Party of New Mexico sent out a scathing press release repeatedly attacking Sen. Garcia for "taking a cheap shot" at Gov. Martinez, and then dredging up incidents from the past to try to embarrass Sen. Garcia. Susana might just as well have saved everyone time and effort and instructed the GOP spinner to write a press release containing only the phrase "na na, na na na!" repeated over and over again. It's that juvenile and vengeful. Well, nobody ever claimed that Susana Martinez or the NM GOP are models of dignity, restraint and maturity.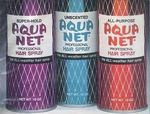 If this is how Susana expects to capture the VP slot on the GOP presidential ticket, I'd have to say her judgment is more than a little off. Then again, tea partyish right wingers seem to really like women candidates who "talk tough," cultivate a rough "law and order" image, pack "heat" and use rhetoric that exhibits the worst qualities of nasty banter heard in high school locker rooms from the 1950s. Think "Grease" or any number of entirely forgettable teen B-movies of the 50s era. All Martinez needs to complete the picture is a hot pink jacket and a ratted up bouffant hairstyle held together by a can of Aqua Net.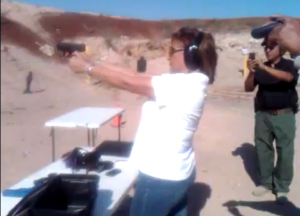 Susana "Pinky Lady" Martinez at the shooting range
Saying that Sen. Garcia "once again proved that no cheap shot is below her," the release quotes GOP executive director Bryan Watkins saying, "Garcia would rather take political cheap shots than improve our schools."
The release goes on to inform readers that, "Garcia has a history of taking cheap shots, including against Barack Obama, who she called arrogant." It then moves on to a report of Garcia "attacking" Martinez last year related to the Baby Brianna bill, and ends with the outrageously inaccurate claim that Gov. Martinez puts New Mexico above partisan politics. Yeah, we've all noticed that, right?
Granted, some of the statements attributed to Sen. Garcia are not exactly politically correct, but the venom expressed in the press release is rather shocking, even for the New Mexico GOP. And that's saying something.
Susana Martinez has been taking a lot of guff for trying to pack the agenda of the upcoming special legislative session on the already contentious issue of redistricting with bills meant to nurture wedge issue frenzy -- like another stab at repealing driver's licenses for foreign nationals and the social promotion bill touted yesterday. Sen. Garcia is quoted in a KOB.com story as being very critical of the governor's plans for the session:
"We may end up being here the whole year and not get the redistricting done," said Sen. Mary Jane Garcia, a Las Cruces Democrat. "I want to focus on redistricting, and I'm thinking of the $50,000 we're gonna spend every day to keep us here in Santa Fe."
She'd Kick You in the Kidneys
Another Dem legislator is also seeing the nasty "Pink Lady" side of Susana Martinez. According to an Albuquerque Journal story,
Rep. Eliseo Alcón, D-Milan, made it clear Wednesday that he didn't see any compassion in Republican Gov. Susana Martinez as he made a speech outside the Roundhouse doors.

"I believe that our governor up there on the fourth floor, if she were to see you laying on the floor right there because you were hurt, she would probably go kick you in the kidneys just because she can," Alcón said. "And that would be all she would do. She feels that just because she is governor she can hurt whoever she can."
As the Journal reports, Alcón was speaking after an announcement that Martinez's administration would be sued over an administrative action that requires 10,000 foreign nationals with in-state licenses to prove their residency in New Mexico or risk losing their licenses – a move her critics, and the lawsuit, claim is discriminatory.
Gov. Martinez is developing quite the reputation as a cruel and callous operator, which many right wingers no doubt think is very, very cool. What she's losing in the process, however, is any perception that she knows how to govern wisely and fairly. This is one GOP governor who's never out of campaign attack mode -- and it's ordinary New Mexicans who will suffer for that fact. 
August 30, 2011 at 03:37 PM in Education, Immigration, NM Legislature Redistricting 2011, Redistricting, Right Wing, Susana Martinez | Permalink
Comments
She's just showing her true colors - BLACK hearted. She certainly isn't pink - that's a gentle color. Is anyone truly surprised that this is what they got when they voted for her? I'm sure not! And why don't we have RECALL petitions in NM? No one has the actual cojones to try to impeach her (YET - let her keep up her rampage) - but the day our state government denies me ANY state right based on sexual orientation, she will have committed an impeachable offense for not following state law - because it IS the law whether SHE likes it or not! I STILL don't want a texan for governor of NM OR president of the U.S.! The only thing I agree with Rick Perry about is having Texas secede from the U.S. I say good riddance and TAKE SUSANA WITH YOU!
Posted by: Mauro Montoya | Aug 30, 2011 3:58:26 PM
You pegged Susana exactly right-as a wise ass juvenile in how she deals with lawmakers and her job as governor. She doesn't lead and work with others to come up with solutions to our biggest problem of jobs and the economy. She likes to create headlines that show she is tough and stir up teabaggers.
Posted by: Adrian | Aug 31, 2011 6:11:40 AM
Susana, I think is starting to learn that legislators in New Mexico know a great deal more about legislating than she does about governing. This is New Mexico politics 101 for her. She has a great deal to learn. I am sure the legislators will be glad to teach her.
Posted by: Stephanie DuBois | Aug 31, 2011 4:38:31 PM
Her drivers license witch hunt has just been shut down:
Judge halts governor's residency checks
SANTA FE -- A New Mexico judge today issued a temporary restraining order halting Gov. Susana Martinez's residency certification program for up to 10,000 foreign nationals. I'd make that "foreign nationals," there's no proof of her accusations.
BTW, the lead Pink Lady is Stockard Channing, who starred with Travolta and Olivia Newton-John.
Posted by: Ellen Wedum | Aug 31, 2011 8:28:39 PM