« 8/28: Dem Women of Sandoval County Celebration Picnic and BBQ | Main | 8/24: Defenders of Wildlife Meetup in ABQ with Rep. Martin Heinrich »
Sunday, August 21, 2011
45 More Arrests at Tar Sands Pipeline Protest at White House, Including Lora Lucero of Albuquerque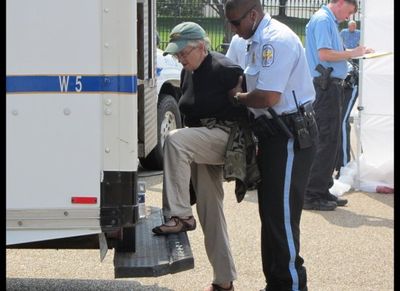 Lora Lucero being arrested in DC today. More photos.
Today, 45 more activists representing a variety of age groups and backgrounds were arrested in front of the White House as they participated in the second day of Tar Sands Action, a planned two-week exercise in civil disobedience to protest the planned Keystone XL pipeline from the filthy tar sands of northern Alberta down to refineries at the Gulf of Mexico. One of those arrested today was well-known Albuquerque grassroots activist Lora Lucero. On a status update on Facebook, Lora said, "I was arrested at the White House by the National Park Service police today. After booking and paying $100 fine, we were all released."
Bravo, Lora! Thanks for so ably representing us at one of the most important demonstrations in the green energy era! As anyone with a functioning brain knows, it's now or never if we want to stop the horrible impacts of fossil fuels on global climate in time to make a difference. Outside of Saudi Arabia, the tar sands of Alberta represent the largest remaining pool of oil in the world. As many have pointed out, it generally takes more energy to extract the oil from the tar sands than they provide, and even the process of extracting it is incredibly damaging to the environment in terms of air and groundwater.
Demonstrators are uging President Obama to refuse to sign a document that would permit the pipeline to cross our northern border. The President has the power to allow or stop the pipeline on his own. He does not need the approval of Congress, the State Department or any other governmental entity to do so. In other words, he has nobody to blame and no valid excuses to offer if he allows the pipeline -- which is needed by the massive and filthy tar sands operations in Canada if they are to remain financially viable.
Click to sign a petition to the President. It says: "No to Keystone XL. The tar sands represent a catastrophic threat to our communities, our climate, and our planet. We urge you to demonstrate real climate leadership by rejecting the requested permit for the Keystone XL pipeline and instead focus on developing safe, clean energy."
All the way back to his campaigning days, Obama has often talked the green energy talk. Now it's time to see if he will walk the walk by refusing to allow the pipeline -- or if he will cave to vested fossil fuel interests. Bill McKibben, a key organizer of the protests, calls the Obama administration decision a referendum on the president's climate change record, noting the decision rests solely with the executive branch.
Yesterday, on the first day of the protest, more than 65 people committed peaceful civil disobedience at a sit-in in front of the White House and more than 50 were arrested and detained by U.S. Park Police. Those arrested on the first day included Bill McKibben, the prominent climate activist and founder of 350.org; Jane Hamsher, who founded the popular liberal blog Firedoglake; and Gus Speth, whose career includes co-founding the Natural Resources Defense Council and chairing the White House Council on Environmental Quality in the Carter Administration.
Addressing President Obama's power to stop the pipeline, McKibben said in Lafayette Square Saturday morning, "He doesn't have to go through the crazy climate deniers in Congress to be able to do the right thing. If Barack Obama mans up, says no to this thing, it will send a surge of electricity through all of the people that voted for him three years ago. It will be the reminder of why we were so enamored of this guy in 2008."
Despite previous promises to allow same-day releases of those arrested upon posting of bail, authorities decided to hold most of those arrested on Friday until at least Monday in order to deter more people from risking arrest. Talk about an ironic development:
The Park Police were especially concerned that sit-ins would continue during the week of events beginning on August 28 surrounding the dedication of a new memorial to civil rights leader Martin Luther King Jr., one of the greatest exponents of creative nonviolence.
Park Police must have changes their minds about this policy as those arrested today are reportedly being released after posting bail. 
More than 2,000 people from all 50 states and Canada have registered at Tarsandsaction.org to take part in similar sit-ins of 50-100 people everyday for the next two weeks until September 3. There's still time to sign up to participate or make a donation. You can send a message of support to demonstrators here.
For more information, see our previous post on this issue. You can follow continuing coverage on Daily Kos and http://www.tarsandsaction.org/
August 21, 2011 at 05:09 PM in Climate, Energy, Environment, Obama Administration, Water Issues | Permalink
Comments
Post a comment