« 7/18-7/20: Legislative Redistricting Committee Public Meetings in Clovis, Roswell, Las Cruces | Main | 7/26: Solidarity Rally in Santa Fe for Environmental Activist Tim DeChristopher, Wrongly Convicted on Federal Land Bids »
Monday, July 18, 2011
Southern New Mexicans Gather to Discuss Local "Kitchen Table" Values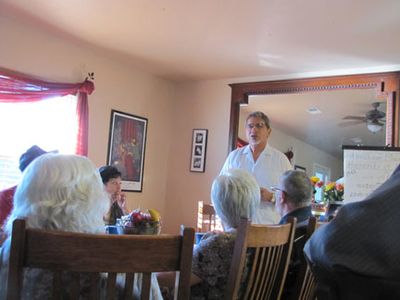 Activist Maury Castro at his Sunday house meeting
Contributing writer Stephen Jones checks in with more on-the-ground coverage from Southern New Mexico.
Dozens of local neighborhood meetings were held across southern New Mexico this past weekend to discuss the nation's "kitchen table" values and to rebuild the American dream. Nearly 1600 "American Dream" house meetings were held in every Congressional District in the U.S., including the well-attended house meetings in New Mexico's 2nd Congressional District. The meetings focused on how the current economic downturn has affected average Americans lives and how local neighborhoods can begin to push back against the radical right-wing agenda of the Republicans and Tea Party extremists.
The meetings were sponsored by the American Dream Movement (Rebuild the Dream), a growing coalition of seventy-two progressive community, environmental, political and labor organizations including Moveon.org and ColorofChange.org. Community and environmental leader Van Jones launched the national grassroots agenda that led to this weekend's neighborhood meetings last month, urging local grassroots neighbors to find ways to rebuild what Jones termed the "American Dream" and make it more accessible to all Americans.
Long-time local neighborhood activist Maury Castro of Doña Ana, New Mexico led one of the local meetings on Sunday night at his home in the rural southern New Mexico community, which is just north of Las Cruces. Twenty two area neighbors came together at Castro's home on Sunday to introduce themselves to each other, and to help hammer out a community-driven issue agenda that common Americans, like themselves, can rally around.
At Castro's grassroots house meeting in Doña Ana, local neighbors heard a brief welcome via the Internet from Van Jones and from other national coalition organizers, then broke down into smaller groups to discuss the issues that they felt were most important to their neighborhoods, and to rank those they felt should be prioritized over the coming months, nationally. The group then sent their recommendations back to the national coalition.
Photo by Stephen Jones. To see more posts by Stephen, visit our archive.
July 18, 2011 at 09:11 AM in By Stephen Jones, Contributing Writer, Economy, Populism, Events, Las Cruces, Rebuild the Dream | Permalink
Comments
With "primarying" take off the table at Netroots, it is just another lame self-serving organization looking for funds.
Remember, the main tactic employed by the Teabaggers were to primary out their so called moderate representatives.
We Democrats have fake Democrats in our Senate and House and state legislators that should be replaced.
Until Democrats take that action, we will continue to be lead around by the nose ever farther to the right against the common welfare.
The American Dream Movement is another fake grassroots attempt to counter the Tea Party but, it is still a fake whose principle goal is to maintain the status quo rather than truly defending the working class.
How do I know that? It neither recruits nor promotes Liberal candidates for primaries or otherwise.
Posted by: qofdisks | Jul 18, 2011 2:44:42 PM
I don't agree with gofdisks. Look at all the progressive organizations supporting this as a way to come together into one grassroots force on economic issues. The organizing is outside electoral politics so we can pressure candidates. I think it's a good idea.
Posted by: Matty | Jul 18, 2011 6:33:56 PM
I'm not sure that I agree with gofdisks on this either. This is one of several attempts to reenergize the grassroots and to get progressives off their backs. This particular effort has also enlisted the leadership of an authentic grassroots organizer, Van Jones.
Posted by: Ejército Libertador del Sur | Jul 19, 2011 4:09:06 AM
At least it's not another version of OFA - the Obama cult organization!
Posted by: Sean | Jul 19, 2011 7:49:57 AM