« New Mexico Groups Call for Open Budget Negotiations, Regional Public Meetings | Main | Guest Blog: A Public Vote on the Public Option at Sen. Bingaman's Town Hall »
Tuesday, August 25, 2009
Obama Administration Names Terry Brunner to Serve as State Director for Rural Development in New Mexico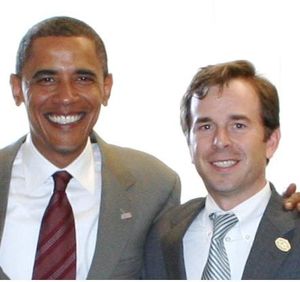 President Obama and Terry Brunner
The Obama Administration today announced that Terry Brunner will serve as New Mexico State Director for Rural Development at the USDA.
"Terry Brunner will be an important advocate on behalf of rural communities throughout the state and help administer the valuable programs and services provided by the USDA that can enhance their economic success," said Agriculture Secretary Tom Vilsack.
When I contacted Terry for a response today he said, "I'm excited to have this opportunity to work with New Mexico's rural communities and to be a part of the President's efforts to revitalize and rebuild rural America. USDA has the potential to make a difference in rural New Mexico every day and in every way and I will work hard to make sure that happens."

If you've been involved with politics or policy in New Mexico, chances are you know Terry -- and know he'll do a bang-up job in his new position. He has been the State Director for Senator Bingaman since 2002, managing 5 district offices and 19 staff. He served as the Senator's outreach staff on the issues of economic development, public health, energy and public lands. Brunner has a Masters in Latin American Studies from the University in New Mexico, with an emphasis in Political Science and Community and Regional Planning. (And he's a Cubs fan.)
Rural Development administers and manages more than 40 housing, business, and community infrastructure and facility programs as laid out by Congress through a network of 6,100 employees located in 500 national, state and local offices. These programs are designed to improve the economic stability of rural communities, businesses, residents, farmers and ranchers and improve the quality of life in rural America. Rural Development has an existing portfolio of over $114 billion in loans and loan guarantees.
The USDA provides leadership on food, agriculture and natural resources and touches the life of every American. Reflecting President Obama's commitment to expanding economic opportunities in rural America, Agriculture Secretary Tom Vilsack and the USDA are working to enhance availability of broadband, promote the development of renewable energy, to conserve, maintain and improve our natural resources and environment, and promote a sustainable, safe, sufficient and nutritious food supply.
August 25, 2009 at 10:42 AM in Obama Administration, Rural Issues, Sen. Jeff Bingaman | Permalink
Comments