« March 2007 | Main | May 2007 »
Monday, April 30, 2007
NM Dems Ready to Win in 2008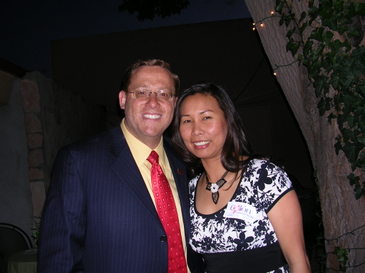 New DPNM Chair Brian Colón and wife, Aleli, at Friday gathering in Las Cruces
I'm definitely on a natural high. So if this seems like a "puff piece," so be it; I'm thinking positive. All the events at this weekend's gathering of the NM Democratic tribes in Las Cruces seemed packed with enthusiastic, upbeat, hopeful crowds set on brainstorming and uniting to win everything in sight in the 2008 election cycle.
From the State Party's opening fundraiser Friday at the Mission Inn, to Mayor Marty Chavez's outdoor dessert buffet in the Mission Inn's courtyard afterwards, to Javier Gonzales' free feed at the Double Eagle restaurant that evening, to Lt. Gov. Diane Denish's burrito breakfast Saturday morning at Las Cruces High School, to the day's business meeting and elections, to the late-lunch gathering at DNC Committee member Mary Jane Gwaltney's house after the meeting, to golfing at the local country club, to Team Colón's victory celebration Saturday night at Hotel Encanto, and to many other smaller confabs and strategy sessions -- a productively good time was had by all. (And that doesn't even count our lunch at La Posta de Mesilla on the way back home.) Dems from around state were talkative, engaged and determined to come together to defeat Repub forces at both the local and national levels.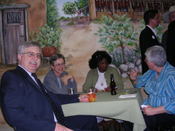 Chair Melinda Whitley, Stephanie DuBois, Mary Gail Gwaltney, Christy French, Art Terrazas and everyone else from the Dem Party of Dona Ana County pulled out all the stops to host a delightful Dem weekend, from the locally grown pecans and guest packets to the friendly welcomes and helpful advice from officers and rank and file Dems to those driving in from all corners of the state. There were Dems from all walks of life and from all kinds of backgrounds, dressed in a myriad of outfits -- from cowboy hats to formal wear, from antiwar teeshirts to business suits, from turquoise and squash blossom necklaces to peace symbols. There were vets of decades of political battles and those who had never attended an SCC meeting before.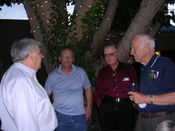 I can't tell you how many times I heard people comment about the pleasures of being in a room or restaurant or patio full of fellow Dems. Everyone was in and out of conversations about the recent presidential debate and Bill Richardson's chances, BushCo's latest fiascos, who's gonna run for the seats of Heather and Pete, tales of Dem victories and losses past, what we have to do to build the Party and win in the future, and just about any other topic you might imagine that has anything at all to do with Democratic political goals: We the people. Liberty and justice for all. Peace and prosperity. Economic fairness, a fair shake and fair trade. Unity out of diversity. A helping hand and equal opportunity. Universal health care and a top notch education. Ending the war NOW and treating our returning vets with the dignity and honor they deserve. Renewable energy and green technology. Family values of the inclusive kind.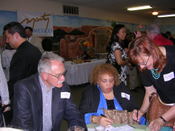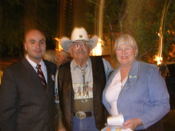 Not all was sweetness and light, of course. With opinionated, passionate Dems, it never is. There was a fair amount of grumbling about the Judicial Council's decision on the Taos County controversies and challenge, about Dems who won't speak truth to power, about the tepidness of some candidates and office holders, about this faction or that being out to lunch. Of course there are still problems and prejudices within the Party and without.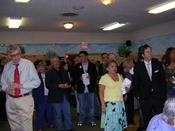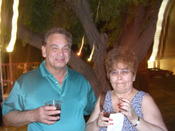 But all in all, this was a Party uniting around Brian Colón as Chair -- with almost 80% of the votes -- and bubbling with energy ready to be aimed at Repub opponents in every race. It was also a Party where grassroots activists and ordinary Dems ran for and won many offices and committee slots down ticket. I think we have an abundance of strong, active Dems at every level of the Party and from all three Congressional Districts. Party building and reform, reachout, fundraising and seeing that candidates take positions with backbone are just some of the goals on the minds of Dems -- along with victories up and down the ticket of course.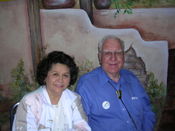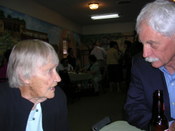 New State Chair Colón's wife Aleli and son Rafael together gave a terrific nominating speech for Brian -- including a bilingual segment by Rafael. Colón himself spoke of his very modest beginnings and how Democratic programs and genuine family values helped give him a lift up and onto the road to his present successes. He said it's now his turn to give back so Democratic priniciples can help others. As for the other nominees for State Chair, Raymond Sanchez's nominating speech for Michael Olguin was full of reminders about the kinds of liberal victories they and others like them had helped bring to life over many years of service, while 27 year old Gideon Elliot spoke of the need to reach out to younger voters, who are increasingly registering as independents instead of Dems. Let's hope these candidates and their supporters will now unite behind Colón and work hard on the very issues they highlighted in their campaigns.
Lt. Gov. Diane Denish (above) received a couple of standing ovations from the crowd -- one when she was introduced and one after giving a rousing speech with more than a few tidbits from Lee Iacocca's intro to his new book, "Where Have All the Leaders Gone?" including the gist of this gem:
Am I the only one in this country who's fed up with what's happening? Where is our outrage? We should be screaming bloody murder. We've got a gang of clueless bozos steering our ship of state right over a cliff, we've got corporate gangsters stealing us blind, and we can't even clean up after a hurricane much less build a hybrid car. But instead of getting mad, everyone sits around and nods their heads when the politicians say, "Stay the course." Stay the course? You've got to be kidding. This is America, not the damned Titanic.
Denish also pointedly mentioned that we all need to work to get rid of Sen. Domenici -- not give him a free ride as some Dems seem to be doing. Can't agree more. No Dems supporting Pete!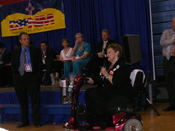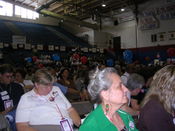 State Auditor Hector Balderas spoke eloquently about how we can regain a positive role on the world scene through diplomacy and a generous spirit, and how critically important it is to do so. Outgoing State Chair John Wertheim received many words of thanks and a parting gavel, we heard from reps from the offices of Sen. Jeff Bingaman, Rep. Tom Udall, and from Attorney General Gary King. We greeted and mingled with other Dem officials in the crowd, including current Albuquerque City Councilor Martin Heinrich, 3rd CD Congressional primary candidates Al Kissling and Bill McCamley; Senatorial primary candidates Leland Lehrman and Jim Hannan, House Speaker Ben Lujan; State Reps Mimi Stewart, Al Park, Joseph Cervantes, Joni Gutierrez, John Heaton, Mary Helen Garcia and Mary Kay Papen; State Senators Michael Sanchez, Ben Altamirano and Mary Jane Garcia; Albuquerque Mayor Martin Chavez; ex-UNM President Louis Caldera and many others. Perhaps most importantly, ordinary Dems from all over the Land of Enchantment talked the talk and promised to walk the walk to make our Party stronger, larger, fairer and more active between now and the 2008 elections.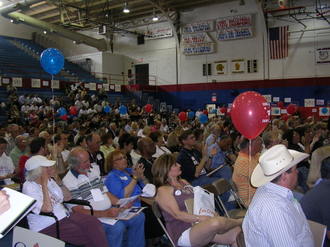 I know, my take is rather colored by the upbeat mood I found at the gatherings, but I think it's pretty accurate. If you attended any of the weekend's events, what did you think? What's important as we head into another election cycle? What do we want from our new leadership team? What do we need to contribute to achieve those goals? Let the brainstorming continue....
Note: More photos will be available in online albums shortly. All photos in this post by Mary Ellen Broderick. Click on images for larger versions. Also see our previous post on our new Democratic officers and committee members.
April 30, 2007 at 01:41 PM in Candidates & Races, Democratic Party, Events | Permalink | Comments (9)
New Officers: DPNM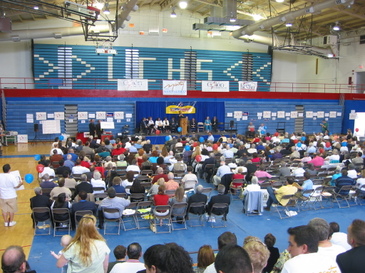 Part of crowd at Las Cruces High School
(Photo by Tom Solomon)
The State Central Committee (SCC) of the Democratic Party of New Mexico met on Saturday at Las Cruces HIgh School to conduct business and elect officers. Participation by attending members and proxy voters was near record levels -- more than 98%. I attended the events as a member of the SCC, and I'll have more commentary and photos from the weekend's events later today. For now, here's a listing of the new officers and elected committee members, who will serve two-year terms: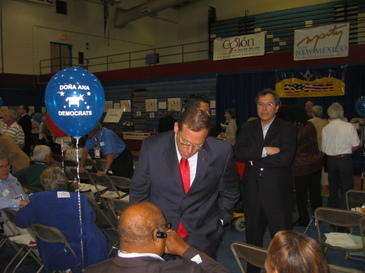 Colón (center, red tie) crunching numbers before vote
(Photo by Tom Solomon)
State Party Chair:
295 Votes: Brian Colón
68 Votes: Michael Olguin
21 Votes: Gideon Elliot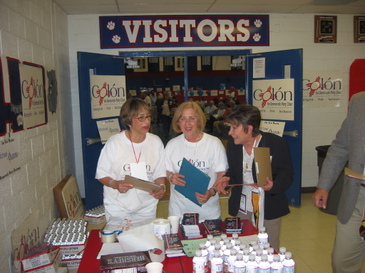 Greeting members at the Brian Colón for Chair table
(Photo by Tom Solomon)
Statewide Officers and Committees:
Chair: Brian Colón (Bernalillo County)
Vice Chair At-Large: Annadelle Sanchez (Rio Arriba County)
Treasurer: Thomas Buckner (Sandoval County)
Secretary: Christy French (Dona Ana County)
At-Large Platform and Resolutions: Ignacio Lucero (San Miguel County)
At-Large Affirmative Action (male): Francisco Apodaca
At-Large Affirmative Action (female): Lynn Jacobs (Bernalillo County)
First Congressional District:
CD1 Vice Chair (male): Chris Catechis (Bernalillo County)
CD1 Vice Chair (female): Teresa Holland (Bernalillo County)
CD1 Affirmative Action (female): Carolyne Devore-Parks (Bernalillo County)
CD1 Affirmative Action (male): Mike Rose (Bernalillo County)
CD1 Platform and Resolutions (two positions): Nancy Denker (Bernalillo County) and Zoe Economou (Bernalillo County)
Second Congressional District:
CD2 Vice Chair (male): Matt Runnels (Grant County)
CD2 Vice Chair (female): Stephanie Dubois (Otero County)
CD2 Affirmative Action (female): Doris Cherry (Lincoln County)
CD2 Affirmative Action (male): Carlos Provencio (Grant County)
CD2 Platform and Resolutions (two positions): Art Terrazas (Dona Ana County) and Cliff Reid (Dona Ana County)
Third Congressional District:
CD3 Vice Chair (male): Martin Suazo (San Miguel County)
CD3 Vice Chair (female): Conny Maki (Santa Fe County)
CD3 Affirmative Action (female): Mary Ann Armijo (McKinley County)
CD3 Affirmative Action (male): Jose Lopez (Santa Fe County)
CD3 Platform and Resolutions (two positions): Consuela "Connie" Salazar and Bill Pfeifer
Also see our later post on the weekend's events. Click on photos for larger versions.
April 30, 2007 at 09:12 AM in Candidates & Races, Democratic Party | Permalink | Comments (0)
Sunday, April 29, 2007
Guest Blog: National Conservation Area Proposed for Taos County
This is a guest blog by Jim O'Donnell, Northern Director, New Mexico Wilderness Alliance:
One of the wildest places in New Mexico can be found in Taos County.
The area is massive, sprawling over more than 300,000 acres. How you name it depends on who you talk to. I label it by a group of individual names: Rio Grande Gorge, Ute Mountain, Sunshine Valley, Wild Rivers, Cerro de la Olla, Cerro Chiflo, Rio San Antonio, Cerro del Aire...other names are Windmill, the Punche Valley, el llano, Upper Gorge, Lower Gorge, Rio Grande Corridor, the Ute Mountain Run...the challenge in naming it has all to do with its size and diversity – as does the challenge in describing it.
So, lets begin with the river.
The Labatos Bridge marks the beginning of the Rio Grande Gorge. The bridge can be found in Colorado where the Rio Grande begins its cut into the Servilleta lava flows that make up the Taos Plateau. Eight miles later, at the New Mexico state line, the river is 200 feet down, the gorge 150 feet across. West of Questa, where Big Arsenic Spring bubbles from the rock and pinyon jays heap in the winter, the river is a glinting green ribbon eight hundred feet down. The opposite rim is over half a mile away where, on summer mornings, bald eagles soar southward in pairs. At John Dunn Bridge the river enters The Box, an 18-mile stretch of 900 foot cliffs, famous among boaters.
This is also the Rio Grande Migratory Flyway – one of the great migratory routes in the world. Eagles, falcons and hawks make the basalt walls of the Gorge their nesting homes. Ospreys, scaups, hummingbirds, herons, avocets, merlins and willits all traverse the Gorge. The sound of Sandhill Cranes migrating from the San Luis Valley to places like Bosque Del Apache can be deafening while on an October hike in the tablelands west of the river.
It's that western plateau that is perhaps the most wild. From the edge of the Gorge, vast grass and sagebrush mesas intersperse with the forested slopes of volcanic intrusions such as Cerro Chiflo, Cerro del Aire, Montosos and Cerro de la Olla. It is on these mesas where vast herds of pronghorn and elk find winter forage and calve and fawn along the rim late in the spring. A rancher swore to me he'd heard a wolf howl out there just a few years ago.
This substantial chunk of wild is bounded by the Gorge Rim on the east and Highway 285 on the west. The northern portion spills over 285, encompassing the broad, gently rolling grass and sage brush plains of the Rio San Antonio Gorge WSA, bisected by yet another gorge where raptors next in 200-foot high lava walls and conifers clamber down to the Rio los Pinos.
Perhaps the crown jewel of this whole area is Ute Mountain, a 10,093 foot high volcanic cone rising nearly 3,000 feet above the surrounding plain. Ute is something you can't miss. Located about ten miles west of Costilla, it is the dominate feature for those driving north from Taos along highway 522.
The steep slopes of Ute are covered in pinyon at the base, as well as pockets of ponderosa, aspen, white pine and Douglas Fir in the higher elevations. From grassy meadows of blue grama, western wheatgrass and Indian ricegrass where the trees thin, the Gorge is a jagged, inky slash dividing Ute from its sister cones to the west. Snow-capped Blanca rises to the north, just across the state line. The whole Sangre de Cristo range falls to the east, terminating, view-wise, at Wheeler Peak. There are people here too. Lupe, Bobby, Esther, Rudy, Ron, Dennis....
Descendants of the land grantees run cattle all along the Gorge and out into the table-lands between the rim and Highway 285. Vehicle routes tend towards sparse and are more likely than not unmaintained two-tracks. Hunting and fishing are common. Hikers climb to the bottom of the gorge for a swim and a picnic. The Box is a popular rafting area and bird watching draws – well, not as many as it ought to. Its fabulous birding! On the slopes of Cerro de la Olla, locals collect firewood to heat their homes in the winter.
This is wild land, important to the culture and character of our county and vital, in its wildness, to our economy. We learned two main lessons during the battles over the Valle Vidal: one, no chunk of public land is secure from mineral development or other forms of exploitation – no matter how safe you may think that land is, no matter how 'lacking' in exploitative possibilities it may be, someone, sometime is going to come after that land. Our other lesson was this: our economy in north-central New Mexico is dependant on Wilderness. Wilderness feeds the rivers that feed the acequias. It nurtures our rural lifestyle. Wilderness is the 'bank' from which we hunt and fish. It is also a tremendous economic development opportunity. Perhaps most importantly, these wildlands create and nurture the character of the people of Taos County. The Bureau of Land Mangement (BLM) manages the whole thing. This is public land. Our land.
It is invaluable.
For over a year now, the New Mexico Wilderness Alliance has been in discussion with the BLM and Senator Bingaman's office to find a way to give this massive area the protection it deserves. We have wide-ranging support on this effort from the ranching community, the local elected officials, the acequias, the sportsmen community, the boaters and the biologists.
Any day now, Senator Bingaman will introduce legislation to assure the wild character of this land through a National Conservation Area (NCA) designation. The highlights of this legislation will be the placement of Ute Mountain and the Rio San Antonio Gorge within the Wilderness system.
The goals of this legislation are clear. We want to preserve the rural character of Taos County. We want to protect and encourage traditional uses of the area such as ranching, hunting, fishing and wood-gathering. Private lands within the boundaries would not be affected in any way. Restrictions on development of private lands will remain subject to local/county ordinances.
With this legislation, we seek to ensure a vibrant economic future that values our natural, scenic and cultural resources.
Most Taosenos seek a new vision for economic sustainability that relies on local agriculture, renewable energy, green building and small business. The NCA would support this kind of economic future.
WHAT YOU CAN DO
Call Senator Bingaman and thank him for this magnificent effort: 505-224-5521
Call AND write to Senator Domenici's office. Tell the Senator that you just heard about the Taos County National Conservation Area (NCA) proposal and that you would like for him to co-sponsor the bill from the moment it is introduced. Be sure to follow up your call with a letter. SORRY I DO NOT HAVE A BILL NUMBER YET. Call 202-224-6621, Senator Pete V. Domenici, 328 Hart Senate Office Building, Washington, DC 20510-3101
Write to one or all of the three newspapers below. Express your support for Senator Bingaman's Taos County NCA proposal - even if you are from out of state. Be sure to include your name, location and day time phone number.
Talking Points
Feel free to include any of your own observations or experiences in the area if you have been there.
The proposed NCA includes some of the most spectacular scenery in all of New Mexico;
Existing uses, such as ranching, hunting, fishing and rafting would not be impacted by the creation of the NCA. In fact, those uses would be protected and encouraged;
The establishment of the proposed NCA and associated Wilderness will provide for future generations of New Mexicans continuing opportunities to enjoy the recreational opportunities to hunt, fish, observe wildlife, and experience solitude;
Creation of the NCA and Wilderness areas would give local communities a natural attraction and resource to use as part of a long-term sustainable economic development plan;
The NCA would help protect and ensure valuable water resources;
The rights of private land owners within the NCA boundaries will be respected if they choose to not trade their land.
--------
Thanks for your help all! We tried to get something similair done nearly twenty years ago when Richardson was our Congressman but, for a number of reasons, it didnt work out. If we dont get it this time, it will be another twenty years before we'll have another chance.
THANK YOU
Crossposted from UNBOSSED.
Editor's Note: This is a guest blog by Jim O'Donnell, Northern Director, New Mexico Wilderness Alliance. Jim has agreed to contribute occasional guest posts here at DFNM. If you'd like to submit a guest post for consideration, contact me by clicking on the Email Me link at the upper left-hand corner of the page.
April 29, 2007 at 06:02 AM in Environment, Guest Blogger | Permalink | Comments (0)
Running With Numbers
Just go look. Revealing art by Chris Jordan.
April 29, 2007 at 05:00 AM in Visuals | Permalink | Comments (0)
Saturday, April 28, 2007
Mission (Not) Accomplished: 4 Years Ago and Counting
From Robert Greenwald and the Brave New Foundation:
It's almost May 1st. Who can forget the so-called "Mission Accomplished" from four years ago? Who can forget the pomp and circumstance, the primping and posturing in a staged photo-op built on the backs of those destroyed by the war. The mission has not been accomplished. In honor of all those who have been killed, whose lives have been destroyed in this terrible war of choice, we have been working hard on a short film that will not let that horrific day go unnoticed. Watch the film and spread it far and wide: see above or visit Tell Us The Mission.
We've also got a contest looking for what SHOULD have been on the "mission accomplished" banner. Submit your banner and the winning one will be on car bumpers all over the country! (You'll get some cool stuff too) For more details, and to enter:
http://tellusthemission.org/home/win
The spoken word performance in the video was done by a wonderfully talented young man, Steven Connell, who's been in feature films on HBO, Showtime and MTV. He is a strong, creative, and articulate voice in reaching a young and diverse audience. We are grateful for his time and effort, and to Norman Lear who first found and called Steven to the attention of a wider audience.
Just days before this video and website was to go online, an American soldier serving in Afghanistan wrote an op-ed which has since stirred up a national debate. The soldier questioned why we do not lower the flag to half-staff when a soldier dies at war. We at Brave New Foundation were so inspired by his question that we decided to begin a petition to amend the US Flag Code.
Sign the petition to have flags lowered for a day each time an American service member dies at war:
Please forward this on far and wide -- to your friends, schools, churches, to any local television or radio. We must not let this day go unnoticed. We must make our voices and passions heard.
Robert Greenwald and the Brave New Foundation team
http://www.robertgreenwald.org/

Online Videos by Veoh.com
Tom Haden: Stop the Iraq War
April 28, 2007 at 09:00 AM in Film, Iraq War, Visuals | Permalink | Comments (0)
Friday, April 27, 2007
Albuquerque A28 Action
From ABQ4IMPEACHMENT:

Saturday, April 28, 2007
Robinson Park, 8th Street & Central, Albq,, 11 AM

Angry Democrats! Disillusioned Republicans! Furious Independents! Show up! Be counted! Protest! Rally! Show your outrage! IMPEACH GEORGE BUSH! We've got to put pressure on both the Republicans and the Democrats to get this done. If you don't love the Constitution, you do not love your country. We have an Executive gone amuck! Meet at the Park. March a copy of the Constitution to Heather!
We'll try to spell "IMPEACH" out of real, activist patriots at the park. We'll have some speakers giving reasons for impeachment and which ones to pursue. David Hilliard, co-founder of the Black Panther Party will talk about impeachable offenses. Rick Burnley, peace poet laureate, will give a summation of the slime's crimes in rhyme! We'll enumerate actions you can sign up for or do by yourself, Brave One...
Lastly, we'll march a big copy of the Constitution down to Heather's to leave at her doorstep. After we're there, we can break up and join the Cinco de Mayo celebrations at the Civic Plaza! What a wonderful city!
On April 27th, we will have a sign making party at the Peace and Justice Center at 6:30 PM at 202 Harvard SE. Bring your own materials, but feel free to use ours, as well!
This is Albuquerque's part of the A28 coalition of national groups dedicated to the impeachment of George Bush and The World Can't Wait, who has been driving this movement from the start.
MAP TO ROBINSON PARK and march path
IKE
Paul Eichhorn
pauleichhorn@1hop2.com
505-270-4414
ABQ4IMPEACHMENT

The World Can't Wait
www.worldcantwait.org
The April 28 Coalition
www.A28.com
April 27, 2007 at 11:00 AM in Events, Impeachment | Permalink | Comments (2)
Greg Palast on IndyMedia TV Tonight, in Santa Fe Sunday
From IndyMedia: Tune in to Indy Media TV on Friday, April 27, at 7 PM on Albuquerque's Ch 27 or on the web at http://www.quote-unquote.org. Greg Palast will be live on the phone in the first half, followed by Rachel Lazar on Immigration Reform.Questions? mjs1126@hotmail.com
Editor's Note: An Evening with Investigative Reporter Greg Palast, featuring a talk and book signing, will take place at the Lensic, Santa Fe's Performing Arts Center, 211 West San Francisco St., on Sunday, April 29, beginning at 7 PM. Sponsors are Simple Change, KSFR-FM and Collected Works Bookstore. See our previous post for details.
April 27, 2007 at 09:05 AM in Events, Media | Permalink | Comments (0)
NM Dems to Gather In Las Cruces This Weekend

The newly elected members of the State Central Committee of the Democratic Party of New Mexico will meet this Saturday at Las Cruces High School to conduct business and elect new officers. Registration starts at 8:00 AM, with the meeting set to convene at 9:00 AM. Elections will be held for State Party Chair, 1st Vice Chair, Secretary, Treasurer, 1st and 2nd Vice Chairs for the 1st, 2nd and 3rd Congressional Districts and members of the Credentials and Rules Committee and the Resolutions Committee. Click for a list of candidates. All Democrats are welcome to attend, but only SCC members can vote.
Events kick off with a Spring Celebration on Friday night from 6 to 8 PM at the Best Western Mission Inn in Las Cruces. Other weekend social gatherings and events are listed here. Again, all Democrats are encouraged to attend.
April 27, 2007 at 07:00 AM in Democratic Party, Events, Local Politics | Permalink | Comments (0)
Thursday, April 26, 2007
Who Won Tonight's Dem Prez Debate?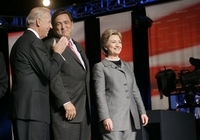 I had to miss the live broadcast, so I just got done watching a recording. You can see some of it here. You can also view clips and more here.
I thought Brian Williams' questions were often shallow and designed to create "gotcha" moments. Hey, it's the mainstream media. It appeared that candidates had some difficulty getting going given that eight people were sharing the 90 minutes, and their answers had to be very short. The "debate" came across more like a quiz show than a forum for the discussion of serious issues. Next thing you know, they'll have a gong up there at these events, or someone yelling "you're fired." Maybe they'll force them to dance. With the celebrity pundits. Watch out for a guy in the wings with a hook and the installation of applause meters. Really.
I thought the only excitement was provided by Mike Gravel and Dennis Kucinich, who were the only Dems willing to be confrontive and dismissive of the "business as usual" conduct of the others. People can criticize Gravel for his vociferous responses, but I confess that what he had to say and how he said it sounded more like the sitting-around-talking comments of rank and file Dems than any of the others to me. Somebody acting like there really ARE a bunch of tragedies and emergencies happening all at once in the nation. As upset and worried as we are about it all, and feeling the pain and foreboding. I thought Gravel displayed what came to be a rather welcome lack of polish and programming compared to the others. with their set-piece answers and overly careful rhetoric. He complained he didn't get as much talk time as the others. He didn't.
My takes: Hillary seemed set on cool, calm and collected automatic debate speak. Obama mostly stayed abstract and lofty, but got somewhat defensive and rattled when he was challenged. Richardson seemed a bit nervous and hemmed in by the short times allowed for responses, but he was strong on his answers about Iraq. Edwards seemed a little flat somehow, except at the end. Biden was, well, Biden, and he created some laughter by staying pointedly silent when Williams' asked him about putting his foot in his mouth early in his campaign. Dodd was businesslike. Gravel made Kucinich seem tame, stealing some of the outsider fire. Nobody was really bad, or very good either, in my opinion. Few surprises, lots of practiced talking without saying much, too much Brian Williams trying to be impressive, if only in his own mind.
From the measured, deliberate and "moderate" tones struck by most of the candidates, you'd never guess what's been going on in America and on the planet for the last 6+ years. Very little sense of urgency or passion. I think they need to get out more and LISTEN to the mood of ordinary Americans. We're not even close to the primaries and too many already seem to be inside the bubble blown by handlers and groomers and consultants. No big mistakes, but a paucity of inspiration, outrage or excitement. And like Gravel said, some of their answers on things like nuking Iran were downright scary in their nonchalance.
I kept thinking, geez, by the time we get to the actual primaries, we'll be sick to death of all of them as well as the unsatisfying format of these debates-in-name-only. Maybe allowing fewer questions and longer times to answer would be helpful. Or limiting the questions to one topic. Or letting less "famous" media personalities run the show. Or encouraging back and forth between the participants. Or something.
What did you think?
(Above photo by AP)
April 26, 2007 at 10:55 PM in 2008 Presidential Primary, Democratic Party, Events | Permalink | Comments (5)
Journalism = Transcription

Did you see Bill Moyers' new PBS special last night? If you did, you know how disturbing it was to witness the media's cowardice and the administration's lies dissected and put on display in such a compelling manner. If you didn't, you need to make a point to see it and encourage your family, friends, neighbors and colleagues to do the same. You can watch the video or read the transcript of the program here.
Most of us will recognize the facts Moyers' compiled on how too many were lured into buying BushCo's lies and propaganda, but to see everything organized and communicated chronologically is powerful indeed. With the myriad of horrors produced by Bush and his cronies, it's easy to forget just how blatantly and dishonestly the case for war was made, and just how nonchalantly and obediently the mainstream media served as BushCo's uncritical transcription service and megaphone.
One segment to watch for is about the reentry of the UN inspectors into Iraq right before the invasion, and how the results of their profoundly thorough investigation, which turned up nothing in terms of WMD or nukes, was dismissed and ignored -- and still is today.
David Sirota does a great job of summarizing the show's exposure of the mainstream media's inside the Beltway laziness and arrogance. Excerpt:
In interview after interview after interview, we hear top journalists and opinionmakers declare that they believe journalism is no longer about basic, hard-scrabble reporting or getting scoops. As the Washington Post's Walter Pincus says, most reporters today actually try to avoid getting scoops because they "worry about sort of getting out ahead of something" and - gasp! - making their friends inside Official Washington mad at them. So rather than, say, do the real work of reporting news, journalism has become a profession that is almost entirely about PR, transcription and packaging Establishment spin for news copy. This is why, for example, many of the highest-profile political "journalists" like Joe Klein and David Broder never bother to actually report anything anymore - but instead spend most of their time pontificating on horse race polls and campaign gossip, expecting us to believe that's real "news."

... Moyers, channeling a fantastic piece by Jebediah Reed in Radar Magazine, notes that most of the people who regurgitated the Washington Establishment's debunked case for war have actually been rewarded with even more prominent positions in the media. And while these desperate-for-attention media icons like Bill Kristol and Tom Friedman are happy to throw themselves in front of cameras for almost any opportunity to promote themselves, they categorically refused to talk to Moyers for his PBS special.
And Glenn Greenwald takes on "our failed and barren press" in no uncertain terms while revealing how nothing has changed with the mainstream media outlets since their spectacular failures during the run-up to the war. Excerpt:
For those who have been following these issues, there was no single, specific blockbuster revelation that was not previously known, although Moyers' focus on the superb (and largely ignored) pre-war work of Real Journalists at Knight-Ridder (now at McClatchy) does cast a new light on the profound malfeasance of our most influential media outlets.

... the documentary is -- in one sense -- a very valuable historical account of the corrupt behavior by our dominant political and media institutions which deceived the country into the invasion of Iraq. But on another, more significant level, it illustrates the corruption that continues to propel our political and media culture.

Just consider that, as Moyers notes, there has been no examination by any television news network of the role played by the American media in enabling the Bush administration and its warmonger propagandists to disseminate pure falsehoods to the American public. People like Eric Boehlert have written books about it, and Moyers has now produced a comprehensive PBS program documenting it. But the national media outlets themselves have virtually ignored this entire story -- arguably the most significant political story of the last decade -- because they do not think there is any story here at all.
Also be sure to check out Tom Tomorrow's cartoon on what the pundits slash faux journalists were saying before the war. Unfortunately, the media travesties mostly continue. Welcome back, Bill Moyers. His new series, Bill Moyers' Journal, will be aired Friday nights on PBS (KNME) at 9:00 PM.
April 26, 2007 at 01:20 PM in Iraq War, Media | Permalink | Comments (0)
(Updated) Taos Democrats for Clean Elections Files Challenge to Taos County Party Election
As reported on the Democratic Party of New Mexico website, the Party's Judicial Council will be convening today at 3:00 PM by conference call to hear a challenge filed on behalf of a group called the Taos Democrats for Clean Elections. A PDF of the challenge and appeal documents can be found here on the DPNM website.
The complaint alleges that the methodology used to apportion precincts for the Taos County Central Committee was "fundamentally flawed and violated the rules of the Democratic Party of New Mexico." The challenge requests that the Taos County State Central Committee members not be credentialed for the April 28, 2007 DPNM State Central Committee meeting and that a new election of Taos County Central Committee members be held. The requests are based on the claim that the use of an invalid methodology means that all actions and decisions coming from the Taos CCC, including the election of state central committee members, are also invalid.
For more information, contact the Democratic Party of New Mexico at 505.830.3650. The meeting is open to the public but those interested in attending should call the Party to make sure where they can be accommodated.
UPDATE 1:42 PM: The Democratic Party of New Mexico has informed me that two rebuttals of the complaint have now been posted on their website and suggested that I link to them as a matter of fairness. The rebuttals can be found here.
Editor's Note: For some background on what led up to this challenge, see our previous posts:
April 26, 2007 at 11:59 AM in Candidates & Races, Democratic Party, Election Reform & Voting, Ethics & Campaign Reform, Local Politics | Permalink | Comments (6)
Wednesday, April 25, 2007
Happy Springtime (Bush Is Over)
Music video presented by JTMP.org and performed by Op-Critical featuring the Harmonic Angels. Please see BushIsOver.org , www.A28.org, and AfterDowningStreet.org to be a part of this rebirth movement.
: U.S. Troop Deaths 3,333 (85 this month). U.S. Non-Mortal Casualties 26,188. Untold Iraqi Security Force and Civilian Wounded and Dead. War in Iraq Costs: $420,320,000,000 and counting.
Rep. Dennis Kucinich has introduced articles of impeachment against Cheney. Learn more.
A28 impeachment events everywhere on Saturday. Find one near you: http://www.a28.org
Also visit: http://www.impeach07.org
Impeachment Put on Table at Capitol Today
Submitted by davidswanson on Wed, 2007-04-25 23:15.
At noon today a distinguished group of public elected officials, prominent voices of conscience, actors and artists, and military families gathered in front of the U.S. Capitol to call for the impeachment of President George W. Bush and Vice President Dick Cheney.
With debate sharpening between Congress and administration over including withdrawal dates from Iraq in the Supplemental Spending Bill, today's press conference continued the growing momentum against the Bush Administration. Dennis Kucinich, having filed an impeachment resolution Tuesday against Vice President Cheney appeared at today's press conference and said that yesterday the press said he was alone in calling for impeachment. Today standing together with the 100 of us gathered in front of the Capitol, he declared that he is not alone, he is standing with the people for impeachment.
Among today's speakers were Mayor Rocky Anderson (Salt Lake City); Pultizer Prize winning journalist Chris Hedges; Daniel Ellsberg; Cindy Sheehan; World Can't Wait Director, Debra Sweet; The Nation correspondent, John Nichols; co-founder of Afterdowningstreet.org, David Swanson; and Washington State legislator, Eric Oemig.
Several speakers brought out the full array of crimes of the Bush Administration. Chris Hedges said: "The President is guilty, in short, of what in legal circles is known as the "crime of aggression." And, if we as citizens do not hold him accountable for these crimes, if we do not begin the process of impeachment, we will be complicit in the codification of a new world order, one that will have terrifying consequences."
April 25, 2007 at 11:23 PM in Impeachment, Iraq War, Music, Peace, Visuals | Permalink | Comments (1)