Monday, August 10, 2009
Chavez, Romero and Berry Confirmed for Arts Alliance Mayoral Forum August 25
The Arts Alliance announced today that all three candidates for Albuquerque's top political office have confirmed their attendance at a public Mayoral Candidate Forum on arts and culture on Tuesday, August 25, 2009 at 6:00 PM. The forum will take place at VSA North Fourth Arts Center, which is located at 4904 Fourth Street NW in Albuquerque (map). Albuquerque Journal Assistant Arts Editor Dan Mayfield will moderate the forum.
Questionnaires were distributed to candidates for mayor in July. Click to see the candidate responses (pdf), which are also posted on the Arts Alliance website. Responses have also been distributed to the Alliance's mailing list of more than 4,000 constituents.
"This is an impartial opportunity for the community to learn where these candidates stand on issues that will shape our region for years to come," said Kevin Hagen, president of the Arts Alliance Board of Directors, in a press release. "We invite the community to attend the forum to make their voice heard, and learn more about each candidate's opinions on the arts and culture."
August 10, 2009 at 06:35 PM in 2009 Albuquerque Mayoral Race, Arts, Events, Local Politics | Permalink | Comments (0)
Thursday, July 23, 2009
SouthWest Organizing Project Presents: Rock Out!
From SouthWest Organizing Project (SWOP): SWOP is sponsoring a FREE, all-ages youth event called "Rock Out" on Saturday, August 1st, at Washington Middle School Park, 1101 Park Ave SW, in Albuquerque (map) from 3:00 to 7:00 PM.
"The youth in Albuquerque," said Chris Martin, 11th Grade Cibola High School student, "are usually shown in a certain light or one point of view, and the point that we are trying to get across is that the youth in this city are talented and resourceful and we do have an important voice."
This event will celebrate youth, their talents, and their skills while providing them with resources they need to become successful adults. Youth will compete for cash and prizes in a Break-Dancing Battle, a Battle of the Bands, a Poetry Slam and an Art Showcase.
Stage One will have music performed live by local youth talent. Stage Two will hold the Poetry Slam. Stage Three will hold the B-Boy/B-Girl Break-Dance Battle and a gallery will showcase the "Fashion Your Future" themed Art Showcase! At the same time representatives from a variety of organizations, schools, and programs will be available to provide information and resources to the youth such as Young Women United, YDI Mentoring Initiative, Equality New Mexico, Forum for Youth in the Community, and others.
If you require any additional information please contact SWOP at 247-8832 or by fax at (505)247-9972 or email the any questions to Emma Sandoval at emma@swop.net.
The SouthWest Organizing is a non-profit, community-based, membership organization. Our mission is to empower the disenfranchised in the Southwest to realize racial and gender equality; and social and economic justice. We believe in the rights of people to determine their own future, and participate directly in decisions that affect their lives. We understand that the only way that we can confront the challenges facing our communities is to organize ourselves and build strong local, statewide, and regional organizations. Contact Emma Sandoval at 247-8832 ext. 123 for more information.
July 23, 2009 at 10:01 AM in Arts, Children and Families, Events, Local Politics, Music, Youth | Permalink | Comments (0)
Monday, June 08, 2009
Rep. Luján Named Ex-Officio Member of the Institute of American Indian Arts Board of Trustees
Quite an honor. Rep. Ben Ray Luján has been named an ex-officio member of the Institute of American Indian Arts (IAIA) Board of Trustees. The IAIA is located in Santa Fe and aims to empower creativity and leadership in Native arts and cultures through higher education, lifelong learning and outreach. Rep. Luján replaces Congressman Dale E. Kildee of Michigan on the board.
"I would like to express my gratitude for my appointment as an ex-officio member of the Institute of American Indian Arts board of trustees," said Rep. Luján in a statement released today. "To be able to follow Representative Kildee in service to IAIA is an honor and the leadership he exhibited during his tenure on the board is a legacy I will work hard to continue."
According Rep. Lujan's office, the Institute of American Indian Arts (IAIA), also known as the Institute of American Indian and Alaska Native Culture and Arts Development, was Congressionally chartered in 1986. It was originally funded by the Bureau of Indian Affairs and opened in October of 1962 on the campus of the Indian School in Santa Fe, NM.
The Institute offers four-year degrees in Studio Arts, Visual Communication, Creative Writing and Museum Studies. It is located in one of the most diverse concentrations of Native peoples in North America, in the heart one of the nation's oldest multi-cultural communities and in one of the largest art markets in the country.
By serving Native students from across the country, the IAIA allows for a unique cultural exchange within the student learning environment. In any given year, there may be up to 112 different tribes represented within the student body. The Institute also participates in outreach programs to the 19 New Mexico Pueblos. Because of their close proximity to the campus, students experience the rich cultures and traditions of the Pueblos first-hand.
For our previous posts on Rep. Lujan, visit our archive.
June 8, 2009 at 10:56 AM in Arts, Native Americans, NM Congressional Delegation, Rep. Ben Ray Lujan (NM-03) | Permalink | Comments (4)
Tuesday, June 02, 2009
ABQ Artist and Founder of 'One Million Bones' Selected as Prestigious TEDGlobal Fellow

Bravo, well done, how exciting and what an honor for the woman behind some incredibly meaningful and moving art projects. Last week, organizers of the TED Conference introduced the first group of TED Fellows to participate in its new international conference, TEDGlobal. One Million Bones is proud to announce that its founder and director, local Albuquerque artist Naomi Natale (above), is among those honored, according to a statement released today. Natale is one of only twenty-five individuals from around the world who have been selected to participate in the TED community this year by attending TEDGlobal 2009, which will be held in Oxford, UK, on July 21-24.
In addition to participating as full members of the TEDGlobal Conference audience, each TED Fellow will participate in a two-day pre-conference where they will receive world-class communication training, deliver a short TEDTalk, and collaborate with their peers, among other benefits. Their TEDTalk may be selected for posting on TED.com, where it has the potential to be viewed hundreds of thousands of times.
"I am honored to be selected as a TEDGlobal Fellow and look forward to sharing my new project, One Million Bones, with the TED community," said the 27 year old Natale. "This is a once in a lifetime opportunity to interact with some of the most innovative and forward thinking people from around the globe."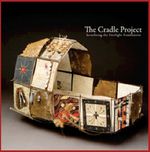 Natale was selected for her innovative work in socially focused large-scale art installations, having founded and directed The Cradle Project, which opened to rave reviews and large crowds in downtown Albuquerque last June (see my post). Designed to promote awareness of the estimated 48 million children who have been orphaned by disease and poverty in sub-Saharan Africa, this fundraising art installation also raised over $100,000 to help feed, shelter, and educate these orphans.

Natale's newest and most ambitious project, One Million Bones, is a fundraising art installation designed to represent victims of present genocides and create a visual demand for solutions to this issue. Our mission is to increase global awareness of these atrocities while raising the critical funds needed to provide humanitarian aid to the displaced and marginalized victims. One million people will each create one bone to represent one victim. Installed together, these one million bones will flood the National Mall in Washington D.C., unearthing the memory of these victims, while calling citizens to action.
"By inspiring action through art, you can change the world one person at a time," said Natale.
You can follow Naomi Natale on FaceBook and MySpace.
About TED:
TED stands for Technology, Entertainment, Design. It started in 1984 as a conference bringing together people from those three worlds. Since then, its scope has broadened to include science, business, the arts, and the global issues facing our world. The annual conference now brings together the world's most fascinating thinkers and doers, who are challenged to give the talk of their lives — in 18 minutes. Attendees have called it "the ultimate brain spa" and "a four-day journey into the future." The diverse audience — CEOs, scientists, creatives and philanthropists — is almost as extraordinary as the speakers, who have included Bill Clinton, Bill Gates, Jane Goodall, Sir Richard Branson, Philippe Starck, Isabel Allende and Bono.
TED was first held in Monterey, California, in 1984. In 2001, Chris Anderson's Sapling Foundation acquired TED from its founder, Richard Saul Wurman. In recent years, TED has expanded to include an international conference, TEDGlobal; media initiatives, including TEDTalks and TED.com; and the TED Prize. TEDGlobal 2009, "The Substance of Things Not Seen," will be held July 21-24, 2009, in Oxford, UK. TEDIndia will be held in Mysore, India, Nov. 1-4, 2009. TED2010, "What the World Needs Now," will be held Feb. 9-13, 2010, in Long Beach, California, with a simulcast event in Palm Springs, California. For details on all upcoming conferences and events, visit www.TED.com.
June 2, 2009 at 11:53 AM in Arts, Children and Families, Events, Genocide, International Relations, Poverty, Visuals | Permalink | Comments (6)