« 10/28: Catch Energy Discussion with Diane Denish, Sen. Peter Wirth on KSFR FM 101 from 6-7 PM | Main |
Thursday, October 28, 2010
Congressman Harry Teague Rallies Student Support at NMSU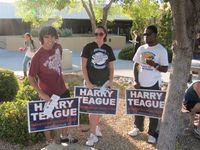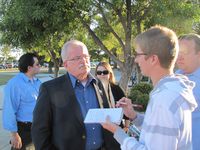 NMSU students, Teague and student reporter
Contributing writer Stephen Jones checks in with more on-the-ground coverage from Southern New Mexico.
Congressman Harry Teague rallied student support outside the Corbett Student Center at New Mexico State University on Wednesday prior to the KRWG-TV debate between Teague and his Republican challenger Steve Pearce.
"It's important that we put Democrats back into public office," Teague told the students who came out to meet the candidate prior to the debate. Teague outlined his Congressional record on obtaining funding to support college and university students, and his backing for education funding targeted at returning veterans. "We've gotten more money for higher education in this Congress than at any time since the Montgomery GI Bill in the 1950's," Teague said.
"You're going to hear from our opponent tonight that he thinks we're putting too much money into education," Teague continued. "We think it's important for our future that everyone who wants an education has an opportunity to go to college." Teague did not limit his remarks to college students. "You're also going to hear us debate tonight, not only about college education, but the importance of public education," Teague said. "I want everyone to have a chance to get here, no matter where you're from."
Teague touched on a range of issues for the students, including immigration issues and the economy. "It's very important that we don't step back to the sort of de-regulation that got us into the mess we're in today," Teague said. "It's very important that we don't go back to the way things were, the ways which are making it so tough for so many of you to get to school, and for you and your parents to keep you here in school."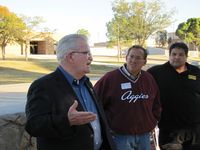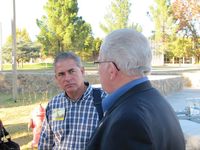 Teague, Brian Colón, Andy Segovia; Joel Cano and Teague
"We need to keep enough Democrats in Congress to keep even tougher times from happening," Teague said. "It looks to me like Wall Street is gearing up to run all over Main Street, and pick our pockets again. Please go vote," Teague told the students. "It's not just important to keep Congress. It's going to take all of us, from the Magistrate Judge to the Governor here in New Mexico."
Teague was joined at the NMSU event by , Democratic Candidate for Lt. Governor, Andy Segovia, Democratic candidate for Doña Ana County Assessor, and Jose "Joel" Cano, candidate for Magistrate Judge.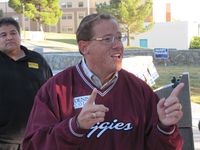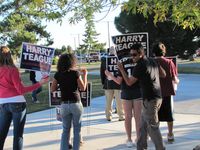 Aggie Brian Colón, NMSU students
"I have been all over southern New Mexico today," said Colón, "I've knocked on doors all over this county, talking about how important it is to re-elect Congressman Teague and to elect Diane Denish our next Governor," he said. "Let me tell you that there are some stark differences between us and our opponents."
"We believe that we need to continue to invest in education, because an investment in education is an investment in economic development in our state of New Mexico, Colón continued. "We have to maintain our investment, whether it is early childhood development, or post-secondary education, and to put money into first-class research and development institutions like New Mexico State University," Colón said, adding, "and I'm proud to say there is only one 'Aggie' in this race for Lt. Governor, and that's Brian Colón."
Segovia and Cano outlined the functions of their offices and pointed out the importance of NMSU students turning out to elect Democratic candidates in less visible "down-ballot" elections, such as themselves. Segovia told the students that he would continue to count on interns from the University if elected in November. Cano told the students, "One thing you need to consider is that if any of you, or those you know should ever be involved in some sort of infractions, you will be sent to the Magistrate Court. You want somebody who is fair and knowledgeable in the office. I urge you all to get out and vote."
Photos by Stephen Jones. Click on photos for larger versions. To see more posts by Stephen, visit our archive.
October 28, 2010 at 12:29 AM in 2010 General Election, 2010 NM Governor's Race, 2010 NM Lt. Governor Race, Brian Colon, By Stephen Jones, Contributing Writer, Las Cruces, NM-02 Congressional Race 2010, Rep. Harry Teague (NM-02) | Permalink
Comments