« Wise Latinas* Open Letter of Support for Diane Denish: Pass It On | Main | New TV Ad: Martin Heinrich Pledges to Keep Fighting for New Mexicans »
Wednesday, October 27, 2010
Legendary Labor Leader Dolores Huerta Supports Diane Denish in New Radio Ad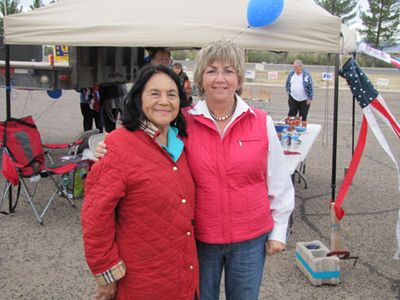 Huerta and Denish in Deming NM
Denish for Governor today unveiled a new radio ad featuring United Farm Workers stalwart and contemporary of Cesar Chavez, Dolores Huerta. Huerta also accompanied Denish at rallies this past weekend in Las Cruces, Bayard and Deming, and spoke out strongly in support of her campaign (click for story and photos).
"I am honored to have such a strong and inspiring fighter for working people in my corner," Diane Denish said. "As governor I will fight every day to create good jobs for New Mexicans and stand up to the powerful interests who seek to take advantage of our working families."
Click to listen to the ad (mp3), which is in Spanish. Here's a transcript in English:
This is Dolores Huerta -- and I've spent my life fighting for Hispanic families.
In the race for New Mexico Governor, everything we've fought for is on the line.
Don't let Susana Martinez fool you. She's a Republican. She's not for our families and I don't trust her.
I'm supporting the Democrat, Diane Denish. She's for early childhood education, good jobs in our communities. More opportunities for us.
Join me. Vote for Democrat Diane Denish.
Photo by Stephen Jones.
October 27, 2010 at 01:32 PM in 2010 NM Governor's Race, Diane Denish, Hispanic Issues, Labor, Minority Issues, Political Ads, Susana Martinez | Permalink
Comments
How does Susana Martinez explain this? Who is endorsing Martinez? I haven't heard of one prominent Hispanic leader who is backing her so why are some Hispanic Dems voting for her? Are they deaf, dumb and blind?
Posted by: Chama | Oct 27, 2010 3:40:37 PM
Are they actually Hispanic Dems, Chama, or just easily bought?
Posted by: Ejército Libertador del Sur | Oct 28, 2010 12:19:59 PM