« Blue Blowout in New Mexico | Main | Obama's Electoral Map: Expanding Blue »
Thursday, November 06, 2008
NM-01: Historic Double-Digit Win for Martin Heinrich (Video, Photos)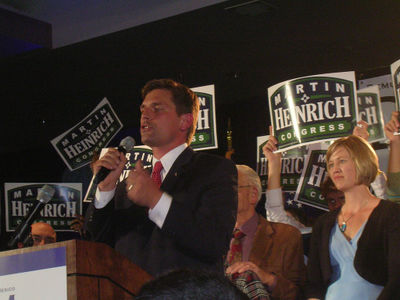 Victory speech
Unofficial results as of 8:18 AM today: Martin Heinrich 163,348 or 55.5%, Darren White 131,085 or 44.5%.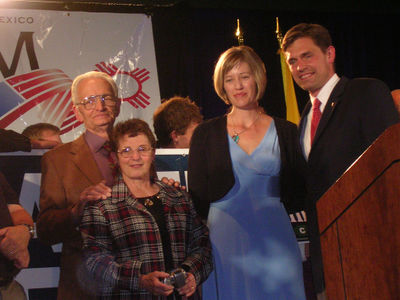 Martin and his parents with wife Julie savoring the win
The battle over the open Congressional seat in NM-01 between Dem Martin Heinrich and Repub Darren White was seen as tight all the way down the homestretch. But when the voting was over, Heinrich managed to defeat White by eleven points -- not just a few. This in a district that has been held by the GOP since its inception in 1968, and where White initially had a huge name-recognition advantage provided by expansive newsprint and TV exposure while serving as Bernalillo County Sheriff and as Secretary of Public Safety under Gov. Gary Johnson.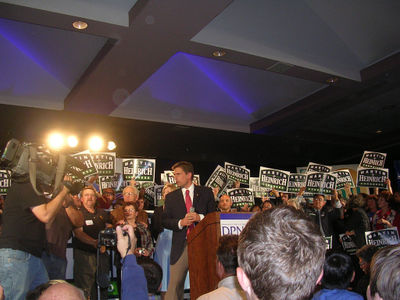 Martin in the spotlight
Martin creamed White in Bernalillo County by more than 32,000 votes, or 56.1% to 43.9%, and won a few more in the parts of Valencia and Sandoval counties included within NM-01. White only held the margin in parts of two counties within the district -- Santa Fe and Torrance. The candidates' vote getting in the areas outside Bernalillo County pretty much cancelled each other out and, as of today, Heinrich leads by 32,263 votes district-wide. Game. Set. Match.
The Heinrich campaign's dedication to voter outreach and building a solid ground game paid big dividends, as did a superior internet operation. Martin was all over the district like the Energizer bunny for more than 18 months, attending local events, meeting and winning over voters one by one and attracting support for his policies. And he was all over the net, gaining converts, building interest in the race and attracting a ton of small donations from the netroots.
By the time White's campaign got rolling -- focusing almost entirely on negative smears and outrageous innuendo -- Martin had made significant progress in defining himself and his views to the voters. They didn't buy what White was pushing. They'd apparently learned enough about what Martin stands for and who he is to see through White's exaggerated and distorted claims in a series of negative attack ads.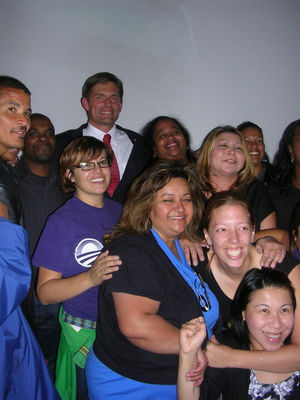 Martin and hardworking SEIU volunteers celebrate
By the time the two faced off in the late-race debates, it was evident that White's repetitive accusations couldn't survive the light of day. Like Obama, Heinrich kept his cool and his dignity in the face of frequent and nasty attacks. He stayed above the fray, stuck to the facts and focused his message on the issues important to New Mexicans today. All too often, White seemed like a guy stuck in the past and wedded to the Bush administration's failures. He carried a lot of baggage, while Heinrich came across as a relatively fresh face with an attractive vision of the future and a set of positions to match.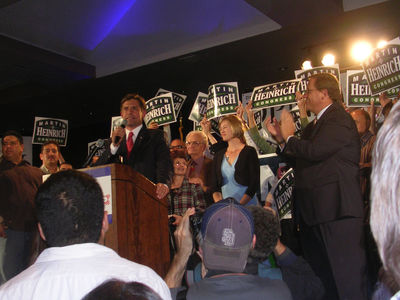 Martin, Julie and Democratic Party of NM Chair Brian Colon
Despite White repeatedly declaring his "independence" from Bush and the GOP, he clearly didn't have much in the way of policy to back up that claim. Heinrich had established himself as the agent of change in the race, and a common-sense voice for pragmatic problem solving. He blew Sheriff White away.
Congratulations to Martin, Jon Blair and the rest of the campaign staff, as well as all the hard-working volunteers and the thousands of ordinary people who contributed what they could in the way of small donations. And a special shout out to Julie and the kids for the many sacrifices they made to the punishing demands of the race. We won -- and we won big -- but it sure was a hard-fought victory, wasn't it?
Photos and videos by M.E. Broderick. See more photos here. View more videos here.
Technorati tags:
November 6, 2008 at 09:34 AM in NM-01 Congressional Seat 2008 | Permalink
Comments
Great coverage and great results! So much work went into this win by so many people. I still have trouble believing we hold the first congressional seat!
Congratulations to Martin, his family and everyone else who helped make this a success. Power to the people!
Posted by: Sandoval county voter | Nov 6, 2008 10:13:41 AM
Top notch job by all involved. It is so exciting to have a Democrat representing CD 1. It is even better having all three CDs and both Senate seats held by Democrats. They will all have a hard job in Washington with all the horrible messes left by Bush but I know they will be up to the challenge.
Posted by: Old Dem | Nov 6, 2008 12:05:13 PM
I still can't believe we will have a stand-up person like Martin representing us in DC. Major victory for the people. Good luck Martin-your going to need it with all the problems we face.
Posted by: Jenny | Nov 6, 2008 2:00:57 PM