« Harry Teague Rallies Early Voters in Doña Ana County | Main | 10/20: Fundraising Reception for Rep. Ben Ray Lujan in Santa Fe »
Sunday, October 17, 2010
Upcoming Early Vote Rally Events at UNM, ABQ NE Heights, Bernalillo, S. Valley, Los Lunas and Elsewhere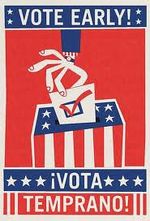 Early voting at a variety of sites is now taking place all over New Mexico, and will go through October 30, 2010. Click for maps of early voting locations in your area. Sample ballots are available here. Click for dates and locations of Democratic Early Vote Rallies in various areas of the state. They offer opportunities to meet candidates, as well as free refreshments, music, etc. They are either close to early voting sites or offer transportation to the nearest site.
Click for an interactive map that shows all the details about upcoming Early Vote Rally events in New Mexico's First Congressional District with Rep. Martin Heinrich and other Democratic candidates.
UNM rally at UNM Student Union Building
with Diane Denish
Monday, October 18, 2010 at Noon-1:00 PM
Early Voting Site across the street
Northeast Rally at Heinrich Campaign Headquarters
Tuesday, October 19, 2010 at 4:00-6:00 PM
2610 San Mateo NE, Albuquerque
Early Voting Site is Next Door
South Valley Rally at Home of Irma Ruiz
Saturday, October 23, 2010 at 4:00-6:00 PM
1516 Hooper Rd. SW, Albuquerque
Transportation will be provided for voters
Sandoval County Rally at The Range Cafe
Monday, October 25, 2010 at 4:00-6:00 PM
925 S Camino Del Pueblo, Bernalillo
Transportation will be provided for voters
Valencia County Rally
at Griego, Guggino & Associates
Saturday, October 30, 2010 at 1:00-3:30 PM
435 Luna St SE, Los Lunas
Early Voting Site across the street
October 17, 2010 at 01:33 PM in 2010 General Election, 2010 NM Governor's Race, Diane Denish, Events, NM-01 Congressional Race 2010, Rep. Martin Heinrich (NM-01) | Permalink
Comments
Yesterday a young man called to remind me that early voting was available and encouraged me to do so. We have had a death in our family and I will be out of town on election day. If I had not received the call, I would not have remembered early voting.
Posted by: Deanna Wright | Oct 28, 2010 5:30:17 AM