« 'We Are New Mexico' Distributes Flyers, Launches Radio Ads Revealing the Real Susana Martinez | Main | Republican Al Perez Paid for Insulting 'Mosque' Billboard in Las Cruces »
Tuesday, September 21, 2010
9/26: Support Congressman Ben Ray Luján at LWVSFC Candidate Forum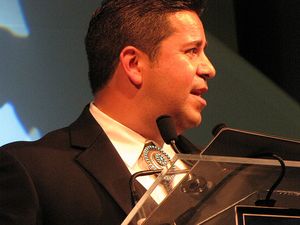 Please join The People for Ben Campaign and The Santa Fe Democratic Party in support of Congressman Ben Ray Luján at the League of Women Voters of Santa Fe County, NAACP and AAUW Candidate Forum. The event takes place on Sunday, September 26, 2010 from 3:00 PM to 5:00 PM at St. Bede's Episcopal Church, 1601 S Saint Francis Dr., Santa Fe.
Please bring your family and friends to support Congressman Ben Ray Lujan. For more information please contact Aaron Trujillo at 505-350-7830.
Incumbent Democratic Congressman Ben Ray Lujan and Republican Tom Mullins will present their platforms and take questions from the audience. For more important election information click here.
September 21, 2010 at 09:43 AM in Democratic Party, Events, NM-03 Congressional Race 2010, Rep. Ben Ray Lujan (NM-03) | Permalink
Comments