« 8/27: Congressional Forum Hosted by Women Impacting Public Policy and ACI in Albuquerque | Main | Governor Bill Richardson Meets with NIH Officials About Alamogordo Chimpanzees »
Tuesday, August 17, 2010
8/21: Campaign Volunteer Kickoff for BernCo Commissioner Maggie Hart Stebbins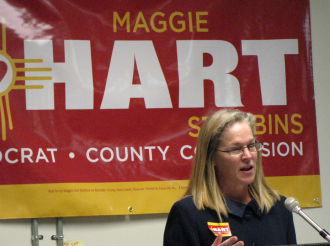 From Campaign to Elect Maggie Hart Stebbins:
A Volunteer Kickoff Event for Maggie Hart Stebbins will be held on Saturday, August 21st, at 9:30 AM, at AFSCME Headquarters, located at 1202 Pennsylvania NE in Albuquerque.
Join other volunteers in the effort to elect County Commissioner () Maggie Hart Stebbins. There will be a volunteer-oriented informational meeting starting at 9:30 AM, followed by the initial District 3 door-to-door canvass. A light breakfast will be provided. Please RSVP or direct questions to mhstebbins@gmail.com or 505-750-4624.
Since joining the commission, Maggie has worked to rebuild our local economy and is fighting for ethics and spending reform in county government. Please help us keep Maggie Hart Stebbins as District 3 County Commissioner in 2010.
Photo by M. E. Broderick.
August 17, 2010 at 12:33 PM in 2010 Bernalillo County Commission Races, Events | Permalink
Comments
Post a comment