« District 44 State Rep Candidate Joel Davis Calls for New Economic Blueprint for New Mexico | Main | Quote of the Day: Republican Love Fest with Wall Street »
Thursday, May 06, 2010
Rep. Martin Heinrich Introduces Bill to Implement Pilot Program for Secure Microgrid Energy Systems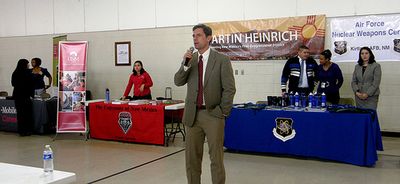 Rep. Heinrich at recent job fair in Albuquerque
Today, Rep. Martin Heinrich (NM-01) introduced legislation he says will propel our nation's quest for energy security and independence. H.R. 5230, the Military Energy Security Act, or MESA, would create an energy security pilot program that utilizes partnerships between military bases and national laboratories to develop secure microgrid systems that could be implemented throughout our communities.
Microgrids are localized energy grids that employ renewable energy sources, such as solar, geothermal or biomass power, and are ideal for high-use building clusters -- like military bases.
"Supporting the science and technology for microgrids will put our nation on the fast-track to energy independence," Rep. Heinrich said in a statement released by his office. "Microgrids provide a more secure infrastructure for our military -- both here and abroad -- and are a key component to the success of our nation's clean energy strategy."
The U.S. Department of Defense is the largest single user of energy in the world. Power for the majority of military bases is supplied through the public electrical grid. This reliance on conventional energy generation and transmission is both inefficient and unsafe in the face of a natural disaster or terrorist attack. Simple power outages occur as many as 300 times per year at some bases which can disrupt overall mission readiness. In a power outage or disturbance, a microgrid can separate from the utility grid and continue operating.
"Our men and women in uniform serve our nation every day, and it is critical that we do more to ensure that they can conduct their operations without interruption. MESA supports the collaboration of our national laboratories, private industry, and academia to create state-of-the-art technologies that will help our nation achieve greater energy security," said Rep. Heinrich.
MESA authorizes the Secretary of Defense, in coordination with the Secretary of Energy, to carry out the collaborative energy security pilot program and requires a report be submitted to Congress that provides the findings and recommendations to the Secretary.
In response to Rep. Heinrich's legislation, Rick Stulen, Sandia National Laboratories' Vice President for Energy, Climate, and Infrastructure Security made the following comments:
"It is clear Rep. Heinrich recognizes that our nation's energy security is related to accelerating the deployment of the best and most reliable renewable and alternative energy technologies to support our military's readiness. Since our nation's military is the largest energy consumer in the country, there is a strong need to fully leverage alternative energy resources, such as secure, scalable micro-grids, and other key energy security technologies that will play a role in assuring our military installations, both in this country and abroad, have the power to carry out their important missions."
May 6, 2010 at 11:51 AM in Energy, Military Affairs, National Security, Rep. Martin Heinrich (NM-01) | Permalink
Comments