« Gov. Richardson, Mayor Coss Break Ground on $29M Affordable Housing Development in Santa Fe | Main | Guest Blog/Video: Gay Pride 2010 -- 30 Years of Marching and Still Not There »
Friday, June 11, 2010
Book Events: One Nation, One Year, A Navajo Photographer's 365-Day Journey Into the Real World of the Navajo People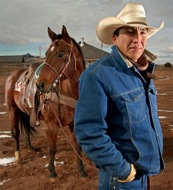 One Nation, One Year is described as a book that covers a Navajo photographer's 365-day journey into a world of discovery, life and hope. According to Don James, the photographer, the book presents a real world view of the Navajo people.
On Tuesday, June 15th, Don James will present a slideshow of One Nation, One Year (LPD Press, $24.99) at 7:00 PM at Bookworks, located at 4022 Rio Grande Blvd. (Flying Star Plaza) in Albuquerque.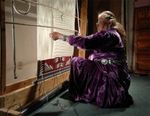 The book is a photographic journey documenting Don James' year-long trip across the Navajo Nation -- traveling more than 10,000 miles on dirt roads, horseback, on foot and as a hitch hiker -- to record Navajo arts, traditions, sports and people. The Navajo Nation and its people have been extensively photographed over the last century, but never from the eye of one of its own. Because he's native and knows the land and people, James embarks on a journey to show the world a different view of his culture, through his eyes and his Nikon lens. His understanding of the Navajo gives us a glimpse at a people previously off-limits to outsiders.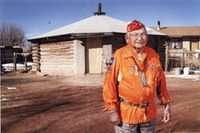 Official book release parties will take place at the Indian Pueblo Cultural Center in Albuquerque from 5:30 PM to 7:30 PM on June 30th, and at the Navajo Nation Museum in Window Rock, Arizona from 5:30 PM to 7:30 PM on July 13th. Meet the photographer, Don James, and celebrate his real world view of the Navajo people.
James took about 150,000 photos in his year-long trip across the Navajo Nation, so he had to pick and choose to winnow down the huge collection to produce the book -- a process James says was "really tough." Cindy Yurth of the Navajo Times reports that, of the hundreds of photos that did make the book, James' personal favorite is on page 52. A young teenager, Urina Bitcinnie, is planting corn with an old-fashioned planting stick. She's wearing stylish plaid shorts and Converse tennies, and around her neck hang the unmistakable white wires of iPod earphones. She's intent on her work, but her full cheeks crinkle in a beautiful smile.
"She looks so happy," James said. "To me, that picture says it all. We're traditional people, but we love the modern conveniences when we can get them. We've survived by adapting, but yet the old traditions, the really basic things, live on. "That's the story I wanted to tell. It's the story I think a lot of the other books have missed."
Check out this link for more book signings as they're scheduled, as well as reviews of the book. You can also purchase the book on the site or on Amazon.
June 11, 2010 at 12:00 PM in Books, Events, Native Americans | Permalink
Comments
Looks like a wonderful book. Thanks for covering this.
Posted by: Rose | Jun 11, 2010 2:56:49 PM