« March 2010 | Main | May 2010 »
Friday, April 30, 2010
5/2 Las Cruces: Q & A with Congressman Harry Teague, Hosted by Sen. Steve Fischmann, PRC Candidate Bill McCamley
From District 37 State Senator Steve Fischmann:
I 'm writing to invite you to a question and answer session with Congressman Harry Teague this Sunday, May 2nd, from 7 to 8 PM at the Good Samaritan Village, 3025 Terrace Drive in Las Cruces, hosted by me and Bill McCamley, candidate for Public Regulation Commission District 5.
Congressman Teague will explain his recent vote against the health care bill and also discuss his ideas for improving the legislation going forward. Time permitting, we'll also discuss the Organ Mountain wilderness legislation. Hope to see you there!
April 30, 2010 at 06:07 PM in Events, Las Cruces, Rep. Harry Teague (NM-02) | Permalink | Comments (0)
GOP Gov. Candidate Allen Weh on AZ Immigration Law: 'I Haven't Read the Bill'
Republican Gubernatorial candidate Allen Weh -- the frontrunner in the GOP primary by his own assessment and that of many others -- seems to be having a little trouble with consistency.
In response to a question about the new Arizona immigration law at a UNM meet and greet yesterday, he said he couldn't comment on it because he hadn't read the 17-page bill that requires police officers to ask for proof of citizenship from anyone they deem to be reasonably suspicious. That same evening, at a Republican debate, he side-stepped the question of whether he had read the bill (see video above for clip of both answers).
This past Tuesday, in an Albuquerque Journal article, Weh weighed in on the law this way:
Arizona's new law compels us more than ever to enforce existing law, or risk becoming an even bigger magnet for illegal immigrants and criminals. I'll start by rescinding the executive order barring State Police from reporting illegal immigrants that they stop or apprehend, and ending driver's licenses for illegal immigrants.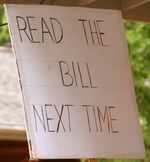 I guess earlier this week he felt he knew enough about the bill to comment on it, but by Thursday it suddenly struck him that he hadn't "read the bill," a phrase so often used in Tea Party parlance. As in, "Hey Democratic Congressman, have you READ THE BILL?" (As we've learned, every Tea Party person claims to have read the bill, no matter what bill they're complaining about.)
Why, Weh, Why?
Your guess is as good as mine as to why Weh changed his answer as the week went on. Was it because he read the bill early in the week, but had forgotten what's in it a few days later? Was it because he only pretended to know what the bill said when he commented to the Journal about it on Tueday, and he decided to be honest on Thursday and admit he hadn't really read it?
Or did Weh take notice of the passionate and widespread backlash caused by the bill's enactment and decide to pretend he hadn't read it so he didn't have to give a clear response?
Winging It


Regardless of the reason for his inconsistency, his sloppiness is proof positive that he isn't really ready for prime time. Accomplished and competent candidates make sure they have their facts straight before engaging the public. It appears that Weh just wings it -- and expects nobody to notice.
Weh apparently winged it when he helped put together his latest TV ad, too. He makes a big deal about Democratic candidate Diane Denish's alleged use of stimulus funds to fly in a state plane to a parade in Gallup. The only trouble is that's not true.
Like a CEO?
Remember that Weh repeatedly says he wants to run the state like a CEO runs a business. Owners or managers this discombobulated and/or dishonest usually don't get very far in the competitive world of business -- unless they've got the inside track on federal contracts, as Weh's air service company apparently did during the Iraq War. Or maybe he's patterning himself on the dishonest Wall Street CEOs who were allowed to run amok and lie to investors, thanks to the Republican addiction to deregulation. Either way, candidates this fickle with the facts are unlikely to win many elections -- or to govern in a competent, transparent manner if they do manage to get into office. Details matter, and Allen Weh can't seem to get them right.
"Mr. Weh says he wants to run New Mexico like a CEO, but with Wall Street CEOs giving themselves outrageous bonuses and Weh's disregard for simple details, the people of New Mexico have to ask themselves if that's the type of executive leadership our state needs," said James Hallinan, DPNM spokesman. "Mr. Weh is running for governor, but so far he has outlined no ideas, just poorly sourced attacks and a penchant for being unprepared."
April 30, 2010 at 05:52 PM in 2010 NM Governor's Race, Allen Weh, Border Issues, Civil Liberties, Hispanic Issues, Immigration, Minority Issues, Republican Party | Permalink | Comments (15)
May 4-6: Free UNM Conference Invites Public Discourse on DREAM Act
From UNM Today:
State and community leaders, as well as students from the state's high schools and universities, will discuss the Development Relief and Education for Alien Minors Act (DREAM Act) at the DREAM Conference at the University of New Mexico, Tuesday thru Thursday, May 4-6.
On May 4, an information table at UNM's Student Union Building is the place to start to learn more about the DREAM Conference, which aims to educate the public about the DREAM Act and its effects, while also starting discussions about the issue generally. The event is free to the public.
On Wednesday, May 5, conference events begin with morning workshops, a lunchtime Cinco de Mayo celebration, a forum with state senators, UNM faculty and community leaders speaking and a screening of the documentary "Papers."
On Thursday, May 6, events are geared toward the UNM campus community -- a second showing of "Papers," a mock graduation and a Critical Issues Round Table.
If passed, the DREAM Act would provide a path to citizenship for those who came into the country before they turned 16 years old, graduated from high school and then join the military or enroll in a higher education institution.
The controversial legislation has gained support in recent years and was introduced into the Senate in 2009. The College Board, Microsoft, Harvard University and several other universities around the country have embraced and expressed support for the DREAM Act.
Sponsors of the event include College Democrats, as well as Albuquerque Dreamers in Action, College Enrichment and Outreach Programs, El Centro de la Raza, Engaging Latino Communities for Education, Lambda Theta Phi Latino Fraternity, Inc., League of United Latin American Citizens, Mexican Student Association, Movimiento Estudiantíl Chicana/o de Aztlán [MEChA], Project for New Mexico Graduates of Color, Raza Graduate Student Association and Somos Un Pueblo Unido.
For more information contact Andrea Salazar, asal19@unm.edu; or visit the Conference Schedule, where you can also register for the FREE event.
April 30, 2010 at 11:37 AM in Education, Events, Hispanic Issues, Immigration, Minority Issues, Youth | Permalink | Comments (0)
Obama Issues Statement Praising Senate Outline on Immigration Reform; ACLU Critical
Senate Democrats unveiled a 26-page outline for proposed immigration reform this week that closely follows a bipartisan draft put together by Sens. Charles Schumer (D-NY) and Lindsey Graham (R-SC) earlier this year. See below the fold for the main points of the proposal.
In response, President Barack Obama released a statement yesterday praising the proposal and commenting on the work ahead:
"It is the federal government's responsibility to enforce the law and secure our borders, as well as to set clear rules and priorities for future immigration. The continued failure of the federal government to fix the broken immigration system will leave the door open to a patchwork of actions at the state and local level that are inconsistent and as we have seen recently, often misguided.
"The proposal outlined today in the Senate is a very important step in the process of fixing our nation's broken immigration system. I am especially pleased to see that this detailed outline is consistent with the bipartisan framework presented by Senators Chuck Schumer and Lindsey Graham last month, and is grounded in the principles of responsibility and accountability.
"What has become increasingly clear is that we can no longer wait to fix our broken immigration system, which Democrats and Republicans alike agree doesn't work. It's unacceptable to have 11 million people in the United States who are living here illegally and outside of the system. I have repeatedly said that there are some essential components that must be in immigration legislation. It must call for stronger border security measures, tougher penalties for employers who hire illegal immigrants and clearer rules for controlling future immigration. And it must require those who are here illegally to get right with the law, pay penalties and taxes, learn English, pass criminal background checks and admit responsibility before they are allowed to get in line and eventually earn citizenship.
"The outline presented today includes many of these elements. The next critical step is to iron out the details of a bill. We welcome that discussion, and my Administration will play an active role in engaging partners on both sides of the aisle to work toward a bipartisan solution that is based on the fundamental concept of accountability that the American people expect and deserve."
According to an article on Roll Call, the proposal was drafted as an alternative that will be pursued by Democrats if the bipartisan negotiations on a draft bill led by Schumer and Graham don't resume. Sen. Graham abandoned the process last month.
Senate Democrats' decision to move forward on their own drew applause from Hispanic lawmakers in the House, who have seized on Arizona's tough new state immigration law to ramp up the pressure for the Senate to act on a comprehensive bill this year.
Here are the main points of the Senate proposal:
* Enforce borders: The lawmakers plan to increase the number of border patrol officers and provide them with better equipment to detect fraud and smuggling. They also want to install ground sensors throughout the southern border to make it easier to detect illegal border crossing.
* Free up jails: The proposal calls for the deportation of illegal immigrants currently detained in federal and local prisons. Going forward, judges should minimize detention when possible.
* Verify workers: The Social Security Administration would begin issuing fraud-resistant social security cards that include a unique biometric identifier. Employers would have to verify work authorization using the new biometric system.
* Fine employers: Companies that knowingly hire illegal immigrants would face greater fines. Employers would no longer be able to deduct the wages of unverified workers from their tax returns.
* Legalize immigrants: For the 12 million illegal immigrants already living in the United States, the proposal creates a path to citizenship. A person would begin by passing a criminal background check and paying pending fees and taxes. Eight years later, they could apply for legal resident status by demonstrating, among other things, English-language skills.
* Legalize spouses: The lawmakers plan to give legal resident status to what they call "permanent partners" of U.S. citizens. They also plan to address immigration benefits for widows, orphans, and adopted children of U.S. citizens.
* Amend visas: Foreign students who have or seek to attain U.S. degrees could apply for green cards, and foreign workers with visas could attain legal residency. A new provisional visa would be created for low-skilled workers, but employers would be encouraged to hire U.S. citizens before foreigners.
The ACLU issued a statement critical of the proposed new Social Security cards that include a biometric identifier:
If the biometric national ID card provision of the draft bill becomes law, every worker in America would have to be fingerprinted and a new federal bureaucracy - one that could cost hundreds of billions of dollars - would have to be created to issue cards. The ACLU strongly opposes the inclusion of a biometric national ID in this or any comprehensive immigration reform bill and urges senators to reject such an ID card.
The ACLU statement also criticized the "continuation of the much-criticized Immigration and Customs Enforcement (ICE) 287(g) program," as well as other elements of the proposal.
April 30, 2010 at 10:17 AM in Border Issues, Civil Liberties, Hispanic Issues, Immigration, Minority Issues, National Security, Obama Administration | Permalink | Comments (1)
Thursday, April 29, 2010
Birthday Wish From a Sweet Gay Soul
Just watch this video by Michael Ray Huerta, who many of you know from political circles here in New Mexico. It speaks volumes about what many of us in the LGBT community experience and wish for the future -- especially for the young ones among us. Thank you, Michael.
April 29, 2010 at 09:36 PM in GLBT Rights | Permalink | Comments (6)
New Mexico Awarded ARRA Grant to Improve Health Care Records System
Senators Jeff Bingaman and Tom Udall have announced that the State of New Mexico will receive a $405,000 grant to develop plans to implement an electronic health records system. The grant will be used to assess the best way to implement Health Information Technology (HIT) infrastructure for New Mexico's Medicaid program. HIT is expected to improve the quality and efficiency of the way health care is delivered.
According to a statement released by the senators, these grants were included in the American Recovery and Reinvestment Act of 2009, which also includes substantial funding directly to hospitals, physicians, and other healthcare providers for the costs of adopting new HIT systems. Those grants will begin in 2011.
"Computers can be an extremely effective tool for medical professionals because they allow for nearly instant access to a patient's history, X-rays and other valuable information. Relying on technology will help improve the quality and efficiency of health care delivery in our state, which is why I'm glad New Mexico has been awarded this grant," Bingaman said. "But this is just one important step in making sure that New Mexico can modernize its healthcare system. In the months to come, more funding will be available to hospitals, physicians, and other healthcare providers, and I hope that we can take full advantage of it."
"I believe that electronic medical records are an important step forward in improving the efficiency and quality of our health care system," Udall said. "The Recovery Act has allowed us to make big improvements like this one to ensure that New Mexico is offering a modern delivery system that controls costs and improves health outcomes for patients."
April 29, 2010 at 09:16 PM in Healthcare, Obama Health Care Reform, Sen. Jeff Bingaman, Sen. Tom Udall | Permalink | Comments (0)
Sen. Jeff Bingaman to AG Holder: Examine How Arizona's New Immigration Law Could Affect New Mexicans
Could New Mexicans driving through or visiting Arizona be detained if they present a New Mexico driver's license as identification?
Senator Jeff Bingaman today asked U.S. Attorney General Eric Holder to consider how New Mexicans traveling in Arizona may be affected by that state's new immigration law. The U.S. Department of Justice (DOJ) is currently reviewing the legality of Arizona's recently enacted law concerning immigration enforcement by state authorities.
The law requires an Arizona law enforcement officer to verify the immigration status of individuals who come in contact with the police if the officer has "reasonable suspicion" that the person is unlawfully present in the United States. The law states that a person can demonstrate lawful status by providing: (1) an Arizona-issued license; (2) a tribal identification card; or (3) a federal, state, or local government identification card if the entity requires proof of legal presence when the identification is issued.
"While the Arizona law allows state-issued identification documents to be presented as evidence that a person is lawfully present in the United States, residents of states that do not require individuals to demonstrate legal status, such as New Mexico, could be detained by police while their citizenship or immigration status is verified," Bingaman wrote to Holder.
"For New Mexicans, and the residents of similarly situated states, the detention and investigation required to check a person's status would likely be much more than a brief check of a driver's license during a traffic stop. This could result in the detention of U.S. citizens based on a suspicion standard which has been interpreted as articulable facts that amount to little more than a hunch. It would be troubling if New Mexicans and the residents of other similarly situated states would need to carry U.S. passports or other proof of citizenship when traveling through or visiting Arizona," he wrote.
Bingaman asked Holder to evaluate New Mexico's situation as part of his department's ongoing investigation of the constitutionality of the law. Other states that may be in a similar situation to New Mexico's include Hawaii, Utah, Washington and Maryland.
April 29, 2010 at 05:51 PM in Border Issues, Civil Liberties, Hispanic Issues, Immigration, Minority Issues, Sen. Jeff Bingaman | Permalink | Comments (10)
5/4: Santa Fe County Dems Host PRC District 4 Candidate Forum in El Dorado
From the Democratic Party of Santa Fe County:
The Santa Fe County Democratic Party is hosting a forum for Democratic candidates for New Mexico Public Regulation Commission District 4, the seat currently held by Carol Sloan.
Three of the four candidates are scheduled to attend the forum, which will be held in the Exhibit Space in La Tienda, 7 Caliente Road, at 6:30 PM on Tuesday, May 4.Hank Huges, Andrew Lopez and George Galanis have confirmed they plan to attend.
PRC District 4 covers Eldorado and other parts of Santa Fe County, as well as parts of Bernalillo County and northern and western parts of the state.
April 29, 2010 at 05:27 PM in 2010 NM PRC Races, Democratic Party, Events | Permalink | Comments (0)
Bill To Name Dept. of Interior Building After Former Secretary Stewart Udall Advances In U.S. House
A bill sponsored by Rep. Martin Heinrich (NM-01) to name the building that houses the Interior Department in Washington, D.C. after the late Stewart Udall cleared its first hurdle in the House of Representatives today. H.R. 5128 was unanimously approved by the House Committee on Transportation and Infrastructure. Download the bill.
Rep. Heinrich, a member of the House Natural Resources Committee, introduced H.R.5128 on Earth Day last week to honor Secretary Udall's legacy. The bill, which awaits a full vote in the House, would rename the Department of the Interior Building the "Stewart Lee Udall Department of the Interior Building."
"There is no question that Secretary Udall's immeasurable impact on our nation will continue to be felt by Americans through the magnificent National Parks and public lands that he dedicated his life to preserving," said Rep. Heinrich.
"The fact that this bill is moving forward so quickly indicates that there is strong support in Congress for honoring Secretary Udall's legacy," said Senator Jeff Bingaman (D-NM) who introduced companion legislation in the Senate.
There are currently 28 cosponsors of H.R.5128. Seven colleagues from the New Mexico and Arizona House delegations were the original cosponsors of the bill including: Rep. Ben Ray Luján (NM-3), Rep. Harry Teague (NM-2), Rep. Gabrielle Giffords (AZ-8), Rep. Raúl Grijalva (AZ-7), Rep. Ann Kirkpatrick (AZ-1), Rep. Harry Mitchell (AZ-5), and Rep. Ed Pastor (AZ-4).
Stewart Udall, the father of U.S. Senator Tom Udall (D-NM), was the U.S. Interior Secretary from 1961 to 1969, serving in the cabinets of Presidents John F. Kennedy and Lyndon Johnson. He also served in the U.S. Congress from 1955 to 1961. Stewart Udall died last month.
April 29, 2010 at 12:31 PM in History, NM Congressional Delegation, Rep. Ben Ray Lujan (NM-03), Rep. Harry Teague (NM-02), Rep. Martin Heinrich (NM-01), Sen. Jeff Bingaman, Sen. Tom Udall | Permalink | Comments (0)
Relevant Experience: Sierra Club Endorses Hank Hughes for Public Regulation Commission, District 4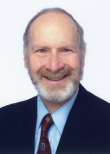 The Rio Grande Chapter of the Sierra Club is endorsing Hank Hughes for Public Regulation Commission, District 4. Susan Martin, Chapter Political Chair talks about Hank's background in a statement released today.
"Hank Hughes is currently the Executive Director of the NM Coalition to End Homelessness, that has been developing green affordable housing in communities around New Mexico. Hank has also been a Water Resource Specialist at the Cornell Center for Environmental Research, where he assisted communities in New York State experiencing actual or potential ground water contamination problems. He holds a Master's of Environmental Systems Engineering from Cornell University. His varied career in environmental research, nonprofit administration, housing development and legislative advocacy has given him a lot of relevant experience to draw on for work on the PRC. Equally important is the fact that his career demonstrates his commitment to the environment and to people in need."
"Along with our endorsement comes the on-the-ground support of our members in political campaigns for environmentally aware and proven candidates," Martin concluded.
For a complete update on the Chapter's political endorsements, please visit their new website.
Hank Hughes is running in the Democratic primary against Andrew Leo Lopez, George J. Galanis and Theresa Becenti-Aguilar. Carol Sloan, a Democrat who currently serves District 4 on the PRC, has been disqualified and will not appear on the ballot. Gary J. Montoya is the lone Republican in the race.
April 29, 2010 at 11:38 AM in 2010 NM PRC Races, Energy, Environment | Permalink | Comments (0)
5/1: Old Fashioned Barn Raising & BBQ Hosted by IATSE and Dem Party of Santa Fe County
Roll up your sleeves for an old fashioned barn raising. Join IATSE Local 480 and the Democratic Party of Santa Fe County on Saturday, May 1, 2010 from 9:00 AM to 4:00 PM to help raise the new Santa Fe Center for Progress and Justice at 1418 Cerrillos Road in Santa Fe. BBQ lunch provided. Call (505) 986-9512, Ext. 204, for more information.
April 29, 2010 at 08:10 AM in Democratic Party, Events, Labor, Progressivism, Santa Fe | Permalink | Comments (1)
Wednesday, April 28, 2010
True Reformer: Sierra Club Endorses Bill McCamley for Public Regulation Commission, District 5

The Rio Grande Chapter of the Sierra Club has endorsed the candidacy of Bill McCamley for his bid in the 2010 general election for Public Regulation Commission, District 5. Bill McCamley is unopposed in the June Democratic primary.
A statement released by the group today said McCamley's emphasis on clean government, ethics reform, health care reform, and promotion of renewable energy to replace our dependence on fossil fuels, have earned him the title as a "true reformer."
Graduating from NMSU with a BA in Government and earning a Master's in Public Policy from Harvard University, McCamley has been well suited to the many posts he has held in Doña Ana County and southern New Mexico and a potential seat on the Public Regulation Commission, according to the group. McCamley is a former Commission Chairman for the Doña Ana County Commission, a Local Development Coordinator, and Executive Director for New Mexico Rural Development Response Council.
Unfortunately the current PRC has been fraught with ethical lapses and a new direction is needed to stand up to large corporations and protect people from high rates and bad services. The Rio Grande Chapter believes that Bill McCamley is the right candidate to change the direction of the PRC and that he will be one of those leaders in the commission to set high standards and promote ethical leadership. His priorities in creating green jobs, low rates to customers, public safety, ethics reform, and most important, making New Mexico the center of clean energy through renewable energy and energy conservation are our Sierra Club priorities as well.
Established in 1892, the Sierra Club is the nation's oldest and largest environmental membership organization. With our roughly 7,500 politically active members, our endorsement is widely sought by candidates for elected positions across the state.
Review the Chapter's political endorsements for selected primaries and the general election as they are posted on its new web site: http://nmsierraclub.org/political.
April 28, 2010 at 09:25 PM in 2010 NM PRC Races, Energy, Environment, Ethics & Campaign Reform, Green Economy | Permalink | Comments (2)