« February 2010 | Main | April 2010 »
Wednesday, March 31, 2010
Public Memorial Service for Stewart Udall Set for June 20 at Paolo Soleri Amphitheater
The Udall family will hold a public memorial for the family's late patriarch entitled, "Stewart L. Udall: A Celebration of Life and Legacy" on Father's Day, June 20, 2010.
The former Interior Secretary, and father of U.S. Sen. Tom Udall, passed away peacefully at the age of 90, on March 20 at his home in Santa Fe. He was surrounded by family.
"Our family was blessed to have Stewart Udall as our Father, and we were honored to share him with the people, the lands and the causes he championed for so many years, Sen. Tom Udall said in a statement released by the family. "Our Dad so loved the southwest, its people and its magnificent outdoor spaces that we thought there would be no more fitting tribute than to celebrate his life and legacy with the people he loved most, on the land he held so dear.
"On Father's Day, we invite his friends and admirers to join us in honoring our Dad through a celebration of music, poetry and personal remembrances." The celebration of life will be open to the public:
WHAT: "Stewart L. Udall: A Celebration of Life and Legacy"

WHEN: Father's Day, Sunday, June 20, 2010

TIME: 9:30 AM MT.

LOCATION: The Paolo Soleri Amphitheatre, located on the Santa Fe Indian School Campus, 1501 Cerrillos Road, Santa Fe, N.M. 87505.
March 31, 2010 at 03:31 PM in Current Affairs, Sen. Tom Udall | Permalink | Comments (0)
Only Hours Left: Please Donate to Support Rep. Martin Heinrich - Now Endorsed by 21st Century Democrats

Rep. Heinrich discusses health insurance reform at a fundraiser this week and says if GOP wants to run on repeal, "Bring it on!"
We're into the last few hours of our online fundraiser to show Rep. Martin Heinrich we have his back when he votes in ways that support real Democratic values. The first quarter campaign fundraising deadline happens at midnight TONIGHT, and we're in range of the DFNM blog's $1000 goal:
Can you help us push the thermometer to the top? Can you donate $5, $10 or $25 to make it happen between now and midnight? Click on the image above right now.
We know that Rep. Heinrich is doing a great job in Washington for New Mexico's First Congressional District, as well as our nation, and now the 21st Century Democrats organization has come to the same conclusion. This week, the group endorsed 12 incumbents for the 2010 election cycle. They chose candidates they said "have supported a strong progressive populist agenda by voting for important bills such as Economic Recovery, Climate Change Legislation, Financial Reform and Healthcare Reform." Martin Heinrich was one of the 12. And he's in very good company. Among the others who received the group's endorsement are Sen. Russ Feingold (D-WI), Rep. Alan Grayson (D-FL), Sen. Barbara Boxer (D-CA) and our own Rep. Ben Ray Lujan (D, NM-03). (Click for the complete list.)

An Albuquerque physician thanks Rep. Heinrich for voting for health insurance reform and explains why
The group explained their endorsements this way: "We work with Democrats who share our vision of a party -- and a country -- which puts ordinary people first. Every election cycle, we look for a candidates running for public office who show great promise of future leadership and aren't afraid to take on big corporate interests. We're building the farm team of progressive populist leadership in the Democratic Party. That's why we were among the earliest supporters of Russ Feingold, Paul Wellstone, and Barack Obama - long before they came to Washington.
"These 12 candidates are extraordinary leaders," said Crystal Plati, Executive Director of 21st Century Democrats. "They are leaders who don't run for the hills when tough decisions need to be made. They are ready to go into battle and fight to ensure that everyone can realize the American Dream."
We know that Rep. Heinrich needs all the help and support he can get to battle his right-wing Republican challenger -- who will no doubt be getting big donations from the insurance industry and fat-cat GOP donors from across the nation. The GOP wants very badly to take this seat away from the Democrats and we know they'll be going all out to do just that.
That's why we're asking for your help to put our fundraising effort over the top. Can you donate $5, $10 or $25 to make it happen between now and midnight? Please visit the DFNM page on ActBlue right now and donate what you can. Thanks!
March 31, 2010 at 12:29 PM in DFNM - Albq, Healthcare, NM-01 Congressional Race 2010, Obama Health Care Reform, Rep. Martin Heinrich (NM-01) | Permalink | Comments (0)
DPNM Chairman Remembers the Life, Legacy and Accomplishments of César Chávez
From Javier Gonzales, Chairman of the Democratic Party of New Mexico:
Today the Democratic Party of New Mexico, along with citizens across the state, celebrate the life, legacy, and accomplishments of César E. Chávez.
César Chávez represents the timeless vision of non-violent social change; he fought perilously for equal justice, civil rights, and consumer and environmental awareness. Chávez is undoubtedly one of the most influential figures of the 20th Century.
Throughout his life, Chávez led several successful strikes and boycotts, eventually leading to the 1975 California Agricultural Labor Relations Act, protecting farm workers in California and meaningfully impacting the lives of America's workers across the country. For his tireless work of behalf of America's working classes, he was posthumously awarded the Medal of Freedom in 1994 from President Clinton, the highest civilian honor an American can receive.
In 2008, then-Senator Barack Obama commemorated the birth of César Chávez by calling for a national holiday, stating that "it is time to recognize the contributions of this American icon to the ongoing efforts to perfect our Union." Although to date no such holiday exists, Americans remain committed to bring about the vision that César Chávez fought tirelessly for and to recognize the achievements he accomplished.
Born on March 31, 1927 on a farm near Yuma, Arizona, Chávez had first-hand knowledge of the struggle for equality and justice for all Americans. In honor of César Chávez, we must continue to fight and defend these two fundamental freedoms.
The Democratic Party of New Mexico will continue its fight to protect the principles and ideals César E. Chávez left behind.
March 31, 2010 at 11:29 AM in Agriculture, Democratic Party, Hispanic Issues, History, Labor, Minority Issues | Permalink | Comments (0)
Guest Blog: UNM Students Protest Rejection of SFRB Budget Funding Recommendations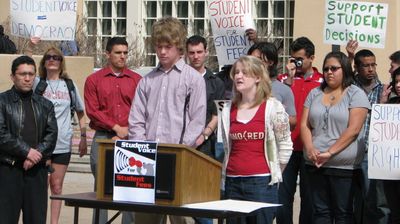 Monday protest of rejection of student-recommended programs
This is a guest blog by Danny Hernandez, who is the Chairman of the UNM GPSA Council. There will be another protest this Friday, this time at the Board of Regents budget meeting.
Last week the UNM administration rejected the recommendations of the Student Fee Review Board (SFRB) for the funding of four progressive, student-based programs at UNM. The SFRB is a seven-member committee made up of representatives from Associated Students of the University of New Mexico (ASUNM) and the Graduate and Professional Student Association (GPSA) – the undergraduate and graduate-level student governments at UNM.
Although the board serves only in an advisory capacity, never in recent history has the UNM administration completely rejected any of the body's recommendations. Not rejected was the controversial 2.2 percent decrease to the UNM Athletics department brought about by a GPSA student body referendum requesting the SFRB reduce subsidies to Athletics from student fees.
Four programs were cut: The New Mexico Student Public Interest and Research Group ($49K cut) is a student-based and student-run advocacy group. The Research Service Learning Program ($31K cut) and the Community Learning Program Services ($31K cut) bring undergraduate students into the community where they learn civics by working with communities that could use their help. The Lesbian, Gay, Bisexual, Transexual and Questioning Resource Center (LGBTQ Resource Center - $84K cut), a completely new program, was intended to help LGBTQ community members at UNM better cope. LGBT youth are four times more likely to commit suicide, are often estranged from their families (some are simply kicked out of the house) and often need help and support understanding and dealing with their sexual orientation in a heteronormative society.
The SFRB recommended an increase of student fees of $10 per student per semester to a total of nearly $460 to cover the cost of these programs.
Monday, a group of more than 50 UNM students held a rally to protest having had our voices ignored by the administration. At the rally, students talked about the intensive work done by the seven SFBR student representatives: Each reading two-thousand pages of documents, deliberating for more than 100 hours and consulting with their peers to come up with the budget they ultimately recommended. Although we understand that the administration has a legal right to accept, modify or reject any and all budget recommendations made by the SFRB; we feel that the student body's wishes were incorporated into the budget recommendation and should not be disregarded.
Protest Friday at Board of Regents Meeting: On Thursday, UNM President David Schmidly will announce his final budget recommendations to the UNM Board of Regents. The final decision on the final UNM budget will be made at a Board of Regents special budget meeting to be held on Friday at 1:00 PM in the UNM Student Union Building. A coalition of student groups, some affected by this decision, will be represented by hundreds of students who will attend the meeting to protest if the SFRB recommendations are ignored in Schmidly's budget recommendations.
This is a guest blog by Danny Hernandez. If you'd like to submit a piece for consideration as a guest blog, contact me by clicking on the Email Me link at the upper left-hand corner of the page.
March 31, 2010 at 09:15 AM in Education, GLBT Rights, Guest Blogger, Youth | Permalink | Comments (1)
3/31: Benefit for NM Wilderness Alliance with Walkin' Jim Stoltz - Forever Wild

From the New Mexico Wilderness Alliance: One of America's most unique folksingers and backcountry travelers, Walkin' Jim Stoltz, on tour from the mountains of Montana, will bring his powerful multi-media show, Forever Wild, to Albuquerque. The mix of stunning photography, stories, and music make this one-of-a-kind concert an inspiring journey into our nation's last wilderness areas.
Walkin' Jim Stoltz Concert:
Forever Wild
A Benefit for
New Mexico Wilderness Alliance
Wednesday, March 31, at 7:00 PM
UNM Continuing Education Center
1634 University BLVD, in Albuquerque
Tickets for the concert will be available at the door for $15.00 or on-line for $12.50 in advance. Children's tickets are also available for $7.50. This event is sponsored by the New Mexico Wilderness Alliance 505-843-8696. Click here to get your tickets.
March 31, 2010 at 08:28 AM in Environment, Events | Permalink | Comments (0)
Tuesday, March 30, 2010
Protest on ABQ Civic Plaza: Commissioner Wiener Apologizes But Didn't Think Joke Was Racist

Click for larger version or photo album
Does he get it? Does District 4's Republican Bernalillo County Commissioner Michael Wiener really understand why people are so upset about a racist, homophobic joke he sent to County employees? It's hard to tell. 
Wiener should get props for showing up at yesterday's rally against racism and homophobia at Albuquerque's Civic Plaza in order to talk to some of his critics. The demonstration was organized by the Democratic Party of New Mexico, YWCA, Black Student Union, League of United Latin American Citizens (LULAC), Democratic Women of New Mexico, Young Adults of UNM and College Democrats of UNM -- who are calling for Wiener's resignation in response to the emailed joke.
Wiener apologized several times to about 50 demonstrators, but the gist of his responses seem to indicate he's still surprised at the negative reactions to his forwarding the juvenile and insulting email. He says he didn't consider the joke to be racist when he sent it. You decide:
Sex in the Shower
In a recent survey requested by President Obama, African-Americans have proved to be the most likely to have sex in the shower! In the survey, carried out for him by a leading toiletries firm, a huge majority, 86 percent, of African-Americans said that they have enjoyed sex in the shower. The other 14 percent said they hadn't been to prison yet.
I don't know. Can we trust the judgment of a public official who DOESN'T see this joke as racist and homophobic? It seems plainly so to me and many others. Perhaps Wiener has an unusual view of what constitutes racism and homophobia.
Wiener seems sorry that he caused the media flap, but he still seems unclear on the concept of why sending the email is being seen as such a heinous act. He doesn't seem cognizant of the big picture -- that some of the recent tactics and messaging of Republicans and Tea Party protestors are coming across like something out of 1952 -- racist, hateful and bullying. Naturally, when people heard about Wiener's email sent to county government computers, they saw it as more of the same from coming from the right wing.
In addition, Wiener doesn't seem to understand how awful it was to send the email to the chief of the county jail and the Bernalillo County Manager, especially given that an African-American inmate was badly beaten by inmates just last year in the Bernalillo County Metropolitan Detention Center. Ultimately, a detention center officer was arrested in the case and charged with attempted second degree murder, conspiracy, bribery of a witness and soliciting aggravated battery to the brutal beating of the jail inmate. The former guard claimed she's being scapegoated and that it was understaffing, bad management and negative conditions at the jail that were to blame.
James Noland, a relative of Avery Hadley, the inmate who was beaten, attended yesterday's rally and spoke to Wiener about the incident. He and others tried to explain how "jokes" like the one forwarded by Wiener can help to create an atmosphere that encourages racism and violence at the jail and in our communities. Noland told Wiener he wants an independent investigation into how the jail is being run and the removal of detention center chief Ron Torres, one of the county employees who received Wiener's email. Wiener seems unable to fully grasp how "jokes" like the one he emailed can help nurture racist or homophobic attitudes, especially when there's already some evidence that they may already be thriving in a county institution.
I think it's telling that Hadley's family complained that nobody from the jail had contacted them to discuss the beating in the weeks following the incident. At the very least, it appears that some jail employees and/or managers don't seem to take prisoner abuse seriously, at least when certain minorities are involved.
In 2008, the ACLU of New Mexico filed a suit against the Bernalillo County Metropolitan Detention Center for failing to protect inmate Roman Gallardo from physical and sexual assault by another prisoner while Gallardo was incarcerated for a DWI offense in 2006. The rape took place after Gallardo, an openly gay man, was forced to share a cell with an inmate who was known to have sexually assaulted at least one other prisoner.
Given the perceptions -- justified or not -- that the county jail is a place where gay inmates and African-Americans are at risk, you'd think that Michael Wiener would have known better than to send the joke to county officials. Then again, I guess he still doesn't see it as racist. Amazing.
For more information on yesterday's protest, check out KOAT-7's video report and an NMI article by Marjorie Childress that include video from the rally.
Photos by M.E. Broderick.
March 30, 2010 at 04:33 PM in Bernalillo County, Democratic Party, GLBT Rights, Minority Issues, Right Wing | Permalink | Comments (3)
Bill McCamley to Focus on Job Creation, Alternative Energy and More in Run for Public Regulation Commission in District 5

Former Doña Ana County Commissioner Bill McCamley filed Tuesday, March 16th, to run in the Democratic primary for the Public Regulation Commission (PRC) in District 5. McCamley was the only person to qualify for the Democratic primary ballot and will be running unopposed in the primary election.
McCamley says he will focus on creating jobs by keeping utility rates low and enhancing the alternative energy sector, health insurance reform that keeps insurance companies accountable to their customers, and creating new ethics policies in the Commission to restore trust between the New Mexicans and the Commission.
"From utility bills to insurance costs, the issues that the PRC deals with hit everybody in the wallet," McCamley said in a statement released by his campaign. "In these tough economic times, we must both protect New Mexican families and do everything possible to create opportunities for jobs to flourish."
McCamley is also running as a publicly financed candidate.
"With all of the money involved in politics, and the sense that people in public office are bought off with campaign contributions, I felt that it was important to stay above that perception and let everybody know that the only interest I have is the public interest," McCamley said. "I hope that whoever my opponent is in the general election chooses this ethical route as well."
McCamley filed with more than 1,000 signatures from registered Democrats, and turned in 260 five-dollar contributions from voters across the 5th PRC District.
"I would like to thank these voters for their overwhelming support in this process, and I look forward to working hard for all of the people in Southwest New Mexico when I am elected," McCamley said.
PRC District 5 encompasses most of the southwest portion of the state. The District 5 seat has been held by Democrat Sandy Jones, who is now running for Commissioner of Public Lands. The GOP candidates for this position are former PRC member Tony Schaefer, Otero County Commissioner Doug Moore, Las Cruces businessman Jamie Estrada, former Dona Ana County Commissioner D. Kent Evans, Ben Hall of Ruidoso and Robert P. Maez.
The McCamley campaign website is www.billmccamley.com.
March 30, 2010 at 02:17 PM in 2010 NM PRC Races, Las Cruces | Permalink | Comments (1)
Report: Rep. Harry Teague Hosts House Veterans Affairs Field Hearing in Las Cruces
This is a post by contributing writer, Stephen Jones, who is a progressive political activist and a resident of Las Cruces, New Mexico. He IS our Southern NM Bureau.
On Monday, March 29th, Congressman Harry Teague (NM-2nd CD) hosted a field hearing of the U.S. House of Representatives Veterans Affairs Committee (HVAC) Health Subcommittee in Las Cruces, New Mexico. The hearing was chaired by Congressman Mike Michaud, Subcommittee Chair and Representative of Maine's 2nd CD. The field hearing of the Subcommittee reports to the full House Congressional Veterans Committee. The afternoon hearing was held at New Mexico State University's Corbett Center.
Titled "Providing Essential Services and Benefits to Veterans in New Mexico and Across America," the field hearing was called to address health and services issues facing veterans in New Mexico and focused heavily on providing better services to veterans in New Mexico and other substantially rural states. Among the major issues covered in the testimony were better access to Veterans Administration (VA) services, and health and welfare issues including homelessness and post-traumatic Stress Disorder (PTSD).
"One of the biggest goals that I have set for myself is to make sure that we are providing the people of southern New Mexico with a direct link to the decision makers in Washington," Congressman Teague, who hosted the field hearing said in his opening remarks.
Teague introduced the the gathering of local veterans and other southern New Mexicans in attendance to the Subcommittee Chair, Congressman Michaud, and to the two panels who testified before the committee. "The witnesses before us today spend their days serving veterans a variety of different and important ways," Teague said, "whether it's trying to find veterans homes, assisting them in filing a VA claim or helping them cope with mental issues." In his remarks Teague also pledged to "end some of the problems that we as a nation have ignored for far too long." Among these he included improved access to physical and mental health services, better services for women veterans and the "invisible wounds of war" our troops bear.
In his opening remarks Congressman Michaud noted passage of H.R. 4810, a comprehensive bill that addresses veteran homelessness, and which has increased supportive services for low income veterans. He noted that the legislation incorporates several provisions introduced by Congressman Teague. Michaud pledged to join Teague in continuing to work on issues facing rural states.
The two Congressmen took testimony and questioned two panels of local community, veterans, and service agency representatives. Pamela Angell of the Mesilla Valley Community of Hope described for the Committee her organization's efforts to reintegrate homeless veterans in the Las Cruces area. She urged greater integration of services with community groups, including those like her own, which she termed "client driven."
Raul Sanchez, Commander of the New Mexico Veterans of Foreign Wars (VFW) asked for greater urgency on addressing the claims backlog facing veterans in health, housing, pension and education. Responding to a question from Congressman Teague on an issue of continuity of VA health services, Sanchez noted that many of his members "travel more than 300 miles for services, yet rarely see the same physician."
Susan Bowers, Director of the VA Southwest Health Care Network outlined VA services for New Mexico, which are provided by six community-based outpatient clinics in New Mexico and staffed by VA personnel. She noted that the VA has "installed state-of-the-art telemedicine equipment" in each of its facilities, and has expanded training to address the health of female veterans.

Susan Bowers, Grant Singleton, John M. Garcia
John M. Garcia, Secretary of the New Mexico Department of Veteran's Services outlined his agency's State-based services. He urged greater integration of services between the Department of Defense, the VA and the states. He noted that New Mexico lacks sufficient bed space in its veteran's facilities and urged Federal help in expansion of those services. He also noted that the Federal agreements often penalize rural states, which lack the density of population to meet standardized Federal guidelines.
Also appearing before the Committee were Dalton Boyd, a New Mexico Veteran from Hobbs, Shirley Bratton, USAF Family Support Director from Holloman Air Force Base, George Marnell, Director of New Mexico VA Health Care System, Grant Singleton, Director of the Albuquerque Veterans Benefits Administration Regional Office, and Guy McCommon, Director of the Las Cruces Vet Center.
To read more posts by Stephen Jones, visit our archive.
March 30, 2010 at 09:39 AM in By Stephen Jones, Contributing Writer, Healthcare, Las Cruces, Rep. Harry Teague (NM-02), Rural Issues, Veterans | Permalink | Comments (0)
Monday, March 29, 2010
New Mexico Launches Campaign to End Child Homelessness at 2010 Summit
On Friday, March 26, service providers for the homeless, children's advocates and officials from across New Mexico gathered to launch the New Mexico Campaign to End Child Homelessness. The goal of the New Mexico Campaign is to ensure that not one child is homeless for even one night, according to a statement released by the Campaign.
The Campaign will address child homelessness in New Mexico by increasing public awareness of the problem, strengthening state policies and plans to address the problem, and identifying and sharing solutions to the problem. Approximately 9,000 children in New Mexico are homeless each year. The constant barrage of stressful and traumatic experiences has profound effects on their development and ability to learn, ultimately affecting their success in life.
"The launch of the Campaign to End Child Homelessness is a critical step in New Mexico," said Dr. Jaime Tamez, Executive Director of Cuidando los Niños, in a written statement. "If we truly believe that children are our hope for the future, and if we are truly sincere when we say that children are a priority in New Mexico, then we must end child homelessness in our state. I am extremely inspired by the commitment of Summit participants from throughout our state to the goals of ending child homelessness. I witnessed their energy, creativity and dedication, and I firmly believe that by working together we can end child homelessness in New Mexico."
Dr. Tamez unveiled the official New Mexico Campaign Declaration of Commitment, signed by many individuals and organizations who are committed to ending child homelessness in New Mexico. The Declaration will be displayed in the New Mexico State Capitol following the Summit.
"Homelessness exists because of choices we make as a community – whether with intent or by default," said Jennifer Metzler, Executive Director of Albuquerque Health Care for the Homeless. "Of course no child should experience homelessness. However, we create that reality through our collective choices. We know how to end child homelessness. We can end it, and that is why this Campaign is so crucial. It establishes the commitment and brings us together to make it happen."
The New Mexico Campaign to End Child Homelessness launched during the 2010 Summit to End Child Homelessness on March 25 and 26 and was the result of several months of planning and organizing by a partnership of local and national organizations. The Summit marked the first time community leaders and advocates statewide have gathered to specifically address the issues facing New Mexico's most vulnerable population—homeless children.
"When children are homeless, even for a short while, it disrupts their lives in ways that they may never fully recover from," said Hank Hughes, Executive Director of the New Mexico Coalition to End Homelessness. "Consider all the suffering that could be prevented by ending child homelessness. Consider all the opportunities that homeless children could gain with housing. The benefits to society far outweigh the costs of giving all children stable housing."
Secretary Dorian Dodson of the New Mexico Children, Youth and Families Department delivered the keynote speech on March 26. The New Mexico Children, Youth and Families Department was the title sponsor for the Summit. The Summit featured speakers from the national and state level, as well as panel discussions with families who are formerly or currently experiencing homelessness.
"The National Center on Family Homelessness is pleased to join with our partners and friends launch the New Mexico Campaign to End Child Homelessness," said Christina Jordan, Director of the national Campaign to End Child Homelessness, an initiative of The National Center on Family Homelessness. "Together we can make a difference in the lives of children and families who are homeless and at-risk of homelessness here in New Mexico and ensure that not one child is homeless for even one night."
In a recent show of support for the New Mexico Campaign, the New Mexico House of Representatives unanimously passed House Memorial 7, sponsored by Representative William O'Neill. The bill directs the New Mexico Children, Youth and Families Department to report on child homelessness in New Mexico and make legislative recommendations to the Interim Health and Human Services Committee by November 2010. Moving forward, the New Mexico Campaign indicated they will work with the Children, Youth and Families Department and will continue to collaborate with partners across the state to end child homelessness.
Homeless Children in New Mexico: According to America's Youngest Outcasts: State Report Card on Child Homelessness, there are almost 9,000 homeless children each year in New Mexico. When homeless, children experience high rates of acute and chronic health problems. Children experiencing homelessness are sick four times more often than other children. They go hungry at twice the rate of other children and have three times the rate of emotional and behavioral problems. Children who are homeless struggle in school, with an average 16% lower proficiency in math and reading. For more information, please visit www.familyhomelessness.org and www.HomelessChildrenAmerica.org.
New Mexico Campaign to End Child Homelessness: Not One Child, Not One Night: The New Mexico Campaign to End Child Homelessness is an initiative of the national Campaign to End Child Homelessness which seeks to increase public awareness, inform state and federal policies, and improve services to prevent and end child homelessness. The New Mexico Campaign is composed of a coalition of organizations that includes Albuquerque Health Care for the Homeless, Center for Social Innovation, Cuidando Los Niños, The National Center on Family Homelessness, New Mexico Coalition to End Homelessness, New Mexico Voices for Children, St. Martin's Hospitality Center, and many others. For more information, visit Homeless Children America - New Mexico and Family Homelessness - New Mexico.
March 29, 2010 at 01:07 PM in Children and Families, NM Legislature 2010, Poverty | Permalink | Comments (1)
Photos and Video from Saturday's César Chávez Day Festival in Albuquerque

Click for larger version or photo album
The Recuerda a César Chávez Committee held a series of events this Friday and Saturday in Albuquerque, including a march to the National Hispanic Cultural Center in Albuquerque and a festival there on Saturday with food, music, booths and more. The featured speaker was Liz Chávez Villarino, the daughter of César.

Liz Chávez Villarino comments on César Chávez Day at the National Hispanic Cultural Center in Albuquerque
More videos:

Liz Chávez Villarino discusses health insurance reform bill that passed last week

Lt. Gov. candidate Joe Campos talks about what César Chávez Day means to him
March 29, 2010 at 11:28 AM in Events, Hispanic Issues, History, Joe Campos, Labor, Minority Issues, Obama Health Care Reform | Permalink | Comments (0)
Today in Albuquerque: Civil Rights Rally and Call for Commissioner Wiener's Immediate Resignation
The Democratic Party of New Mexico and YWCA, as well as other groups including the Black Student Union, League of United Latin American Citizens (LULAC), Democratic Women of New Mexico, Young Adults of UNM and College Democrats of UNM, are holding a rally today to protest Bernalillo County Commissioner Michael Wiener's recent racist email, which he sent to county employees. Wiener admits that the deplorable email violated Bernalillo County rules.
Please join civil rights leaders and other activists in calling for Commissioner Wiener's resignation and show the world that Bernalillo County citizens will not tolerate displays of racism or homophobia by their elected officials:
1 Civic Plaza, North side of City/County Building
Monday, March 29, 2010 at 5:30 PM
Click for flyer (pdf)
March 29, 2010 at 10:15 AM in Bernalillo County, Democratic Party, Events, GLBT Rights, Minority Issues | Permalink | Comments (6)
Guest Blog: Open Letter to Rational Conservatives

This is a guest blog by Dawn Provencher of La Luz, New Mexico, who chairs the Democratic Party of Otero County.
This is a letter to rational conservatives. I know you're out there.
What is the far right so afraid of? (I can only assume fear is the driving force in the recent actions of many. Something stronger than stupidity causes someone to shout 'nigger' or 'faggot' – hurl a brick through a window – leave death threats to a public servant and their family.) I sometimes trust the internet. So I Googled that question ... and got over 27 million hits!
I know lots of Republicans. I have friends who are Republican. I like a lot of Republicans. But my second question, why do you stand silent while others include you as being like-minded? Surely you don't all think Rush Limbaugh is right? But you let him, and others like him, spew venom and lie and distort statistics. David Frum, conservative journalist and former Reagan speech writer, said recently "(Republicans) followed the most radical voices in the party and the movement, and they led us to abject and irreversible defeat."
The two/multi party system is great. It works and makes us all think – until we start blindly accepting what our parties tell us to think. Frum also wrote about Fox and rabid talk radio whipping the conservative voting base into a frenzy – a rabid, angry mob. A mob led to believe the health care supporters wanted to murder their grandmothers. Just because something is reported ad naseum doesn't make it true. Remember the story from your childhood, "The Emperor's New Clothes"?
I teach the history of social policy at the college level. My students can tell you that policy (law) is based on values. And if one truly examines his or her values, they are fairly simple to identify. Do you value education? Then you support schools, libraries, and a culture of learning. Do you value the earth? Then you support legislation which represents good stewardship of nature. Do you value equality? Then you support legislation which provides for you ... and your neighbor. But values are across the board – a 'selective value' would hold true for some, but not others – in some situations, but not all. A 'selective value' is not a value. I think that's what we call a prejudice, hypocrisy, and double-speak.
We have people among us who aren't content with their Constitutional right to bear arms. They want to carry their weapons everywhere. Just what we need - angry, frenzied gun-toters at the fair, at the courthouse, at the movie theatre. Where has responsible, rational thought gone?
If you continue to give credence to the loudest and most irate, the possibility of compromise and mutual forbearance will be gone. Conservatives, is this really the group of people you want to define what you stand for? I don't think so – or at least I hope not, for the sake of all of us.
This is a guest blog by Dawn Provencher. To submit a piece for consideration as a guest blog, contact me by clicking on the Email Me link at the upper left-hand corner of the page.
March 29, 2010 at 08:32 AM in Guest Blogger, Obama Health Care Reform, Republican Party, Right Wing | Permalink | Comments (8)