« April 2010 | Main | June 2010 »
Saturday, May 29, 2010
Democratic Legislative Leaders Demand Immediate Return of GOP Funds Accepted by Dem House Candidate Matthew Archuleta

Key New Mexico Democratic legislative leaders today demanded an apology from Matthew Archuleta (right), who is challenging incumbent Rep. Eleanor Chavez in the District 13 Democratic primary. Archuleta recently accepted a $4,000 contribution from New Mexico Turn Around PAC, created by Republican Party Chairman Harvey Yates. The Treasurer of New Mexico Turn Around PAC is Republican Party Executive Director Ryan Cangiolosi. The campaign of State Representative Eleanor Chavez says Archuleta used these funds to try and smear her in the primary race.
"Any Democrat who receives money from the state Republican Party should give those funds to a charity immediately," Speaker of the House Ben Lujan said in a statement released today.
Rep. Mimi Stewart, Chair of the Health and Government Affairs Committee, added that, "The Republican Party has fought healthcare reform, ethics legislation and environmental protection. Matthew Archuleta has no business accepting a contribution from them and doing their bidding."
A statement from House Majority Leader Ken Martinez said, "This is a Democratic primary race, and as Democrats, we stand for very different things than Republicans. I think it is improper for a Republican PAC to insert itself in a Democratic primary race, and even more disappointing that a Democratic candidate would take those funds and use them in a negative campaign against a fellow Democrat."
"I hope Mr. Archuleta apologizes to the voters for doing the business of the Republican Party. If I were a voter in the district I would be wary of voting for a Democrat who is really a Republican," House Appropriations Chair Kiki Saavedra stated.
The New Mexico Turn Around PAC website states, "NMTA supports the transfer of control of the New Mexico State House to Republican control." Why do Matthew Archuleta and two other Democratic primary candidates who got campaign cash from NMTA -- Michael Atler and Barbara Casey -- think it was appropriate to take money from a right-wing organization dedicated to taking legislative seats away from Democrats?
May 29, 2010 at 01:41 PM in 2010 NM Legislature Races, Corporatism, Energy, Republican Party, Right Wing | Permalink | Comments (1)
U.S. Justice Department to Monitor Elections in Ciblola and Sandoval Counties
The Justice Department announced yesterday that it will monitor the primary elections on June 1, 2010, in Cibola and Sandoval Counties in New Mexico to ensure compliance with the minority language requirements of the Voting Rights Act of 1965 and other federal voting rights statutes. The Voting Rights Act requires these covered jurisdictions to provide language assistance in certain Native American languages during the election process. In addition, jurisdictions must comply with the requirements of the Help America Vote Act during this election for federal office, including requirements regarding provisional ballots, accessible voting equipment, and information provided to voters.
According to a statement released by the Justice Department, it is authorized to ask the U.S. Office of Personnel Management (OPM) to send federal observers to areas that are specially covered in the act itself or by a federal court order under the Voting Rights Act. Federal observers will be assigned to monitor polling place activities in these counties based on court orders entered in 2009. The observers will watch and record activities during voting hours at polling locations in these jurisdictions, and Civil Rights Division attorneys will coordinate the federal activities and maintain contact with local election officials.
Each year, the Justice Department deploys hundreds of federal observers from OPM, as well as departmental staff, to monitor elections across the country. To file complaints about discriminatory voting practices, including acts of harassment or intimidation, voters may call the Voting Section of the Justice Department's Civil Rights Division at 1-800-253-3931. Visit www.usdoj.gov/crt/voting/index.htm for more information about the Voting Rights Act and other federal voting laws.
Polls are open for New Mexico's primary election from 7:00 AM to 7:00 PM on Tuesday, June 1. You can find your polling place and view a sample ballot at the website of the New Mexico Secretary of State. Today is the last day of early voting, and you can find early voting locations and hours by county here.
May 29, 2010 at 11:22 AM in Election Reform & Voting, Native Americans | Permalink | Comments (0)
Friday, May 28, 2010
Biggest Donation in NM History: Swift Boat Funder Bankrolls Susana Martinez with $450K
As we head into the Memorial Day weekend, last-minute revelations culled from campaign finance reports filed today with the New Mexico Secretary of State have been revealing. First, we learned that a PAC that serves as a conduit for money from oilman and RPNM Chairman Harvey Yates and other right-wingers gave money to three candidates challenging Democratic incumbents in New Mexico House primaries.

Now we've discovered that Swift Boat money makes up more than 60% of of the recent fundraising of GOP gubernatorial candidate Susana Martinez. After taking $450,000 from Texas multi-millionaire Robert Perry, the chief financer of the disgraced Swift Boat Veterans for Truth, Susana Martinez has made it clear that her pledges to bring ethics reforms are nothing more than empty campaign rhetoric. Martinez may talk the talk but she fails miserably in walking the walk on ethics -- not unusual with right-wing politicos these days. She's red-faced in this photo, but rest assured she hasn't got an ounce of shame in her about this tainted windfall.
According to her most recent finance report, the $450,000 Perry and his wife gave Susana Martinez accounts for more than 60% of her contributions for the reporting period that ended yesterday. The Swift Boat Veterans for Truth are widely known for funding the shameless ads that recklessly challenged John Kerry's patriotism during the 2004 presidential election.
"Susana Martinez talks a big game about ethics, but actions speak louder than words. By taking $450,000 --the largest donation in state history -- from the people responsible for the dirtiest campaign ploy in years, Martinez is announcing that ethics reform will no longer be part of her campaign platform," said DPNM Chairman Javier Gonzales in a statement released late today. "Susana Martinez's campaign strategy is simple: first saddle up to powerful oil companies, then to Sarah Palin, and now to the Swift Boaters. Meanwhile, New Mexico families are left completely behind."
May 28, 2010 at 08:23 PM in 2010 NM Governor's Race, Democratic Party, Energy, Ethics & Campaign Reform, Republican Party, Right Wing, Susana Martinez | Permalink | Comments (5)
Republican PAC Donated to Dem House Challengers, DPNM Urges Candidates to Return Funds
On campaign filing reports released yesterday, three Democrats reported receiving $4,000 dollars each from the New Mexico Turn Around PAC, which was founded by NM Republican Party Chairman Harvey Yates -- a wealthy, Albuquerque-based oil man. Documents show that the PAC is funded in large part by entities related to Yates and his family. Furthermore, Ryan Cangiolosi, Executive Director of the Republican Party of New Mexico, is listed as Treasurer of the NM Turn Around PAC.
The campaigns in question are all contested Democratic primary races for State House seats. Each of the candidates listed below received $4,000 from NM Turnaround PAC to challenge Democratic incumbents:
"I don't understand how any Democrat can take money from the Republican Party," said State Rep. Eleanor Chavez in a statement released today. "I'm amazed that my opponent is financing his appeal to Democratic voters with thousands of dollars from the Republican Party Chairman. What does this say about his values and the sincerity of his message?"
DPNM Weighs In
Scott Forrester, Executive Director of the Democratic Party of New Mexico, released this response late this afternoon, revealing that he's urged the Dem recipients to return the funds:
"It's unfortunate the NM GOP has decided to get involved in our primaries since they have a hard enough time winning their own seats on their own merits. We have asked all 3 candidates to return the money. Thus far only Candidate Mathew Archuleta has committed to pay back the $4,000 to NM Turn Around."
What's Been Raised
The NM Turn Around PAC has raised about $17,000 this election cycle. Two donations came from Yates-related holdings -- including $8,000 from PetroYates, owned by the Yates family, and $3,000 from the Jalapeno Corporation (Yates Petroleum), owned by Harvey Yates. Ryan Cangiolosi, the Executive Director of the NM GOP, just happens to be the business manager of Jalapeno.
Jim Bohlander, a member of the Republican Party of Santa Fe's Central Committee, gave $5,000. Another $1,000 came from none other than the Aragon Law Firm -- the firm of Robert Aragon, who has been removed as a Democratic ward chair in Bernalillo County because he is openly supporting the Republican challenger for Rep. Martin Heinrich's House seat in NM-01. Curiouser and curiouser.
The Financial Largess of Right-Wing Interests
NM Turn Around was also heavily involved in state legislative races in 2008, although they stuck with supporting Republican candidates in that cycle. See this DPNM press release dated 10-28-08. NM Turn Around and other third-party PACS and Party organizations have been a useful way for Yates et al. to hide contributions that would be more obvious if made directly to candidates. Not content to support Republican candidates, Yates and other right-wing forces are now feeling bold enough to fund Dem challengers and meddle in Democratic primaries via third-party entities.
You can imagine what's on the way between now and November. We already know that Susana Martinez, the front-runner in the GOP primary for New Mexico Governor, raised more than half of her campaign funds from October through April from oil and gas interests in the amount of $215,000. And most of that -- $155,000 -- came from one source: Artesia-based Mack Energy, other companies connected to it and their officers. And yet Martinez is trying to run on a platform of high ethical standards. Yeah, she's pure as the driven oil,
Support Rep. Chavez NOW
Matthew Archuleta, who is challenging the seat held by Rep. Eleanor Chavez, is being supported by an array of other special interests from oil and gas, sprawl developers, for-profit prisons and insurance company lobbyists, in addition to the funding from NM Turn Around. They include Conoco Philips, Corrections Corporation of America, Shoats & Weaks (lobbyists for Blue Cross Insurance) and NAIOP (commercial real estate development association).
We have to fight back, and everything's on the line right now, with the primary election happening on Tuesday, June 1st. Please consider volunteering to help Rep. Eleanor Chavez and/or donate what you can right now. There's still time to fend off the forces that want to take this seat away from one of our most dedicated progressive legislators.
May 28, 2010 at 07:13 PM in 2010 NM Governor's Race, 2010 NM Legislature Races, Corporatism, Energy, Republican Party, Right Wing | Permalink | Comments (2)
Lt. Gov. Candidate Brian Colón Airs Third TV Ad

Click for larger version
Brian Colón's campaign sticks with his education theme as the topic of his third and final TV ad in his primary run for lieutenant governor in New Mexico.
The 30-second spot opens with a series of children's grade school portraits from some years back. Colón then asks,
How many of these New Mexico children reached their potential and how did their dreams change along the way?

I'm Brian Colón and I'm running for lieutenant governor because I remember as a child in a poor family how important this school was to me. (He's standing in front of his elementary school.)

It's why I'll work to reduce class sizes and hold schools accountable for student performance. And I'll never forget where dreams begin. Por sus hijos, tambien.
The spot ends with a sweet grade school photo of the candidate.
You can check out Colón's other TV ads here and here. All three utilize education themes and focus on how Colon will dedicate himself to working to improve our schools and provide New Mexico's kids with a better foundation for realizing their dreams. The ad series also underlines the fact that Colon, himself, would never have made a success of his life without the help of caring teachers and good schools. They're all of a piece and employ quality production values. Well done.
May 28, 2010 at 05:21 PM in 2010 NM Lt. Governor Race, Brian Colon, Education | Permalink | Comments (4)
Guest Blog by PRC Candidate Hank Hughes: PNM Shows We Need a Strong PRC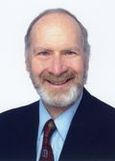 This is a guest blog by Hank Hughes, who is a candidate in the Democratic primary for NM Public Regulation Commission (PRC) in District 4.
The recent announcement by PNM that they are about to ask the Public Regulation Commission to approve another big rate hike underscores the importance of having commissioners on the PRC who will stand up for consumers. My first reaction is that it takes a lot of gall to ask for a second big rate increase during the biggest recession since the great depression.
No doubt PNM will have calculations to back up their rate hike, but it is the job of the PRC to analyze the numbers and decide what is fair. I am running for a seat on the PRC because I want to examine every rate increase request with a fine tooth comb in order to get a better deal for consumers while being fair to the regulated industries.
For starters I would say that it is not fair for PNM to be awarding six figure bonuses to their top executives, as was recently done, while most of their customers are suffering through the recession. We should not be raising rates on people who are unemployed or who just got a pay cut in order to fund bonuses. It is also unfair for PNM to ask that residential customers pay the biggest share of a rate increase while large industries get away with no increase, as was done in the last rate increase just a few months ago.
With four of the five current commissioners under ethical clouds, the PRC has been mostly asleep at the wheel when it comes to getting a good deal for New Mexicans. It was only the vocal public outrage over Blue Cross and Blue Shield's plan to raise insurance premiums by over 25% that partially awoke the distracted commissioners to belated action. It turns out that the PRC has been approving large increases for health insurers for the past six years with very little scrutiny.
Of the four people running in PRC District 4 to replace disgraced Commissioner Carol Sloan, I am the only one that has the combination of deep compassion for consumers and the educational and work background to be able to figure out how to get a better deal. My engineering degree and my work on financing complex affordable housing projects will give me the basis for unraveling rate cases to find ways to keep rates low. My 20 years of experience working with homeless people keeps me attuned to the needs of the many New Mexicans who struggle everyday to make ends meet. I would really appreciate your vote in the Democratic primary on June 1.
This is a guest blog by Hank Hughes. To see our other posts about PRC races, visit our archive. If you'd like to submit a piece for consideration as a guest blog, contact me by clicking on the Email Me link at the upper left-hand corner of the page.
May 28, 2010 at 01:52 PM in 2010 NM PRC Races, Energy, Guest Blogger | Permalink | Comments (0)
Guest Blog: Brian Colón's Final Fundraiser and Rally Attracts 200+ Supporters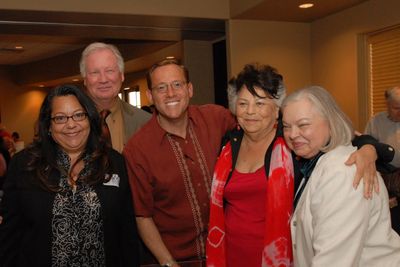 This is a guest blog by Catherine Sherwood, a social media and strategic marketing consultant living in Albuquerque. In addition to business clients, she has worked with political campaigns in New Mexico.
At least 200 people attended what was billed as "The Final Fundraiser and Rally" for Brian Colón (above, center with the Harris family) on Thursday evening. It was organized by 50+ honorary chairs, hosts and co-hosts, as well as many of the unions that have endorsed him for Lt. Governor. Refreshments were provided by MVD Express. Held at the Indian Pueblo Cultural Center, the mood was upbeat.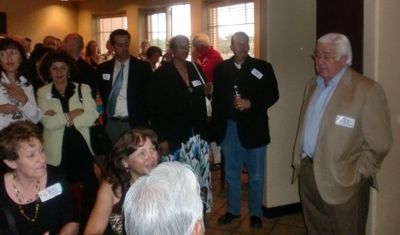 Ambassador Ed Romero (right, above) and State Auditor Hector Balderas introduced Brian. Although the former Ambassador is known as a supporter, this was the first time he officially endorsed Colón. He said that a Denish – Colón ticket was the only combination that would ensure a victory over Susana Martinez, the up and coming front-runner in the Republican face-off for Governor.
Hector Balderas, a long-time friend, kept his remarks personal. Brian, always at ease in front of a crowd, seemed energized even in the last days of the campaign. He spoke, last evening, about the importance of supporting small, locally-owned businesses and the positive impact their growth could have on New Mexico's economy.
It also turns out that Tobias Rene -- the popular New Mexico musician -- did more than just give his promised mini-concert. The rains cleared just in time for a full forty-minute show from what can only be described as a travelling concert hall set up in the Indian Pueblo Cultural Center parking lot.
This is a guest blog by Catherine Sherwood, who provided the photos. If you'd like to submit a piece for consideration as a guest blog, contact me by clicking on the Email Me link at the upper left-hand corner of the page.
May 28, 2010 at 12:34 PM in 2010 NM Lt. Governor Race, Brian Colon, Guest Blogger | Permalink | Comments (0)
Lt. Gov Candidate Joe Campos Endorsed by NM EMS and Trauma Viability Committee
Democratic Lt. Governor candidate Joe Campos has been endorsed by the NM EMS and Trauma Viability Committee. The Committee cited Rep. Campos' help with trying to get sustained, adequate funding for EMS and trauma services statewide, and his sponsorship of a bill to do just that:
Representative Joe Campos stepped forward and agreed to be that advocate and sponsor. He worked with us to develop House Bill 99 and carried it through several committees and finally to the House Floor, not Once but Twice where it failed by Three votes.
You can read the letter from the Committee endorsing Rep. Campos, as well as his response, below the break.
To: New Mexico EMS and Trauma Communities From: NM EMS and Trauma Viability Committee
Last year after the tremendous response at the Region 3 conference in mailing letters to our legislators, the EMS and Trauma Viability Committee was developed to take our message to Santa Fe to obtain additional funding for the Emergency Medical Services and Trauma facilities which serve our friends, families and citizens. Our Fund Act had not increased since 1998 and remained at about $3.85 million dollars for the past 12 years. In 1998 those funds were distributed to 316 services but our EMS community has grown to over 450 without an increase in the general fund dollars and operating costs have significantly increased in those 12 years. In addition, the Trauma Authority funds were being cut at a time when our Trauma designated hospitals were expanding which was threatening the progress that was being made across the State.
We knew we had many obstacles to overcome including the State being hundreds of millions of dollars in the Red, State revenues shrinking, the Democrats and Republicans split on tax increases versus major cuts to the existing budgets, but we came together with the three Regions, the Statewide Advisory Committee, our partners in EMS for many years, the Trauma Authority members and the support of the Secretary of Health to try and accomplish this huge task.
We attended legislative committee meetings across the State and educated them about our need. We developed a plan to add a less than 1% fee on property and vehicle insurance to raise approximately $16 million dollars to double and replace the current General Funds that were coming from the State and return those dollars to the State treasury. This new designated and sustained funding would then support the EMS agencies and Trauma hospitals caring for our citizens into the future.
However, the pivotal point in the plan was to have a dedicated legislator to sponsor a bill to carry our plan forward. At the Region 3 Conference in Ruidoso in 2009, Representative Joe Campos stepped forward and agreed to be that advocate and sponsor. He worked with us to develop House Bill 99 and carried it through several committees and finally to the House Floor, not Once but Twice where it failed by Three votes. It was a huge effort by countless Emergency Medical Technicians, Physicians, Friends, Family and you to help us get that far. Joe worked with his legislators, behind the scenes and spent countless hours during the short session to carry this message.
We have regrouped and our planning to move forward again to obtain this essential funding but recognize a key factor is the support and endorsement of the Executive office. To accomplish this critical step the EMS and Trauma Viability Committee members listed below request your support to Elect Joe Campos as Lt Governor of New Mexico so he can again lead this effort. He spent the last year supporting us during these very tough times and now is the time for the EMS and Trauma Communities to Support Joe Campos.
We will be back in Santa Fe this winter and need Joe Campos there as Lt. Governor with us. We need your support for Joe along with your friends and family to vote for him to help secure our EMS/Trauma funding.
The EMS and Trauma Viability Committee support Joe Campos for Lt. Governor.
James S. Stover, Chairman Dr. Dale Kester, Vice Chairman Donald McNutt, Member Jan Elliott, Member Dr. Craig Rhyne, Member Tim Zaqorski, Member Jerome Haskie, Member Dr. Philip Froman, Member Carl Gilmore, Member
If you have any questions or comments, please feel free to contact Chairman Jim Stover or Vice-Chairman Dale Kester, MD, via phone or email. All NM and EMS Trauma Viability Committee
Vote JOE CAMPOS June 1st for a Better EMS and Trauma System in NM!
Joe Campos responded to the endorsement,
"I am very pleased by the endorsement of the New Mexico Emergency Medical Services and Trauma Viability Committee which represents over 8,000 emergency medical workers here in New Mexico.
In this environment of concern about rising healthcare costs, it is self-evident that early intervention and early response to an emergency can prevent catastrophic health consequences that can incur staggering costs. An efficient cost effective healthcare system must include early emergency intervention and response.
In November of 2007, the Governor's Task Force on Emergency Medical Services (EMS) published the results of their study. The study found that 'New Mexico's EMS Regions are underfunded, unable to adequately provide their vital regional EMS infrastructure support.' A striking fact is that 55% of the EMS organizations are operated and staffed by volunteers and yet the volunteers are not getting the support they need to enable their volunteer services. And when these EMS organizations do not get support, that impacts their ability to respond.
I sponsored House Bill 99 to support EMS in order to ensure that emergency services are available when New Mexican families are in need. As lieutenant governor, I will again take up the cause of adequately funding emergency medical services and I will use my influence to rally support within the legislature to do the right thing for New Mexico families."
May 28, 2010 at 12:00 PM in 2010 NM Lt. Governor Race, Healthcare, Joe Campos | Permalink | Comments (3)
Reminder: All Dems Invited to June 1 Primary Night Watch Party With Candidates at ABQ Doubletree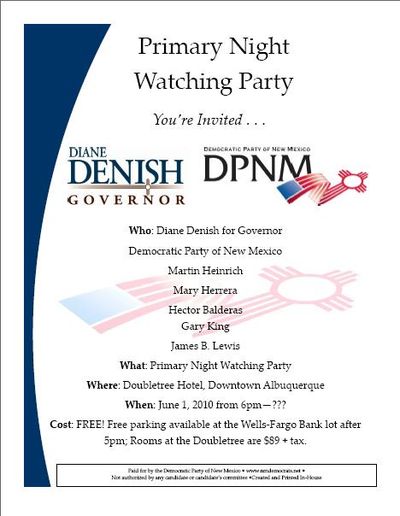 Click image for larger version
May 28, 2010 at 10:12 AM in Democratic Party, Events | Permalink | Comments (0)
Thursday, May 27, 2010
United Steelworkers Endorse Brian Colón for Lt. Governor
United Steelworkers District 12 endorsed Brian Colón's bid to become our next Lieutenant Governor. USW District 12 represent roughly 3000 members in New Mexico.
"Brian Colón understands what we need to get New Mexico's economy moving and has a long history of advocating for working families. His commitment and support for organized labor, education and job training demonstrates his understanding of the issues struggling families across New Mexico are facing," Chris Youngmark of USW said in a written statement.
"USW shows the promise New Mexico has and how important it is for us to continue to create educational and technical training opportunities that lead to good paying jobs for all New Mexicans. I am honored to have this endorsement," said Colón.
May 27, 2010 at 11:47 PM in 2010 NM Lt. Governor Race, Brian Colon, Labor | Permalink | Comments (0)
U.S. House Passes Bill Calling for Repeal of 'Don't Ask Don't Tell; Reps. Heinrich, Teague, Luján Vote Yes
An amendment to the Defense Authorization Act that calls for a repeal of the discriminatory "Don't Ask, Don't Tell" policy passed in the U.S. House tonight by a vote of 234 to 194. I'm proud to report that all three of New Mexico's Congressmen -- Rep. Martin Heinrich (NM-1), Rep. Harry Teague (NM-02) and Rep. Ben Ray Luján (NM-03) -- voted yes. Thank you Congressmen for doing the right thing -- and taking us one step closer to fulfilling America's promise of equality for all. Just another reason we must make sure we keep our House delegation all True Blue in November.
Fittingly, the vote on this policy comes after the first Harvey Milk Day in California and before the celebration of Memorial Day on Monday. Voting yes were 229 Democrats and 5 Republicans. Voting no were 26 Democrats and 168 Republicans. The amendment was sponsored by Rep. Patrick Murphy (D-PA), an Iraq War veteran, who had this to say according to Roll Call:
"Arguments for keeping this policy in place are weak and outdated. To remove honorable, talented and patriotic troops from serving contradicts the American values our military fights for and our nation holds dear."
Murphy's amendment delays implementation until after a Pentagon review of the policy is complete. It would also make the repeal contingent on presidential and military certification that military readiness would not be adversely affected.
Last year both Rep. Heinrich and Rep. Luján were cosponsors of H.R. 1283, the Military Readiness Enhancement Act of 2009, which would repeal the U.S. Department of Defense's "Don't Ask, Don't Tell" policy. At the time, Rep. Heinrich explained his action as follows:
"Serving in the military is one of our most honored and sacred traditions as Americans. To ban someone from serving their country because they are gay only weakens our nation's security and jeopardizes the prosperity of our country. Thousands of loyal Americans are currently being told that they cannot fight for their country that they love. The current policy of Don't Ask, Don't Tell is unfair, counterproductive to the advancement of the armed forces and gays and lesbians, and simply must be changed."
Roll Call also reported that House Majority Leader Steny Hoyer gave an impassioned floor speech in which he invoked the civil rights battles of the 1960s while making the case for repeal, calling it the next step in the quest for equality for all Americans:
"Discrimination against gays and lesbians takes a very real toll on our national security," the Maryland Democrat said. "'Don't ask, don't tell' has caused the dismissal of 13,500 men and women who wore our uniform with honor, put their lives on the line in service to us and this great nation — and only asked to serve their country on equal terms."
On the Senate Side
Earlier tonight, the Senate Armed Services Committee voted 16-12 to pass an amendment sponsored by Sen. Joe Lieberman (ID-CT) that incorporates the same language into its version of the defense authorization bill, and then passed the bill by a margin of 18-12. Sen. Susan Collins (R-ME) was the lone Republican to vote in favor of the amendment, while Sen. Jim Webb (D-VA) was the only Democrat to vote against it. New Mexico's Sen. Jeff Bingaman voted yes. Thank you, Senator!
Making a strong stand for holding back progress on equality and appeasing tea party voters in November's election, Sen. John McCain (R-AZ), ranking member of the Armed Services Committee, vowed to filibuster any measure that seeks to overturn "don't ask, don't tell." It's not known whether Democrats have the 60 votes needed to obtain cloture on the defense bill.
May 27, 2010 at 10:34 PM in GLBT Rights, Military Affairs, Rep. Ben Ray Lujan (NM-03), Rep. Harry Teague (NM-02), Rep. Martin Heinrich (NM-01) | Permalink | Comments (2)
Diane Denish Raises $464K in Three Weeks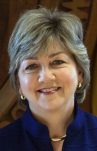 Wow. Quite a three-week total. While the the GOP candidates for governor keep damaging one another with expensive, non-stop negative ads to try and gain an edge in their primary, the Dem nominee's campaign is staying focused on reaching out to the grassroots and building up its resources. If the Republican gubernatorial primary is any indication, Diane Denish will need every single dollar to battle the sleazy kind of campaign that has come to be the norm on the GOP side.
Congrats to the Diane Denish for Governor campaign and everyone who pitched in a dollar. Today the campaign reported raising more than $464K in the past three weeks -- and that it has more than $2.65 million in the bank for the governor's race. Click for the summary page (pdf) of the report.
"I am extremely grateful for the strong showing of support I have received," Denish said in a statement released today. "Creating an economic turnaround is going to take hard work, leadership and concrete ideas. People have signed on to my campaign because like me, they believe our state's best days are ahead of us."
Denish, who is unopposed in the Democratic primary, is the only candidate in the race for governor who has outlined comprehensive plans to create jobs and save taxpayers through a major government reform effort. The GOP candidates seem content to talk trash.
Some additional details from the campaign's finance report:
Total raised for the finance period: $464,948.00 (not including in-kind donations)
Cash on hand: $2,652,962.37
Total contributions: 10,238
Total contributions of $100 or less: 5,934
The complete report will be available on the Secretary of State's website later today.
May 27, 2010 at 03:08 PM in 2010 NM Governor's Race, Diane Denish | Permalink | Comments (4)