« Slideshow: Former President Bill Clinton Hosts Albuquerque Fundraiser for Diane Denish for Governor | Main | Lt. Gov. Candidate Joe Campos Endorsed by Fabian Chavez, Sportsmen's Organization »


Wednesday, May 19, 2010
BernCo Sheriff Candidate Pat Davis Critical of New Albuquerque Policy on Immigrants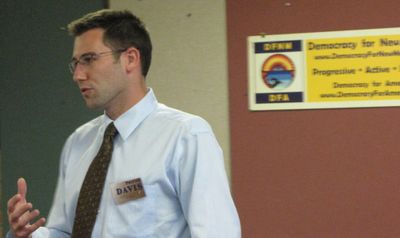 Pat Davis speaking at recent DFA-DFNM Meetup
As KOB News reports, "A closer inspection of Albuquerque's new policy concerning arrests is found to also apply throughout the county." In other words, the potential negative impact and reach of the City's controversial new arrest plan are much greater than originally revealed. All law enforcement officers who operate within the county will essentially be serving as an arm of Immigration Customs Enforcement (ICE).
Mayor Richard Berry's new policy dictates that ICE agents will have offices at the downtown prisoner transport center, where they'll be checking the immigration status of every person arrested. This will include all arrests that occur in Bernalillo County -- not just Albuquerque proper -- because people arrested by sheriff's deputies or state police are also taken to the city's prisoner transport center for processing.
In response, Pat Davis, a candidate for Bernalillo County Sheriff in the June 1 Democratic primary, had this to say:
The City's new agreement with ICE does affect arrests in the county also. Local law enforcement cannot pretend they are not enforcing federal immigration laws when they deliver local arrested persons to the waiting hands of federal agents."

Our currenty Sheriff has embraced this policy with a 'wait and see' approach.

This policy is offensive to our immigrant community and makes our entire community appear to be anti-immigrant and closed. As Sheriff, I'll change that image from day 1.
Pat has my vote, and he has earned some impressive endorsements.
State Senator Dede Feldman said, "...he sees law enforcement as part of a larger social system and his experience as a policeman in Washington, DC, a lieutenant at UNM and a public information officer at the DA's office will help in this regard."
State Representative Mimi Stewart stated, "Pat is truly the progressive candidate we need as Sheriff."
Other supporters include Albuquerque City Councilor Rey Garduno, former Albuquerque City Attorney Bob White and Neighborhood Association leaders from across the county, including La Mesa, Nob Hill and others. He's also been endorsed by PAWS-NM, a proactive animal-rights advocacy group and the Victory Fund.
To learn more about Davis, make a donation or get involved with his campaign, visit his website. He can win this race, but he need our help -- right now.
May 19, 2010 at 11:38 AM in 2010 Bernalillo County Sheriff Race, Civil Liberties, Hispanic Issues, Immigration, Law Enforcement, Minority Issues | Permalink
Comments
Post a comment