« December 2009 | Main | February 2010 »
Sunday, January 31, 2010
Santa Fe County Dems to Host District 1 County Commission Forum
From the Santa Fe County Democrats:
We will be hosting a District 1 County Commission Forum during our meeting on Tuesday, February 2, from 6:30 to 8:00 PM. It will be held at the Multipurpose Room of the Pablo Roybal Elementary School located at 1574 State Road 502 in Santa Fe (map). It is located on the Jacona campus just south of the Ben Lujan Gymnasium.
The announced candidates are Jon Paul Romero, Paul White, Dan Mayfield, Lenny Roybal and Seth Valdez. The candidates will give an opening 5-minute statement and then respond to questions, which will be asked based upon questions submitted to the moderator. The meeting and forum are free and open to the public.
For more information contact Richard D. Ellenberg at sfdchair@gmail.com, http://www.santafedemocrats.org, 505 992 1396.
January 31, 2010 at 12:55 PM in 2010 Santa Fe County Elections, Democratic Party, Events | Permalink | Comments (0)
Saturday, January 30, 2010
(Updated) Sen. Jerry Ortiz y Pino Wins Taos County Dems Lt. Gov. Straw Poll; Claims 24/48 Delegates
Update: I heard from the Brian Colón campaign and was informed that, according to their data collected on delegates pledging to vote for Colón, Brian received "between 12 and 14 hard yeses" from delegates elected in Taos County. They stressed that they believe their count is very accurate. The campaign also told me they secured well over their 30 percent delegate goal in Valencia County.
***********
The Taos County Democratic Party held a straw poll last night on the Lt. Governor race, and Sen. Jerry Ortiz Y Pino came out on top by a healthy margin, according to information provided by Jerry's campaign:
Sen. Jerry Ortiz y Pino 41%
Lawrence Rael 28%
Rep. Joe Campos 28%
Sen. Linda Lopez 2.6%
Brian Colón 0%
All of the Dem Lt. Gov. candidates except Brian Colón spoke to attendees before the vote. Colón sent a statement to be read to the group.
Today, the Taos County Dems voted to elect delegates who will attend the Party's Pre-Primary Convention set for March 13 at the Buffalo Thunder Resort in Pojoaque. The results were very similar to the straw vote the night before.
Ortiz Y Pino Wins at Least 24/48 Delegates:
According to Steve Cabiedes of Ortiz y Pino's campaign, at least 24 delegates who plan to vote for Jerry will go to the Pre-Primary, out of the 48 delegates Taos County will send -- or 50% of the total. Cabiedes believes Rael and Campos each got about 25% of the delegates, while Lopez got one delegate and Colón got none. He said the campaign was very happy with the results, and that Taos County was one of their targeted areas.
It's hard to get an exact count because folks vote for delegates, not candidates. However, Cabiedes said he was confident about the numbers because the campaigns make contacts within each county and keep tabs on people who say they'll vote for each candidate. When folks are elected as delegates, the campaigns have a pretty good idea who they'll vote for at the Party Convention.
The only other straw poll of LG candidates took place at the December meeting of the Sandoval County Dems. The vote results there were: Brian Colón 39, Rep. Joe Campos 33, Lawrence Rael 27, Sen. Jerry Ortiz y Pino 25 and Sen. Linda Lopez 11.
Democratic candidates must receive at least 20% of the statewide votes at the Pre-Primary Convention to get their names on the June primary ballot without having to gather additional petition signatures. The number of votes also determines the order the names will be printed on the ballot.
The Mora County Dem Party is also holding its delegate election today, with 8 slots at stake. Delegate ward elections in Bernalillo County are set for this coming Thursday evening, February 4. By far the largest of the county parties in the state, Bernalillo Dems will send a total of 610 delegates to the state Pre-Primary -- or about 40% of the total.
January 30, 2010 at 05:01 PM in 2010 NM Lt. Governor Race, Brian Colon, Democratic Party, Jerry Ortiz y Pino, Joe Campos, Lawrence Rael, Linda Lopez, Taos | Permalink | Comments (6)
Stephen Jones - High-Speed Rail: A Sound Investment
This is a post by contributing writer, Stephen Jones, who is a progressive political activist and a resident of Las Cruces, New Mexico.
On Thursday, following the State of the Union Address, President Obama and Vice President Biden flew to Florida to announce the stimulus awards for the President's high-speed rail initiative. Conservatives predictably wailed. Even supporters of high-speed rail have complained that the $8 billion dollars is far too little to initiate a real high-speed rail system, and that most of the funds will simply be used to upgrade and improve existing Amtrak service corridors.
Despite these criticisms, progressives should wholeheartedly applaud this effort by the Administration to move the nation into the 21st century. Besides the rising cost of oil and the obvious environmental reasons for developing passenger rail, high-speed service makes a world of economic sense. China is spending $300 billion to build 16,000 miles of high-speed track by the end of this decade to move people and ideas around. The Shanghai Maglev line already reaches 267 miles per hour. By comparison most American passenger trains have a 79 mph speed limit. Only the Acela train-sets in the Washington-Boston northeast corridor reach beyond 100 mph.
To keep up with the rest of the world, we can't be left waiting at the station, so to speak. The reality of the matter is that the gridlock in both the air and on the highways on the east coast have made high-speed rail more imperative than ever, and in most of the other heavily populated centers in the United States demand for rail outstrips availability. Whatever anyone inside the D.C. beltway believes, seats on Amtrak are hard to come by all over the place, not just in the Northeast Corridor. The same is true for California and the Midwest, where rail ridership has tripled in 6 years. In traffic-weary California voters have mandated their cash-strapped leaders to build more rail and free their lives from expensive fuel and time-wasting gridlock.
The decision by the Obama Administration to give Florida's proposed 84-mile Orlando to Tampa line the highest award was a smart move. Florida's project has already acquired the right of way to build the 168 mph line, and a shovel-ready construction project means jobs. It also represents a boon to Florida's tourism industry. The California and Illinois grants also make sense. These high-speed rail projects are also underway and the grants will keep them on target to completion.
But what about our existing passenger rail infrastructure? While Amtrak is a favorite whipping-boy of the right, the fact is that if the nation's rail passenger carrier were an airline it would be the nation's fourth largest, and unlike United and Delta, Amtrak is still gaining ground. Even long-distance services are on the rise for the first time in decades. As a result of successive Republican administrations trying to slowly strangle it to death, Amtrak is so pressed that it hasn't got the equipment to keep up with demand.
Whether passenger rail works or not ought to be obvious. California, Illinois, Oregon and Washington are good cases in point. To meet demand the State of California was forced to contract with Canada's Bombardier Corp. independently of the U.S. government to build trains for the Golden State's Amtrak service when Congress failed to appropriate the funds Amtrak needed to keep up.
When Illinois decided to subsidize additional trains, largely through the efforts of Senator Dick Durbin and far-sighted Democratic allies back home, ridership tripled. With more service available between Chicago and St. Louis, and other Illinois destinations, ridership went through the roof. It didn't matter that the equipment Amtrak had to offer was not exactly their best; Illinois riders wanted more. To avoid the equipment issue, Oregon and Washington turned to Spain's Talgo Corporation, a high-speed train manufacturer, to upgrade service in the Northeast. Ridership skyrocketed.
Confronted with ridership figures in these high-density corridors, conservatives generally resort to attacking Amtrak's long-distance trains. In reality, these once-a-day trains cost little and deliver a lot. Anyone who's taken Amtrak's Empire Builder across the northern tier can tell you about the crowds that wait to board the once-a-day train at places like Minot, North Dakota and Wolf Point, Montana. Amtrak keeps these remote states economically viable. Before he retired from the Senate, Trent Lott of Mississippi was one of Amtrak's biggest supporters, not because he was fond of trains, but because the price of an airline ticket between Jackson, Mississippi and Atlanta, Georgia is about the same as the cost of heart surgery. Without train service Mississippi might drop off the map.
Governor Bill Richardson's lasting legacy will be the New Mexico Railrunner. Critics may say that Railrunner service is off to a shaky start, but in the long run the commuter train will help meet this State's transportation needs and help attract the high-paying jobs that New Mexico needs. We need to urge our lawmakers to keep the service at its current levels, including weekends.
The Railrunner can also become an important feeder route for future expansion of New Mexico rail. Amtrak service already exists across the northern tier of the state and a new or upgraded line between Amtrak's Raton, New Mexico station and Pueblo, Colorado Springs and Denver, Colorado could become a meaningful high-tech corridor connecting Albuquerque/Belen with Denver and beyond.
Representative Jeff Steinborn has urged new service between El Paso and Las Cruces. We need to continue to explore this and other possibilities for expanding rail in our state.
China is spending billions on rail to prepare for the coming century. If the United States intends to maintain its competitive advantage economically, we need to rebuild our rail infrastructure or learn to start speaking Cantonese.
Wouldn't that just thrill Tom Tancredo!
To read more posts by Stephen Jones, visit our archive.
January 30, 2010 at 03:12 PM in By Stephen Jones, Contributing Writer, Finance, Investments, Transportation | Permalink | Comments (2)
Watch Dem State Senator Richard Martinez Say He'll Vote No on Domestic Partnerships
Here's video of a KRQE New 13 story that discusses the role of New Mexico's Catholic Bishops in local politics. It shows Rev. Brian Taylor of Albuquerque's St. Michael & All Angel Episcopal Church advocating for passage of New Mexico's domestic partnership bill, SB 183, and includes Republican Sen. John Ryan saying he'll vote against the bill because his constituents want him to do so. We don't know how he knows that, but no polling on his district has been revealed. I guess it's just a gut feeling.
The most painful and frustrating segment features Democratic Senator Richard Martinez (D-Los Alamos, Rio Arriba & Santa Fe Counties) of Espanola, who has voted against domestic partnership every time a bill has come up. Like Ryan, he claims that it's his constituents who are against the bill. KRQE reports that he said he has no problems with the bill himself. Right. 
Then how does Martinez explain his no vote last year, after polling (pdf) by respected pollster Research & Polling Inc. showed that 61% of his constituents either strongly or somewhat supported domestic partnerships, while only 38% strongly or somewhat oppose it? Cornered by the facts, Martinez retreated to a claim that he didn't believe the polling. Just cuz. (Polling in the district of Sen. Bernadette Sanchez, who also voted no, showed that 63% of her constituents favor domestic partnerships.)
In 2009, the failure of the domestic partnership bill was due in part to the no vote by Sen. Martinez. Other Dem Senators who voted no were Pete Campos (Las Vegas), Carlos Cisneros (Questa), Tim Jennings (Roswell), Lynda Lovejoy (Crownpoint), George Munoz (Gallup), John Pinto (Tohatchi), Bernadette Sanchez (Albuquerque), John Arthur Smith (Deming) and David Ulibarri (Grants).
Contrast Dem Martinez's position with that of former Rep. Eric Youngberg, who just passed away unexpectedly last week. Youngberg, a Republican, voted in favor of the domestic partnership bill in the House Judiciary Committee in 2008, despite the grief he got for doing so from some of the lawmakers on his side of the aisle. Here's what I said about Rep. Youngberg at the time:
I want to send a special shout out to Republican Rep. Eric Youngberg (right) for voting in favor of the Domestic Partner Rights and Responsibilities Act and mentioning how important it is to pass this bill this Session. This isn't about approving or disapproving of such partnerships, but about ensuring fairness under civil law for all our citizens. Thanks for doing what's right Rep. Youngberg. My partner of 18 years and I appreciate it very much.
My partner Mary Ellen and I have now been together 20 years, and we're still waiting for our civil rights thanks to misguided legislators like Sen. John Ryan and, most of all, Sen. Richard Martinez. Remember, Martinez is a member of the Democratic Party of New Mexico, which includes marriage equality in its resolutions and platform. You might want to contact Sen. Richard Martinez and let him know what you think of his unfortunate position against equality for ALL New Mexicans. Be polite.
There will be a rally in support of the domestic partner bill at Noon on Monday in Santa Fe. The bill is expected to be heard Tuesday by the Senate Judiciary Committee. Click for more info, and get involved!
January 30, 2010 at 02:29 PM in Civil Liberties, Democratic Party, GLBT Rights, NM Legislature 2010 | Permalink | Comments (7)
Sunday: Vets for Climate Change Event in Albuquerque with Sen. Tom Udall
From Clean Energy Works:
Join us for the Albuquerque stop on the National Veterans for American Power Tour. Veterans of the wars in Iraq and Afghanistan are touring the country, speaking about how we can increase our energy independence and strengthen our national security by transitioning to clean, domestic sources of energy.
The event will take place on Sunday, January 31, 2010 from 1:00 to 2:00 PM at the VFW Post 401, located at 2011 Girard Boulevard SE in Albuquerque. Click for flyer (pdf).
U.S. Senator Tom udall will be a featured speaker at the rally.
Coming-Las Cruces & Roswell Stops: The bus tour stopped at the Farmer's Market in Santa Fe today, for a press event moderated by State Rep. Mimi Stewart. It will also stop at the VFW Post in Las Cruces on at 1:00 PM on February 1 and hold an event moderated by staff from Congressman Harry Teague's office. On February 2, the bus will visit Roswell for a 6:00 PM Meet and Greet at the VFW Post. Click for more information.
The national tour is sponsored by Operation Free, a coalition of veterans and national security organizations that recognize that climate change and our dependence on fossil fuels pose serious threats to US national security.
"There's no fight more important than putting America in control of its own future by creating clean energy that's produced right here in America. That's why we're travel ing the country - and coming to your town - to spread the message, rally supporters, and ultimately strengthen American security." Follow the tour at www.operationfree.net/on-the-bus.
For questions or more information, please contact Kim McMurray, Clean Energy Works (505) 254-4819.
January 30, 2010 at 12:18 PM in Energy, Events, National Security, Sen. Tom Udall | Permalink | Comments (0)
Gov. Bill Richardson Announces 10,000+ New Mexicans Employed by Recovery Act in 2009
Governor Bill Richardson released a statement yesterday announcing that 10,221 New Mexicans received full or part-time work through the American Recovery and Reinvestment Act in 2009, as a result of stimulus spending by state government.
"The American Recovery and Reinvestment Act has definitely had a positive impact on New Mexico's economy," Governor Richardson said. "This is just a snapshot of stimulus spending in New Mexico, but it's clear that thousands of people have work and hundreds of millions of dollars are flowing throughout the economy. The impact has been felt in every county in the state, and in both urban and rural New Mexico."
New Mexico recently filed its second quarterly reports with the federal Recovery Accountability and Transparency Board, which covers Oct. 1 through Dec. 31, 2009. The reports show during that time frame, 7,372 people were paid part-time or full-time with New Mexico federal stimulus dollars. This converts to 2,959 full-time equivalent jobs according to the new federal formula for this quarter.
"The Recovery Act is a tremendous investment in New Mexico," former Governor Toney Anaya said. Anaya heads the New Mexico Office of Recovery and Reinvestment, which is charged with making sure stimulus funds to state agencies are distributed quickly and are properly accounted for. "New Mexico will receive major support for public schools, transportation and other infrastructure projects, healthcare for the poor and scientific research, among other priorities funded by the Recovery Act."
These jobs are located all over the state, primarily in public schools and on transportation projects. Jobs have been funded in law enforcement, healthcare, social services and other areas as well.
The jobs report only represents a portion of the jobs created by Recovery Act funds coming into New Mexico since not all stimulus funds flow through state government and not all stimulus spending is subject to the jobs reporting. The jobs report is preliminary. Numbers could change based on input from federal agencies that review the reports.
New Mexico is expected to receive more than $3.4 billion in stimulus awards over the life of the Recovery Act. Of that, roughly $2.1 billion is expected to flow through state government. The rest will flow from the federal government directly to cities, towns and tribes or will be spent by federal agencies on projects in New Mexico.
Visit www.recovery.state.nm.us for more information.
January 30, 2010 at 10:36 AM in Economy, Populism, Gov. Bill Richardson, Jobs, Obama Administration | Permalink | Comments (0)
Friday, January 29, 2010
Hoops Havoc Tonight: NM Lawmakers Revive Basketball Rivalry to Benefit UNM Cancer Center
Members of the New Mexico Senate and House of Representatives will "hit the hardwood" tonight, in the much-anticipated 2010 Annual Legislative Basketball Game. With the game billed as "Hoops 4 Hope," players on the House team will be wearing New Mexico State University "Aggies" white home-team jerseys and the Senators will be suited up in the University of New Mexico "Lobos" cherry red away-team jerseys.
All proceeds from the event will go to the University of New Mexico Cancer Center, the State of New Mexico's official cancer center based on the UNM campus in Albuquerque, which has a statewide cancer care network with outreach clinics in Las Cruces, Santa Fe and Farmington.
The Legislative Basketball Game allows New Mexico's state Representatives and Senators the opportunity to leave policymaking in the Roundhouse and play basketball for a good cause. Due to the tremendous popularity of this event, the 2010 Annual Legislative Basketball Game will take place at a new location. On Friday, January 29, the game will be held at the St. Michael's High School gym, 100 Siringo Road, in Santa Fe. Tip-off is scheduled for 7:00 PM. Tickets cost $5.00 per person and may be purchased in advance by calling (505) 272-6744 or at the door the evening of the game.
"The UNM Cancer Center is thrilled to be the sponsor and recipient of the proceeds from the basketball game," said Dr. Cheryl Willman, director and chief executive officer of the UNM Cancer Center in a statement released about the game. "Cancer is one of the leading causes of death for New Mexicans, second only to heart disease. In fact, based on a recent study, one in five people die annually from cancer in the state." More than 8,800 New Mexicans will experience a life altering cancer diagnosis this year, according to statistics from The New Mexico Tumor Registry, housed at UNM Cancer Center.
A wood stove will be raffled off during the basketball game. The stove was refurbished and donated by Pete Bushman, a former patient at the UNM Cancer Center. Bushman, who lives in Espanola, was diagnosed with melanoma by his physician about two years ago and was referred to the UNM Cancer Center, which "saved my life," said Bushman. He has donated the wood stove in gratitude for the treatment he received. The proceeds from the raffle will go to the UNM Cancer Center, and raffle tickets will be available at the game.
January 29, 2010 at 04:15 PM in Events, Healthcare, NM Legislature 2010, Sports | Permalink | Comments (0)
Rep. Jeff Steinborn's Rule Change to Allow Committee Webcasting Unanimously Passes NM House

Rep. Steinborn discusses his bill
Rep. Jeff Steinborn's (D-Las Cruces) measure to have official webcasts from House committee meetings during the legislative session was approved unanimously by the House of Representatives today. The vote makes the measure a House Rule that goes into effect immediately, according to a statement released by the House Democrats.
"Today is a historic day in the New Mexico House of Representatives, said Rep. Steinborn. "This new rule, will for the first time, open up our committee meetings to all the citizens of New Mexico. Most of the work of the legislature takes place in the committee meetings, so this new rule represents a giant step forward in increasing the transparency of our state government. I'm appreciative of my colleagues for joining me in taking this important step."
House Resolution 2 creates a new House of Representatives rule requiring House committees to immediately begin broadcasting New Mexico House committee meetings as an audio stream on the Internet. The rule calls for audio and video broadcasting beginning next session.
The State Senate currently has no rule for broadcasting its committee meetings, although it does allow video and audio webcasting of its floor sessions.
Previously, the House allowed audio but not video of its floor sessions. Today, however, the House passed HR 1, a bill to require the provision of video from the House floor.
You can find the available streams here.
January 29, 2010 at 03:58 PM in Ethics & Campaign Reform, Las Cruces, NM Legislature 2010, Web/Tech | Permalink | Comments (1)
NM House Speaker Lujan's Revenue Bills Pass HBIC

A pair of key revenue enhancement bills sponsored by Speaker of the House Ben Lujan (D-Santa Fe) that would help make up for state's budget shortfall passed the House Business and Industry Committee yesterday. HB 119-Temporary Gross Receipts Tax Increase passed with a vote of 7-4 and HB 120 -Tax Withholding Changes passed with a vote of 6-3.
"This is an important first step towards narrowing the gap in the state's budget," Speaker Lujan said in a statement released by the House Democrats. "This legislation will enhance our revenues in a weakened economy while we try to avoid cutting programs, especially education and healthcare, and continue to protect our most vulnerable citizens."
Under HB 119, the state's gross receipts tax would temporarily be increased. The gross receipts tax hasn't been raised at the state level since 1990. According to the Speaker, the increase in the gross receipts tax would generate a projected $240 million next year. The gross receipt tax would be 50 cents for every $100 or half a penny for every dollar. The following are the increases over the next few years:
5.5 in FYll
5.375 in FY12
5.25 in FY13
5.125 in FY14
Return to 5 in FY15 and beyond
Under HB 120, pass-through entities (PTE) such as partnerships, limited liability corporations, S-corporations, etc. would be required to make quarterly withholding tax payments on net income distributed to their non-resident owners. PTE withholding is expected to increase compliance and to add over $15 million of general fund revenue in FY11. New Mexico partnerships and other PTE's will be expected to calculate net income of their owners on a more frequent basis and to collect and pay tax for their partners quarterly.
Both bills now head to the House Taxation and Revenue Committee.
Photo by M.E. Broderick.
January 29, 2010 at 02:00 PM in Economy, Populism, NM Legislature 2010, Taxes | Permalink | Comments (2)
State Rep. Joe Campos Lauds $1 Billion Solar Power Plant for Guadalupe County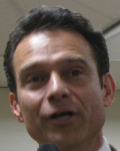 Governor Bill Richardson has announced that GA-Solar, a subsidiary of the Spanish industrial giant Corporación Gestamp, will invest $1 billion in a solar photovoltaic power generating plant to be built in Guadalupe County. New Mexico Representative Joe Campos (D-Santa Rosa), who represents Guadalupe County and is an advocate for renewable energy, was energized by the news. "This is huge for the district I represent. The development of this project will create 300 construction jobs and 75 full time jobs," he said in a statement released by his office. The plant is expected to generate 300 megawatts of power, enough energy for up to 50,000 households.
Rep. Campos sees this project as a significant precedent that will attract further investment in solar energy projects in New Mexico. "New Mexico has many attributes to attract investments in solar energy; an abundance of sunshine, affordable building sites, a skilled labor force, forward-looking leadership, and a business climate that promotes investment. This solar power plant news is attracting worldwide attention to New Mexico and I expect other investments will follow."
Campos observed, "GA-Solar is a diversified company that invests in photovoltaic power, wind power and biomass power projects. The company recognizes that New Mexico has the resources that support diversified renewable energy production."
Commenting on the New Mexico project, Juan Riberas, CEO of GA-Solar, stated, "The U.S. renewable market is the largest in the world, and we are fortunate to be in a region that has the necessary abundance of sun, wind and biomass activity for the production of renewable energy as well as the development of all business units within Gestamp Renewables."
Governor Richardson said, "I believe this unprecedented investment shows that New Mexico has not only become the center of the North American solar industry, but is ready to take its place as a global player in the production of renewable energy." The Governor continued, "Building a comprehensive clean energy economy is key to the economic stability and vitality of New Mexico's future."
Rep. Campos, who sponsored the legislation that created the Renewable Energy Transmission Authority, stated, "A key to attracting alternative energy investment is facilitating the development of an energy transmission infrastructure. New Mexico, by creating the Renewable Energy Transmission Authority, has demonstrated a forward-looking and comprehensive understanding of energy production and distribution infrastructures that support alternative energy producers."
"Guadalupe County and I welcome GS-Solar to New Mexico and we look forward to a long and rewarding partnership," added Rep. Campos.
Rep. Joe Campos is a candidate for New Mexico Lt. Governor.
Photo by M.E. Broderick.
January 29, 2010 at 01:20 PM in Energy, Environment, Green Economy, Jobs, Joe Campos | Permalink | Comments (0)
Brian Colón Announces Lt. Gov. Campaign Co-Chairs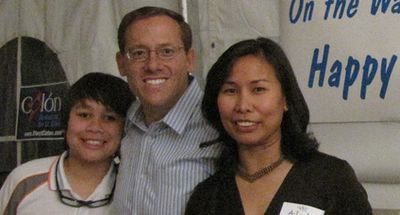 Rafael, Brian, Aleli Colón at Brian's 40th bday celebration Tuesday
Brian S. Colón, Democratic candidate for New Mexico lieutenant governor, announced his campaign co-chairs yesterday in a statement released by the campaign. Ambassador Edward Romero, Ladonna Harris, and Lenton Malry will serve as advisors and co-chairs. Colón said he is building a state wide campaign organization and will soon announce his Colón Captains in all 33 counties.
Ambassador Romero served during the Clinton administration as Ambassador to Spain. Ambassador Romero lives in Albuquerque and is active in a number of civic and philanthropic organizations.
"Brian Colón is a New Mexico success story and I am confident he will take his life experiences to help New Mexicans live the American dream. I am honored to serve as a co-chair on his campaign because I believe that Brian will be the perfect partner to Diane Denish to get New Mexico moving again," Romero said.
Ladonna Harris is the president and founder of Americans for Indian Opportunity. She is a national leader on Native American issues and lives in Albuquerque.
"I'm for Brian Colón because he's an inclusive leader. He listens to people with diverse perspectives. He includes and empowers people to help solve their own problems. I support him because that's the kind of leader we need in the Lt. Governor's office," Harris said.
Lenton Malry is a former State Representative and Bernalillo County Commissioner. Malry has had a long and distinguished career as a public servant spanning more than 40 years.
"Whether it was fighting for full-day kindergarten in the legislature or working as a Principal in the Albuquerque Public Schools, I have long believed that the future of New Mexico is our public schools. I am proud to support Brian because I know that he will, as our next Lieutenant Governor, wake up every day fighting for our schools so that his son and all of New Mexico's children will receive the best education possible," Malry said.
Colón is hosting the grand opening of his campaign office on Sunday, January 31, from 2-4:00 PM. It's located at 4565 San Mateo NE, Suite F33, in Albuquerque.
January 29, 2010 at 11:20 AM in 2010 NM Lt. Governor Race, Brian Colon | Permalink | Comments (0)
Feb. 1: EQNM to Host Rally Supporting Domestic Partnerships at Roundhouse; A Powerful Argument for Fairness

At a press conference before the session, Gov. Bill Richardson said he intends to push hard for a domestic partnership bill, calling it "an essential human rights issue"
Equality New Mexico will be hosting a rally in support of the Domestic Partnerships Senate Bill 183 on Monday, February 1, from Noon to 1:00 PM at the Roundhouse in Santa Fe. Equality advocates from throughout New Mexico will gather to advocate for the passage of this crucial bill, which would extend basic legal protections to same-sex and all committed couples such as seniors and people with disabilities.
Denying same-sex couples, seniors and people with disabilities in committed relationships the same basic legal protections as married couples deprives thousands of families of the most important attributes of their labor -- the ability to take care of and provide for their family members. This legal recognition keeps children safe in the event of crisis, brings financial and emotional security, and strengthens our community as a whole.
Must read: A powerful argument for domestic partnerships is contained in an op-ed by in today's Albuquerque Journal by The Rev. Brian C. Taylor, Rector, St. Michael and All Angels Episcopal Church. Rev. Taylor also counters those who say the bill can't pass here because of the opposition of the New Mexico Council of Catholic Bishops:
Many have pointed out the fact that this is an uphill battle in our state because of our strong Roman Catholic heritage, and this church's opposition, so far, to domestic partnerships. Perhaps it is time for our Roman Catholic legislators to remember the example of President John F. Kennedy, a devout Roman Catholic, who said:

"I believe in an America that is officially neither Catholic, Protestant nor Jewish — where no public official either requests or accepts instructions on public policy from the pope, the National Council of Churches or any other ecclesiastical source — where no religious body seeks to impose its will directly or indirectly upon the general populace or the public acts of its officials." (Address to the Ministerial Association of Greater Houston, Sept. 12, 1960)
Statements critical of the opposition by the Bishops have been released by both Equality New Mexico and the ACLU of New Mexico. The current 800+ page domestic partnership bill was drafted to meet the requirements of the Bishops for a bill they could support. However, once the drafting was complete, the Bishops changed course and came out against the legislation.
SB 183, sponsored by Sen. Peter Wirth (D-Santa Fe), will get its first hearing before the Senate Public Affairs Committee on Tuesday, February 2, at a meeting to be held in the Senate chamber that begins an hour after the Senate floor recess scheduled for about 1:30 PM. Supporters are urged to pack the Senate Gallery for the hearing.
In addition, Sen. Cisco McSorley (D-Albuquerque), has introduced SB 146, which would replace the words "bride" and "groom" with "applicant 1" and "applicant 2" on applications for and registrations of a New Mexico marriage license. In effect, the change would allow same-sex couples to obtain a marriage license. The bills would also change the wording on marriage licenses from "the Holy Bonds of Matrimony" to "marriage."
Please call your Senators TODAY and tell them to support SB 183 and SB 146. Click to find your Senator.
Click to donate to Equality New Mexico.
For background on domestic partnership legislation, check out this
report
on
KRQE News
and this
Albuquerque Journal
article
January 29, 2010 at 10:55 AM in Civil Liberties, Faith Community, GLBT Rights, NM Legislature 2010 | Permalink | Comments (0)