« September 2009 | Main | November 2009 »
Saturday, October 31, 2009
Local Groups Demonstrate Power of Weatherization & Energy Efficiency on National Weatherization Day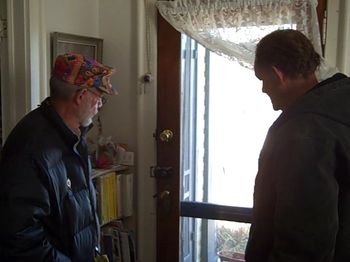 Lloyd Goding (Sustainable Las Vegas) & Brooke Burkey, a volunteer with the Safe & Dry program at a local Las Vegas home, discuss ways to stop cold drafts from entering house
Local faith and community leaders gathered in Las Vegas, New Mexico Friday morning to call attention to the urgent need for weatherization and energy efficiency in New Mexico's rural communities. The event coincided with National Weatherization Day and featured a press conference highlighting the vast potential of weatherization -- a general term for a suite of energy conservation and efficiency measures in the building sector. The press conference was followed by a tour that featured a baseline energy assessment of St. Paul's Peace Episcopal Lutheran Church conducted by Jim Palmer (P.E.) of NRG Engineering from Albuquerque, and a demonstration of residential weatherization measures at a local Las Vegas home.
The baseline assessment helped to identify opportunities for energy conservation measures that would lower the church's energy bills, such as addressing air gaps and evaluating an aged furnace. At the Las Vegas home, a demonstration of weatherization practices included sealing cracks around windows, insulating the hot water tank and installing more energy-efficient light bulbs. Greenhouse gas (GHG) emissions associated with the energy consumed in U.S. buildings accounts for about forty percent of the country's total global warming pollution, and retrofitting the housing stock alone could cut GHG emissions by up to 160 million metric tons annually by 2020.
Speakers representing Congressman Ben Ray Luján and the Clean Energy Works coalition addressed the ability for a ramp up of weatherization to create good jobs, cut consumer energy costs, and reduce emissions that cause global climate change.
At the same time, community organizations Sustainable Las Vegas and Community Action NM, as well as St. Paul's, stressed the difficulty rural New Mexicans experience in accessing weatherization services.
"With the predominance of older homes here in Las Vegas, we have a great opportunity to reduce energy use by making energy efficiency investments," said Lloyd Goding, President of Sustainable Las Vegas. "Energy efficiency has fallen through the cracks, as have the needs of rural areas like Las Vegas where many economically-vulnerable folks live."
"Our faith community supports the need to address energy efficiency for low income and elderly homes because we believe we need to care for people and God's creation," said Rev. Pat Halverson whose faith community is a partner with New Mexico Interfaith Power & Light. For approximately 3 years, a volunteer from St. Paul's Peace has assisted Las Vegas families in need in lowering their energy bills and saving money through "Safe & Dry" -- a program funded in part by the faith community and others. Rev. Halverson went on to say, "We have a huge issue in rural New Mexico and we often feel neglected. Energy efficiency is good stewardship and is the easiest way to lower people's energy bills, our house of worship's bills, and lower our carbon footprint. This is faith in action and it offers hope."
Friday's event in Las Vegas was part of a nationwide effort to raise awareness about the need for weatherization and the positive economic benefits it would provide to communities across the country.
"What we know is that retrofitting a home saves dollars and energy, while creating jobs and decreasing a community's overall carbon footprint -- it's a win-win-win-win situation," said Kira Jones of Community Action New Mexico. "On the other hand, we're hearing that the federal- and state-funded weatherization programs are not reaching rural New Mexico. Therefore, we're here to celebrate and to send out an urgent message to policy makers and funders that rural New Mexicans need energy efficiency!"
Friday also marked the end of the first week of committee hearings in the U.S. Senate on the Clean Energy Jobs & American Power Act. The hearings were held in the Senate Environment & Public Works Committee on which Senator Tom Udall (D-NM) serves.
"Our Senators Jeff Bingaman and Tom Udall have a lot of influence when it comes to helping build an energy efficiency economy", said Shrayas Jatkar with the Sierra Club and Clean Energy Works coalition in New Mexico. "With a clean energy jobs bill in front of them now, Senators Bingaman and Udall should seize the opportunity to boost investments in weatherization and energy efficiency while ensuring that such services reach rural as well as urban communities."
To learn more about the benefits of weatherization and energy efficiency read these recent reports:
October 31, 2009 at 04:49 PM in Economy, Populism, Energy, Environment, Faith Community, Las Vegas NM, NM Congressional Delegation, Sen. Jeff Bingaman, Sen. Tom Udall | Permalink | Comments (1)
NM Legislative Majority Leadership Responds to Governor's Statements on Special Session Budget Bills
The Democratic leadership in the NM Legislature issued a press release late Friday afternoon through the office of the New Mexico Senate. It accompanied a copy of a letter they hand-delivered to Governor Bill Richardson's office yesterday.
The leaders said the letter was in response to a press release issued on October 27, 2009, in which Governor Bill Richardson, joined by Katie Falls, Acting Human Services Director, indicated that if the budget legislation passed by the legislature is signed by the Governor, it would slash critical services – such as services for children's health care, behavioral health care, health care for developmentally disabled and medically fragile individuals as well as those dealing with HIV/AIDS – and would reduce nutrition assistance for seniors.
The letter essentially urges Gov. Richardson to use his discretion to protect Medicaid from cuts the lawmakers said neither the Legislature nor the Governor intended in the budget legislation passed during the special session. It refers to language the Governor may consider to be "ambiguous" in the bill -- and informs him that there are ways to get around it if he should so desire. Click for a copy of the letter (pdf), which is signed by Sen. Michael Sanchez and Rep. W. Ken Martinez.
This is the latest in an ongoing verbal battle conducted via press releases, on the Governor's blog, in the media and even on Twitter between the Governor and legislators over the budget-fix legislation passed during the special session. The Governor must sign or reject the legislation in whole or in part by November 12.
October 31, 2009 at 12:33 PM in Economy, Populism, Gov. Bill Richardson, Healthcare, Media, NM Legislature Special Session 2009 | Permalink | Comments (1)
Friday, October 30, 2009
Released: Preliminary CBO Analysis of House Health Insurance Reform Bill
The Congressional Budget Office (CBO) has released its preliminary analysis of the House health insurance reform bill that Speaker Nancy Pelosi unveiled yesterday. I could recap the analysis provided in the director's summary but I think it's worth a read in its entirety. If you're brave, you can also download a copy of the formal analysis itself here. Bottom line:
According to CBO and JCT's assessment, enacting H.R. 3962 would result in a net reduction in federal budget deficits of $104 billion over the 2010–2019 period. In the subsequent decade, the collective effect of its provisions would probably be slight reductions in federal budget deficits. Those estimates are all subject to substantial uncertainty.
October 30, 2009 at 03:29 PM in Healthcare, Obama Health Care Reform | Permalink | Comments (1)
What Happens When a PR Operative Announces His Run for NM Governor?
A posed yet awkward public relations spectacle, of course. See for yourself how Republican Doug Turner struggles to get it right as he attempts to announce his candidacy for New Mexico Governor.
October 30, 2009 at 01:09 PM in 2010 NM Governor's Race, Republican Party | Permalink | Comments (16)
(Updated) Glenn Greenwald & Bill Moyers: Journalists Who Take Sides
Update: Amy Goodman of Democracy Now! interviewed Glenn Greenwald today on her show. He expands on some of the issues he raised in the interview with Moyers, and discusses how some "name" progressive blogs, including Daily Kos, seem to have sided with Obama in order to stay on the good side of the President's staff and avoid criticism.
*************
To my mind, Glenn Greenwald, who blogs at Salon.com, is one of our greatest assets in the fight for civil liberties and the battles we wage on behalf of many other progressive/liberal causes. He brings us the best of two worlds in a combination that provides incisive, well-documented, persuasive commentary that both reports on what's happening on the national stage and advocates clear positions on the issues raised by the reporting. He has a point of view. He makes value judgments, but he bases them on careful analysis of the validity of the facts at hand. He avoids the common trap of presenting all sides as equally deserving of our attention and respect. And because he holds himself apart from the DC culture, he can say what he means without worrying about losing his access, offending the powers that be or getting too personally caught up in the action.
That's a rarity in an era of writing and reporting that poses as fair and balanced, neutral or nonpartisan. These fuzzy aims of today's journalism have, in fact, led to a kind of confusing conundrum -- because the default position is that all points of view should be presented as equally correct or valuable. After all, the definition of "balance" is to "make equal." If two viewpoints are balanced, it suggests they're equivalent, and no value judgment is made as to which viewpoint has the most validity given the facts and context of the situation. Too many journalists and reporters today strive to give equal footing to both or all points of view. Therefore, they provide nothing of value to the discussion in terms of comparative analysis of what's being presented. Both "sides" are presented as equally credible, convincing and sound. An additional benefit to "balanced" journalism is that the reporters can preserve their coveted access to insiders of all stripes who might give them a "scoop."
Greenwald's work, on the other hand, is an excellent example of how a commentator can be both a fact-based reporter-journalist and a voice for reform and change. He uses the information he gathers to come to a conclusion that's valid and forcefully expressed as an argument for a specific action. He's a change agent while obeying the dictates of stringent journalistic standards. And he avoids being part of the reporter pack in order to preserve his distance and thus his ability to critically think about issues without wondering who he's going to offend.
Bill Moyers, another reporter who combines impeccable journalistic credentials with a definite point of view, recently interviewed Greenwald in a web exclusive. In the video above (one segment of a three-part interview) Greenwald talks about the corrosive impact that being inside the Beltway can have on journalists who reside there or become too close to the action and players. Glenn purposely reports on Washington from outside DC. He explains how it's all too easy for a kind of group think to set in among the DC reporters -- along with too much attention being focused on preserving access and friendships. This, of course, weakens their ability to produce clear analysis and reach cogent conclusions, especially those that might rattle the status quo.
According to Greenwald, the Beltway elite journalists have become part of the problem, not part of the solution, through their close interactions within the power bubble. It's hard to be critical of government officials or power players if you're hanging out at the same cocktail parties and restaurants -- and competing with your peers for intimate access to the powerful and their leaks.
Greenwald discusses how Washington-based reporting on health care reform and Afghanistan -- as well as the viewpoints expressed by the regulars on shows like Meet the Press -- all too often demonstrate the biases and spin that permeate the cliquish bubble. The chummy atmosphere doesn't allow much penetrating examination of the issues or study to determine the facts. What's produced instead is a dangerous regurgitation of the conventional wisdom that dominates the Washington culture at any given time, and which almost always favors the powerful, whether inside the government on on K Street. Such reporting ignores dissenting sources from outside the DC hothouse, and dismisses inconvenient truths. Well worth a listen.
There's more worth checking out in two other videos of the Moyers' interview: Part 1, where Greenwald discusses how President Karzai's brother -- believed to be involved in the drug trade -- has been receiving payments from the CIA, and Part 3, where he explains how the Obama Administration has embraced many Bush-era legal justifications for secrecy and indefinite detention . You can watch the entire web-exclusive interview here.
October 30, 2009 at 12:49 PM in Afghanistan, Civil Liberties, Corporatism, Current Affairs, Government, Healthcare, Legal Issues, Media, Military Affairs, National Security, Obama Health Care Reform | Permalink | Comments (2)
Businesses in Santa Rosa and Vaughn Awarded Funds for Rural Energy Grants
Note 10/31: Times of events were changed - new times added.
USDA Rural Development State Director Terry Brunner announced today that V & S Variety Store in Santa Rosa and Lalo's Convenience Store in Vaughn have qualified to receive grant monies for energy efficiency and renewable energy projects through the Rural Energy for America Program (REAP).
To celebrate the commitment of the funds, Congressman Harry Teague will join Mr. Brunner on Monday, November 2, 2009 at 11:00 10:30 AM to present a certificate of obligation to the Rivera family, owners of V & S Variety Store at the store located at 123 4th Street in Santa Rosa. At 1:30 12:30 PM, Mr. Brunner will present a certificate of obligation to Lalo Padilla at Lalo's Convenience Store, 1307 East 8th Street, Vaughn.
V & S Variety Store will receive $2,980 to replace two aging coolers with new, efficient ones for their small rural business. Lalo's will receive $38,569 to initiate the construction of a wind turbine which will create renewable energy to power their business. Through the REAP Program USDA Rural Development provides up to twenty-five percent of the cost of each project in grant funds.
In making the announcement Brunner said, "Funding these projects helps small business owners take advantage of the latest technologies to make their businesses run more efficiently and reduce their costs. I applaud Lalo's and V & S Variety Store for being aggressive, creative and resourceful in their efforts to support their small business." Brunner added, "Small businesses provide essential services to our rural communities and we all have to do what we can to help them prosper."
The REAP grant and loan guarantee program, administered by Rural Development's Business and Cooperative Programs, has loan guarantees and grant funds for renewable energy systems, energy efficiency improvements, feasibility studies, and energy audits. Further information on REAP and other Rural Development programs can be obtained by calling 505-761-4953 or by visiting USDA's website.
October 30, 2009 at 10:03 AM in Economy, Populism, Energy, NM Congressional Delegation, Obama Administration, Rep. Harry Teague (NM-02), Rural Issues | Permalink | Comments (0)
Tonight: Formal Announcement & Office Opening for Sen. Jerry Ortiz y Pino for Lt. Governor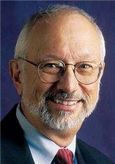 From the Ortiz y Pino Campaign: Democrat Jerry Ortiz y Pino will officially announce his candidacy for Lt. Governor and celebrate the opening of his campaign office on Friday, October 30 from 4:00 to 7:00 PM. The office is located in the Winrock Mall in Albuquerque, between the two Dillard's stores and under the Winrock Center sign. Come be a part of this great event.
Visit the new campaign website at jerryfornewmexico.com for more info about Jerry's campaign, his positions on the issues and how to get involved.
October 30, 2009 at 09:06 AM in 2010 NM Lt. Governor Race, Events | Permalink | Comments (1)
Thursday, October 29, 2009
Mayor Chavez Distributes $111,000 in 2009 Charity Ball Proceeds to Local Charities
Albuquerque Mayor Martin J. Chavez today announced the distribution of proceeds from the 2009 Mayor's Charity Ball -- $75,000 to the Center for Developmental Disabilities (CDD) Autism Center, $21,000 to the Albuquerque Family Advocacy Center and $15,000 to the NM BioPark Society.
"All these organizations do incredible work for Albuquerque's children and families," Mayor Chavez explained in a statement released by his office. "I'm thrilled to have these charities be the recipients of the money that was raised from over 1,500 people who attended the event this past summer."
Since the early 1990s, the CDD has led the state in addressing the needs of people with autism and other disabilities. Every CDD program and project supports individuals with autism, a neurological disorder with lifelong implications, affecting 1:100 people in the U.S.
"Mayor Chavez's support for the CDD Autism Center for the past several years has sent a message to all New Mexicans about the importance of developing appropriate services for people with Autism to assure their success in our community," said Dr. Cate McClain, UNM Director, Center for Development and Disability. "We are honored to have had his support during his tenure as our Mayor."
October 29, 2009 at 07:26 PM in City of Albuquerque, Martin Chavez | Permalink | Comments (0)
Weekend Events in Las Cruces with Lt. Governor Candidate Joe Campos
From the Joe Campos Campaign: Democrat Joe Campos, candidate for Lieutenant Governor of New Mexico, will be in Las Cruces from Friday, October 30th, through Saturday, October 31st for several events:
Friday morning, October 30th, from 8:00 AM—9:30 AM, will begin with a meet and greet breakfast with Joe Campos, located at Roberto's Restaurant, located at 908 E. Amador Ave. in Las Cruces.
After the breakfast, Joe Campos will be meeting with various community leaders and activists to listen to their concerns regarding state government and the role it is playing in their lives and communities.
On Friday evening, Joe Campos will attend a private Democratic Women's reception hosted by Rep. Joni Gutierrez. The evening event is part of the Democratic Women of New Mexico convention being held in Las Cruces on Saturday, October 31st between 12:00 and 1:00 PM. Saturday at the convention Joe Campos will address the Democratic Women during the event's luncheon.
October 29, 2009 at 03:54 PM in 2010 NM Lt. Governor Race, Democratic Party, Events, Joe Campos, Local Politics | Permalink | Comments (0)
Rep. Martin Heinrich: Confident We Can Fix Our Broken Health Insurance System
Rep. Martin Heinrich (NM-01) joined Speaker Nancy Pelosi, House Democratic Leaders, Committee Chairs, Members of Congress, and Americans who are struggling under the current health care system on the West Front of the Capitol this morning to unveil H.R. 3962, the Affordable Health Care for America Act. Rep. Heinrich released the following statement:
"Improving the health and stability of our nation is in sight. The health insurance reform bill unveiled today in the House reaffirms my confidence that we can fix our broken health insurance system by providing greater competition for insurance companies, and by giving Americans affordable coverage, choice, and stability they can count on. These are critical improvements for the future of New Mexico's working families and our economy.
"Our country desperately needs health insurance reform -- but our pursuit of reform cannot leave Native Americans behind. As I announced last week, this bill includes significant provisions to modernize health care for Indian country.
"Last night I held a telephone town hall meeting with nearly 10,000 New Mexico seniors to listen to their health care concerns. I am confident that this bill will address many of the problems seniors are facing, like closing the Part D Doughnut hole, eliminating co-pays for preventative care, and ensuring they can continue to see their existing doctor."
To access this legislation online, click here (pdf).
October 29, 2009 at 03:31 PM in Healthcare, NM Congressional Delegation, Obama Health Care Reform, Rep. Martin Heinrich (NM-01) | Permalink | Comments (2)
Rep. Ben Ray Luján Responds to Release of House Health Insurance Reform Bill
Rep. Ben Ray Luján (NM-03), who has been among the most passionate supporters of health care reform and a strong public option, issued this statement today in response to Speaker Nancy Pelosi's release of the House reform legislation (Affordable Health Care for America Act) that melds the three versions of the bill that were passed by House committee:
"It is the will and commitment of the American people that have carried health insurance reform through to this day. While this bill is not perfect, it is a step in the right direction. Listening to communities across my district, I am encouraged that this legislation includes language supporting tribal health, consumer protections, rural community access, and a public option. Under our current health insurance system, too many families have had their financial future imperiled, too many have been denied coverage, and too many people are suffering."
October 29, 2009 at 02:44 PM in Healthcare, NM Congressional Delegation, Obama Health Care Reform, Rep. Ben Ray Lujan (NM-03) | Permalink | Comments (0)
State Dem Party Offers Trainings, Needs Interns

From the DPNM:
The Democratic Party of New Mexico is proud to announce two Albuquerque-based trainings in the upcoming weeks. First on Thursday, November 12th, the DPNM will hold a training on using Targeting and Vote Builder. As campaigns become more active in the coming months, this training will be crucial for Party activists while working to Keep New Mexico Blue.
The second training will be held on Wednesday, November 18th and will cover Earned Media and Messaging. Both trainings are being held at the DPNM Headquarters at 1301 San Pedro NE in Albuquerque and will be from 5:30-7:00 PM. For more information on either of these events, please contact the DPNM offices at 505-830-3650.
You can visit the DPNM online by viewing any one of our Social Media Sites. Follow us to stay in the loop on all events relating to State Party business!
Internships Available: Come work with the PRE-EMINENT PARTY in New Mexico! DPNM has internships available for college students or recent college graduates. The internships are for credit or voluntary, and provide an opportunity to learn about the political scene in New Mexico.
October 29, 2009 at 12:49 PM in Democratic Party, Education, Events | Permalink | Comments (0)