« July 2009 | Main | September 2009 »
Monday, August 31, 2009
Reception Honoring Bernalillo County Commissioner Maggie Hart-Stebbins Set for September 10
From Fred and Joan Hart: Please join us in supporting Bernalillo County Commissioner Maggie Hart-Stebbins on Thursday, September 10th, from 5-7:00 PM at our home, 1505 Cornell NE in Albuquerque. Click for invitation (pdf). Please call with any questions and we look forward to seeing you there!
Maggie Hart-Stebbins was appointed by Gov. Bill Richardson to the Bernalillo County Commissioner this past May to replace Deanna Archuleta, who left for a job at the U.S. Department of Interior. Hart-Stebbins' current term will end in 2010.
August 31, 2009 at 04:04 PM in 2010 Bernalillo County Commission Races, Events, Local Politics | Permalink | Comments (0)
Lt. Gov. Denish Addresses New Energy Solutions and the Future of Green Jobs in New Mexico
In a keynote address during lunch today at the "Re-energize America" conference at New Mexico State University, Lt. Governor Diane Denish called for the state to build on comprehensive approaches to maximize all of our energy resources and take the next step in our efforts to create the green jobs of the future. The following are excerpts from the Lt. Governor's remarks today:
"We are blessed in New Mexico. Our location and our climate, combined with our workforce and ingenuity, gives us such a unique opportunity to step up and lead the nation in alternative energy solutions . . . But in order for New Mexico to continue to grow and lead, we must make sure we have a workforce that is prepared to compete for the green jobs of tomorrow. The jobs in clean technology manufacturing, renewable energy development, organic agriculture and energy efficient buildings. . .
"The American Solar Energy Society estimates that the renewable energy and energy efficiency industries could create 37 million new jobs in the US by 2030. Our share of that says one thing loud and clear: Opportunity for New Mexico workers and their families . . . We must meet the challenge of supporting these innovative efforts in higher education and, at the same time, help New Mexico families afford them. Too many New Mexico families are getting squeezed out of higher education opportunities. . . And in addition to making sure our high school graduates can compete in the green economy, we must provide worker retraining programs – so that mid-career workers can go back to school and learn a new trade. In 2009, it simply doesn't make sense to be trained in roofing, but not know how to install a green, energy efficient roof . . .
"The Green Collaborative has made great strides in getting us there. It's composed of several hundred organizations across the state – and the purpose is to establish these training and re-training programs in order to meet the demands of the green economy. But we can do more, and must. We need to help more unemployed New Mexicans who have been hit hard by this national recession – and get them retrained. We need to make sure that our high schools are adjusting their curriculums and work-training programs to capitalize on the green economy. There are pathways to good-paying green jobs for many of these students, but we need our high schools to help show them the way . . .
"It's an exciting time for New Mexico's energy industry. Our natural resources, workforce and ingenuity in both traditional energy and new energy solutions have helped us weather this economic downturn at the same time that our energy industry has positioned us to become a leader in the new economy . . . We'll lead not by turning our backs on certain sources of energy, but by building on smart and comprehensive approaches to maximize all of our state's different energy resources.
We'll create the green jobs of the future, and then make sure our workforce is trained to compete for those jobs. "We'll be a state that others look to as a model for how to thrive in the 21st Century economy."
The Re-energize America" conference continues through tomorrow at NMSU's Corbett Center in Las Cruces.
August 31, 2009 at 03:07 PM in 2010 NM Governor's Race, Diane Denish, Energy, Environment, Events, Green Economy, Jobs, Las Cruces | Permalink | Comments (11)
West Side Coalition to Host ABQ Mayoral Candidate Forum on 9/9
The West Side Coalition of Neighborhood Associations (WSCONA) will host a City of Albuquerque Mayoral Candidate Forum on Wednesday, September 9, from 6:30 to 8:45 PM at the Don Newton Taylor Ranch Community Center. The Center is located at 4900 Kachina NW in Albuquerque (map).
Attendance has been confirmed by incumbent Mayor Martin Chavez and challengers Richard Romero and Richard Berry. The community will ask questions of the candidates. Questions will be accepted up to the time of the meeting. All questions will be asked by the Moderator. For more information contact West Side Coalition President, Brett Lopez, at 505-836-7831.
August 31, 2009 at 01:28 PM in 2009 Albuquerque Mayoral Race, Events, Local Politics | Permalink | Comments (0)
Greater ABQ Chamber of Commerce to Host Mayoral Candidate Debate 9/14
The Greater Albuquerque Chamber of Commerce's Mayoral Candidate Debate, sponsored by Abba Technologies, Lovelace Health System and the Lovelace Respiratory Research Institute will take place on Monday, September 14, 2009 from 3:30 – 5:00 PM. The event will take place at the CNM Workforce Training Center, located at 5600 Eagle Rock Ave. NE (map).
The event will allow you to hear from each of the candidates on issues that are important to the business community and all Albuquerque residents. The cost is free of charge as a benefit of membership in the GACOC, or $50 for non-members. To register, call (505) 764-3722 or click here.
Business and community leaders will hear directly from challenger Richard J. Berry, incumbent Mayor Martin Chavez, and challenger Richard Romero. The candidates will be asked questions on a variety of topics by a panel made up of three members of the press including Kent Walz, Editor of the Albuquerque Journal, Mary Lynn Roper, Station Manager with KOAT-TV 7, and Pat Allen, News Director with Citadel Broadcasting's 770 KKOB News Radio.
Upon conclusion of the press panel questions, the candidates will then be asked one question each by three members who are representing the business community, including Andrew Baca, President and CEO of Abba Technologies, Ron Stern, President & CEO of Lovelace Health System, and Dr. Robert Rubin, President & CEO of Lovelace Respiratory Research Institute. These three questions will focus on business-related topics, whereas the press panel will be asking questions on a variety of topic areas.
August 31, 2009 at 11:53 AM in 2009 Albuquerque Mayoral Race, Business, Events, Healthcare, Media | Permalink | Comments (0)
State Senator Tim Keller Honored by NM Business Weekly in '40 Under Forty'
Senator Timothy M. Keller (D-Bernalillo-17) has been named one of forty individuals honored by the New Mexico Business Weekly for its 2009 "40 Under Forty" recognition.
"It was recognition of a kind that you don't anticipate receiving. I was honored to be selected as one of the '40.' When something like this comes along, it adds to your resolve to work for positive change in your community and the state. It's uplifting," said Senator Keller in a release issued yesterday.
Each year, the Business Weekly asks for nominations for its 40 Under Forty. The honorees this year were selected by a panel of honorees from past years. Selection criteria included professional achievements, leadership, and community involvement.
The reception for the 2009 honorees was held at the Journal Pavilion this past week. During the reception, Senator Keller was singled out for his work as an investment banker, entrepreneur, and business strategist and for his experience in international economic development. On the legislative side, his emphasis on better managing state investments, improving economic development incentives and support for small business innovation and growth.
Senator Keller, who was elected to his first term during the 2008 General Election, was born and raised in Albuquerque and graduated from St. Pius High School. He then earned a Bachelor's degree in Public Service, Art History and Finance from the University of Notre Dame. After leaving Notre Dame, he co-founded a non-profit group, Data Digital Divide, which extends help to land mine victims and displaced persons in Cambodia. He also continued his education – earning an MBA with honors from Harvard Business School.
After completing his MBA, he became a Principal Engineer at Honeywell Corporation in New Mexico. After leaving Honeywell, he established an "English as second language" joint venture. He also became a business consultant and currently works in that capacity for Katzenbach Partners, LLC. He is also a member of the board of the Albuquerque Southeast Team for Entrepreneur Development.
Senator Keller's achievements in the education field during the legislative session were recognized earlier this month by the Western Interstate Commission on Higher Education which appointed him to its Legislative Advisory Committee.
August 31, 2009 at 10:25 AM in Business, NM Legislature 2009 | Permalink | Comments (0)
Central NM Labor Council to Host Labor Day Picnic in Albuquerque
The Central New Mexico Labor Council invites everyone to its 1st Annual Labor Day event on Monday, September 7, from Noon to 3:00 PM. The event will take place at Tiguex Park at 1800 Mountain Road NW, near the Albuquerque Natural History Museum, Albuquerque Museum and Explora (map). Click for FLYER (pdf). Pass it on.
Bring your banner and wear your union T-Shirts to show your support for Labor. Bring a non-perishable food item to donate to the local food bank. Bring a blanket and chairs. We'll be serving hot dogs, hamburgers, drinks and entertainment will be provided by local bands. Everyone welcome!
August 31, 2009 at 09:33 AM in Events, Labor, Local Politics | Permalink | Comments (0)
Friday, August 28, 2009
Organizing for America: 1000+ Rally for Health Care Reform in Albuquerque

Click for larger view of slideshow.
Organizing for America's Health Insurance Reform Now: Let's Get it Done! cross-country bus tour to promote meaningful health insurance reform -- including a strong public option -- stopped in Albuquerque last night for a huge rally at the National Hispanic Cultural Center attended by an estimated one thousand people.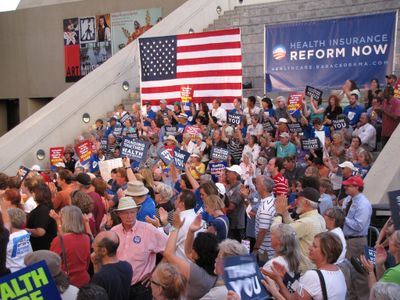 The crowd was so big it spilled out beyond the main rally space into adjacent areas. The excitement was palpable in the crowd and among the speakers because we are the closest we have ever been to achieving what Senator Ted Kennedy said was "the cause of my life."
NM State Senator Dede Feldman -- a legislator who has been dedicated to improving access to quality health care for all for many moons -- gave a rousing speech full of facts that dispel the negative spin being generated non-stop by the monied interests working so hard to defeat health care reform. You're strongly encouraged to read the text of her remarks and pass along the info to folks you know who need some facts about health insurance reform. Sen. Feldman was appointed by the White House to be a member of State Legislators for Health Reform. She knows her stuff.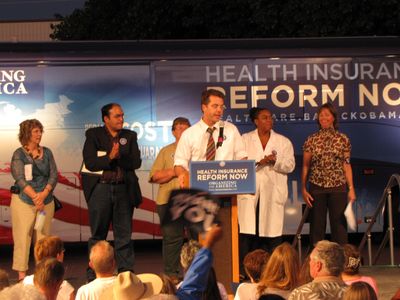 L to R: Sen. Dede Feldman; Sisto Abeyta, Fonda Osborn RN;
Greg Bloom, Field Director for Sen. Bingaman; Dr. Luella Toni Lewis, Dr. Elaine Bradshaw
Other speakers included the Executive Director of OFA, Mitch Stewart, Greg Bloom from Senator Jeff Bingaman's office, Dr. Elaine Bradshaw and Dr. Luella Toni Lewis, President of the Committee of Interns and Residents, Fonda Osborn, a registered nurse and Young Democrat Sisto Abeyta. Former Democratic Party of New Mexico Chair Brian Colon -- who's running for Lt. Governor -- as well as probable new DPNM Chair Javier Gonzales attended and greeted the crowd.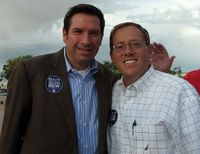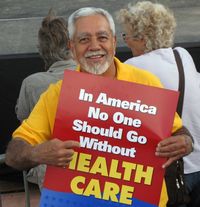 Javier Gonzales & Brian Colon, City Councilor Rey Garduno
All of the speakers urged supporters of health care reform to reach out to friends, neighbors, co-workers and family members NOW to dispel the myths and downright lies being spread by right-wing media figures and shills for the insurance industry. Get informed and get going. It's now or never and we are now in a position to make a difference not only for Americans alive today, but for generations to come. You can find OFA health care reform events near you by typing in your zipcode here.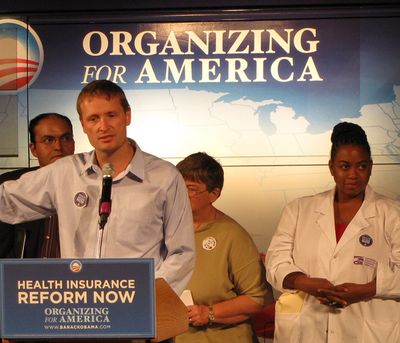 Mitch Stewart, Director of Organizing for America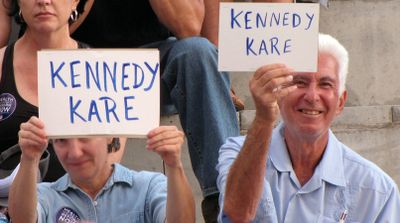 The New Mexico skies that provided a dramatic backdrop for the rally, going from sunny to dark and dumping pouring rain near the end of the rally -- with one of our famous Land of Enchantment double rainbows to add just the right punctuation. Or was it Teddy sending a little message that this time -- THIS TIME -- we're finally going to get it done for all Americans?
Click on images for larger versions. All photos by M.E. Broderick.
August 28, 2009 at 02:55 PM in Democratic Party, Events, Healthcare, Obama Health Care Reform, Organizing for America, Physicians | Permalink | Comments (5)
Thursday, August 27, 2009
Lt. Gov. Diane Denish Weighs in on News Reports Clearing Governor Richardson and Staff in Federal Probe
The Office of Lt. Governor Diane Denish just released the following statement on the media reports today that no charges will be brought pursuant to the year-long federal investigation into possible pay-to-play by Gov. Bill Richardson and some former aides related to a contract with CDR:
"Assuming news reports are accurate this is good news for the people of New Mexico. But the fact remains that public confidence has been eroded by the numerous investigations into possible wrongdoings by other government officials. We need strong ethics reform to make state government more open and accountable and I will continue to lead that fight."
Also see my earlier posts on today's events related to this matter here and here.
August 27, 2009 at 05:59 PM in 2010 NM Governor's Race, 2010 NM Lt. Governor Race, Crime, Diane Denish, Gov. Bill Richardson, Justice, Local Politics | Permalink | Comments (3)
Gov. Bill Richardson's Office Issues Statement on His Vindication in Federal CDR Investigation
The Office of New Mexico Governor Bill Richardson has issued a statement concerning the proliferating reports that no charges will be brought in connection with the federal investigation of possible pay-to-play related to a contract awarded to CDR:
"While the U.S. Attorney's Office has not notified Gov. Richardson about the completion of its investigation, it appears that no action will be taken as a result of the year-long inquiry," Deputy Chief of Staff Gilbert Gallegos said.

"Gov. Richardson has known all along that neither he nor any staff members committed any transgressions during their successful fundraising back in 2004. The U.S. Attorney's thorough and lengthy investigation has apparently determined the same thing – that no indiscretions occurred.

Although patience was difficult while Gov. Richardson and his administration were being falsely accused and were the subject of rumors and speculation through the news media, Gov. Richardson chose to remain silent and let the justice system run its course. Gov. Richardson is gratified that this year-long investigation has ended with the vindication of his administration."
August 27, 2009 at 04:24 PM in 2010 NM Governor's Race, 2010 NM Lt. Governor Race, Crime, Gov. Bill Richardson, Justice, Local Politics | Permalink | Comments (0)
(Updated) Reports Proliferate that Gov. Bill Richardson and Others Off the Hook in Federal CDR Probe

Prez-Elect Obama announcing Richardson for Commerce Secretary
Update: See the statement issued by Gov. Richardon's office on his apparent vindication on this matter.
**************
The local and national media fun apparently is over regarding speculation about the validity of a federal pay-to-play investigation of Gov. Bill Richardson and some of his former top aides. According to an AP article, the federal probe of New Mexico Governor Bill Richardson and others related to the award of a state contract to CDR is now essentially kaput. The U.S. Justice Department allegedly has concluded that no indictments were justified by the long and leaky investigation into possible pay-to-play that was handled by the FBI, New Mexico's U.S. Attorney Gregory J. Fouratt and a federal grand jury.
The Washington Post is reporting the case is finished, based on the reports of three unnamed sources:
Prosecutors in New Mexico sent their findings to Justice Department headquarters in Washington, where career prosecutors concluded that an indictment was not warranted. [emphasis mine]

... Another legal source familiar with the criminal investigation said the agreement to extend the statute of limitations on the allegations had expired Wednesday and Justice Department officials had not requested more time. That signaled, the source said, that indictments were no longer a possibility.
According to an article in the New York Times,
Federal prosecutors have decided not to pursue a criminal case against Gov. Bill Richardson or other New Mexico officials ... We're told that Justice Department officials concurred with the prosecutors' decision. [emphasis mine]
There's still no official word on this from the U.S. Attorney or Justice Department, so Richardson and the others are staying mum for now, although leaks are emerging:
A Democratic source close to Richardson who has spoken with individuals directly involved in the investigation said "it's not official, but it looks good."

"There is a sense of relief," the source said, speaking on the condition of anonymity because of the sensitivity of the matter, "but there is a sense of vindication more importantly." [emphasis mine]
The investigation began in 2008 and resulted in Gov. Richardson withdrawing his name from consideration as President Obama's Secretary of Commerce. The Governor has consistently claimed there was nothing to the charges and that he and has staff had acted appropriately. It looks like he was right.
What Comes Next?
The question now is whether Richardson will be tapped by the President for some sort of position serving the Obama administration when the Governor is officially cleared. Remember, when Richardson withdrew as Commerce Secretary nominee, Obama said,
"It is a measure of his [Richardson's] willingness to put the nation first that he has removed himself as a candidate for the Cabinet to avoid any delay in filling this important economic post at this critical time. Although we must move quickly to fill the void left by Governor Richardson's decision, I look forward to his future service to our country and in my administration."
I wouldn't be surprised if Obama picked Richardson for some kind of special envoy or ambassadorial role given the Governor's past international experience. Or Obama might appoint Richardson to a cabinet post later in his first term, or during a second term if he gets one.
If the President were to name Richardson to a position before the 2010 gubernatorial election, it would definitely have serious repercussions in New Mexico's races for Governor and Lt. Governor. Current Lt. Gov. Diane Denish would move up to the Governor slot, and run as an incumbent of sorts in November 2010. According to New Mexico law, Denish would be required to appoint someone to the Lt. Gov. slot she was vacating. Would she select a placeholder or someone with whom she'd like to run in tandem as a ticket in 2010?
August 27, 2009 at 03:58 PM in 2010 NM Governor's Race, 2010 NM Lt. Governor Race, Crime, Diane Denish, Gov. Bill Richardson, Justice, Local Politics | Permalink | Comments (3)
Today, 6PM, ABQ: Join OFA's Bus Tour Rally for Health Care Reform at National Hispanic Cultural Center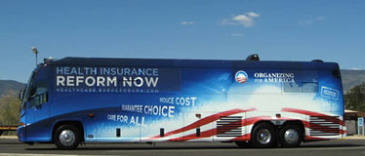 From Organizing for America (OFA): Join fellow New Mexicans for OFA's bus tour rally to promote meaningful health insurance reform - with a Public Option! The Executive Director of OFA, Mitch Stewart, will be speaking to the crowd along with State Senator Dede Feldman, Greg Bloom from the office of Senator Jeff Bingaman, Dr. Elaine Bradshaw and Dr. Luella Toni Lewis, President of the Committee of Interns and Residents, Fonda Osborn, registered nurse and New Mexico resident Sisto Abeyta.
Organizing for America, a project of the Democratic National Committee dedicated to supporting President Obama's agenda for change, said that the Health Insurance Reform Now: Let's Get it Done! Bus Tour, is part of a wider set of events in the next two weeks being held throughout the nation in support of health insurance reform. Sign up for the New Mexico Health Insurance Reform Bus Tour here.
Bring your rally voices, and your positive energy, as we display support for Health Insurance Reform just before our members of Congress return to DC! Please arrive by 6:00 PM. The rally will be in the Plaza Mayor on the Hispanic Cultural Center Campus. Plenty of parking is available on site.
Thursday, August 27 from 6:00 PM - 8:00 PM
Hosted by Luis Hernandez
National Hispanic Cultural Center
1701 4th St. SW, Albuquerque, NM 87106, Map
August 27, 2009 at 02:20 PM in Events, Healthcare, Obama Health Care Reform, Organizing for America | Permalink | Comments (4)
Agriculture and Clean Energy Summit Set for September 15 in Las Cruces
Agriculture and Clean Energy Summit: A workshop for land owners, farmers, policy makers and concerned citizens. Click for flyer (pdf).
Join State Representative Joseph Cervantes, Dr. Joel Brown, Department of Animal and Range Sciences, New Mexico State University, and the American Farmland Trust, for a summit on agriculture and clean energy.
Learn more about how proposed clean energy legislation will impact agriculture in New Mexico. The USDA, agriculture professionals, and economists will discuss opportunities for New Mexico's farmers in clean energy legislation and be available to answer your questions.
10:00 AM - 2:00 PM
Tuesday, September 15th
(Registration begins at 9:30 AM)
New Mexico Farm and Ranch Heritage Museum
4100 Dripping Springs Road, Las Cruces, New Mexico
A light lunch will be served
Please RSVP by Monday, September 13th, to (505) 217-6119 or larmstrong@buerkleandning.com.
Visit the event webpage at www.farmland.org/newmexico to see agenda and background papers, as they are posted.
August 27, 2009 at 09:26 AM in Agriculture, Energy, Environment, Events, Green Economy | Permalink | Comments (0)