« Senators Udall and Bingaman Vote for Supplemental War Funding | Main |
Friday, May 22, 2009
Ike Benton Becomes First ABQ City Council Candidate to Qualify for Public Funding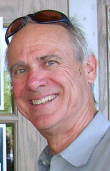 Isaac (Ike) Benton, who represents District 3 on the Albuquerque City Council, is running for reelection and will be using the public campaign funding option. His campaign made its first turn-in of $5 qualifying donations on Wednesday and met the threshold of one percent of the number of voters registered in the District on the first try. He's one popular Councilor. The campaign is now qualified to participate in the Open and Ethical Elections financing, the first 2009 Council campaign to do so. Qualified City Council candidates receive $1.00 per registered voter in their District.
"We're well-organized, but asking for $5 from average citizens is harder than you might think, said Councilor Benton. "What made it work was a great group of volunteers! The really good news is we don't have to depend on contributions from special interests. We can focus on the issues facing the city instead of fundraising, and I hope many more folks can help us with that dialogue."
Councilor Benton was elected unanimously to serve as President of the Council for 2008-2009. Previously, he served on both the Council's Finance & Government Operations Committee and on the Land Use, Planning & Zoning Committee, which he also chaired for two years. Ike is a New Mexico licensed architect and contractor and a member of the Urban Design Forum, Public Library Association, the Sustainable Buildings Industry Council, the United States Green Building Council, and the National Trust for Historic Preservation.
Benton will will likely face former City Councilor and County Commissioner Alan Armijo, a fellow Democrat, in the October municipal election. Armijo has announced he intends to run, but no word yet on whether he'll be seeking public campaign funding. District 3 encompasses neighborhoods in the downtown, UNM, Ridgecrest and Nob Hill areas (see map).
Informal photo of Ike Benton taken by M.E. Broderick at a recent political event.
May 22, 2009 at 12:05 PM in 2009 Albuquerque City Council Races | Permalink
Comments
Another candidate is saying on May 16 that he was the first one to qualify:
"West Side City Council Candidate Dan Lewis was Albuquerque's first and so far only City Council candidate to submit to the City Clerk enough signatures to qualify for campaign financing under Albuquerque's "Open and Ethical Elections Code.""

https://www.electdanlewis.com/announce051609.html
Posted by: Michelle Meaders | May 27, 2009 2:01:53 AM
Post a comment