« DFNM is One of Top State Political Blogs According to Fix Fans | Main | Friday: Discuss Proposed Historic Nob Hill Main Street Program at Informative Lunch at Scalo »
Thursday, April 09, 2009
Vacation Day Open Thread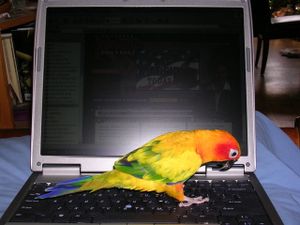 Sunny the sun conure would love to give you a post,
but his keyboard skills aren't yet up to snuff
Hold the presses. Or whatever it is we hold these days. I'm taking the day off from blogging. It had to happen sometime. I have much on my mind to write about, but then I'd have to get out of this great, light state of mind and get serious. It can all wait until tomorrow. Today I'm taking in the sunshine, listening to music, playing with my birds and letting my mind roam. Consider this an open thread to express any communication urges you might have while I'm away. See you Friday.
April 9, 2009 at 12:26 PM in Open Thread | Permalink
Comments
I have a communication urge to say that even with all the crap going on in the world today there are good things on the way. Change is coming to us all. Some things will go down to destruction but others will rise from the ashes.
Posted by: eddie | Apr 9, 2009 1:07:48 PM
She took a day off! Don't worry we'll still be here when you get back.
Posted by: Old Dem | Apr 9, 2009 6:17:39 PM
Hope you had a good day. Politics is always there.
Posted by: SFean | Apr 9, 2009 8:55:05 PM