« April 2006 | Main | June 2006 »
Wednesday, May 31, 2006
Reel Time: Coming Attractions

Watch Mr. Lamont Goes to Washington courtesy of the NedHeads. Support progressive and antiwar Dem Ned Lamont's primary challenge to Joe Lieberman, Republican in Dem's clothing. You can spare five or ten bucks, can't you? We need to challenge the Republican-lites wherever they lurk!
May 31, 2006 at 05:44 PM in Candidates & Races, Democratic Party, Visuals | Permalink | Comments (3)
NM Indy Media Show to Focus on Secretary of State Race and Ethics
On Friday, June 2nd, at 7:00 PM, Suzanne Prescott will host Albuquerque cable channel 27's NM Indy Media "Live" show. She'll have interviews with NM Secretary of State candidates Shirley Hooper, Mary Herrera and Stephanie Gonzales. Matt Brix, Executive Director of Common Cause NM, will be the live guest and will talk about the three candidates in terms of their responses to a questionnaire distributed by his organization. He'll also talk about the need for campaign finance reform and clean and fair elections. You're encouraged to call in live during the show.
You can also watch the show streamed live nationwide on Channel 27's website.
May 31, 2006 at 04:04 PM in Candidates & Races, Media | Permalink | Comments (6)
Factoids: Marty, Mary, Pete, Dems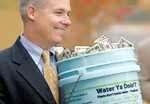 Mayor Marty and Mary Herrera: When you're thinking about who to vote for in the Democratic primary for Secretary of State, think about this fact: Republican-lite Mayor Marty Chavez hosts a downtown luncheon fundraiser for Mary Herrera. Yes, the Mary who battled the adoption of a paper ballot voting system during the last Legislative Session. She even dutifully recited Republican talking points at committee hearings. Now she has the backing of Albuquerque's most Republican-leaning Dem -- the man who scrounged more big donations from real estate, financial and development interests that any Republican in his last mayoral race. Follow the money (and the anti-paper ballot attitude) on this one.
Mayor Marty and Pete Domenici: I also recommend contemplating that Mayor Marty recently revealed that he's backing Republican Senator Pete Domenici when he runs for another term in 2008. Quite a Dem, ain't he? Personally I think the Democratic Party should "encourage" Marty to officially become a Republican instead of allowing him to continue his masquerade as a Dem. I can't imagine any real Democrat endorsing a Republican candidate like Domenici, who has fought tooth and nail to open the Arctic National Wildlife Refuge to oil drilling, among Pete's many other dastardly deeds in direct conflict with the core beliefs of Democrats. Then again, Mary probably gets "campaign contributions" from many of the same big spenders as Domenici. Birds of afeather flock together.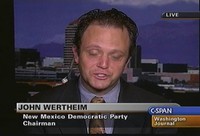 Democratic Party Poopers: Then again, I don't think our weak, underfunded, nonresponsive, dismissive and inactive State Party leaders are capable of doing much these days outside of ignoring emails and phone calls from Dem Party members. And sending out pleas for donations while refusing to provide any degree of transparancy in how they operate, what kind of outreach or other activities they are pursuing or how the money gets spent.
You may recall that the Party's State Central Committee overwhelmingly passed motions at its March meeting to require a regular audit of the Party's books, as well as the appointment of members to a new budget oversight committee and a renewed affirmative action/reachout committee. There have also been many unanswered suggestions for creating a strong platform to replace the jumbled mess that was passed by using parliamentary procedure to stop proposed changes.
Not one peep about any progress on these initiatives has been heard since they were passed this Spring. I hear that messages left for Party Chair John Wertheim from members about matters like the affirmative action - outreach commiteee have been ignored. I can't imagine what would cause a Party leader to refuse to answer calls from members wanting to initiate actions to help build the Party, can you?
May 31, 2006 at 11:08 AM in Candidates & Races, Democratic Party | Permalink | Comments (9)
Sound Off: Ethics in Politics - Wouldn't That Be Nice!
This Sound Off was submitted by Terry Riley, who attended yesterday's meeting of the Ethics Task Force appointed by Governor Richardson:

To be fair I want everybody to KNOW that as I have become involved in politics and political activism and lobbying that I have met and worked with and against some very ethical politicians. Unfortunately there are a couple of really newsworthy ethics stories in New Mexico. The State Treasurer and now the director of the Department of Corrections. These are bad problems and the media is making a big thing about them. Governor Richardson appointed an Ethics Reform Task Force to prepare legislation for the 2007 Legislative Session.

I attended the first part of the first meeting of this task force. WOW! The people who attended had very impressive credentials. The comments that were made during the opening presentation! I have every faith that good things will come from this action and because these people are involved. You should take time to come and watch for yourself. You could make a comment or two if you want, the task force meetings are open.
The first question that came to my mind after the initial presentation was who is responsible to enforce ethics violations presently. We find that there are jurisdictional difficulties but, for the most part, enforcement of ethics rules is the responsibility of the Secretary of State.
Secretary of State, Attorney General and candidates: I would like to point out that I do not believe that anybody was there representing the SOS office. I hope that I am wrong about that. I am sure that one candidate for the Secretary of State position in the upcoming elections was in attendance, Stephanie Gonzales. I believe that this is exactly how we should decide on who to vote for. I would also point out that there probably should be representation from candidates for the Attorney General position.

I would like to share this because I believe that the issue of ethics in politics is what is going to make more people willing to become involved. Lack of ethics makes people not vote!

Editor's Note: The next meeting of the Ethics Reform Task Force is tentatively scheduled for June 28-29 in Santa Fe. We'll keep you posted.
Sound Off is a regular feature of this blog that provides an opportunity for readers, candidates, advocates, etc., to express opinions. If you'd like to submit a Sound Off, send it to me by clicking on the "Email Me" link on the upper left-hand side of the main page.
May 31, 2006 at 09:47 AM in Sound Off! | Permalink | Comments (6)
Tuesday, May 30, 2006
Al Gore in England: Read All About It
Kathy Flake, a seasoned veteran of the Dean and Miles Nelson campaigns in Albuquerque, is currently living outside London and writing an articulate and often funny blog called What Do I Know? (She knows alot.) Go read her take on Al Gore's appearance at the Hay Festival, in a town near the border between England and Wales. Humor, passion and a global warming sermon served up fresh to an audience of reticent Brits. Al's on the move....
May 30, 2006 at 12:37 PM in Current Affairs | Permalink | Comments (2)
Sound Off: Gonzales Campaign for Secretary of State Reaches Out
The following was originally posted as a comment to a previous post that announced the endorsement of Stephanie Gonzales for Secretary of State by election reform groups United Voters NM and Verified Voting NM. These comments were submitted by William H. Mee. I transferred it here so that it can attract more readership as our June 6 primary election nears.
Dear All,
Let me make a disclaimer up front. I am a volunteer for the Stephanie Gonzales campaign, and I want to thank you for the your kind words. Also, I want to make an urgent appeal to you for your active support of Stephanie Gonzales for Secretary of State.
If you are concerned about the 2008 Presidential Election, the best thing you can do is ensure that we have the most competent Democratic candidate in this Primary Election on June 6th. I believe that is Stephanie Gonzales.

The other three women in the race are wonderful women who would make fine secretaries of state for New Mexico at any time in the 1970's and 1980's. But since the millennium the stakes have gotten higher and it takes a very competent and strong leader to administer that elective office. You know that New Mexico will again be a battleground state, and the pressure will be on. Stephanie is clearly the most qualified and energized candidate to do this. She was the last one to enter the race and the first one with a formal plan on how to improve the office. Click to read The Eight Point Plan posted on her website.
We have a Statewide Primary to win and we need your help. Of course we need money for the campaign for visibility, but it may be too late unless you act quickly. More importantly --- we need feet, hands and minds. Feet to go door-to-door and to stand out on Election Day with a sign. Hands to do mailouts and put bumper stickers on. Minds to do letters to the editor, e-mailing and blogging, and give speeches at community events, plus to do Election Day observation. This is real grassroots democracy. Vote early to free up your time on Election Day (besides at many County Clerks offices it is on paper). If you really believe then call us in Santa Fe at 989-1811 or 989-1875; visit the internet at:
www.NewMexicansForStephanie.com
or send us an email at:
contact@newmexicansforstephanie.com
Thanks for your time.
Editor's Note: Sound Off is a regular feature of this website. It provides an opportunity for readers, candidates, officeholders and others to submit posts to be published on any and all topics. If you'd like to submit a post, please send it to me by clicking on the 'Email Me' link on the upper left-hand side of the main page of this website.
May 30, 2006 at 08:57 AM in Candidates & Races, Sound Off! | Permalink | Comments (2)
Monday, May 29, 2006
Memorial Day Trio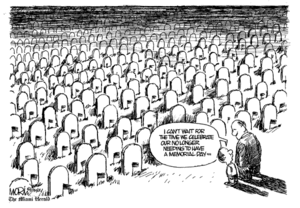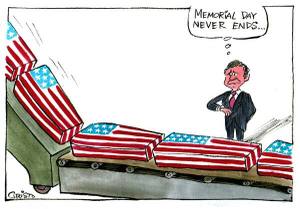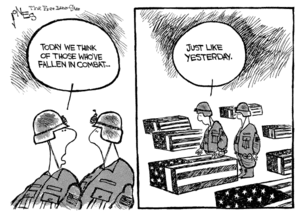 (Click on cartoon images for larger versions.)
May 29, 2006 at 01:08 PM in Visuals | Permalink | Comments (0)
Sunday, May 28, 2006
Another Kind of Veteran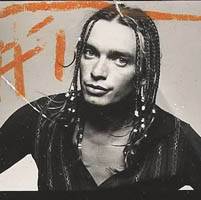 Jaco Pastorius
Speaking of veterans, here's a video (below) with some of my favorite music veterans. Joni Mitchell is joined on her song 'Coyote" by jazz great Pat Metheny on guitar and the legendary (late great) Jaco Pastorius on fretless bass during their 'Shadows and Light' tour together. This performance was recorded in Santa Barbara. Jaco passed away in 1987, a casualty of another kind of war. Joni recently "retired" from writing and performing music and is devoting her artistic talents to painting. Pat Metheny has recorded dozens of incredible albums since this tour in 1979. Enjoy.
You can enjoy other Joni Mitchell performances on YouTube, including Hejira with another stellar bass performance by Jaco, I Still Miss Someone featuring a duet between Joni and Johnny Cash, Amelia including a lyrical guitar solo by Metheny at the end and others if you sift throught these search results. For more video performances by Jaco, check these results. Pat Metheny is featured in a bunch here.
May 28, 2006 at 02:24 PM in Music, Visuals | Permalink | Comments (2)
Memorial Day Weekend: Contemplating Iraq War Casualties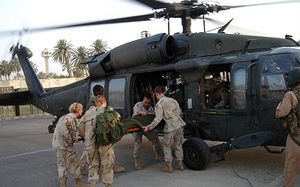 Last night I watched HBO's Baghdad ER. It's a graphic, hard-hitting, moving and realistic account of what it's like for U.S. medical personnal stationed in the Green Zone and those they treat for war wounds of all kinds. Often bloody and gruesome, the show was shot in the ER, IED Alley and other locations in Baghdad. It follows doctors, surgeons, techs and nurses over a span of two months where they try to cheat death treating those seriously wounded and patch up others, both physically and emotionally.
The show will be rerun many times on the various HBO stations, including special airings to honor Memorial Day. Here's a New York Times description of the program. You can also watch the show online at Information Clearinghouse. And here's a video of a news story about the mother of one of the servicemen who dies during the show, and how the segment on her son provided her with touching facts about his final hours.
The medical personnel offer mostly sad and angry statements about the war and its senseless casualties that enter the medical facility day after day after day. It's a testament to the courage and skill of all involved, from lowly grunt to top-notch surgeon. Clearly, the veterans of this conflict, as with others from past wars, will be in need of large-scale medical, spiritual, emotional and vocational support for decades to come. I only hope they get it from a nation practically bankrupted by Bush and his cronies and their achingly brutal decisions.
It was very difficult and upsetting to watch this show, to witness the horrendous carnage being caused by such an unnecessary and misguided war. As always, those lowest on the totem poll are made to suffer for the arrogance and hunger for power of those at the top, far from the realities of IED's, snipers, suicide bombers and gun battles. As I watched the show I kept seeing the wise-ass faces of Cheney, Rumsfeld, Rice and Bush himself, essentially immune from the consequences of their selfish, short-sighted, dishonest decisions that are killing and maiming thousands.
The latest numbers: 2464 American troops killed (including 60 so far this month); 17,869 American troops wounded in action (including 403 last month). An estimated 4715 Iraqi police and military have been killed along with uncountable tens of thousands of Iraqi civilians.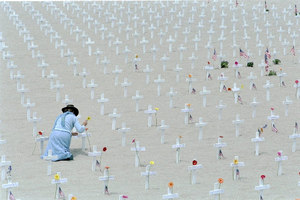 Crosses for US military deaths in Iraq at Arlington West
Necessary wars, if there is such a thing, are bad enough. Wars of choice, like this one, represent what is, perhaps, the very worst of human nature -- the lowest rungs of ego-based stupidity, the most unnecessary shedding of blood caused by those who put ideology before plain common sense. In addition to all the bbq's and picnics and outings this weekend, we should pause to remember the painful and wasteful carnage of wars past and present, and honor those who pay the price, on the field of battle and off. Some possibilities:
Any Soldier: care packages for the troops
Armed Forces Relief Trust: supporting troops and families in need
Fisher House: housing for families of hospitalized members of the military
Gold Star Families for Peace: families of soldiers who died in war working to stop further deaths
Help Our Troops Call Home: Prepaid phone cards
Operation Hero Miles: Donate frequent flier miles to fly troops home
Operation Truth: Represents Iraq & Afghanistan vets and families
Iraq Veterans Against the War: Working to stop the carnage
Veterans for Peace: Working for peace and justice (offers 10 Ways to Celebrate Memorial Day)
VA Voluntary Services: Coordinates volunteers and gifts for vets in the VA system
Just Give Guide: Listing of legitimate organizations that help veterans (one click giving)
New Mexico Veterans' Memorial: Make a gift to honor a NM vet
May 28, 2006 at 11:22 AM in Iraq War | Permalink | Comments (1)
Friday, May 26, 2006
Heather Embraces Bush, Carville Visits for Madrid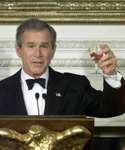 I'm sure you're aware of all the propaganda Heather Wilson has been putting out these days about how "moderate" and "independent" she is. That buzz is certainly undermined by the announcement that Bush himself is coming to Albuquerque on June 16 to raise large donations from hardcore Republicans in support of Wilson's campaign to keep her CD1 seat. Monahan has the scoop. If you pass the "security check" mentioned in the invitation, you too can have your picture taken with The Decider for a mere $5,000 in greenbacks. Cant' you just see all the autocratic, monied Republican elites posing with their mission accomplished hero? Disturbing, I know.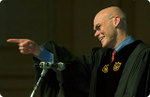 In contrast, Ragin' Cajun James Carville will be the special guest at a fundraiser for Patricia Madrid's campaign on Wednesday, June 7th, at the Salon Ortega at the National Hispanic Cultural Center in Albuquerque. Suggested donations: $100 - guest; $500 - sponsor; $1,000 - host. Click to RSVP. I'll bet she'd even encourage you to pose for a picture with her for free!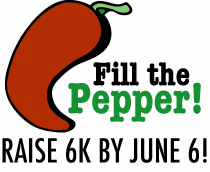 In the meantime, you can donate a few bucks to the cause by helping to 'fill the chile pepper' at Madrid's campaign site. All it takes is a quick click and you'll be helping Madrid take on the dark forces of Heather Wilson, who's joined at the hip to George Bush, who's joined at the hip to Dick Cheney, who's joined at the hip to Donald Rumsfeld. Just do it!
May 26, 2006 at 01:51 PM in Candidates & Races | Permalink | Comments (1)
More Dems Added to the Hall of Shame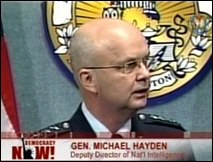 General Michael Hayden was approved by the Senate to be the new CIA director by a vote of 78-15, with 7 Senators abstaining. As discussed in a previous post, many Democrats apparently decided not to rock the boat. (See list below.) This despite Hayden's failure to answer many important questions or even to acknowledge at his confirmation hearing that the president must follow the rule of law. This seems especially egregious as we begin the Memorial Day weekend, a holiday honoring the terrible sacrifices made to preserve our freedom, our constitution and the rule of law.
Hayden is a strong supporter of the so-called "unitary presidency," a position that holds that our chief executive can pretty much operate outside the law as long as he makes certain excuses. It's hard to imagine Democrats in an earlier era falling in line so effortlessly for this insidious, unconstitutional and illegal power grabbing.
Today, however, Democrats are falling over each other in an effort to convince voters they're not "weak on terrorism." Instead of standing up to increasing tyranny in the executive branch, they operate entirely within the paralyzing boundaries of right-wing, Rovian issue framing. Neocons everywhere must be chuckling at the ease with which Democrats fall into this trap. So many Dems remain cowed, shamed and manipulated in the face of grave dangers to our democracy, our constitution and the intricate balance of power between the branches of government. They seem unwilling to confront or even admit the growing abuses of power that Dems out here in the real world can see so clearly.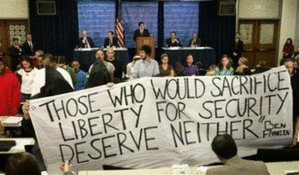 Rather than stepping into the fray on these kinds of issues, too many Democrats are more concerned about not appearing to be "obstructionist." Blindly reactive to right-wing prodding, they spend their time and energy on avoiding criticism instead of representing their constituents. Ask almost any Dem if he or she supports Hayden for CIA Director and you'll get a vehement NO! Then again, ordinary Dems don't seem to count for much in the scheme of things anymore. Our members of Congress answer primarily to big donors, outmoded concepts of "conventional wisdom" and the name-calling of Rush, Rove and right-wing ranters. It's a very sad story.
I was at a Democratic candidate appearance last night and one question raised was why Democrats aren't clearly articulating strong positions on important issues. Several people asked how we can answer critics we meet while canvassing or talking with friends when they complain that Democrats don't stand for anything. The candidate basically responded that the questioner had fallen under the sway of Republican propaganda on that count, and not to believe it.
However, when even incredibly loyal Democrats are disgusted over and over by craven surrenders like this one on Hayden, it gets harder and harder to be out there touting the appeal of Democratic candidates. It gets more and more difficult to get Dems to canvass, phone bank, donate and vote. It becomes almost impossible to counter the criticisms of potential voters when their complaints are justified, reasoned and accurate.
If Democratic leaders want to change the pervasive view that they stand for nothing and are unwilling to fight for what they believe is right, they must do more than pay lipservice to our values. If they're for protecting our privacy and civil rights, they have to vote that way and speak out strongly in defense of these values. If they're for universal healthcare, they must stick their necks out and fight for single payor universal coverage. If they're for equal rights under civil law for all Americans, they have to step up to the plate and say so in no uncertain terms. They have to stop beating around the bush, equivocating and taking the path of least resistance. If they don't I'm afraid they'll find that the Democratic base they need to win elections has drifted off into the sunset. Wake-up calls are everywhere. Let's hope more Democrats hear them and answer them with fearless and principled stands. If not now, when?
Voting Yes: Here are the Dems, including our own Senator Jeff Bingaman, who refused to stand for the rule of law by approving a man instrumental in creating a burgeoning and secretive domestic spying and data mining web:
Democratic YEAs

Akaka (D-HI)
Baucus (D-MT)
Biden (D-DE)
Bingaman (D-NM)
Byrd (D-WV)
Carper (D-DE)
Feinstein (D-CA)
Jeffords (I-VT)
Johnson (D-SD)

Kohl (D-WI)
Landrieu (D-LA)
Lautenberg (D-NJ)
Leahy (D-VT)
Levin (D-MI)
Lieberman (D-CT)
Lincoln (D-AR)
Mikulski (D-MD)
Murray (D-WA)
Nelson (D-FL)
Nelson (D-NE)
Pryor (D-AR)
Reed (D-RI)
Reid (D-NV)
Sarbanes (D-MD)
Schumer (D-NY)
Stabenow (D-MI)
Democrats who voted against approving the nomination of a man responsible for carrying out illegal acts as head of the NSA:
Democratic NAYs
Bayh (D-IN)
Cantwell (D-WA)
Clinton (D-NY)
Dayton (D-MN)
Dodd (D-CT)
Dorgan (D-ND)
Durbin (D-IL)
Feingold (D-WI)
Harkin (D-IA)
Kennedy (D-MA)
Kerry (D-MA)
Menendez (D-NJ)
Obama (D-IL)
Wyden (D-OR)
Democrats who did not vote, thus avoiding taking a stand:
Democrats Not Voting
Boxer (D-CA)
Conrad (D-ND)
Inouye (D-HI)
Rockefeller (D-WV)
Salazar (D-CO)
May 26, 2006 at 11:43 AM in Democratic Party | Permalink | Comments (11)
Thursday, May 25, 2006
Bipartisan Victory for Net Neutrality in House Judiciary Committee
From Save the Internet:
The broad, nonpartisan movement for Internet freedom notched a major victory today, when a bipartisan majority of the House Judiciary Committee passed the "Internet Freedom and Nondiscrimination Act of 2006″ — a bill that offers meaningful protections for Network Neutrality, "the First Amendment of the Internet."
20 members of the Commitee (6 Republicans and 14 Democrats) voted for the bipartisan Bill, and only 13 against. Click for a roll call of the vote.
Today's vote would have been unthinkable three weeks ago. It shows that the politicians are listening to the vast number of citizens who don't want the Internet to become the private domain of the cable and telephone monopolies. Today's vote is a milestone for the fast-growing movement to protect the public interest and defend Internet freedom.
In other good news, our petition drive today surpassed 750,000 signatures, as many of you flooded Congress with calls and letters.
Since we launched in late April, more than 700 groups spanning the political spectrum have joined the SavetheInternet.com Coalition, including MoveOn.org, the Christian Coalition, the Service Employees International Union (SEIU), the Gun Owners of America, the U.S. Conference of Catholic Bishops, the American Library Association, and Craig Newmark of Craigslist.
The bipartisan "Internet Freedom and Nondiscrimination Act of 2006″ (H.R. 5417) next moves to the full House after Congress returns from its Memorial Day recess. The SavetheInternet.com Coalition is urging people to continue writing and calling their members of Congress until Network Neutrality becomes law. The fight is far from over, but today was a good day for Internet freedom and open democracy.
Editor's Note: See our earlier post on this issue for more detailed information about the fight against telecom and cable companies taking ownership of the internet.
May 25, 2006 at 03:16 PM in Current Affairs | Permalink | Comments (0)