Thursday, May 17, 2012
House Republicans Abandon Bipartisanship on Reauthorization of the Violence Against Women Act
Congressman Ben Ray Luján of New Mexico's Third District spoke on the House floor today in opposition to a partisan House Republican bill to reauthorize the Violence Against Women Act. Below are his remarks as prepared.
"Madam Speaker, it is with great disappointment that I rise today in opposition to this bill, not because the issue of violence against women is not real, but because this House bill does not do enough to address domestic violence and to protect women.
"Sadly, instead of taking action on the bipartisan bill that has passed the Senate and that meets the need to protect America's women, the Republican majority has chosen confrontation over compromise with a bill that is seriously limited, including in the protections it offers to Native American women.
"The Senate version is a comprehensive bill that addresses the seriousness of violent crimes targeted toward women, including in Indian Country. I represent 17 of the 22 Native American tribes in New Mexico and I will tell you that tribal families are all too often ravaged by domestic violence. Unfortunately, violent crimes committed on tribal lands go unprosecuted more often than they should because of loopholes in existing law and neither this bill nor the manager's amendment adequately protect Tribal communities.
"It was my great hope that House Republicans would rise to do the right thing. Don't hide behind excuses. Do the right thing. Let's close the loopholes that allow abusers to get away with violence, especially against Native American women. It is not right that abusers game these loopholes to abuse their victims. Reject this bill and take up the bipartisan Senate bill."
May 17, 2012 at 10:56 AM in Domestic Violence, Rep. Ben Ray Lujan (NM-03), Women's Issues | Permalink | Comments (2)
Monday, May 14, 2012
Michelle Lujan Grisham; New TV Ad, Mom's Day Message from Daughters and Abq Journal Endorsement
A recap of the weekend for Michelle Lujan Grisham. From launching a new TV ad below, to a wonderful letter from her daughters asking the community to support their mom for CD1, and lastly the endorsement by the Albuquerque Journal. Kind of like a trifecta!
Today is Mother's Day. For some mothers that will mean sleeping in a little, lounging around in their pajamas and maybe even breakfast in bed. But not for our mom. Can you guess what she is doing to celebrate Mother's Day? She is out meeting voters all across the 1st Congressional District.
As kids growing up there may have been a few times when it was tough to share our mom's attention with others since she was a hard-working public servant. But when we look back at why she always worked so hard for seniors, children and families and the positive results she got, its hard for us to complain. Sometimes we questioned why she would move people into our home, like the battered woman and her child who lived with us for a year or the 95 year old veteran who stayed with us until he could support himself, but we understand that her heart was always in the right place and she always wants to help those who needed it most.
And that is why she wants to go to Congress – to stand up for all of us. It's clear that the time she spent away from home, fighting to end neglect and abuse in nursing homes, fighting for better health care for New Mexicans, and working to end waste and fraud in government, was really sort of an early Mother's Day gift for the two of us, for the time in the future when we might become mothers ourselves. And it was a Mother's Day gift for all other New Mexico mothers. In fact, the battles she's fought have been a gift to ALL New Mexicans . . . not just the mothers. And she's not showing any signs of slowing down.
Once she's elected you can guarantee that she'll dive into the job and work tirelessly to improve the quality of life of all the residents of the 1st Congressional District.
But she needs your help to get elected, please go her
website
to see how you can help get the word out to voters.
So please . . .
won't you help us give our mom a great belated Mother's Day gift on June 5th?
Please help her win this primary election so that she can continue with her lifelong passion . . . serving her extended family . . . the good people of New Mexico.
Thank you all so much!
Taylor & Erin Grisham
Abq Journal Endorsement
Yesterday morning the Albuquerque Journal endorsed Michelle Lujan Grisham.
The Journal praised her as an assertive and ethical leader "who won't hesitate to wade into tough issues."
This endorsement builds on the strong momentum Michelle has established in the campaign over the last 6 weeks. From leading in money at the end of the last quarter to our strong endorsements from IATSE, the State Professional Fire Fighters and the Albuquerque Area Fire Fighters we clearly have momentum that will propel us to victory on June 5th.
In their endorsement, the Journal embraced Michelle's unmatched ability to bypass government bureaucracy to get things done and "ensure New Mexicans get the access to services they deserve." The Journal also highlighted her clear stances on health care, creating jobs and passing meaningful immigration reform "that safeguard New Mexicans but pragmatically attack long-term fiscal and security problems."
May 14, 2012 at 02:00 PM in Candidates & Races, Michelle Lujan Grisham, NM-01 Congressional Race 2012, Television, Women's Issues | Permalink | Comments (5)
Sunday, May 13, 2012
Mother's Day and the Pentagon Budget Guest Blog by Rep. Mimi Stewart

Guest blog By Representative Mimi Stewart. Mimi Stewart is a State Representative from district 21 and State Director for the Women Legislators Lobby, a program of Women's Action for New Directions.
This Mother's Day, I am thinking about mothers and families all over our country. The past few years have not been easy. Families struggled to make ends meet and here in New Mexico we had to find ways to continue to provide vital services even as revenues tumbled. In Washington, DC Congress is trying to put together a budget for next year. I'm watching this process closely because our state counts on funding from the federal government to implement crucial programs. The budget process will affect each and every one of my constituents.
The budget passed by House Republicans will slash programs used disproportionately by women and families. In addition to the Medicare and Medicaid cuts you may have heard about, it cuts funding for programs like food stamps, child care, Head Start, job training, Pell Grants, and housing and energy assistance. Meanwhile their budget allows defense spending to continue to increase.
So while we've cut spending for domestic programs that support families, communities and businesses, Pentagon spending continues to grow. Each year, Congress appropriates more than half of discretionary spending to the Department of Defense, wars and nuclear weapons spending. Even without deficit reduction pressure, this overspending takes dollars away from needed domestic priorities that strengthen our economy and ensure that America can compete in the world marketplace. As chair of the Joint Chiefs of Staff Gen. Dempsey put it, "It makes no sense at all for us as a nation to have an extraordinarily capable military instrument of power if we are economically disadvantaged around the world."
Also, many tax dollars going into this enormous Pentagon budget are wasted on outdated security strategy. Over the next decade, we are slated to spend hundreds of billions of dollars on a nuclear weapons arsenal built for the Cold War era. These weapons are simply irrelevant to support our troops on the battlefield or to address 21st century threats.
In the past decade we have spent billions on war. Afghanistan is now the longest war in our nation's history, and we spent nine years in Iraq. Now some seemed prepared to go to war in Iran. Whether measured merely in direct financial cost, or in the broader and more profound cost of lives lost and damaged, we cannot afford to be a nation perpetually at war.
Finally one thing upon which I hope we can all agree is that the Pentagon, which swallows up such a large percentage of our budget, must be at least as carefully scrutinized for waste as other government programs. Right now the Pentagon cannot even pass an audit to show how it spends our tax dollars.
Some supporters of the Pentagon and their contractors tout money to the Pentagon as a jobs program. Sensible national security jobs make sense, and no member of Congress can ignore the effect of policy decisions on jobs. Nonetheless, economists have shown that federal investments in non-military sectors--like education, healthcare and clean energy--create more jobs than military spending. It makes sense to invest federal dollars in sectors that will create productive jobs that will help our economy grow for years to come.
We can make sensible reductions to Pentagon spending and invest in programs that will help build a vibrant economy for generations to come. This Mother's Day, let's honor hard-working women around the nation by calling on Congress to pass a budget that supports women and families and puts us back on the path to a sustainable economic recovery.
May 13, 2012 at 07:00 AM in Economy, Populism, Guest Blogger, Women's Issues | Permalink | Comments (0)
Tuesday, May 08, 2012
ProgressNowNM to Commissioner Wiener: Actions Speak Louder than Words
ProgressNow NewMexico has compiled a great synopsis; "Wienergates 1 through 10. A recap of Michael Wiener's Top-10 exploits"of Republican Bernalillo County Commissioner Michael Wiener's history of his actions. It is very well done describing Wiener's past while representing Bernalillo County.
Wiener is one of five of our commissioners, he maintains he has every right to do what he wants on his time. Attend the Bernalillo County Commission meeting this evening at 5:00 and voice your opinion on Wiener's actions. The censuring of Wiener is listed as item 10C on the agenda. The Bern Co. Commish meeting is held at One Civic Plaza, in the basement, in the Vincent Griego Chambers.
May 8, 2012 at 03:00 PM in Bernalillo County, ProgressNow New Mexico, Republican Party, Women's Issues | Permalink | Comments (0)
Thursday, April 26, 2012
Bernalillo County Commissioner Republican Michael Wiener No Stranger to Controversy
Republican Michael Wiener our very own Bernalillo County Commissioner scumbag. 
Republican Wiener is no stranger to controversy. Democratic Party of NM and others were asking for Wiener's resignation back in March 2010 for making racist comments in an email. DFNM did a piece on his racist comments, you can read it here and KRQE has this report from a rally calling Wiener out on his racist comments.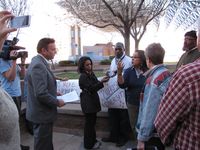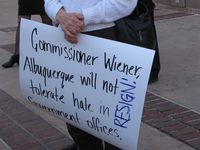 Above DFNM photos from Resign Wiener Rally March 2010
Then there was also this call from the Young Democrats of NM for Wiener's resignation in June 2011. When Wiener allegedly made inappropriate comments towards a female staff member, please read all about that sexual harassment here.
And now we have this scandal, or is it just another day in the life of a New Mexico Republican. Wiener was outed on a double x-rated red light district in Angeles City Philippenes. Just "a flight layover" says Wiener. This guy can just say whatever he wants, how come there is not outrage from his own Republican colleagues and party over this inappropriate behavior? Imagine if it was a democratic leader?
The NMTelegram has a great article about Republican Wiener's latest adventure. The NMTelegram interviews the two reporters who  found the smiley Wiener in the double x-rated red light district. The NMTelegram reports that Keatley and Eric Becker "were in the Philippines for Arts Aftercare, a non-profit that seeks to help survivors of slavery. Keatley and his friend, filmmaker Eric Becker, were to document the sexual slavery and sex trade in the Philippines for the group." The NMTelegram goes on to explain "Keatley was in the Philippines for over a week. "My job was to tell a story of these red light districts, who are these people, try to put a face to it," he said."
Try to put a face on it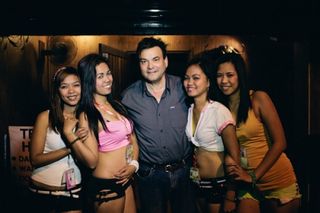 Photo by: Keatley; Republican Commissioner Michael Wiener looking a little disheveled

Of all faces to show up, our very own Republican Bern. County Commissioner Michael Wiener. Keatley and Becker, these two good human beings, outed the smiling Wiener. Keatley and Becker were traveling and reporting and exposing the dirty truth of sexual exploitation Wiener was found in the middle of. Keatley admits he was uneasy having to do this reporting but felt it is important to expose. Look at the age of these young women in this photo flanking Wiener, does it conjure up the exact image of the piece Keatley and Becker set out to expose? "Sex slavery and the buying of women by 40, 50, 60, 70 year old men."
Meet the Fiancee

Photo above by Keatley; Wiener and the future Mrs. Wiener

Michael Wiener works for all of the people in Bernalillo County. By looking at Wiener's own campaign website and facebook page there is not much about his personal life. The only new information is a FB update on April 25th 2012 saying he is "In a relationship." Go figure.
Isn't it weird and creepy? When did he really meet her? How old is she? How long have they been seeing each other? Will anyone ask Wiener these questions? Not to mention the conservative republican hypocrisy for not letting gays and lesbians get married, even after years and years of commitment.
As written in the Abq Journal this morning he is "oh so innocent", just like all the other harassing, rude, sexist, racist, behavior he has been accused of and is innocent of. Look at the age of these girls in these photos on Keatley's journalism piece regarding sex slavery and the buying of women by 40, 50, 60, 70 year old men. Does our very own Bernalillo County Commissioner fit that discripition? Let's help Keatley and his group expose this sexual enslavement prostitution network that they went to great lengths to expose. Commissioner Wiener can do whatever he wants but my expectations of elected officials is way higher than what he consistantly displays.
One more thing: Think of all the Woman's rights issues being attacked, and then think of Republican Michael Wiener. 
April 26, 2012 at 04:59 PM in 2012 Bernalillo County Commission Race, Bernalillo County, Republican Party, Women's Issues | Permalink | Comments (6)
Wednesday, April 18, 2012
Rep. Ben Ray Lujan: Equal Pay Day Is a Reminder of the Need to Close the Wage Gap Between Women and Men

Congressman Ben Ray Lujan gets it. The quiet Congressman in northern NM just keeps his head focused and works for the people, all of them women or men. Meanwhile from others tons of press releases and me me me statements, Ben Ray gets it! Now I want to preface this with saying; I am a huge fan of Congressman Lujan. But what he says rings true for me; equal pay is more important than ever. As a woman in 2012 it is tough going still. Less pay, less opportunity, more pressure. Discrimination and sexism is still alive and well, ask any woman.
Yesterday, on Equal Pay Day, Congressman Ben Ray Luján of New Mexico's Third District highlighted the important need to close the wage gap between women and men. Equal Pay Day represents the date in the current year through which women must work to match what men earned in the previous year.
"With women still only earning 77 cents for every dollar earned by men, it is critical to New Mexico families that we continue to advocate for equal pay for equal work," Congressman Luján said. "This issue does not just impact women, as families increasingly rely on women's wages to make ends meet."
In January 2009, Luján was proud to support the Lilly Ledbetter Fair Pay Act, one of the first bills signed into law by President Obama that restored the right of women to challenge unfair pay in court.
"The Lilly Ledbetter Fair Pay Act was an important step to fight pay discrimination in the workplace, but it must not be the end of our efforts," added Luján. "Passage of the Paycheck Fairness Act is needed to strengthen the Equal Pay Act and provide effective remedies to women who are not being paid equal wages for doing equal work. Unfortunately, Republicans in Congress have stood in the way of passing this important legislation."
"With Equal Pay Day falling on Tax Day this year, I remain committed to not only fighting for equal pay for women, but for fairness in the tax code that will promote a strong middle class and encourage economic growth. Instead of providing more tax cuts to millionaires and billionaires, we need tax reform that requires everyone to pay their fair share and ensures that the wealthiest among us cannot use tax loopholes to pay less than working families," Luján concluded.
Luján is a cosponsor of legislation to enact the "Buffet Rule," which ensures that those making over $1 million a year will not pay lower taxes than middle-class Americans.
April 18, 2012 at 05:20 PM in Rep. Ben Ray Lujan (NM-03), Women's Issues | Permalink | Comments (0)
Chavez Statement on Equal Pay Day


Yesterday, former Albuquerque Mayor Marty Chavez, candidate for Congress in New Mexico's First District released the following statement on Equal Pay Day:
"Everyone can agree that times are tough right now. Fairness and equality in access to opportunities is at the forefront of discussions about how we're going to move forward as a nation and I believe that we must ensure that ALL working people are compensated with a fair wage.
"Providing equal pay for working women is a basic tenet of providing the kind of opportunity equality that will enable a strong economic recovery and fuel future economic growth here in New Mexico. As we prepare our children to compete in a global economy, it is vital that each and every contributor to the progress we make is given equal pay for equal work.
"The Lilly Ledbetter Fair Pay Act that was signed three years ago to help close the wage gap that still exists in our country today was a significant victory for American women. But there is still much to be done as women still earn just 77% of the wages their male counterparts earn. In Congress, I will continue the fight to ensure that women get equal pay for equal work.
"Lilly Ledbetter endorsed my campaign to bring leadership that gets results to Congress because I have always been 'a true friend in the struggle for equality.' As Mayor, my commitment to central New Mexico's women - and the results we achieved in my administration were unparalleled. From forming the first executive cabinet in New Mexico's history with 50% women to leading the effort to create the Family Advocacy Center, a multi-agency facility to handle the needs of domestic violence victims, I have consistently stood up and fought on behalf of New Mexican women.
"The struggle that Lilly Ledbetter endured is proof that the right thing doesn't happen automatically and that equality and fairness can still be difficult to come by. We must commit to redouble our efforts to ensure that all Americans be treated equally, with fairness and with dignity."
April 18, 2012 at 11:10 AM in Candidates & Races, Martin Chavez, NM-01 Congressional Race 2012, Women's Issues | Permalink | Comments (0)
Tuesday, April 17, 2012
On Equal Pay Day, Gender Equality Champion Dr. Martha Burk Endorses Martin Heinrich for U.S. Senate
From the Martin Heinrich for Senate Campaign:
Today, as the country marks Equal Pay Day, U.S. Senate candidate Martin Heinrich and gender equality champion and scholar Dr. Martha Burk highlight the importance of fair pay for women in New Mexico. Dr. Burk joins a growing list of women leaders across New Mexico endorsing Heinrich.
"Martin Heinrich has served New Mexico well in the U.S. House, and has taken the lead on issues most important to women and families. As a father with a working spouse and two small children, he understands the challenges of work/life balance," said Dr. Burk. "As our next Senator, Martin Heinrich will fight for equal pay for women, safe and affordable child care, and quality education for New Mexico girls and boys. It is my honor to endorse him for this most important office."
Martha Burk is a political psychologist and women's issues expert who is co-founder of the Center for Advancement of Public Policy, a research and policy analysis organization in Washington, D.C. She is currently Director of the Corporate Accountability Project for the National Council of Women's Organizations. She also serves as the Money Editor for Ms. Magazine, and she is host of the public radio show Equal Time originating at KSFR public radio in Santa Fe. She holds a Ph.D. in psychology from the University of Texas at Arlington. Her latest book Your Voice, Your Vote: The Savvy Woman's Guide to Power, Politics, and the Change We Need (March 2012) is a Ms. Magazine book selection.
"It is an incredible honor to receive Dr. Burk's support—someone who has made women's equality her life's work," said Heinrich. "In an economic climate where every penny counts, rewarding work fairly is critical. We must end pay discrimination and ensure equality for women in the workplace—creating a fairer, more just society and strengthening the economic stability of our families."
Although the gap between men's and women's wages has narrowed over the past five decades, the typical woman continues to be paid substantially less than the typical man. According to a new report by the National Women's Law Center, the typical woman in New Mexico working full time, year round was paid only 79 cents to every dollar paid to a man working full time, year round in 2010. That is 2 cents narrower than the nationwide wage gap of 77 cents. The wage gap is even more substantial for Native American, Hispanic, and African-American women.
A strong advocate for women and working families, Martin Heinrich cosponsored the Lilly Ledbetter Fair Pay Act, which is now law, to restore the right of women and other workers to challenge unfair pay in court. Heinrich is also a cosponsor of the Paycheck Fairness Act to give teeth to the Equal Pay Act of 1963 by creating stronger incentives for employers to follow the law, and gives women the tools they need to fight pay discrimination. Additionally, Heinrich has consistently fought back against Republican attacks on women's health care and Social Security, and he led the effort to increase the minimum wage when he was on the Albuquerque City Council.
April 17, 2012 at 03:45 PM in 2012 NM Senate Race, Candidates & Races, Rep. Martin Heinrich (NM-01), Women's Issues | Permalink | Comments (0)
Tuesday, February 28, 2012
NM-1: Eric Griego Releases Women's Issues Platform, "Women Are the Majority"
From Eric Griego for Congress campaign.
Today, Eric Griego for Congress in NM-1 released Griego's women's issues platform, called "Women Are the Majority."
"I was raised by a single working mother and I saw the struggles she faced," said Eric Griego.  "My mom worked two jobs to support me and my siblings, keep us healthy, and teach us.  It's because of her that I will do everything I can to help the women of New Mexico who face tough odds in this economy and protect their rights."
Griego's platform focuses on four issue areas affecting millions of women: paid family leave, reproductive rights, pay equity and Social Security.
Paid Family Leave
Eric Griego grew up watching his single mother struggle to balance work and family.  He believes that women and men should not have to choose between their jobs and their families in time of need.  That is why he led efforts as a state and city legislator and as the Executive Director for New Mexico Voices for Children to pass increased funding for early childhood, working families' tax credit, higher minimum wage, and to protect Medicaid for working families.
In Congress, Eric will support families by working to expand the Family and Medical Leave Act to give paid family leave for births and adoptions.
Reproductive Rights
As a State Senator, Eric Griego stood up to conservative anti-women forces and opposed punitive bills designed to gut family planning rights.  Eric sponsored the "Unintended Pregnancy Advisory Panel" in the State Senate, aimed at studying how to reduce unintended pregnancies while protecting women's health and rights.  He also voted to give sexual assault victims access to emergency contraception.  He has been and will always continue to be a principled ally of health organizations such as Planned Parenthood to support comprehensive women's health and family planning programs.
Eric not only supports Roe v. Wade, but also considers women's rights essential to decisions on medical privacy.  As a State Senator, Eric stood up to conservative anti-women forces and opposed legislation designed to erode family planning rights (SB239), criminalize abortions (HB30, SB222), and force minor victims of even incest or rape to obtain parental permission before receiving care.
Pay Equity
As a State Senator, Eric Griego consistently voted for legislation to increase fair employment practices.  He also supported legislation to prevent health insurers from charging higher premiums to females (SB148).
Eric supports the Paycheck Fairness Act now before Congress.  He believes that the bill is a good start but does not go far enough.  Eric supports stronger legislation that would call for the disclosure of pay statistics.  This would prevent discrimination in the first place rather than putting the responsibility on women to fight it after the fact.  In addition, Eric will continue to help women- and minority-owned businesses by insisting that the set-asides for these businesses be enforced in federal contracting.
Social Security
Eric Griego knows how important Social Security benefits can be to retired and disabled Americans and opposes Republican and Blue Dog efforts to cut them.
However, Eric understands that the current system is not perfect – women often receive fewer benefits because they took time out of work to raise children or care for aging family members.  That is why he supports creating a caregiver credit in Social Security.  He believes that we must recognize the valuable work that caregivers do by awarding Social Security credit at least as high as the minimum wage.
Griego's platform release follows his campaign's announcement yesterday of support from prominent local women leaders, including:
Dr. Martha Burk, Director of the Corporate Accountability Project and former Chairwoman of the National Council of Women's Organizations
State Senator Mary Jane Garcia, Majority Whip
State Senator Dede Feldman, Chairwoman of the Senate Committee on Public Affairs
State Senator Cynthia Nava, Chairwoman of the Senate Committee on Education
State Representative Mimi Stewart, Chairwoman of the House Committee on Health and Government Affairs
State Representative Eleanor Chavez, Vice Chair of the House Committee on Labor and Human Resources
February 28, 2012 at 05:15 PM in Candidates & Races, Children and Families, Eric Griego, NM-01 Congressional Race 2012, Women's Issues, Women's Right to Choose | Permalink | Comments (21)
International Women's Day Celebration
Click here to Download International_Women's_Day_Celebration_March_8th flier.

February 28, 2012 at 03:59 PM in Events, Women's Issues | Permalink | Comments (0)
Monday, February 27, 2012
Patricia Madrid Guest Blog: Report from "Women for Marty" Kickoff Brunch
A guest blog from former Attorney General Patricia Madrid.
On Saturday, February 4, dozens of central New Mexican women packed Scalo's Restaurant in Nob Hill in support of First Congressional District candidate Marty Chavez. Mary Molina Mescall, the former Executive Director of the New Mexico Commission on the Status of Women, led the efforts of a stellar Steering Committee composed of such great New Mexico ladies as Clara Padilla Andrews, Clara Apodaca, Cynthia Borrego, Stella Griffin, Janis Harkleroad, Deborah James, Darlene Jojola, Diana Dorn Jones, Luanne Kozlowski, Loyda Martinez, Diana Montoya, Frances Ray, Tanna Romero, Tonja Stafford, Linda Olmstead Stover and myself.  

As guests sat down to brunch in a room filled to its capacity, and then some, Mary Molina Mescall introduced the former Mayor and current Congressional candidate by saying, "I understand women's and girls' issues," and "I am confident and I am energized at the fact Marty Chavez is going to give a voice to New Mexico women in Washington, D.C."



After a warm round of applause, Marty took the microphone to speak about his commitment to New Mexico women. As a State Senator, he introduced and championed pieces of legislation that finally outlawed spousal rape and required insurers to cover mammograms. As Albuquerque Mayor, he established the Center for Family Advocacy, a one-stop-shop for victims of violence, began regular Conferences on Women, which included financial and employment counseling, and assembled an Executive Cabinet made up of more than 50% women. As a Congressional candidate, Marty has proudly but humbly accepted endorsements from equal-pay crusader Lilly Ledbetter and United Farm Workers co-founder Dolores Huerta.
But Marty recognized that work remains, and he assured the crowd that he will see that the work gets done: "Women are the ones that are continually excluded [from paths to prosperity], still earning less for the same work as their male counterparts. I want to be your Congressman to help rectify that." And speaking about the recent Planned Parenthood funding controversy, Marty stood firmly in favor of women's rights. "Everyone believes here that this is a woman's right to choose based on her faith and her body," and "when they attack a woman's right to choose, I will be there to be your voice."

Political veterans who attended the event know Marty has what it takes to be a successful Representative. Former New Mexico First Lady Clara Apodaca stated that Marty "was the best Mayor we've ever had." I then added that as Former New Mexico Attorney General and a previous Congressional candidate myself I know that "Marty can win this seat. He's a proven leader, he's a proven vote-getter, and he's a wonderful man." Diana Dorn Jones, who served as Albuquerque COO, recognized Marty's work ethic: "He is one of the hardest-working politicians that I know. We often wondered if Marty ever slept."

Several other guests took the floor to speak about how Marty supported the causes important to them. For Cynthia Borrego, it was Marty's collaboration on nuisance abatement. Cynthia Hall praised Marty's "long term vision" in preserving open space around Albuquerque. Linda Stover appreciated Marty's efforts to keep Kirtland Air Force Base in Albuquerque. Marjorie Germaine is excited to see her adopted hometown get national attention. Darlene Jojola has spent years working with the Urban Indian Advocacy Program, and attested to the fact that Marty "made a difference in the lives of women and children."
Marty's accomplishments were not the only ones being lauded. Mary Molina Mescall cited a statistic that 60% of Democratic women vote regularly. Clara Apodaca backed up that statistic, saying, "Women have the power and we vote better than anyone else." Indeed, Marty Chavez knows women will play incredibly important roles in electing him to Congress and are the lifeblood of local campaign efforts. In New Mexico politics, Marty said, "Women get the work done."

For more information about "Women for Marty" and Marty's campaign to deliver results for New Mexican families in Congress please visit www.martychavez.com.
February 27, 2012 at 01:08 PM in Candidates & Races, Guest Blogger, Martin Chavez, NM-01 Congressional Race 2012, Women's Issues | Permalink | Comments (1)
Sunday, February 26, 2012
2/27: Join NM01 Candidate Eric Griego and Leading Women's Health and Equity Advocates
From the Eric Griego for Congress Campaign.
Again and again, Republican men in Washington are telling women what to do with their health. That's unacceptable.
From the all-male panel on birth control access to refusing to let cameras into a Democratic hearing, Republicans are taking the war on women to the next level. Are they scared of what will happen when women are finally able to speak out on these issues?
Will you join me and leading women's health and equity advocates on Monday, February 27, where we'll be discussing how to end the Republican war on women? Click here to RSVP.
In the 21st century, it's unacceptable that women are being shut out of the conversation that affects them most. If I am elected to Congress, I will continue to be a strong advocate for all American's health and privacy rights. That means ensuring that everyone can speak up.

Join me on Monday at 5:30 so that we can get started.
We'll be joined by Dr. Martha Burk of the National Council of Women's Organizations, and Senator Dede Feldman and Representative Mimi Stewart, the two leading New Mexico legislators on women's rights. 
I'll be introducing my platform on issues affecting women, and I want your feedback.
I hope to see you there!
Eric Griego
Democrat for Congress (NM-01)
February 26, 2012 at 04:17 PM in Candidates & Races, Eric Griego, Events, NM-01 Congressional Race 2012, Women's Issues, Women's Right to Choose | Permalink | Comments (0)