Thursday, December 23, 2010
Rep. Martin Heinrich's TRICARE and Microgrid Bills Included in Final Defense Authorization Act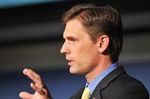 The National Defense Authorization Act for Fiscal Year 2011, finally passed by both the House and Senate, is expected to be signed by President Obama in the next few weeks. The legislation includes two important bills Rep. Martin Heinrich (NM-01) introduced earlier this year -- the TRICARE Dependent Coverage Extension Act and the Military Energy Security Act (MESA).
The details of the provisions secured by Rep. Heinrich in H.R. 6523 include:
Increasing the maximum age to 26 at which our troops and military retirees are allowed to provide health coverage to their dependent children. This language is based on a piece of legislation Rep. Heinrich introduced earlier this year, H.R. 4923, the TRICARE Dependent Coverage Extension Act, which has attracted 106 cosponsors and is endorsed by several veterans service organizations including the Military Officers Association of America, the National Guard Association of the United States, the Air Force Association, and the Air Force Sergeants Association.
Propelling our nation's quest for energy security and independence. This language is based on legislation that Rep. Heinrich introduced, H.R. 5230, the Military Energy Security Act (MESA), which would create an energy security pilot program that utilizes partnerships between military bases and national laboratories to develop secure microgrid systems that could be implemented throughout our communities.
Although the House passed its version of the authorization bill (HR 5136) in May, the Senate twice voted against bringing its bill to the floor, largely because of Republican opposition. 
"Supporting our troops and their families is a top priority of mine," said Rep. Heinrich in a written statement. "Our service men and women make tremendous sacrifices—risking their lives to keep the American people safe. It is our duty, and moral obligation, to make sure they have the resources they need to protect our nation during this time of conflict and for generations to come."
December 23, 2010 at 01:50 PM in Energy, Healthcare, Military Affairs, Rep. Martin Heinrich (NM-01), Veterans | Permalink | Comments (1)
Wednesday, December 08, 2010
Otero County Democrats Honor Stephen C. DuBois: "I'm a Harry Truman Democrat!"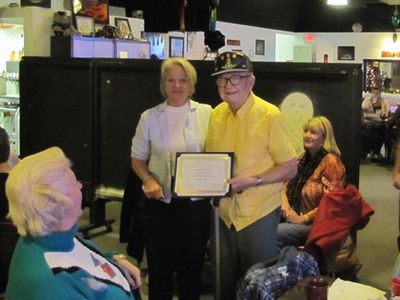 Stephen C. DuBois receives award from Dawn Provencher while Stephanie DuBois and Christy French look on
Contributing writer Stephen Jones checks in from Southern New Mexico.
Otero County Democrats met at Sunset Run Restaurant in Alamogordo Tuesday night to take care of local organizational business, announce raffle and fundraising winners, and to honor Stephen C. DuBois, a longtime member and supporter of the party and a survivor of the attack on Pearl Harbor on December 7, 1941. DuBois was a 19 year old sailor at Pearl Harbor when the Japanese attacked the U.S Fleet in Hawaii, where he was stationed. DuBois served in the United States Navy in the Pacific Theater during World War II and in the Korean conflict.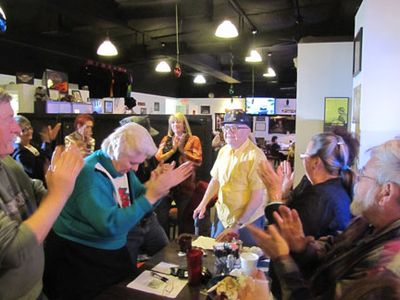 Otero County Dems applaud Stephen DuBoise
Dawne Provencher, Otero County Democratic Chair, read and presented DuBois a certificate of appreciation from the County Party and also announced that the party was placing a commemorative brick in his name at the Tularosa Veterans memorial. DuBois is a resident of Tularosa, New Mexico.

Battle of Pearl Harbor veteran Stephen DuBois
Stephen C. DuBois is also a lifelong Democrat and father of Stephanie DuBois, a leading Democratic activist who recently ran for New Mexico Public Regulation Commissioner. Stephen DuBois thanked the party and the large group of well-wishers at the event for the commemoration and honor from the Party, "I'm a Harry Truman Democrat!" he said.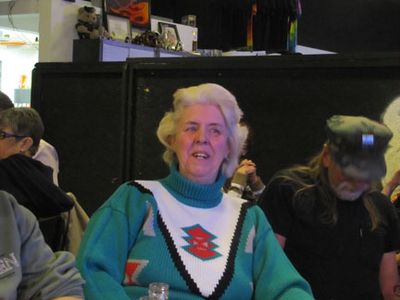 Stephen's daughter Stephanie DuBois
Earlier on Tuesday, New Mexico Democratic State Chair Javier Gonzalez honored the 2400 military and civilian casualties that lost their lives at Pearl Harbor and issued a statement specifically honoring Stephen DuBois: "I am proud to take this opportunity to thank and honor Stephen C. DuBois, a Pearl Harbor veteran and 30-year resident of New Mexico. Mr. DuBois served as a Navy medic with the US Marines in Pearl Harbor after joining the military in 1939, and his 20 years of service also included tours in World War II and Korea. His commitment to serve our country and its values makes him a living example for our emulation."
To read more posts by Stephen Jones, visit our archive.</p>
December 8, 2010 at 09:49 AM in Democratic Party, History, Veterans | Permalink | Comments (2)
Tuesday, December 07, 2010
DPNM Chairman's Statement Remembers Pearl Harbor; Honors Stephen C. DuBois
On the anniversary of the Battle of Pearl Harbor, Democratic Party of New Mexico Chairman Javier M. Gonzales released the following statement:
"On this hallowed day, we remember the ultimate sacrifice so many Americans made in Pearl Harbor. The legacy of those 2,400 soldiers and civilians lives on in our memory and through the celebration of the values for which they died. The men and women who serve our country in times of war and in times of peace shall always hold a place of honor among our citizens."
Gonzales also honored Stephen C. DuBois, a resident of Tularosa and living veteran of the Battle of Pearl Harbor:
"I am proud to take this opportunity to thank and honor Stephen C. DuBois, a Pearl Harbor veteran and 30-year resident of New Mexico. Mr. DuBois served as a Navy medic with the US Marines in Pearl Harbor after joining the military in 1939, and his 20 years of service also included tours in World War II and Korea. His commitment to serve our country and its values makes him a living example for our emulation."
December 7, 2010 at 09:42 AM in Democratic Party, History, Military Affairs, Veterans | Permalink | Comments (0)
Friday, November 12, 2010
Healing the Damages: Report, Video, Photos From DADT Panel Discussion

Click for photo album
This is a report by Mary Ellen Broderick.
A special Veteran's Day treat came through Albuquerque on 11.11.10. Four brave soldiers came to UNM Law School to talk about their service -- one woman, one Hispanic male, one Anglo male, one retired Anglo male. What was the common thread among them? They are all gay. Brave gay soldiers. Very brave gay soldiers on the front line with thousands of other members of the military fighting the battle to allow gays and lesbians to serve openly in our armed forces. Fight for the repeal of Don't Ask, Don't Tell (DADT).
Congressman Martin Heinrich (D, NM-01) kicked off the discussion with a warm welcome to these vets and the other vets in the audience (see video above). Heinrich serves on the House Armed Services Committee and has been privy to watching battle over repeal of DADT up close. Rep. Heinrich was a co-sponsor of the bill to repeal DADT. It passed last May in the House as an amendment to the defense authorization bill, with Reps. Heinrich, Ben Ray Lujan and Harry Teague all voting yes.  He reassured the audience that the repeal is a matter of when, not if. The Senate has yet to act on the matter, mostly thanks to Sen. John McCain's threats to mount a filibuster to stop it.
The soldiers on the panel introduced themselves and told their personal stories of serving in the military while being gay or lesbian, and how they fared within the system.  Maj. Pat Baillie is a decorated Air Force officer who served on the Pentagon staff before retiring, all the while managing to stay officially closeted. LTC Steve Loomis is a decorated combat officer who was discharged from the Army for being gay just five days before his twenty year retirement. MAA3 Joseph Roche handled bomb sniffing dogs in Iraq with the US Navy and was harassed before being discharged under DADT. LTC Victor Fehrenbach is a decorated F-15 fighter pilot who is in the process of being discharged from the Air Force for being gay after coming out publicly on the Rachel Maddow Show. 
I took a video of each of the gay soldiers telling their stories. I recommend watching them (see below the break) so you, too, can see the strong fabric of their character. There was a real sense of gravity and humility, as well as humor, in each of these souls.
General Discussion/Q and A
Where are we headed? The repeal of DADT is wrapped up in the defense appropriations bill. Sen. Mc Cain has said he would filibuster it. However, this week, there was some good news. Secretary Gates stated publicly that he supported the repeal.
Two days ago, some of the findings of a survey about repealing DADT that was sent to all active and reserve members of the military, as well as preliminary findings of a Pentagon study on the issue, were leaked to the media. The survey responses were very favorable -- about 88% said the effect of repealing the policy would be positive, mixed, nonexistent or the issue didn't matter enough to return the questionnaire. The study group has concluded that the military can lift the ban on gays serving openly in uniform with only minimal and isolated incidents of risk to the current war efforts.
We have got to move all the LGBT issues forward at once. Many LGBT folks don't favor the military and so they don't see this fight as their fight.  The LGBT community has got to come together and see every battle as a effort in the direction of equality for all. 
How would repeal affect combat?  No affect at all. Soldiers are serving with militaries from other nations that allow out gays to serve. Our US soldiers are with these gay soldiers right now, no big deal. In each coming out story it was emphasized that the soldier received an outpouring of support from their fellow soldiers. The powerful relief in telling the truth after being closeted for many years was felt by each one.
A bit of gay military history was shared -- one of the key military officials who helped us be victorious in our Revolutionary War was a gay man. Friedrich Wilhelm von Steuben, the Prussian aristocrat and military officer who served as inspector general and Major general of the Continental Army during the American Revolutionary War. He served with General George Washington at Valley Forge and taught the Continental Army the essentials of military drill and discipline. He also wrote the Revolutionary War Drill Manual -- the book that became the standard US military drill manual until the War of 1814. In the final years of the war, he served as General Washington's chief of staff. 
Under DADA we lose some of our best soldiers. LTC Victor Fehrenbach said it cost $20 million to train him to operate the jets he flies. Are we, as a nation, willing to just throw this money away if highly trained and skilled members of the military are gay?  Isn't this absurd? Now calculate that amount times thousands of men and women.  As we all know, gays and lesbians are some of the most over-achieving people due to wanting to overcome not being accepted. By golly, 'I will show you' is what we do as gays!
The pain of coming out was so obvious in these individuals, including internal struggles that still exist, and future uncertainties, but never was there an ounce of regret expressed about what they are doing. LTC Fehrenbach joked that he wouldn't suggest that anyone come out as he did ... three days before coming out on the Rachel Maddow Show (April 09), he came out to his family.  Here we have a man, probably in his 40s, who had been living in the closet for all those years.  What we do as gay people!
I left the event feeling optimistic. And that listening to these positive soldiers, I do believe right will win out. I am incredibly thankful to these brave souls who happen to be vets. It should be an interesting end of year on this Don't Ask Don't Tell issue. Stay tuned.

LTC Victor Fehrenbach

MAA3 Joseph Roche

MAJ Pat Baillie

LTC Steve Loomis
Katherine Turnipseed of ACLU New Mexico explains what the soldier's actions mean to her and discusses the lawsuit filed this week by the ACLU on behalf of a former Staff Sergeant at Cannon AFB discharged under DADT who had his discharge pay cut in half
November 12, 2010 at 03:19 PM in GLBT Rights, Military Affairs, Obama Administration, Rep. Martin Heinrich (NM-01), Veterans | Permalink | Comments (1)
Thursday, November 11, 2010
12/9: Santa Fe Benefit for Horses for Heroes Veteran's Support Group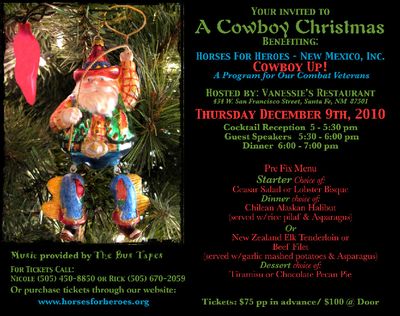 Click image for larger version
Here's an easy way to support a local effort designed to help Iraq and Afghanistan veterans and active duty military to "recuperate, recreate and reintegrate into society and give them a new perspective so that they can reach their life goals." As the nonprofit group explains on its website, horsesforheroes.org/:
Cowboy Up! is a horse therapy wellness program based in Santa Fe, NM free to veterans and active military who have sustained physical injuries or combat trauma (PTSD) during their time serving our country. From day one Veterans are hands on with our horses beginning with groundwork and progressing to riding, as well as participating in other aspects of ranch life, including working cattle and more importantly experiencing the camaraderie with cowboys who are Veterans themselves.
Attend the organization's December 9th benefit to support the group's work, or you can click to donate online. The organization is located on the Turquoise Trail National Scenic Byway at the Crossed Arrows Ranch, Santa Fe, NM. For more information e-mail info@horsesforheroes.org or call 505.798.2535.
November 11, 2010 at 01:41 PM in Events, Military Affairs, Santa Fe, Veterans | Permalink | Comments (0)
ACLU Challenges Separation Pay Cut For Service Members Discharged Under "Don't Ask, Don't Tell"
Excellent news. The American Civil Liberties Union and the ACLU of New Mexico filed a class action lawsuit yesterday challenging the Defense Department's discriminatory policy of cutting in half the separation pay of service members who have been honorably discharged for being gay. The separation pay policy is not part of the "Don't Ask, Don't Tell" statute, and can be changed without congressional approval.
"By denying servicemen and women full separation pay, the military is needlessly compounding the discrimination perpetuated by 'Don't Ask, Don't Tell,'" said Joshua Block, staff attorney with the ACLU Lesbian, Gay, Bisexual and Transgender Project. "The Obama administration has repeatedly said the 'Don't Ask, Don't Tell' statute is wrong, but that it needs to work with Congress to repeal the law. But the separation pay issue is entirely within the administration's control. The administration can at least take a preliminary step toward backing up its rhetoric with action by addressing this issue promptly and protecting gay and lesbian service members from needless additional discrimination."
Federal law entitles service members to separation pay if they have been involuntarily discharged from the military after completing at least six years of service. But in 1991, the Defense Department adopted an internal policy that automatically cuts a former service member's separation pay in half if the service member is discharged because of "homosexuality." The separation pay policy was adopted two years before Congress enacted the "Don't Ask, Don't Tell" statute. The ACLU and the Servicemembers Legal Defense Network contacted the Defense Department in November 2009 to request that the separation pay policy be revised to eliminate the discrimination against gay and lesbian service members, but the department has refused to do so.
Yesterday's class action lawsuit was filed in the U.S. Court of Federal Claims. The lawsuit was brought on behalf of all service members involuntarily discharged in the past six years who received honorable discharges and were otherwise eligible for full separation pay but had that pay cut in half because of "homosexuality." The ACLU estimates that over 100 former service members will qualify as part of the class of plaintiffs.
Lead Plaintiff Former Staff Sergeant at Cannon AFB
The lead plaintiff in the case is Richard Collins, a former staff sergeant in the Air Force who served for nine years until he was discharged under "Don't Ask, Don't Tell." Collins was stationed at Cannon air Force Base near Clovis, New Mexico when two civilian co-workers observed him exchange a kiss with his civilian boyfriend and reported it to his supervisors. The kiss occurred while Collins and his boyfriend were in a car stopped at an intersection 10 miles off base and while Collins was off duty and out of uniform. Collins received an honorable discharge from the Air Force but discovered after the discharge had been completed that his separation pay had been cut in half on the grounds of "homosexuality."
"After nine years of honorable service, it's not fair that I should be deprived of the same benefits given to other dedicated service members who are adjusting to civilian life," said Collins. "I hope that the Defense Department will adjust its policy and show some justice to anyone who has been discharged from the military under 'Don't Ask, Don't Tell.'"
"Mr. Collins's case is a perfect example of how discrimination on the basis of sexual orientation is unfair and unconstitutional," said Laura Ives, a staff attorney for the ACLU of New Mexico. "Mr. Collins's sexual orientation did not prevent him from serving his country ably and honorably. The least the government can do is provide him with the same separation pay it provides other honorably discharged service members."
Attorneys on the case, Collins v. United States, include Ives and Matt Garcia of the ACLU of New Mexico; Block and Leslie Cooper of the ACLU LGBT Project; George Bach, cooperating attorney with the ACLU of New Mexico and Sara Berger of Freedman Boyd Hollander Goldberg Ives and Duncan, PA.
November 11, 2010 at 10:25 AM in GLBT Rights, Legal Issues, Military Affairs, Obama Administration, Veterans | Permalink | Comments (1)
Wednesday, November 10, 2010
11/11: EQNM Hosts Veteran's Day Panel Discussion on Don't Ask Don't Tell
From Equality New Mexico:
Equality New Mexico is hosting a panel discussion about ways in which the Don't Ask, Don't Tell policy has affected Americans in the U.S. Military on Thursday, November 11, 2010, at 7:30 PM, at the UNM School of Law located at 1117 Stanford Dr. NE in Albuquerque. The event is free and open to the public. Click for flyer.
The Panelists:
LTC Steve Loomis is a decorated combat officer who was discharged from the Army for being gay just five days before his twenty year retirement. Was a guest on 60 Minutes.
MAJ Pat Baillie is a decorated Air Force officer who served on the Pentagon staff before retiring.
MAA3 Joseph Roche handled bomb sniffing dogs in Iraq with the US Navy and was harassed before being discharged under DADT. Has been on Rachel Maddow Show.
LTC Victor Fehrenbach is a decorated F-15 fighter pilot who is being discharged from the Air Force for being gay. Has been on Rachel Maddow Show.
On Friday, November 12, EQNM will also make a presentation at 12:00 Noon at the UNM School of Law, and from 6:30 PM to 8:30 PM a reception will be held for panelists, our Congressional delegation and elected officials at the home of Jerry Ginsburg and Steve Foster off north Rio Grande Blvd. Please RSVP by contacting (505) 242-7847 or (505) 206-0406 for directions.
Click for other Albuquerque events honoring veterans.
November 10, 2010 at 12:58 PM in Events, GLBT Rights, Military Affairs, Veterans | Permalink | Comments (0)
Thursday, October 14, 2010
Harry Teague's "Energy Jobs for Vets" Becomes Law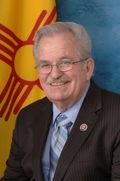 On Wednesday, Harry Teague's Energy Jobs for Veterans Act (H.R. 4592) was signed into law. The legislation, endorsed by many New Mexico veterans groups and energy companies, provides on-the-job training, apprenticeship, real experience, and long-term employment in all energy fields to veterans. It was signed into law along with other provisions of the Veterans Benefits Act of 2010.
"This is a common sense law that will address three of our top priorities -- putting New Mexicans back to work, working to increase our energy independence through a "Do It All, Do It in New Mexico" approach, and supporting our veterans who risked their lives for this country. This law will ensure that those who fought for their country abroad will be able to continue their work for the security of our country when they return home – by getting a job, and a career, producing our energy right here in America," said Harry Teague, a member of the House Veterans Affairs Committee.
"Our service men and women who fought enemies funded by foreign oil purchased with American dollars can now come home to a job and continue their work for our national security – this time with a career in the energy industry that cannot be shipped overseas," Teague continued.
The program will fund state-based programs that will reimburse energy employers for apprenticeship and on-the-job training provided to veterans, according to a statement released by Rep. Teague's office. The program would be available to employers across multiple energy fields, including oil and gas, energy efficient building, construction and retrofits, renewable electric power, biofuel production, energy efficiency assessment, and nuclear power. Unlike other employment training programs for veterans, the Energy Jobs for Veterans Act ensures that a veteran has the security of employment while he or she receives training and apprenticeship. Eligible employers are offered a strong incentive to hire a veteran because companies will be reimbursed for his or her training.
The bill was introduced following a roundtable discussion with New Mexico veterans that Harry Teague held in Valencia County focused on expanding job opportunities for Veterans. The legislation quickly garnered praise from across industry and veterans organizations, receiving the endorsement of PNM Resources, Sapphire Energy, Louisiana Energy Services (LES), Armstrong Energy Corporation, Center for Excellence in Hazardous Materials Management (CEHMM), Las Cruces Green Chamber, New Mexico Department of Disabled American Veterans (NMDAV), New Mexico Department of Veterans Services (NMDVS), New Mexico Department of Veterans of Foreign Wars, and Marine Corps League of New Mexico.
"The men and women who proudly and bravely served our country deserve all of the opportunities possible when it comes to job creation. This program will give New Mexico's veterans the critical training and resources necessary to help them join our growing energy industry and combat the high unemployment rate in our veteran community," said NMDVS Secretary John Garcia.
A Department of Labor report from June shows the unemployment rate for young Iraq and Afghanistan veterans at 11.5 percent. New male veterans face an unemployment of 10.8 percent, compared with 15.5 percent for new female veterans.
Check out Teague's other achievements working for veterans.
October 14, 2010 at 05:21 PM in Energy, Jobs, NM-02 Congressional Race 2010, Rep. Harry Teague (NM-02), Veterans | Permalink | Comments (3)
Tuesday, September 28, 2010
President Obama Talks Economy, Education, Vets Issues with S. Valley Families; Stops at Barelas Coffee House with Diane Denish for Huevos Rancheros

Click for larger version or photo album
President Barack Obama arrived to visit with the Cavalier family in the Los Padillas neighborhood in Albuquerque's South Valley just after 10:00 AM this morning. Los Padillas is a semi-rural area of Albuquerque in the South Valley and a number of horses and cattle eyed the President's motorcade as it arrived. More than one rooster was heard crowing, along with a few muffled nickers and moos. Drying red chile ristras provided the color.
The parking lot for the media and guests was a grassy meadow used for pasture. Yes, there were even a few genuine cow patties. No flashy set ups -- just the Valley as so many of us have come to know and love it, even if our families haven't been here for a few hundred years -- and even more so if they have.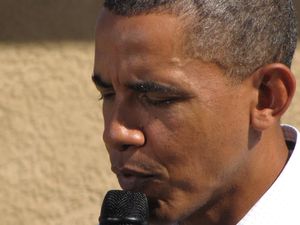 Saying he likes to get out of the Washington "bubble" and have a chance to talk to folks, listen to them, answer questions and get suggestions and advice about what's happening in the country, the President spoke for about 10 minutes to a crowd of 35 in Andy and Etta's backyard. He then answered their questions for another half hour. Mary Ellen was on the scene representing DFNM and was excited to be a witness to such a small and intimate event. The White House team has always been great about access to bloggers, and this was no exception. Up close and personal.
The President, in a friendly and jovial mood -- and remarking about the great New Mexico weather -- made the rounds before and after the event, shaking every hand and talking personally to each person in the crowd. Obama also greeted and joked with Gov. Bill Richardson, Lt. Gov. Diane Denish and Congressman Martin Heinrich, who were in attendance and sharing a bench. The rule for the rest of the crowd was BYOLC (Bring Your Own Lawn Chair).
Referring to the elected officials present, Obama said, "Everybody knows your governor, Bill Richardson, and we are grateful to him. Your lieutenant governor, Diane Denish, who is I believe going to be also the next governor of the great state of New Mexico. We've got Congressman Martin Heinrich, and I will say that Martin told me that if I was going to come to Albuquerque that I better visit the South Valley the next time I come. So he gets some credit for bringing me here today."
The President's remarks were more serious, and focused on the continuing economic problems we're experiencing, the need for a long-term plan to fix them and the importance of taking steps to improve education -- even in these challenging times.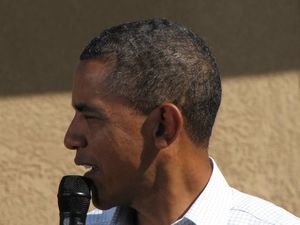 (Click for a transcript of the President's remarks and the Q and A speedily produced and distributed by the White House Media Office).
Both Short- and Long-Term Plans Needed to Bolster Economy: On the economy, the president said, in part:
We have gone through obviously the toughest economic situation since the Great Depression, and no state has been untouched, no group of people has been untouched by the devastation. We lost 8 million jobs. The financial sector almost completely melted down. We almost slipped into a Great Depression. And so we acted very quickly to try to stop the bleeding.

And we've had some success. An economy that was shrinking, was contracting by 6 percent when I was sworn in, is now growing again. We were losing 750,000 jobs a month when I was sworn in. We've had eight consecutive months of private sector job growth.

So we're making progress and we're moving in the right direction, but in addition to the immediate crisis that we were dealing with, one of the challenges that I think everybody around the country when I talk to them recognizes is we've got to have a long-term plan for how we make sure America remains the number one economy in the world and how we make sure that we still have opportunities for middle-class Americans to prosper and to expand, to be able to support their families and send their kids to college and retire with dignity and respect; and how do we provide ladders for people who aren't yet in the middle class to be able to get into the middle class; how do we help small businesses grow; how do we help make sure that our large businesses are the innovators that are designing the new products that we're able to sell overseas.
Most Important: Education and Training: After explaining how our current economic stall has been in the making for many years, Obama pointed to a strengthened education and training system as the most important element in helping us regain our competitive edge:
So part of the reason I decided to run for President was because we had all these problems that we hadn't been dealing with for a long time, even before the crisis hit, that we had to deal with -- if we want to stay competitive for the 21st century. And the number one issue in terms of us succeeding as an economy is going to be how well we educate and how well we train our kids. Nothing else comes close.
The President cited his adminstration's efforts with the "Race to the Top" in education funding, as well as expanding early childhood education, increasing Pell Grants for higher education and having the government directly fund college loans as achievements so far. "And if you go into public service, if you're like Etta and you go into teaching, for example, after 10 years, whatever is remaining on your debt will be forgiven," Obama said.
Latino and African-American Students: The President said that we need to focus more on the needs of minority students, who often lag behind in math and science because of poor schools or other factors:
I'll be honest with you, African American students, Latino students, we're doing worse in science and math than the overall average. So America is the 21st and 25th, but if you actually looked at performance of Latino and African American students, it would be even lower. And that's inexcusable because that's fastest growing portion of our population. That's our future. That's our future workforce. And so we've got to have the most skilled, most highly trained workers in the world. And this is what we're going to be focusing on over the next couple of years.
Choice is Clear in Coming Election: The President then spoke about the upcoming election, and it's vital importance:
This election coming up in November is going to offer a choice on a whole range of different issues. And this issue of education gives you a sense of the choice that I think Democrats are trying to make and the choice that the Republicans are trying to make. The Republicans recently put out what they call their Pledge to America. And it basically outlined what their priorities are.

Their number one economic priority is retaining $700 billion tax breaks to the wealthiest 2 percent of the country -- millionaires and billionaires mostly. We'd have to borrow the $700 billion because we don't have it. We've got these deficits and debt. So we'd have to borrow the $700 billion from China or the Saudis or whoever is buying our debt, and then we'd pass off on average a $100,000 check to people who are making a million dollars up to more than a billion dollars.

That's their main economic plan. And when you ask them, well, how would you pay for some of this stuff, they don't really have good answers. But one way they would pay for it is to cut back our education spending by 20 percent and eliminate about 200,000 Head Start programs and reduce student aid to go to college for about 8 million students.

That's one of their answers. And I just have to say, look, China -- that's not the decision they're making about their education system and their kids. South Korea, that's not the decision that they're making about their kids.
Obama was asked questions from the small and intimate crowd about his thoughts on immigration reform, why he is a Christian, abortion, government-sponsored small business loans and tax cuts, among other things. Again, check the transcript for the full Q and A.
Discussing Veterans' Care: One moving exchange featured Andy Cavalier's son, Andrew, who spoke about his dad's military service as a Marine and his experience with the VA as a disabled vet over the years, including 17 different surgeries. Getting very emotional and to the point of tears, the son said to the President: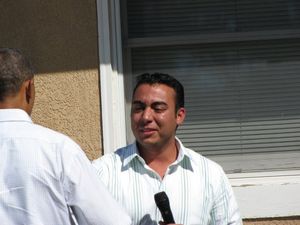 The reason I get emotional is because -- Well, unfortunately at the VA sometimes he doesn't get the care and the service that he should. I mean he sacrificed his body -- I mean, over 17 surgeries that he's had -- But, you know, I see -- he put his blood, his sweat and his tears into this country and doesn't always get the type of care that he deserves because -- I just want to ask, I mean, do you have any plan for that? There's obviously lots of veterans out there -- who feel the same way, not getting the treatments that they deserve. It's not just the medications, you know, it's really being treated like a human.
President Obama gave a long answer that touched on how he and the Democrats have pushed for increased funding for veterans' services, and that his administration is going to have "zero tolerance" for homeless veterans. Acknowledging that much more needs to be done, Obama said, in part:
Now, here's the good news. First of all, I've got what I think is one of the finest, if not the finest, Secretaries of Veterans Affairs ever, General Ric Shinseki, who himself is a disabled veteran. And this guy just thinks day and night about how are we going to make sure that veterans services are provided in a timely, effective, respectful fashion, all right? So that's point number one.

Point number two. We are actually -- even in the midst of this very difficult budget situation that we're in, we have increased over the last two years funding for veterans more than any time in the last 30 years. More than any time in the last 30 years.

And the reason we did it was because a lot of VA facilities had gotten outdated. The backlog in terms of folks trying to get medical services or getting their claims processed had just gotten ridiculous. You had over a million young people who had served in Iraq and now Afghanistan who had come back and they've got new problems like -- well, they're not new problems but now we're much more effective at diagnosing post-traumatic stress disorder, traumatic brain injury -- they weren't getting services. We've got women who are now serving in a much more dangerous situation in a lot of these theaters, and yet a lot of VA facilities still did not have special services for women and their special needs as they return.

So we are in the process of investing more in the VA and reforming how business is done at the VA than at any time in the last 30 years.
A Stop in Barelas with Diane Denish: The Obama motorcade left at 11:35 AM and headed to the corner of Avenida Cesar Chavez and 4th Street to make a food stop at the Barelas Cafe -- THE place for talking politics (with your mouth full) in Albuquerque, with Democratic governor candidate, Diane Denish. As Diane puts it:
We were hungry, so I invited the President to lunch -- New Mexico-style. We went to one of my favorite places, Barelas Coffee House. Barelas is a local small business -- family-owned -- and serves some of the best posole around. It was a chance to show the President one of those little places that makes New Mexico special.

It was also a chance to talk to him one-on-one about our state and the tough times we face. The President gets it. He understands that the key to our recovery is rooted in support of our small businesses.
Accompanied by Denish, the President warmly greeted the staff and customers. "I hear you guys have the best huervos rancheros," he said. The owner, who has operated the restaurant for 32 years, came to the front to greet the president and Denish. Obama said, pointing to Denish, "Here's a steady customer. She's gonna be a great governor." The four ladies behind the counter started screaming and clapping, and the crowd yelled "Obama!" and "Denish!" as they started touring the cafe.
Obama weaved around the restaurant shaking hands and obliging cell phone pictures. "Everyone know your lieutenant governor? Soon to be ..." "Our governor!" a man finished the sentence. "Tell everyone to get out and vote for Diane -- everyone working hard for Diane I hope!" Obama said.
Obama told customers that their food looked "terrific." He said he was happy to be in a "beautiful community" with "wonderful people." The President also gathered the entire staff of the cafe for a group photo before insisting he pay for his meal, joking that the press would catch him if he left without paying -- and then write about it. President Obama left some money on the counter and took off with a to-go order of huevos rancheros with green chile and chicharrones (according to sources).
One lunch patron, Benny Sedillo, 78, who met Obama at the restaurant, said after the encounter, "We need that kind of president. I told him thank you for what you've been doing."
Afterwards, the motorcade passed through the Barelas neighborhood and over the train yards heading for the freeway, and then headed to the airport. Many people stood outside on the streets to take photos and video of the motorcade, including an entire school at 4th Street and Stover. Air Force One left with the President onboard at about 12:45 PM.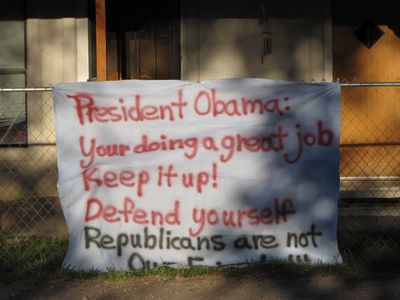 Post includes input from Mary Ellen Broderick's report, Barbara Wold's thoughts, press pool reports, White House transcript.
Click on photos for larger versions. All photos by Mary Ellen Broderick.
September 28, 2010 at 06:04 PM in 2010 General Election, 2010 NM Governor's Race, Diane Denish, Economy, Populism, Education, Gov. Bill Richardson, Hispanic Issues, NM-01 Congressional Race 2010, Obama Administration, Rep. Martin Heinrich (NM-01), Veterans | Permalink | Comments (14)
Monday, September 27, 2010
Harry Teague Accepts VFW–PAC Endorsement in Alamogordo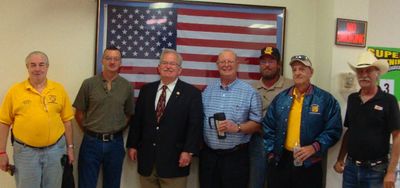 Click for more photos
Now this is telling -- and important. It says so much about how much veterans appreciate the determination of Harry Teague to reach out and listen to their concerns and fight for their rights. Today, Teague accepted the official endorsement from the Veterans of Foreign Wars – Political Action Committee in a ceremony at VFW Post 7686 in Alamogordo. Teague was joined by a group of veterans for the announcement of the endorsement for the 2010 general election to represent New Mexico's second congressional district (see photo).
"For the past 21 months, I have made veterans and their needs a top priority. I fought for a seat on the House Veterans Affairs Committee so that I could be an advocate for New Mexico veterans and work to get them the support and services they have earned and deserve," Teague said in remarks at the VFW. "I am honored to have been recognized by a group whose work on behalf of our nation's veterans is an inspiration to me."
Earlier this month, Teague announced the endorsement in a guest column on NMPolitics.net. Click here to read "Keeping a Promise to Our Veterans".
As a Congressman, Teague has become a champion for the veterans of southern New Mexico. On the Veterans' Affairs committee he he has worked on diverse issues such as veterans' health care funding, veterans' mental health, economic opportunity for veterans, women veterans' issues and veterans' homelessness. He also fought for advanced appropriations for the Department of Veterans Affairs. This means that for the first time in history, Congress will provide funding for veterans' health care on a two-year budget cycle allowing them to better plan for and effectively take care of the brave men and women who serve our country.
Teague has also worked to pass legislation to ensure our troops are screened for PTSD, to get New Mexico veterans' jobs in the energy industry and to support the caregivers of disabled veterans. Click here (pdf) to review Teague's accomplishments on behalf of the veterans and troops.
September 27, 2010 at 04:50 PM in NM-02 Congressional Race 2010, Rep. Harry Teague (NM-02), Veterans | Permalink | Comments (4)
Saturday, September 04, 2010
Michelle Obama and Jill Biden: The Troops Need Us
The following essay penned by Mrs. Obama and Dr. Jill Biden was published in the September 3rd print edition of USA Today.
This has been a summer of homecomings. In marking the end of the American combat mission in Iraq, we have now welcomed home nearly 100,000 of our troops from that war. Across the country, family and friends have honored these returning heroes. Spouses have been reunited, and military moms and dads have held their children once again.
But while America's combat mission in Iraq has ended, America's commitment to our troops and their families goes on. All of us are called to an ongoing mission: to support our troops, veterans and their families, whether they are here at home, serving in Afghanistan, or supporting the Iraqi people as they forge their own future.
Stepping up
As a country, we have come a long way in how we support our veterans and military families. In our travels to base communities from Fort Bragg to Camp Pendleton, we have seen employers creating innovative programs to support military families, classrooms adopting deployed units, faith communities providing prayers and support, and countless other acts of kindness.
Yet there is still more work to be done.
Our military families are strong, resilient and proud to serve their country.
Nonetheless, they don't always feel that the rest of the country is part of the war effort. We've met National Guard families who feel isolated because they are the only members of their communities experiencing the deployment of a loved one. We've heard from military kids who struggle in school while their parents are deployed.
Remarkably, these same families still find time to serve their communities every day. They are troops who come home from a long deployment and coach Little League or mentor a child. They are children who tutor their younger siblings, and spouses who balance their families with jobs, school, community service — or all of the above. They are wounded warriors, survivors and veterans who continue to give so much to our country.
Guided by their stories, the Obama administration has made one of the largest investments in a generation in our veterans and military families. This includes building a 21st century Department of Veterans Affairs, improving care for traumatic brain injuries and post-traumatic stress disorder, strengthening military family readiness programs, helping hundreds of thousands of veterans get a college education, and combating the tragedy of homelessness among veterans.
But government can only do so much.
That's why we're challenging every sector of American society to support and engage our military families. You don't have to come from a military family, have a base in your community, or be an expert in military issues to make a difference. Every American can do something.
'We can do this'
Businesses and organizations of all kinds can expand job opportunities and connect the work they're already doing with the needs of military families. There are so many ways to help, and you can get started by visiting www.serve.gov to see how other Americans are helping in their communities.
One percent of our population is doing 100% of the fighting, but we need 100% of Americans working to support our troops and their families. We can do this. In every community, every day, we can find concrete ways to show our military families the respect and gratitude that each of us holds for them in our hearts. They deserve our support long after the welcome home ceremonies are over.
That's the spirit that defines us as Americans, and it's who we need to continue to be in the months and years ahead.
Michelle Obama is the first lady of the United States. Jill Biden is the wife of Vice President Biden.
This text was provided by the White House Office of Media Affairs. You can also see the op-ed at USA Today Online.
September 4, 2010 at 08:11 AM in Afghanistan, Iraq War, Military Affairs, Obama Administration, Veterans | Permalink | Comments (0)
Thursday, September 02, 2010
Harry Teague Campaign Targets Pearce's Record On Veterans, Troop Pay, in First Radio Ad
The first radio ad from the Harry Teague (NM-02) campaign is set to begin airing today. Entitled, "Why Would Pearce Do That?," the ad raises questions about the voting record of Teague's opponent, Congressman Steve Pearce, on veterans issues. It's also critical of Pearce's decision to oppose a salary boost for troops in Iraq and Afghanistan, while he personally pocketed an extra $46,000 via Congressional pay raises he supported.
The ad also portrays Teague as an independent fighter for New Mexicans who puts people first, while painting Pearce as a career politician who waffles on which elected office to aim for next. It mentions Pearce's disastrous run for Senate two years ago and his indecision on whether he should run for governor before deciding to try and get his old seat back.
Click to listen to the new 60-second ad (mp3). You can read the transcript below.
Transcript:
Man: You sure were right last year honey.
Woman: About what?
Man: About Harry Teague from Hobbs.
Woman: Harry works hard, is independent and does what he thinks is right. And he is always in our hometown.
Man: Who is he running against this year?
Woman: Congressman Steve Pearce. He's the career politician we only see at election time. Last year after he ran and lost for the Senate he said he was going to run for Governor, but then he decided that he'd rather have his old job back.
Man: We don't need another politician.
Woman: Exactly, especially because in Congress, Pearce made terrible votes against our veterans.
Man: What do you mean?
Woman: Steve Pearce opposed increases in health care and GI benefits for our Veterans and voted against a $1,500 dollar pay bonus for our troops. But get this! He accepted congressional pay raises, pocketing more than $46,000 for himself.
Man: You're kidding?
Woman: Nope
Man: Why would Pearce do that?
Woman: I told you Steve Pearce is wrong for us.
Man: I am sure glad we have Harry Teague.
Woman: Harry Teague is a real fighter for New Mexico and Harry is one of us.
Man: Yep, Harry Teague for Congress.
Harry Teague: I'm Harry Teague and I approve this message. Paid for by Harry Teague for Congress.
September 2, 2010 at 09:20 AM in NM-02 Congressional Race 2010, Political Ads, Rep. Harry Teague (NM-02), Steve Pearce, Veterans | Permalink | Comments (0)