Saturday, January 13, 2007
Go Ahead, You Deserve It
Take Five (1961). With so much heated energy flying around these days, I thought it was time for something COOL like the Dave Brubeck Quartet for today's Saturday Music Hall. More Brubeck performances: St. Louis Blues (1961) and Blue Rondo a la Turk (1959). You dig?
January 13, 2007 at 02:07 PM in Saturday Music Hall | Permalink | Comments (0)
Saturday, December 16, 2006
Saturday Music Hall: R-E-S-P-E-C-T
Aretha Franklin says sock it to me. And we say sock it to us. A little R-E-S-P-E-C-T, that is. That's what voters are asking for this time around. Take it seriously. We mean business. We want change, real change, in Iraq, in the economy, in education, in healthcare, in ethics, in energy, in how elections are conducted. We demand that you start representing the people's interests over the narrow, bottom-line interests of your big donors. Period. Or you'll be out too when election time rolls around again. Aretha provides the perfect sounds for our mood. Listen up, politicos (and try to ignore the hairdos).
I also wanted to honor Rock and Roll Hall of Famer Ahmet Urtegun today, who passed away recently at age 83. He was the founder of the fabulous Atlantic Records, and signed Aretha Franklin, CSNY and many other musical luminaries. Unlike today's music conglomerate executives, Ahmet loved music, lived music, breathed music, discovered and nurtured musicians. First hooked by early jazz artists and what used to be called "race records," he was a seminal influence in recording and promoting jazz, rhythm and blues, soul and rock, bringing the music into the American mainstream. The son of a Turkish diplomat, he was mesmerized by old 78s he managed to hear in his native country. Later, he haunted the jazz and r and b music stores, clubs and theaters in Washington DC and later NYC. He helped found Atlantic on $1000.
Other artists Urtegun either discovered, signed, produced, distributed or helped popularize include:
Leadbelly
Sonny Terry
Professor Longhair
Joe Turner
Ruth Brown
The Drifters
Ray Charles
Bobby Darin
Duke Ellington
Archie Bell and the Drells
Wilson Pickett
Otis Redding
Booker T. and the MGs
Percy Sledge
Mary Wells
Dusty Springfield
Ben E. King
Sam and Dave
Roberta Flack
Sonny and Cher
The Temptations
Young Rascals
Bette Midler
Cream
Led Zeppelin
Buffalo Springfield
Crosby, Stills, Nash (and convinced them to add Neil Young)
Rolling Stones
Allman Brothers
Stevie Nicks
John Coltrane
Charles Mingus
Ornette Coleman
Erroll Garner
Dizzy Gillespie
Sarah Vaughn
December 16, 2006 at 12:12 PM in Saturday Music Hall | Permalink | Comments (1)
Saturday, December 09, 2006
Saturday Music Hall: It's Comin' on Xmas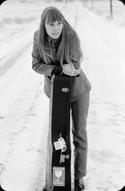 While I was having my coffee this morning Joni Mitchell's song, River, came into my conciousness -- the one that starts out, "It's comin' on Xmas, they're cuttin' down trees, they're puttin' up reindeer and singin' songs of joy and peace." So I searched YouTube for the song but couldn't find any videos of Joni herself performing it.
The vid above has Joni singing the song, but features clips from Gus Van Zandt's film, My Own Private Idaho, with the late River Phoenix. Next best thing. Beautiful images in its own right. I also found the vid below, with Sarah McLachlin performing another luscious version of the song, which is a cut on her new album of holiday music called Winter Songs. The holidaze season is indeed upon us. Let's hope it brings some peace, or some peaceful beginnings, or at least some peace in our hearts.
December 9, 2006 at 12:24 PM in Saturday Music Hall | Permalink | Comments (1)
Saturday, December 02, 2006
Saturday Music Hall: Graceland
Given the midterm election and my illness and recovery cutting into the time I can devote to this blog, our Saturday Music Hall entries have been neglected for some time now. I'm pleased to report I'm feeling better each day, although the fatigue and pain still linger. I'm back at it, but still running on just a few cylinders.
During my recovery I've been hanging out on the daybed in our den in front of a TV tuned mostly to Turner Classic Movies. I mean it. I've been too spaced for reading novels and don't have the energy to do much else. Thankfully, I've found It a perfect channel for sickies, one that takes me back to well worn Hollywoodland images and celluloid dreams. No blaring ads. No yelling or extreme violence. No fast-cut camera angles. Instead I've been comforted by all those mostly black and white, often cornball images so familiar to my subconcious from childhood and beyond.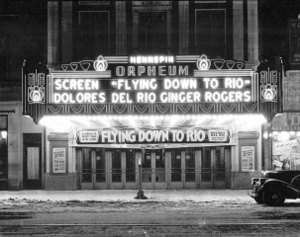 I've found it easy to fade and in out of sleep not caring how much I've missed in the storylines populated by Clark Gable, Betty Davis, Spencer Tracy, Kate Hepburn, Gregory Peck, Barbara Stanwyk, Gary Cooper, Joan Blondell, John Wayne, Eva Marie Saint, Cary Grant, the Marx Brothers, Judy Garland, Mickey Rooney, Frank Sinatra and many more. There are also the entertaining shorts from the 30s with awe-inspiring performances by costumed dogs, dead-end kids and wealthy debutantes in formal wear. You could say that old movies have been my graceland over the past several weeks. Which brings me, in a round-about way, to today's music video by Paul Simon.
Not only did I get a chance to see TCM's screening of The Graduate -- Dustin Hoffman's career-making movie with Anne Bancroft, accompanied by the Simon and Garfunkel soundtrack that sold millions of records in 1967 -- I got to see Paul teamed with Saturday Night Live's Lorne Michael on the excellent Sundance conversation series, Iconoclasts. It made me remember how much I've loved Paul Simon's music over the years, his musical imagery traced into my subconcious as strongly as those flickering images from Hollywood in its heyday. He's been producing creative, intelligent, innovative music since the long-ago days when I was buying 45s for my mono record player. I hope you enjoy him doing a live version of Graceland backed by a contingent of fabulous South African musicians. I'm outta here and back to my tv lair. Fred Astaire and Ginger Rogers are calling me back to Hollywoodland, to Graceland.
December 2, 2006 at 12:20 PM in Saturday Music Hall | Permalink | Comments (5)
Saturday, October 21, 2006
Saturday Music Hall: Our Land
With all the freedom grabs being instituted by George Bush's neocon nightmare team, I thought I'd feature a song that urges the people to take the freedom highway all over this American landscape. No trespassing my eye. This land -- this freedom -- was made for you and me, not for the greedy conglomerate builders, not for the property rights at any cost bunch, not for the police state thugs. This is Woody Guthrie's old song performed by Arlo Guthrie, Bruce Springsteen,Taj Mahal, Emmylou Harris, Little Richard, Bono and John Mellencamp in a 1988 tribute to Woody, who had a sticker on his guitar that said "This machine kills fascists."
October 21, 2006 at 03:26 PM in Saturday Music Hall | Permalink | Comments (2)
Saturday, October 07, 2006
Saturday Music Hall: Have You Had Enough?
This ditty, performed by Rickie Lee Jones and former members of the Squirrel Nut Zippers, is about throwing Repub Speaker of the House Denny Hastert out of office and voting for his Dem opponent. Of course, here in New Mexico's first congressional district, we can't directly vote out Foley-enabler Hastert. However, we CAN vote out Repub incumbent Rep. Heather Wilson -- another Bush rubber stamp who's still refusing to call for Hastert's resignation despite his improper and dishonest handling of the Republican scandal.
Recall that Wilson served on the Page Board from 2001 through 2004 when warnings were reportedly flying about Rep. Foley's tendencies to come on to the underage pages. Of course, like almost every other Repub in Congress, Wilson claims she saw and heard nothing about it. Either she wasn't paying attention to her responsibilities on the Board, or she was (and is) in denial. Either way, we need a real change. We've had enough!
Wanna get rid of Hastert, Boehner and the rest of the sleazy Repubs who've been running things into the ground in leadership positions in the U.S. House? Volunteer, donate and vote for Patricia Madrid for Congress in NM-01. Remember, if Dems win back the House, we'll have subpoena power, we'll have Dems running the House committees and we'll have an opportunity to try and find out what's really been going on with the Iraq occupation and much, much more.
Note: The performers have made versions of this song available to other Dem candidates. The blog Down With Tyranny explains why.
October 7, 2006 at 01:03 PM in Candidates & Races, Saturday Music Hall | Permalink | Comments (2)
Saturday, September 30, 2006
Saturday Music Hall: Save the Country
Rare footage of one of my all-time favorites, the strange and beautiful Laura Nyro, singing 'Save the Country' on a TV performance from 1969. The video and audio is not the best, and does little justice to her singular voice. But I think the sentiment is more timely than ever as we see our government taking up the tactics and values of tyranny, right out in the open, almost nonchalantly. "I've got fury, in my soul ...."
I got to see the legendary Nyro live many times over the years, including on her very first tour and later, when she periodically emerged from a retreat into private life with renewed touring and new music. I saw her in large venues and a number of small, intimate clubs. I saw her with a variety of backing musicians and on her own, singing solo and playing keyboard. I savor each experience. Magical. Sadly, Laura passed away way too early, from cancer, in 1997. If she had lived, I imagine her music might have had something compelling, arousing and even comforting to say to us as we suffer another cycle of mindless war and authoritarian abuse.
Here's the Wikipedia entry on Laura Nyro. Can you surrey?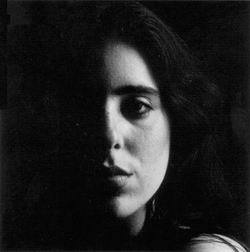 September 30, 2006 at 11:55 AM in Saturday Music Hall | Permalink | Comments (1)
Saturday, September 23, 2006
Saturday Music Hall: Still Effin' Peasants
With the release of the new movie The U.S. vs. John Lennon (see the trailer), I thought a little Working Class Hero would be right on time. The ongoing onslaught of corporatism, jingoism, aggression, greed, torture, dishonesty and almost complete disregard for human rights and the natural world are enough to make anyone cynical. How long will we allow them to keep putting profits before humans, deluded imperialistic hubris before common sense compassion, economic "growth" (for some) before human rights, nature, justice and just about everything else of genuine value?
Keep you doped with religion, and sex, and TV. And you think you're so clever and classless and free. But you're still f***ing peasants as far as I can see.

... There's room at the top, they are telling you still. But first you must learn how to smile as you kill. If you want to be like the folks on the hill.
The fools on The Hill are now smiling while they torture. Smiling while they occupy. Smiling while they lie. Smiling while they steal. Smiling while they kill. Most of all, smiling about how easy it is to fool us, the f***king peasants. And we are letting them do it. Still.
Let's start making sense, as Molly Ivins recommends. It's up to us now. Again:
Now, in addition to the slightly surreal awakening to find we live in a country that's having a serious debate on a torture bill, can we do anything about it? The answer is: We better. We better do something about it. Now, right away. What do we do? The answer is: anything ... phone, fax, e-mail, mail, demonstrate—go stand outside their offices or the nearest federal building in the cold and sing hymns or shout rude slogans, chant or make a speech, or start attacking federal property, like a postal box, so they have to arrest you. Gather peacefully and make a lot of noise. Get publicity, too.

How will you feel if you didn't do something? "Well, honey, when the United States decided to adopt torture as an official policy, I was dipping the dog for ticks."
Or staying drugged not only on our religion, sex, TVs, but on our iPods, our cell phones, our computers. Maybe, most of all, on our lazy cynicism. More fodder for stoking our motivation? Go read the Glenn Greenwald pieces listed near the top of the 'Must Read & See' links on the left-hand side of our main page.
September 23, 2006 at 11:42 AM in Saturday Music Hall | Permalink | Comments (0)
Saturday, September 02, 2006
Saturday Music Hall: Melissa Etheridge
I thought I'd feature Melissa Etheridge because we just saw her in concert at the Sandia Casino outdoor amphitheater last week. Above, she's giving her first performance in 2005 after going through chemo and radiation treatments for breast cancer, which she's since beaten, at least as far as anyone can tell at this time. She's doing a Janis Joplin thing with Joss Stone at the Grammy's, shaved head and all. Very powerful.
I've seen Melissa many times over many years -- throughout her long and pioneering time in the public eye -- and I have to say she's always been one of the most vibrant and exciting live performers I've ever experienced, whether it's just her and her Ovation or she's touring with some of the best musicians in the business. Three hour shows are the norm and she gives her all every time. Every time.
I admit I missed her very first performance in Albuquerque, which was at Corky's, the notoriously wild women's gay bar that was on San Mateo just South of Menaul for many years. She and her acoustic were joined by, of all people, a female sax player. By all accounts it was an impressive performance and the cassettes they sold were all over the Albuquerque lesbian community in no time. Melissa, seeking out free hospitality, slept on the floor of a local massage therapist's home. She was the talk of the town.
I saw her the first time at a now-defunct music club in Santa Fe sometime in the mid-80s. She looked like she does in the video above. Come on, admit it, many of you had hairstyles in that vein in that era. Wow. The crowd was unfamiliar with her and we were all amazed at her talent and the wild abandon of her performance. I recall she got three or four encores, with people standing on their folding chairs, going wild. It was smashing. One of those memories locked into my brain in high definition.
I've also seen her perform at the Kiva, Tingley, in Boston at the Berklee and Orpheum, in Denver at what was then called the Fiddler's Green and some others I can't even recall. Melissa's latest is "I Need to Wake Up," which she wrote for Al Gore's film, "An Inconvenient Truth." It can be heard at the end of the movie. A just released video for the song can be found at her website.
September 2, 2006 at 02:19 PM in Saturday Music Hall | Permalink | Comments (1)
Saturday, August 26, 2006
Saturday Music Hall: NOLA Edition
A wide variety of coverage of the first anniversary of Hurricane Katrina on August 29th has already begun. I thought I'd focus one of the most incredibly valuable contributions of the unique N'awlins culture -- its music. Above we have a long clip of jaunty, just-right jams by Harry Connick, Jr., Branford Marsalis and local musicians in New Orleans supporting the Musicians' Village by Habitat for Humanity or New Orleans. All that brass makes me want to toss some chickory into my coffee this morning.
To remind us of just what the folks are up against in trying to rebuild their lives and their city, check out video of the state of the Ninth Ward six months in accompanied by John Mellencamp's Pink Houses. Video matched with Steve Goodman's song City of New Orleans, sung by Arlo Guthrie, checks in with the Ninth Ward and Lakefront districts about ten months after the flood. (I have a special bond with this song because I used to ride the Illinois Central railroad's City of New Orleans between Chicago and Champaign-Urbana on its way to New Orleans and back in my college days. Its club car scene and general atmosphere were special indeed.)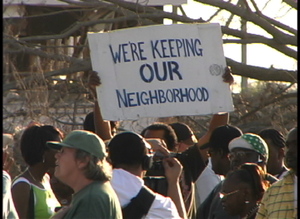 If you've got some wandering and meandering time on your hands this weekend, enjoy more of NOLA's musical treasures and then throw a few bucks in to help:
One of NOLA's most beloved musicians, Louis Armstrong, scats about Dinah in a 1930s-era performance and offers a rather elegant rendition of When the Saints Go Marchin' In a little later in the century.
The master of New Orleans piano, Professor Longhair, runs through Tipitina in some rather rare old footage. Crescent City blues legend Irma Thomas belts out You Can Have My Husband with B.B. King. Fats Domino tickles the ivories and sings Walkin' to New Orleans.
The Preservation Hall Jazz Band website has lots on the history of New Orleans jazz and its continuation today.
The website of the historic Tipitina's nightclub has video of many of the New Orleans musicians who have performed there including the Funky Meters, Neville Brothers, Wild Magnolias, Rebirth Brass Band and one of my favorites, Marcia Ball. They've also got extensive video archives and a podcast section. The also webcast many of their performances live.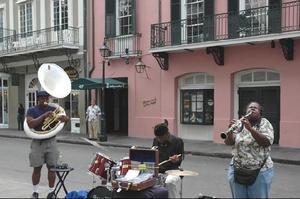 You can find ways to help New Orleans musicians, most of whom aren't well known beyond the local scene, and many of whom lost their homes and their livelihoods because of the levy breaks, at the New Orleans Musicians Relief Fund.
Then think about how the Bush administration's wholly incompetent, neglectful, corrupt, uncaring, cold-hearted, shameful and, to my mind, criminal response to this crisis continues today. And vow to do something, anything, to help get things on the right track and provide some real justice and help to the people and the city of New Orleans and beyond. This is not America unless we do.
August 26, 2006 at 11:49 AM in Saturday Music Hall | Permalink | Comments (2)
Saturday, August 19, 2006
Saturday Music Hall: Rain!
With the extraordinarily intense monsoon we've been having in almost all parts of New Mexico, I thought the time was right for a little Rain from the Beatles. What's a few more drops when you can hear the first record with backwards music on it?
If you're feeling a bit more moody than that because of the sudden and powerful flooding of streets, arroyos, streams, rivers and homes, try this Patty Griffin song, with a darker take on Rain.
August 19, 2006 at 01:31 PM in Saturday Music Hall | Permalink | Comments (2)
Saturday, August 12, 2006
Saturday Music Hall: Broken English
Any Marianne Faithfull fans out there? Not the As Tears Go By Marianne, but the Working Class Hero, Eyes of Lucy Jordan version -- the smoky-voiced chanteuse, world-wearily commenting on the human condition. Above, she does Broken English, with a video backdrop of warring war and protest images. Timely, indeed.
I know that Faithful can be an acquired taste, but I've always liked the in-your-face attitude and gritty tones of her post-60s-era persona. I only got to see her perform live once, at a small club in Boston in the early 90s. She charmed and challenged the sweating, clamorous crowd, puffing on a long, elegant cigarette holder like some modern-day Marlene Dietrich, growling out melancholy or dryly humorous anecdotes between songs. People brought her lots of bouquets. She bowed and bantered, with intelligence and wit. She brought the house down.

Official website.
August 12, 2006 at 03:05 PM in Saturday Music Hall | Permalink | Comments (0)