Saturday, May 05, 2012
ISPAC Responds to GOP'S Frivolous Retaliation
From ISPAC, Michael Corwin.
Retaliation: The New Mexico GOP filed frivolous allegations with the FEC against ISPAC in retaliation for blowing the whistle on pay-to-play activity by Governor Susana Martinez and others regarding the awarding of the billion dollar plus racino contract (Dirty Downs Deal).
Unable to attack the information we developed, the GOP has resorted to attacking the messenger. ISPAC exposed Susana Martinez's actions in the Dirty Downs Deal which scuttled her political team's (Jay McCleskey) efforts to turn her into a top tier VP selection and to be the national figurehead in the drive to mislead and siphon Hispanic votes away from Barack Obama and Joe Biden.
We have targeted Susana Martinez through our federal PAC because she is in a position to impact the presidential election and we need to prevent that from happening.
On April 5, 2012 ISPAC held a press conference documenting the latest information we developed and forwarded those documents to the New Mexico Attorney General's Office. On April 8, Governor Susana Martinez announced to the world via the Albuquerque Journal that "no means no" when it comes to a vice-presidential bid.
We have more than enough documentation to submit to the FEC to justify our using the federal PAC to benefit President Obama and Joe Biden in their quest to maintain the Hispanic vote.
Presidential Campaign: Before ISPAC received any money from CWA, the Hispanic Leadership Network, (HLN) a national Republican group founded by Jeb Bush, a strong proponent of having a Hispanic on the 2012 GOP ticket, announced that Susana Martinez would be the keynote speaker for this national conference aimed at convincing Hispanics to vote Republican in 2012. By that time, Susana Martinez was mentioned time and again as a possible VP candidate.
Republican presidential nominee-to-be, Mitt Romney, often identified Martinez as a good vice presidential selection throughout his primary campaigns.
Martinez has been mentioned in countless news articles (including those pieces written by the McCleskeys themselves) about her ability to draw high percentages of the Hispanic vote.
Gary Johnson, former Republican presidential candidate turned Independent presidential candidate, has directly attacked Susana Martinez on the presidential campaign trail trying to keep her off of the Republican ticket. He has taken her to task over her efforts to repeal driver's licenses for illegal immigrants.
Martinez has constantly cited President Obama as supposedly supporting her education reform agenda, including sending out mailers to Democrats.
State Super PAC: In May 2011 ISPAC sent notification to both the New Mexico Secretary of State and the New Mexico State Attorney General that we intended to form an independent expenditure PAC.
We provided legal reasoning as to why the $5,000 campaign contribution cap was illegal (per the US Supreme Court) when it came to independent expenditure groups that do not coordinate with campaigns or the party.
We requested a formal opinion, but made it clear that we fully intended to raise unlimited contributions within the state PAC to address state races.
The New Mexico Attorney General's office responded that they were unable to issue a formal opinion unless a state official requested it. We then asked the Secretary of State to make the request. The SOS prepared the request, but never sent it to the AG.
Since that time, the Republican Party has filed a lawsuit to block the $5000 cap and a federal judge has ruled that it cannot be enforced regarding independent expenditure PACs. The judge's ruling was in essence the same as our legal argument.
We believe that the legal argument, and lack of response to our request, are solid enough to support our endeavor.
Finally, we are not going to back down. While the Republicans in this state spend their days promoting an agenda that favors campaign contributors and an elite class of business interests, ISPAC is proud to fight on behalf of working families. Powerful politicians can and should be held accountable.
May 5, 2012 at 09:00 AM in Independent Source PAC, Republican Party, Susana Martinez | Permalink | Comments (3)
Wednesday, May 02, 2012
Republican Senate Candidate Heather Wilson Says "She Can Tolerate the Bullying of Gay Kids"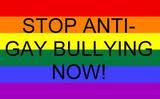 There has been very little media coverage of the statement made by the New Mexico Republican Candidate for Senate Heather Wilson. She recently went on record with an out of touch position regarding the bullying of gay kids.
At a forum in Otero County, Heather ridicules Sen. Al Franken's bill he introduced SB555; the Student Non-Discrimination Act . From Al Frankens website:
"The proposed bill establishes a comprehensive federal prohibition against discrimination and bullying in public schools based on sexual orientation or gender identity. Specifically, the bill would forbid schools from discriminating against LGBT students or ignoring harassing behavior. Fifty years of civil rights history shows that similar laws are effective in preventing discrimination from happening in the first place. Like other civil rights laws, SNDA would prompt schools to avoid liability by taking proactive steps to prevent the discrimination and bullying of students protected by the bill."
"While federal civil rights statutes clearly address discrimination on the basis of race, color, sex, religion, disability, and national origin, they do not explicitly include sexual orientation or gender identity. As a result, LGBT students and parents have limited legal recourse for this kind of discrimination."
The video above shot by American Bridge captures Heather Wilson's entire response to her tolerating of LGBT bullying. Be sure to read her words accompanying the video. She goes on to say it is the parents responsibility to make the kids stronger. No mention of the fact that the harassing and bullying by the bullies is bad. She goes on to say: "It is a act that would criminalize harassment or bullying in schools...of...of a...of children who...uh...mm...who are gay or who-it criminalizes bullying."
Heather sounds like a bully herself in this video. Her final statement in the video of the proposed Franken bill: "it (the bill) actually punish children and say that it's prohibited to express an opinion with respect to homosexuality in the schools...um I just think that's wrong..." Can she really believe what she is saying? So many pauses, and ums and ahs, she is condoning the right of young kids to mock and hurt other kids due to their homosexuality. It is OK for kids to make fun, harass, mock, even hit a fellow student that is maybe gay or lesbian, bisexual or transgender. Imagine the outrage if Heather was admitting this same condoning of bullying of other minorities to say hurtful/hateful words causing emotional and at times physical violence.
Imagine the other Matthew Shepard's, the torturing and the killings Heather Wilson is allowing to have happen, due to uncontrolled rage and hatred towards LGBT people. Bullying today results in a hate crime tomorrow, very easily. Just remember Matthew Shepard.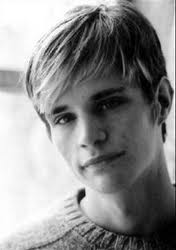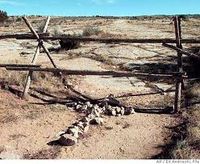 Heather is merely spouting the hatefilled Republican party line. She even calls the bill Franken introduced an "Agenda". Sure we all know the code for "gay agenda." The radical gay agenda which is teaching young people to not hate themselves and to survive the Heathers of the world. Code that prohibits the bullying of young kids, and not having these young kids carry with them self hatred for their lives because of being lesbian or gay. With so many LGBT bullying induced LGBT suicides being in the news currently, it is unconscionable Heather Wilson could say this and not be held accountable.

Heather obviously has not heard of the; "It Get's Better" campaign. In Heather's world it would be "It gets worse." Bullying is real, it hurts, it changes lives, it affects many, it kills, it is wrong and should be stopped at a young age, not condoned by our elected officials. Watch some of the videos recorded on the It Get's Better link above. These are real people on these videos all reminding young people that your life will get better.
Who knows what Heather's sexual preference is? There have been rumors for years that she had a woman lover in Washington DC., was even seen in lesbian bars. The rumor is her husband is gay as well, and their marriage is one of convenience. Honestly, Heather is kind of butchy and her hubby is kind of fem. It is conceivable this could be a marriage of convenience. But how would we ever know and to be clear "not that being gay is a bad thing."
Also, when ever we can bring up the "Heather Wilson cover-up for her husband scandel" we must. Remember how Heather was caught and admitted to lying about removing a file of information regarding her husband and what he did to warrant a CYFD file. A previous post on this website describes this Heather cover-up and can be seen here. What ever her husband did she did not want anyone to see it and this CYFD file has never seen the light of day. One can just assume the contents of the file would have derailed the Heather Wilson train to power.
The Huffington post covered this admittance by Heather Wilson to tolerate the bullying of LGBT kids. You can read the Huff post piece here.
The only local TV news coverage was done by KOAT TV channel 7, their coverage is here. It is appalling that the republican candidate for the United States Senate has the audacity to say this. It is made worse that no main street media has covered this outrageous statement.
May 2, 2012 at 04:18 PM in 2012 NM Senate Race, Civil Liberties, GLBT Rights, Heather Wilson, Republican Party, Youth | Permalink | Comments (2)
Senator Lisa Curtis; Letter to the Editor, re: Commissioner Wiener
To download the letter to the editor, click here. Letter to the Editor Michael Wiener.
Letter to the Editor
"The fat guy smoking Pall Malls, he says he almost married one of those girls. Honest. He met her in a bar one of the last times he was in the Philippines and fell in love, almost bought her a ring and took her home. It didn't work out, though, and he doesn't say why because it doesn't really matter. He shrugs.
The skinny kid with the knobby head understands. Same thing happened to him, sort of. She was 19, beautiful, didn't wear makeup or anything. She was so…what's the word? Simple. You know? "Just give her the American necessities and those are, like, her luxuries," he tells the fat guy. "Let her live like a queen."
The fat guy grins. His front teeth are missing, and he's got hair like an oil slick, long and black and greasy. Oh yeah, lots of those girls want an American husband, and they're not picky, either. "As long as you're not married and you've got an income," the guy says, "you're good to go."
It's four o'clock in the morning in a Japanese airport, thirteen hours out of Detroit Metro, on a layover in Nagoya before the last 1,700 miles to Manila. The fat guy and the skinny kid found each other in the smoking lounge as if they had picked up a shared scent, a couple of misfit white guys dragging halfway around the planet."[i]
Does this sound familiar? This story out of GQ five years ago goes on about buying girls for sex and walking around with them through Angeles City in the Philippines.  It talks about the fake birth certificate that lies the little 13 year old girl being forced to dance in one of those clubs is 19.  This place Commissioner Wiener has been going to for years sells children, boys and girls, and is well-known to the misfit white guys as the easy place to buy children for sex.
We have representative government.  This is my district.  I have three teenage girls – one who is 13 – and Michael Wiener does not represent my family.  So he will not voluntarily resign.  My district, Senate District 21, gets out and votes.  We do not have lynch mobs, like Michael Wiener suggests.  It is my job to speak for my constituents, and I want it to be loud and clear that all – each and every one of the constituents in my district that have talked about Michael Wiener- are appalled and disgusted by the plain truth of those photos.
"He was nervous his first time. It's kind of weird, the way you can buy a girl for a couple of bucks, a different one every night, every hour if you want, walk around town with her and not even pretend it's anything more than a cash transaction."[ii]
Sometimes we vote people into office and sometimes we vote them out.  I have faith that the republican members of my district will come out in droves on June 5th and vote Michael Wiener out of office.  There will be no lynch mob for you, Mr. Wiener.  As the Senator for this district, and more importantly as a lawyer that goes after the perpetrators of childhood sexual abuse under the civil law – I do promise to watch you.  Those photos were a gift to your constituents, and all of us that work to protect children.   We know who we have, now it is the job of the voters to do our duty.  It is the American way.  You do not represent us here in Senate District 21.  We want you out!
Lisa K. Curtis
Senator District 21
[i] Read More http://www.gq.com/news-politics/big-issues/200703/phillipine-sex-clubs-global-sex-trade-part-1#ixzz1tX3Fi8w7
[ii]  "The sex trade, Part 1: Pleasure at Any Price", GQ, Sean Lynn, March 2007
May 2, 2012 at 01:00 PM in 2012 Bernalillo County Commission Race, Guest Blogger, Republican Party | Permalink | Comments (1)
Saturday, April 28, 2012
Republican Party of Sex and Money
Some of the Republican leadership in the state are asking for their colleague Republican Commissioner Wiener to resign. If the Downs Casino betting establishment was open, I would put a bet on this Wiener resignation - Will he or won't he resign?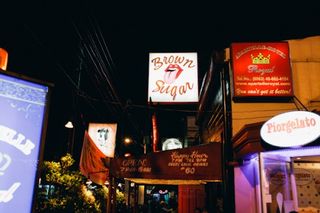 Photo above by Keatley along Wiener's way
Even our friends at the Conservative Abq Journal in an editorial today say Wiener should take the high road and step down. The Journal does not mention his party affiliation though. That he is a Republican does not come out in the editorial. But at least they get to the creepy point of Wiener latest adventure.
The war on woman has heated up dramatically this year, as we all have seen. Even to the point of banning contraception and mandatory vaginal probes before a abortion, even after being raped by the looks and ways of another male like Republican Wiener. Seems like all the churches like Preacher Smothermon at Legacy church should be on their pulpits saying Wiener is the devil. 
The conservative Republicans are experts at the art of "throwing of stones at glass houses." For years we have heard the complaint of Democrats having no family values, morally bankrupt. Wiener is the perfect posterboy for the Republican Party, perhaps the NM republicans should look at their own flock before judging others.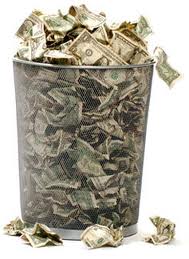 The republicans also hold the constant refrain about dirty money in politics and point the finger at the Democrats. Republican Susana Martinez ran on a platform of routing out corruption and pay to play. Abq Journals daily up-front opinion news columnist Tom Cole, wrote a puff piece earlier this week about the money SusanaPAC made in the first fudraiasing report of this campaign cycle. Cole followed it up today on Saturday with a column with the title "GOP PACS Tops in Donations, Spending."
Yes the Party and gal of "NO PAY TO PLAY" wins out on this money game. Tom Cole states, " As you can see, the lists are dominated by Republican or right leaning groups. The major contributors to the Republican Campaign Committee of NM included oil and gas companies and milk producers." Cole must have had to cough up some of the moths to get that one out.
Earlier this month ISPAC one of the PACs mentioned in Coles piece unveiled a report which was published on this blog (here) but not much anywhere else, calling out Republican Susana for her own corrupt Pay to Play. Susana received out-right bold contributions from the Casino Downs group who won the billion dollar contract of rerunning the State Fair downs which they performed so horribly on previously.
More Hypocrisy. The Downs Pay to Play is not about sex obviously but it is about Pay to Play. The Journal should condemn the Pay to Play exposed by ISPAC. Look into the strong arming and intimidation, of individuals on the State Fair Commission.
Let's remember when the Republican Party states they are so moral and just, let's keep a clear picture of Wiener and the Casino Downs dirty deal of pay to play fresh in our minds.  
April 28, 2012 at 08:50 AM in Democratic Party, Independent Source PAC, Republican Party, Susana Martinez | Permalink | Comments (0)
Thursday, April 26, 2012
Bernalillo County Commissioner Republican Michael Wiener No Stranger to Controversy
Republican Michael Wiener our very own Bernalillo County Commissioner scumbag. 
Republican Wiener is no stranger to controversy. Democratic Party of NM and others were asking for Wiener's resignation back in March 2010 for making racist comments in an email. DFNM did a piece on his racist comments, you can read it here and KRQE has this report from a rally calling Wiener out on his racist comments.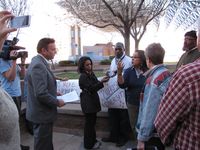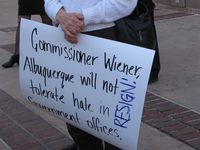 Above DFNM photos from Resign Wiener Rally March 2010
Then there was also this call from the Young Democrats of NM for Wiener's resignation in June 2011. When Wiener allegedly made inappropriate comments towards a female staff member, please read all about that sexual harassment here.
And now we have this scandal, or is it just another day in the life of a New Mexico Republican. Wiener was outed on a double x-rated red light district in Angeles City Philippenes. Just "a flight layover" says Wiener. This guy can just say whatever he wants, how come there is not outrage from his own Republican colleagues and party over this inappropriate behavior? Imagine if it was a democratic leader?
The NMTelegram has a great article about Republican Wiener's latest adventure. The NMTelegram interviews the two reporters who  found the smiley Wiener in the double x-rated red light district. The NMTelegram reports that Keatley and Eric Becker "were in the Philippines for Arts Aftercare, a non-profit that seeks to help survivors of slavery. Keatley and his friend, filmmaker Eric Becker, were to document the sexual slavery and sex trade in the Philippines for the group." The NMTelegram goes on to explain "Keatley was in the Philippines for over a week. "My job was to tell a story of these red light districts, who are these people, try to put a face to it," he said."
Try to put a face on it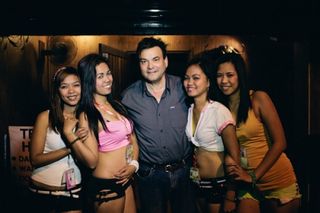 Photo by: Keatley; Republican Commissioner Michael Wiener looking a little disheveled

Of all faces to show up, our very own Republican Bern. County Commissioner Michael Wiener. Keatley and Becker, these two good human beings, outed the smiling Wiener. Keatley and Becker were traveling and reporting and exposing the dirty truth of sexual exploitation Wiener was found in the middle of. Keatley admits he was uneasy having to do this reporting but felt it is important to expose. Look at the age of these young women in this photo flanking Wiener, does it conjure up the exact image of the piece Keatley and Becker set out to expose? "Sex slavery and the buying of women by 40, 50, 60, 70 year old men."
Meet the Fiancee

Photo above by Keatley; Wiener and the future Mrs. Wiener

Michael Wiener works for all of the people in Bernalillo County. By looking at Wiener's own campaign website and facebook page there is not much about his personal life. The only new information is a FB update on April 25th 2012 saying he is "In a relationship." Go figure.
Isn't it weird and creepy? When did he really meet her? How old is she? How long have they been seeing each other? Will anyone ask Wiener these questions? Not to mention the conservative republican hypocrisy for not letting gays and lesbians get married, even after years and years of commitment.
As written in the Abq Journal this morning he is "oh so innocent", just like all the other harassing, rude, sexist, racist, behavior he has been accused of and is innocent of. Look at the age of these girls in these photos on Keatley's journalism piece regarding sex slavery and the buying of women by 40, 50, 60, 70 year old men. Does our very own Bernalillo County Commissioner fit that discripition? Let's help Keatley and his group expose this sexual enslavement prostitution network that they went to great lengths to expose. Commissioner Wiener can do whatever he wants but my expectations of elected officials is way higher than what he consistantly displays.
One more thing: Think of all the Woman's rights issues being attacked, and then think of Republican Michael Wiener. 
April 26, 2012 at 04:59 PM in 2012 Bernalillo County Commission Race, Bernalillo County, Republican Party, Women's Issues | Permalink | Comments (6)
Tuesday, February 21, 2012
District Judge Releases New State House Redistricting Maps for Supreme Court Consideration
By Sterling Fluharty, Owner of Southwest Political Services, www.swpsnm.com
District Judge James Hall released two "preliminary" redistricting maps for the State House last night at 8:00pm.  These maps were drafted at the request of the New Mexico Supreme Court.  They are now available on the website of the New Mexico legislature.
Prior to the Supreme Court's involvement, Judge Hall had adopted Executive Alternative Plan 3, which, according to the Supreme Court, had following features: 1) "the lowest population deviation between districts," 2) "it adhered to the Voting Rights Act," 3) it incorporated the "Multi-Tribal/Navajo Nation plan," 4) "it reasonably satisfied secondary reapportionment policies," and 5) it decided partisan considerations were secondary.  Democrats appealed this map, which had been favored by the Governor, to the State Supreme Court.
The Supreme Court ordered Judge Hall to follow New Mexico's guidelines for redistricting: 1) "Maintaining low population deviations from equal districts using data from the most recent U.S. Census," 2) "Comporting with the Voting Rights Act and federal constitutional standards," 3) "For purposes of Section 2 of the Voting Rights Act, only eligible voters affect a group's opportunity to elect candidates," 4) single-member districts, 5) contiguous and compact districts, 6) respecting political and geographic boundaries, including neighborhoods, 7) "Preserving clear communities of interest" that share "common social, economic, and cultural interests," 8) "Preserving cores of existing districts," 9) minimizing contests between incumbents, and 10) "a judge should not select a plan that seeks partisan advantage," so "partisan bias" needs to be considered.
The Supreme Court shared its conclusions with Judge Hall: 1) "precise population equivalence" cannot be the highest priority, 2) Executive Alternative Plan 3 "did not undergo the same scrutiny for partisan bias that the majority of plans previously considered had undergone,"  3) incumbent pairings "contributed to the partisan performance changes in the plan,"  4) House District 63 in and around Clovis needs to remain an "effective majority-minority district," 5) include the Multi-Tribal/Navajo Nation plan without any change, 6) the regions selected for the three pairings were appropriate, but it needs to be partisan neutral, 7) the District Court was not obligated to adopt the State House map in House Bill 39, and 8) the Governor was rightly allowed to submit redistricting plans.
The Supreme Court sent the case back to Judge Hall and provided "Remanding Instructions": 1) use an expert, 2) parties should not submit additional evidence, 3) "consider historically significant state policies," 4) as allowed or justified by New Mexico guidelines, use "greater population deviations," 5) parties may submit briefs and reintroduce previous maps, 6) Deming, Silver City, and Las Vegas should be kept whole in districts by using greater population deviations, 7) "devise a plan that is partisan-neutral and fair to both sides," 8) any Democrat-Republican consolidation "should result in a district that provides an equal opportunity to either party" or "some other action may be taken to mitigate any severe and unjustified partisan performance swing," 9) District 63 must become an "effective, citizen, majority-minority district as that term is commonly understood in Voting Rights Act litigation, and as it has been represented, at least in effect, for the past three decades," and 10) finish by February 27.
The new maps from Judge Hall succeed at meeting most of the requirements set out by the Supreme Court.  Brian Sanderoff was employed as an expert.  Apparently parties did not submit additional evidence and state policies were reviewed.  Population deviation increased modestly, particularly outside of tribal areas, and stayed within the accepted overall range of plus or minus five percent.  Deming, Las Vegas, Mountainair, and Tijeras were unified.  The extent to which geographic boundaries like the Rio Grande were respected appears to have not changed.  Single-member contiguous districts were preserved.  District compactness and core retention both increased slightly.  The Multi-Tribal/Navajo Nation plan was preserved.  The incumbent pairings stayed at three and in Central Albuquerque it was partisan neutral.  And the maps were submitted a week before they were due.
The new maps from Judge Hall continue to split a few communities of interest in Albuquerque, such as the International District, neighborhood associations like Academy Acres North and Taylor Ranch, and historic neighborhoods like Huning Highland.  Silver City remained split between districts.  The Supreme Court may consider whether these and other examples constitute "clear communities of interest."
Judge Hall's latest maps lack any calculation or mention of the voting-eligible population.  The Supreme Court explained that when determining whether a map fulfilled the conditions of the Voting Rights Act, "the question is whether the minority group has a citizen voting-age majority in the district."  This was a general statement, but the Supreme Court also specified that District 63 must become an "effective, citizen, majority-minority district as that term is commonly understood in Voting Rights Act litigation, and as it has been represented, at least in effect, for the past three decades."  Before redistricting, the voting-age population in District 63 was 54.6% Hispanic.  The executive map approved by Judge Hall reduced the voting-age population in the district to 54.0% Hispanic.  According to census data on citizenship status for the counties and census tracts that coincide with the precincts in District 63, the new maps create a district with a voting-age population of 17,973, of which 10,038 (55.9%) were Hispanic, and a voting-eligible population of 15,865, of which 8,032 (50.6%) were Hispanic.  The Supreme Court may not consider this slight majority "effective."
It remains uncertain whether the Supreme Court will consider the new maps from Judge Hall "partisan-neutral and fair to both sides."  The political performance for both of the new maps is 38 Democratic and 32 Republican districts.  These numbers happen to coincide with the political performance for the districts as they are currently drawn.  But the political performance model used by Judge Hall determined statewide voting over the last decade was 53% Democratic and 47% Republican.  If the Supreme Court decides that proportional representation is the best way to remove partisan bias, then they may prefer a State House map that contains 37 Democratic and 33 Republican districts.  But this scenario may only happen if the Supreme Court believes that increasing the number of Democratic districts from 36 in the executive map to 38 in the new Judge Hall maps meets their definition of a "severe and unjustified partisan performance swing."
February 21, 2012 at 03:51 PM in Democratic Party, Redistricting, Republican Party | Permalink | Comments (0)
Friday, February 17, 2012
State House Redistricting Case Moves Forward in Federal Court
Guest Blog post By Sterling Fluharty, Owner of Southwest Political Services www.swpsnm.com
A panel of three federal judges (Hartz, Black, and Johnson) met this afternoon in Albuquerque to consider taking jurisdiction for redistricting of the State House of Representatives. After two hours of presentations, questions, and answers, they set a briefing schedule for the parties that will occur over the next ten days.
Republicans (the plaintiffs for now) filed in federal court last Monday and Democrats asked to intervene in the case. Republicans argued that the New Mexico Supreme Court gave Judge James Hall unconstitutional instructions when they told him how to produce a new State House map by February 27. Democrats sided with the state Supreme Court and argued that the federal court should not get involved. Today the judges granted all motions to intervene, but did not decide who will ultimately be the defendants and plaintiffs if this case moves forward. According to Republicans, the Navajo Nation and other persons who were not parties to the state cases are contemplating intervention.
The Attorney General's office argued that they should have represented the Secretary of State at today's proceedings. The Secretary of State's position is that she has hired her own independent counsel. The federal judges told the Attorney General's representative that his office could file an Entry of Appearance, and begin to receive electronic notices and participate in the proceedings, as soon as today. The Attorney General's office has until Tuesday to resolve the question of who represents whom.
The judges said today, "The big issue for us is our authority." Democrats argued that state Supreme Court decisions are generally appealed to the U.S. Supreme Court. The judges asked the parties to respond to the question of whether they have higher authority than the state Supreme Court. The judges were surprised that Republicans wanted a decision from them before Judge Hall finishes his work. Democrats and Republicans were both ordered to submit briefs on this question by Wednesday with replies by Friday.
Republicans argued the state Supreme Court gave Judge Hall unconstitutional instructions in requiring a redistricting map in which communities of interest would be a higher priority than the constitutional principle of "one person, one vote." You "can't build a house on a faulty foundation," they argued. Democrats argued that Judge Hall's map will likely be constitutional and he needs to produce a map before it can be ruled unconstitutional. Judge Hall began working this week with Brian Sanderoff, an expert witness, on the new map. Briefs on the constitutionality question are due Thursday with replies the following Monday.
Republicans argued for an expedited court case, since candidate and election administration deadlines are quickly approaching. State statute allows the Governor and Secretary of State to issue and amended proclamation on March 6. March 20 is deadline for declaration of candidacy and nominating petitions, with certification on April 10. County clerks will start sending out ballots to military personnel stationed overseas on April 20. Republicans argued a State House map has to be ready by March 5, or it will be impossible for candidates and officials to meet election deadlines. Democrats argued the federal court could allow the election to proceed under a flawed map, if the correct map was in place for the 2014 election. Briefs on the authority to delay election dates are due Thursday with replies the following Monday.
With this briefing schedule, the federal judges will have all briefs and replies submitted by Monday, February 27, which is also the deadline for Judge Hall's revised map. Based on their questions and decisions today, the federal judges appear ready to master the relevant materials (such as transcripts and opinions), to proceed with this case, and to consider or draft maps, if three conditions are met: 1) only after Judge Hall finishes his work, 2) if they are persuaded it is necessary, and 3) they are convinced they have the authority. Two of the judges are Republicans and one is a Democrat, one of the Republicans is known for being quite fair, so neither Democrats nor Republicans should expect preferential treatment as this case moves forward.
February 17, 2012 at 07:23 PM in Democratic Party, Legal Issues, Redistricting, Republican Party | Permalink | Comments (1)
Friday, February 10, 2012
Representative Antonio 'Moe' Maestas Comments on NM Redistricting Supreme Court Order to Lower Court
Back to the drawing board for the complex redistricting for the State of New Mexico House of Representatives new districting map, developed off of 2010 census info. The NM Supreme Court rejected the republican map which Governor Martinez brought forward. The more democratic map; the map passed by the legislators in the special session in September 2011 was vetoed by Martinez. Thereby sending the House of Rep mapping to Judge Halls Court. Where Judge Hall sided with the Republican redistricting map favored by Martinez. For a very good recap of the redistricting fight, up to the point of Hall's decision, see this post here from the conservative NM Watchdog website. If you can bear it read down to the comment posted at the end of the write up. There are good maps to reference within this post.
After Judge Halls decision Rep. Moe Maestas and Rep. Brian Egolf brought a suit to the Supreme Court of NM challenging Hall's ruling. Now if we fast forward to today: today we got the Supreme Court ruling which was 4 to 1 to not approve the Judge Hall's ruling and map. If you want to read the Supreme Court ruling issued today see this link Redistricting-Order.
Representative Moe Maestas had this to say about the Supreme Court ruling today: "It is a great day for all New Mexicans. We are very pleased that the Governor's proposed map received a thorough review by the highest court in the land and the remand to the District Court is totally appropriate.  Redistricting is about the beautiful communities of our state and should never be utilized for a partisan power grab. The new districts will now be drawn to reflect centuries-old communities of interests instead of being drawn by DC partisans."
Thank you Representative Moe Maestas and Rep. Brian Egolf and the others who did not stop fighting for the fair representation People of NM!
The next decision from Judge Hall who has to reconsider the map is scheduled for February 27, 2012.
February 10, 2012 at 04:55 PM in Democratic Party, Redistricting, Republican Party | Permalink | Comments (8)
Wednesday, November 30, 2011
New Ad Released Exposing MittyMitt's Lack of Consistency on Core Issues
From the Democratic Party of New Mexico; Albuquerque N.M. one of six markets where "Trapped" television ad is airing
On November 28, 2011the Democratic National Committee released a hard-hitting web video highlighting Mitt Romney's stunning inability to maintain a single position or establish core principles on a range of issues for any reasonable period of time. In conjunction with the release of the web video, the DNC also released a new television spot "Trapped," further highlighting Mitt's willingness to say or do anything to win the Presidency.
The ad is airing in 6 key markets, including New Mexico:
The TV ad is a trailer for the longer, must-see video: "MittvMitt.com: The story of two men trapped in one body." Both can be found on the DNC'S new website, MittvMitt.com - Giving the public an in-depth view of Mitt Romney's ideological struggle against himself on issues from the economy and immigration to a woman's right to choose and workers' rights.
"The new ad makes a strong point: Mitt Romney is a chronic waffler who lacks the strong principles and ethical compass that is required of candidates for the highest office in the land. No matter how hard he tries to deceive and mislead New Mexicans on his positions, we will continue to hold him accountable to his own record." said Democratic Party of New Mexico Chairman Javier M. Gonzales.
"Mitt Romney has literally reversed himself - sometimes within the same day - on immigration, TARP, abortion, the stimulus, healthcare reform and more, but New Mexicans aren't buying Romney 2.0 anymore than they were before."
The ad also launches in Raleigh-Durham, NC; Columbus, OH; Pittsburgh, PA; Washington, DC; and Milwaukee, WI on a mix of broadcast and cable.
Please visit the website at MittvMitt.com.
November 30, 2011 at 06:51 PM in 2012 Presidential Race, Mitt Romney, Political Ads, Republican Party | Permalink | Comments (0)
Wednesday, October 26, 2011
Hector Balderas: Why Cain's Electrified Fence Is Not So Shocking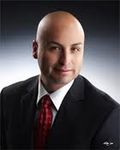 Today, NM Democratic candidate for Senate Hector Balderas wrote an op-ed that appeared in the Huffington Post Latino Voices about how GOP presidential candidate Herman Cain's offensive and unbecoming call for an electrified border fence is not shocking, considering the rest of the Republican agenda. It can be found HERE, or see the full text below.
An electrified fence. On the border. Designed to kill people. Along with "real guns with real bullets."
This is the immigration "plan" recently proposed by Republican presidential candidate Herman Cain.
And he's one of his party's frontrunners.
There's no question that immigration is a serious issue that needs to be addressed. No one wants to see people entering this country illegally -- that's why we need bipartisan, comprehensive immigration reform in this country. We need leaders who aren't afraid to take up this problem and acknowledge the realities of how we live. For too long, Washington has failed in its responsibilities and not lifted a finger to do anything about this issue.
But Mr. Cain doesn't support bipartisan immigration reform. Neither do any of the other Republican presidential candidates. They all oppose a path to citizenship. They all oppose a federal DREAM Act. They all support Arizona's draconian law that promotes racial profiling.
Instead, Mr. Cain supports electrified fences, guns and bullets. His proposal is not just offensive to the Hispanic community but unbecoming of someone seeking high office, and it flies in the face of everything this great country stands for.
After repeating his comments several times, Mr. Cain said he was merely joking. But there's nothing funny about the violent imagery he's espoused. His comments are reprehensible and should be condemned.
Instead, what we got from the other Republican candidates was silence. They spent the most recent debate pandering to the worst elements of the Tea Party and arguing over who was the most right-wing, but not one critical word was said about Mr. Cain's remarks.
Disappointing? Yes. Surprising? Sadly, no.
The Republicans running for president, and many running for other office (like Senate candidate Heather Wilson in New Mexico) have embraced a Tea Party agenda that will hurt many average Americans -- but will be particularly devastating to Hispanic Americans.
While Mr. Cain may try to laugh off his offensive comments about an electrified fence as a joke, there are very serious consequences to the Tea Party agenda shared by Cain, Romney, Rick Perry, Heather Wilson, and Republican candidates across the country. Thirty-one percent of New Mexico Hispanics under the age of 17 live below the poverty line. Yet the Republican candidates continue to coddle Wall Street, millionaires and large corporations while proposing to slash Medicaid funding, causing 36 million people to lose their coverage. And they would cut food stamp benefits for a family of four by nearly $1,800 a year. As someone who grew up in public housing while living on food stamps, that's no laughing matter.
Nearly half of New Mexico's Hispanic students don't graduate from high school. Many of them come from rural communities that are among the most economically distressed in the country. Yet the Republican candidates have a plan that would cut federal spending for education and training by 25 percent -- it would cut 320,000 children from Head Start and cut assistance for families trying to send their children to college. As the first from my town to graduate from law school, the husband of a public school teacher, and father of children in New Mexico public schools, that's not funny.
There are over 60,000 Hispanic senior citizens in New Mexico. Yet the Republican candidates have proposed privatizing Social Security, putting it at the mercy of a volatile stock market. And they support eliminating Medicare as we know it, increasing costs for seniors by $6,400. As someone who was raised by a single mother that now relies on Medicare, there is nothing funny about that.
For too long, the wealthy and powerful have benefited from Washington policies that continue to help them at the expense of everyone else. Rather than focus on policies that will grow our economy, create jobs, hold both Washington and Wall Street accountable, and lift everyone up by bringing people together, Republicans and the Tea Party have decided that it is in their political interest to continue dividing us by pitting us against one another.
Mr. Cain's remarks take that to a whole new level. That, I'm sorry to say, is no joke.
And, sadly, given the harmful plans they have for the country, his "joke" about an electrified fence is not that shocking all.
Hector Balderas is a candidate for the Democratic nomination for the U.S. Senate from New Mexico. If elected, he would be the first Hispanic Senator from New Mexico since 1977. He was elected New Mexico's State Auditor in 2006 at the age of 33 (making him the youngest statewide Latino elected official in the nation), and he was overwhelmingly reelected in 2010. For more information, visit www.HectorBalderas.com.
October 26, 2011 at 06:11 PM in 2012 NM Senate Race, Border Issues, Hector Balderas, Hispanic Issues, Immigration, Republican Party | Permalink | Comments (1)
Monday, October 24, 2011
Lora Lucero: Open Letters to Democrats and Republicans on Occupy Wall Street (OWS)
This is a guest blog by Lora Lucero, a long-time resident of Albuquerque, NM, an adjunct professor of law at UNM and the Natural Resources Director for the League of Women Voters of New Mexico.
Open Letter to Democrats
As a fellow Democrat, I "get" your enthusiasm for the Occupy Wall Street (OWS) movement and the protesters gathering in Albuquerque, Santa Fe, Taos and Las Cruces. These young people, old people, veterans, union members and others are putting their bodies on the line and their voices to the bull horns for many of the same values that the Democratic Party considers its bedrock principles. I don't speak for the OWS but we've all heard that their demands include social and economic justice for all Americans, accountability from Wall Street for the mess it has created and reining in the influence of corporations, lobbyists and money in our elections.
We may not be able to camp out and sleep on the ground with them, but we certainly want to show our support and align ourselves with the OWS energy. A couple of examples of Democrats supporting the OWS this week, however, raised alarm bells for me.
The UNM Teach-In at the Student Union Building presented good speakers all week on topics of interest to the OWS movement. I attended one day and heard a CNM professor talk about the history of protest movements and the importance of organizing strategically to grow the OWS movement. He then urged the OWS protesters sitting in the audience to redirect their energy into electoral politics, and specifically urged them to support a specific Democratic candidate running for Congress in CD-1. I cringed when I heard this, even though I personally support his candidate.
The second "cringe" moment occurred this weekend when I heard that Democrats were going to march with the OWS and carry their Democratic Party banner. Ouch!
Let's be frank. The 99% (as the OWS protesters call themselves) have a lot of work to do to grow the OWS movement. They need our support and active participation. Every Democrat should attend at least one Assembly meeting at Yale Park next to the UNM Campus Bookstore.
Truthfully, however, the OWS movement would not have captured as much of the popular outrage among Americans if the Democratic Party had been true to its bedrock principles over the past twenty years. Many Democrats see very little difference between the political parties. Young people even question the wisdom of voting --- and I don't blame them.
The Democratic Party has failed the 99% and should acknowledge its failure. I don't believe we have much to teach these OWS folks, but we can certainly learn alot. Having spent hours watching and listening during their Assembly meetings, I know these young people have wisdom beyond their years.
Please don't misunderstand me. I encourage people of every stripe to actively engage with the OWS movement, but let's do so humbly and with respect, as individuals who identify with the hopes and aspirations of the 99%. Individuals can support the OWS by:
Donating pizzas and eats
Donating warm clothing and bedding
Donating supplies for signs, bullhorns, flashlights, etc.
Attending Assembly meetings and actions as individuals
Increasing the OWS visibility in the community by writing letters to the Editor, talking to neighbors and putting up a 99% sign in your yard.
Meanwhile, the Democratic Party has a lot of work to do to regain the faithful, perhaps the subject of another letter. But please don't try to turn the OWS movement into a partisan movement. It isn't and it won't be. As one OWS leader said at the UNM Teach-In last week in response to the discussion about organizing: "It is complex when we have such a diverse group. We need to speak about our commonalities, but also acknowledge the differences and respect how we see the world differently."
Open Letter to Republicans:
As a life-long registered Democrat, I don't "get" you but many friends and family members are registered Republicans, and so I want to extend an invitation.
Please check out the Occupied Wall Street (OWS) movement in your town. When you hear protesters shouting "We are the 99%" --- please know that they are building a movement big enough for everyone. We may have very different ideas about how to fix things, but I suspect we can find agreement on what is broken.
The growing income disparity in this country impacts us all. The lack of accountability by our government and corporate America should alarm everyone. The diminishing prospects for my granddaughter's future are shared with your grandchildren.
We don't have to agree on everything, we just need to listen respectfully. That is exactly what I have seen at every OWS meeting that I have attended.
People with divergent views and opinions come together to share, discuss, hash out and decide together what direction to take. I was stunned and thrilled when a middle-aged, self-identified Tea Party person attended and shared her ideas with the OWS folks. They listened to her deeply and with respect. She was heard and could see for herself how her words were influencing the group.
This is a watershed moment and we're lucky to be alive to witness it. Let's not be mere observers though.
This is a guest blog by Lora Lucero. To submit a piece for consideration as a guest blog, contact me by clicking on the Email Me link at the upper left-hand corner of the page.
October 24, 2011 at 03:31 PM in Democratic Party, Guest Blogger, Occupy Wall Street (Everywhere), Republican Party | Permalink | Comments (11)
Wednesday, October 12, 2011
Action Alert: New Mexicans Renew Call for State Republicans to Return Iran-funded Campaign Contributions
On word that the US Department of Justice has indicted two men working for the Iranian government on charges that they attempted to assassinate the Saudi Arabian ambassador and possibly injure hundreds of innocent Americans in a terrorist attack on American soil, New Mexicans are renewing last week's call for Governor Susana Martinez, Congressman Steve Pierce and the New Mexico Republican party to return tens of thousands of dollars in campaign contributions received from corrupt business interests who are reported to have benefited from illegal oil and equipment sales to the terrorist-sponsoring state.
In the story first published here on the Democracy for New Mexico blog last week, the New Mexico GOP and its candidates were big beneficiaries of Koch Industries donations in their 2010 campaigns. Together, they accepted $25,000 in donations from Koch Industries and KOCHPAC to fund races for governor, congress and state races across the state. Governor Martinez even used money from that same account to launch her SusanaPAC political action committee to continue her campaign efforts in 2011 and beyond.
A Bloomberg report recently called into question the legality of Koch profits which benefited the GOP. Koch is alleged to have skirted US embargoes to illegally sell oil equipment to Iran in violation of US law.
Responsible New Mexicans are continuing to call on Martinez and the GOP to return the contributions or donate them to causes working to advance New Mexican issues. To date, no response has been received.
Take Action: If you're disturbed about the kind of tainted money that is making it's way into right-wing Republican hands right here in New Mexico, you are urged to contact Gov. Susana Martinez, NM-02 Congressman Steve Pearce (or call 855-4-PEARCE (732723) or (202) 225-2365) and the Republican Party of New Mexico.
October 12, 2011 at 05:58 PM in Action Alerts, Iran, Koch Brothers, Republican Party, Right Wing, Steve Pearce, Susana Martinez | Permalink | Comments (0)