Tuesday, October 13, 2009
Terry Riley Guest Blog: Do Demonstrations Work?
This is a guest blog from Albuquerque activist Terry Riley.
Do demonstrations work? I listened to Elliot Adams on Sunday at the Pentagon for Peace presentation at the Immanuel Presbyterian Church on Silver SE in Albuquerque. Elliot is the past president of Veterans for Peace. He feels that though we have not stopped the Iraq war/occupation or the Afghanistan war/occupation we have extremely likely prevented a pre-emptive attack on Iran. Now, that is really quite an accomplishment! We have likely also had an impact on how the military industrial complex has conducted themselves in Iraq and Afghanistan, though it is hard to imagine that it could be much worse.
Locally, here in Albuquerque there was a recent demonstration in response to a young mother who is dying of an extremely rare disease. The reason for the demonstration was that her insurance company, Presbyterian Health Care, had chosen to stop providing a (extremely expensive) medicine that was giving her relief even though her insurance premiums have always been paid. The demonstration was held in front of Presbyterian Hospital on a Sunday afternoon and, in addition to this action, many people e-mailed the head of Presbyterian Health Care in support of Kendra.
Yesterday the Albuquerque Journal had a front page article announcing that Presbyterian Health Care has begun providing that medicine for her again. There are many details and certainly many influences to Presbyterian's decision, but I believe that the demonstration and the e-mails applied pressure in support of Kendra.
I believe that demonstrations do work. Demonstrations are not the only avenue to take but they are a necessary part of a strong campaign to support or oppose an important issue. Please consider this when you read the next request for people to come out and stand in the streets. We do matter, we do affect the outcome. We do need more people to join us so that our issues are acted on more quickly, please join us, we have a world to save, environmental issues, military issues, healthcare issues, etc.
This is a guest blog by Terry Riley. If you'd like to submit a piece for consideration as a guest blog, contact me by clicking on the Email Me link on the upper left-hand corner of the page.
October 13, 2009 at 10:58 AM in Afghanistan, Guest Blogger, Healthcare, Iran, Iraq War, Peace | Permalink | Comments (3)
Monday, October 12, 2009
Stories & Testimony of Darfur: Theatrical Drama Set for 10/24
The Albuquerque Chapters of the United Nations Association and Anmesty International, along with Albuquerque Project Darfur, invite you to attend a special theatrical production of:
DARFUR
THE PROSECUTION AND DEFENSE OF OMAR AL-BASHIR
PRESIDENT OF SUDAN

VOICES OF DARFUR, VOICES OF KHARTOUM
VOICES OF HOPE, VOICES OF DESPAIR
VOICES OF ANGER, VOICES OF POWER
PEACE AND JUSTICE? PEACE OR JUSTICE?
IMPUNITY FOR WAR CRIMES?
The dramatic presentation features stories and testimony by the people of Darfur, by government officials of Sudan, by observers, by advocates, by journalists and from the United Nations and the International Criminal Court.
The free event is set for Saturday, October 24, at 2:00 PM at the Albuquerque Peace and Justice Center at Harvard and Silver. Donations are welcome. Fore more information, contact call 869-4212 or email prattsalwm@comcast.net.
October 12, 2009 at 02:13 PM in Events, Genocide, International Relations, Military Affairs, Peace, Poverty | Permalink | Comments (0)
Friday, October 09, 2009
Commentary on Obama's Nobel Peace Prize: DPNM Chairman Javier Gonzales, IAEA's ElBaradei
Democratic Party of New Mexico Chairman Javier Gonzales released the following statement today in response to President Barack Obama being awarded the Nobel Peace Prize. I think he gets it right:
"I would like to commend the Nobel Committee for their selection today of President Obama as the 2009 Nobel Peace Prize recipient. I agree with the President that this award gives momentum to a set of causes that he is championing around the globe. In recognizing the President, the Nobel Committee has not awarded his accomplishments, but rather his vision to bring nations together and reestablish America as a leader in the quest for peace. Anyone who tries to attack the President for receiving this award, as RNC Chairman Michael Steele did today, will only continue the cavalier attitude towards other nations that we hoped had left Washington with the Bush Administration."
I didn't know what to think when I first heard about Obama receiving the Prize. I joined in the talk about whether he deserved it after he had only been in office about nine months. Then I watched this video of an interview with IAEA Director General Mohamed ElBaradei, who lays out -- especially in answer to the third question -- the thinking behind Peace Prize awards:
The IAEA and Dr. ElBaradei received the Nobel Peace Prize in 2005.
Here are President Obama's remarks today on learning of the award. Excerpt:
I am both surprised and deeply humbled by the decision of the Nobel Committee. Let me be clear: I do not view it as a recognition of my own accomplishments, but rather as an affirmation of American leadership on behalf of aspirations held by people in all nations.

To be honest, I do not feel that I deserve to be in the company of so many of the transformative figures who've been honored by this prize -- men and women who've inspired me and inspired the entire world through their courageous pursuit of peace.

But I also know that this prize reflects the kind of world that those men and women, and all Americans, want to build -- a world that gives life to the promise of our founding documents. And I know that throughout history, the Nobel Peace Prize has not just been used to honor specific achievement; it's also been used as a means to give momentum to a set of causes. And that is why I will accept this award as a call to action -- a call for all nations to confront the common challenges of the 21st century.

... this award must be shared with everyone who strives for justice and dignity -- for the young woman who marches silently in the streets on behalf of her right to be heard even in the face of beatings and bullets; for the leader imprisoned in her own home because she refuses to abandon her commitment to democracy; for the soldier who sacrificed through tour after tour of duty on behalf of someone half a world away; and for all those men and women across the world who sacrifice their safety and their freedom and sometime their lives for the cause of peace.
October 9, 2009 at 05:48 PM in Democratic Party, Environment, International Relations, Peace | Permalink | Comments (7)
Monday, September 28, 2009
Pentagon of Peace to Visit New Mexico in October
From Veterans for Peace:
PENTAGON OF PEACE:
"FIVE FOR TRUTH"
New Mexico Tour Presented by
VETERANS FOR PEACE:
Taos, Santa Fe and Albuquerque
OCTOBER 9, 10 & 11TH

Click for schedules and flyers for all three locations.
September 28, 2009 at 11:27 AM in Afghanistan, Books, Events, Iran, Iraq War, Military Affairs, National Security, Peace, Progressivism, Santa Fe, Taos | Permalink | Comments (0)
Friday, June 05, 2009
David Barsamian to Speak in Santa Fe on Obama, Afghanistan and Pakistan
Note: The Santa Fe Reporter has an interview with David Barsamian conducted in advance of his appearance in Santa Fe.
From Veterans For Peace Santa Fe: David Barsamian will give a speech on Tuesday, June 9th, at 6:00 PM at the CCA Cinematheque at 1050 Old Pecos Trail in Santa Fe on the topic, "The War Expands: Obama, Afghanistan and Pakistan." The suggested donation $5. Please RSVP by calling 982-1338.
What's really going on in Afghanistan and Pakistan? Why is U.S.involvement rapidly escalating? Is our exit strategy from Iraq merely to send those troops to Afghanistan? Noted author and media scholar David Barsamian reveals how, though the Obama administration no longer uses the phrase "war on terror," it is waging one on the Afghanistan-Pakistan border, doubling troop strength and greatly expanding attacks on Pakistan that increasingly destabilize that impoverished country.
Throw in nukes, feudalism, an emboldened Taliban, a collapsing infrastructure and you have a volatile cocktail that could explode in Washington's face and undermine the Obama presidency. Is this the change we can believe in?
David Barsamian is the award-winning founder and director of Alternative Radio, the independent weekly series based in Boulder, Colorado. His books include Targeting Iran, and What We Say Goes with Noam Chomsky; Speaking of Empire & Resistance with Tariq Ali; and Original Zinn with Howard Zinn. His earlier books include The Checkbook and the Cruise Missile with Arundhati Roy; Imperial Ambitions with Noam Chomsky; Eqbal Ahmad: Confronting Empire and The Decline and Fall of Public Broadcasting.
Barsamian lectures around the world on subjects including U.S. foreign policy, corporate power, the media, and propaganda. He is winner of the Media Education Award, the ACLU's Upton Sinclair Award for independent journalism, the Rocky Mountain Peace and Justice Award and the Cultural Freedom Fellowship from the Lannan Foundation. The Institute for Alternative Journalism named him one of its Top Ten Media Heroes. In December 2007 he delivered the prestigious Eqbal Ahmad lectures in Pakistan in Karachi, Islamabad, and Lahore.
Alternative Radio can be heard at 6:00 PM Saturdays on KUNM and 4 PM Sundays on KSFR.
June 5, 2009 at 09:10 AM in Afghanistan, Books, Events, Military Affairs, Obama Administration, Peace | Permalink | Comments (0)
Saturday, May 30, 2009
KUNM's Social Justice Fair with David Barsamian Set for 6.8.09

From KUNM: David Barsamian, the award-winning founder and director of Alternative Radio, will be speaking at KUNM's first-ever Social Justice Fair on Monday, June 8th. We invite you to come to the UNM Continuing Education Conference Center at 1634 University Boulevard NE in Albuquerque at 6:30 PM to check out what local organizations are doing for social justice, and then stay for David Barsamian's speech at 7 PM. He is a witty and engaging speaker, and we will be giving out quite a few really great door prizes (CDs, restaurant gift certificates, etc.) to people in random numbered seats.
Barsamian has been working in radio since 1978. Over the years he has interviewed the likes of Angela Davis, Ralph Nader, Vandana Shiva, and Carlos Fuentes. In addition to his radio work he is an author and lecturer. His interviews and articles appear regularly in The Progressive, The Nation, and Z Magazine. He is the author of numerous books with Noam Chomsky, Howard Zinn, Eqbal Ahmad, Tariq Ali and Edward Said. His series of books with Chomsky, America's leading dissident, have sold in the hundreds of thousands and have been translated into many languages. His latest books are What We Say Goes with Noam Chomsky and Targeting Iran. Barsamian also lectures on U.S. foreign policy, corporate control, the media, and propaganda.
Tickets for the event are $5, but if you are a current KUNM member and reserve your tickets ahead of time, you will pay for only 1 but get 2. It's a benefit of membership.
To reserve your 2 tickets for the price of 1, call Cris Nichols at 505-277-3968 or Carol Boss at 505-277-0768 before 5 PM on Thursday, June 4th. The 2-for-1 membership special will NOT be available at the door because we need to verify that your membership is current and we do not want to tie up a line at the event by checking against a roster of thousands of current members.
May 30, 2009 at 09:57 AM in Books, Events, International Relations, Iran, Justice, Middle East, Peace, Progressivism, Public Policy | Permalink | Comments (0)
Thursday, May 21, 2009
Check Out Events During Taos Peace Week May 26-31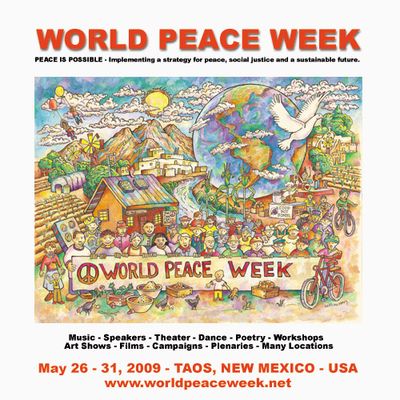 The Taos Peace House and Town of Taos is hosting the First Annual World Peace Week, May 26-31, 2009. Grassroots organizations and individuals interested in world peace will gather for a five-day experience of celebrating, creating, and strategizing for peace in their communities, lives and world. Peace Week is driven by the general inquiry, "What Does Peace Enable Me To Do?" Click to read the Town of Taos resolution about Peace Week.
The weeklong conference takes place at Taos Convention Center, KTAO Solar Center, Kit Carson Park, and other local venues. Peace Week is organized around programs and presenters with themes of non-violent conflict resolution and social change, war veterans insights on war and peace, healing scars of war and PTSD, industrial hemp and medical marijuna, Fair Trade and sustainable living, meditation and massage, sacred activism, social evolution of humanity, and Israeli and Palestinian peace-making.
Plenaries to strategize for peace, orientation, and classes are based upon C.T. Butler's Formal Consensus model for facilitating meetings and making democratic decisions. Open Space Technology will allow for spontaneous meetings, discussions and strategizing for peace. People will enjoy the health and wellness tent with massage demostration, exhibit and vendor hall, "A Piece for Peace" art show, and food by DragonFly Cafe, as well as music and entertainment.*
For Vets: On Friday, a powerful program with varied aspects will feature and offer resources and support for current and past veterans -- especially those interested in furthering peace efforts in a personal and conscious way. The Joan Duffy Chapter (Santa Fe) of Veterans for Peace is encouraging and facilitating ride sharing to enable more people to attend. Chapter President Bob Gaines will coordinate those who offer and those who need rides. Contact him at gaines@comcast.net.
For detailed information, a schedule of events and a registration form, visit the Taos World Peace Week 2009 website at www.worldpeaceconference2009.org/.
May 21, 2009 at 08:35 AM in Events, Food and Drink, International Relations, Middle East, Music, Peace, Progressivism | Permalink | Comments (0)
Friday, April 17, 2009
Events with Cindy Sheehan in New Mexico Today Thru Tuesday
Noted peace activist, Gold Star Mother and former California congressional candidate Cindy Sheehan is visiting New Mexico in connection with her Seat of Our Pants tour promoting her new internet book, Myth America, and has events scheduled starting today and ending on Tuesday, April 21, 2009 according to Stop the War Machine. You can see her full schedule below the break:
Friday, April 17th, Albuquerque:
7:00 PM: Cindy is to appear on the Indy Media Show, Comcast Cable Public Access Channel 27, which you can also watch online.
Saturday, April 18th Albuquerque:
10:00 to 11:30 AM: Local women activists welcome Cindy to New Mexico, hosted by Patti Howe, Ethel Mae Stone and Barbara King at The Albuquerque Center for Peace & Justice, 202 Harvard Drive SE.
Noon to 1:00 PM: Carol Boss to interview Cindy at the studios of KUNM radio
1:15 to 2:30 PM: To attend the weekly Nob Hill Peace Rally at Tulane and Central. The time will have to remain flexible based on how long the interviews with Carol Boss will take.
Sunday, April 19th, Santa Fe:
3:00 to 4:30 PM: Cindy to address the Peace and Justice Community of Santa Fe at the Unitarian Universalist Church,107 W. Barcelona Road, Santa Fe, NM
4:30 PM to 5:30 PM: Cindy to sign books at a Mix and Mingle gathering at the Unitarian Universalist Church, 107 W. Barcelona Road, Santa Fe, NM
Monday, April 20th, Taos:
1:00 to 1:30: In-studio interview with Jim Ball of KVOT Radio, 1340 AM
4:00 to 4:30 PM: Telephone interview with Deb Nichols, Program Director for KRZA radio Taos, New Mexico and Alamosa, Colorado. The interview will be live from 4 to 4:30 PM and will be rebroadcast Tuesday morning from 8 to 8:30 AM.
More activities in Taos (For info, contact seaovertea@gmail.com)
Tuesday, April 21st, Albuquerque:
2:00 to 3:00 PM: MEPJA's $30 Billion Billboard Campaign dedication ceremony on Menual east of Juan Tabo
7:00 to 10:00 PM: Cindy to speak at Smith Brasher Hall on the CNM campus (southwest corner of University and Coal). Free admission.
Iraq Veterans Against the War, Stop the War Machine and Veterans For Peace are hosting Sheehan's New Mexico visit.
Cindy Sheehan began her anti-war activism after her oldest son, Casey, was killed in Iraq on 04/04/04. She rose to international prominence when she camped on the literal doorstep of George Bush's Crawford Ranch in August 2005.
In addition to being nominated for the Nobel Peace Prize in 2005, she has received dozens of peace awards from all over the world and has published three books: Not One More Mother's Child; Dear President Bush; and Peace Mom: A Mother's Journey Through Heartache to Activism.
Cindy recently published an internet book titled, Myth America: 10 Greatest Myths of the Robber Class and the Case for Revolution. According to a press release, she is currently on tour with this book to spark the dialogue and activism we need to separate ourselves from oppressive Robber Class Systems. Her new book can be ordered for a minimum 10 dollar donation at: www.CindySheehansSoapbox.com and the book will be emailed to you.
April 17, 2009 at 11:25 AM in Books, Corporatism, Economy, Populism, Events, Peace | Permalink | Comments (0)
Friday, April 03, 2009
Mark Rudd to Appear in Santa Fe, ABQ, Silver City, Rio Rancho to Discuss Book and Film on SDS, Weathermen
Mark Rudd -- yes that Mark Rudd from the Sixties who's been a New Mexico resident for many years now -- will be appearing at El Museo Cultural at 1615 Paseo de Peralta in Santa Fe TODAY, Friday, April 3. He'll be reading and signing copies of his new book, Underground: My Life with SDS and the Weathermen, from 5:30 to 7:00 PM. There will also be a showing of an award-winning Weather Underground documentary film from 7:00 to 8:30 PM, followed by a discussion with Rudd. Sarah West, world renowned Mystic Opera composer and performer, will open the event with a Song of Peace.
Rudd will also appear in Albuquerque on Tuesday, April 7, at 7:00 PM for a reading and booksigning at Bookworks, 4022 Rio Grande Blvd NW. He'll be in Silver City on Tuesday, April 14, from  5:00 to 7:00 PM for a  booksigning party at Javalina's Coffeehouse. On Thursday, April 16, he'll be in Rio Rancho at 6:30 PM for a reading and booksigning at the Esther Bone Library, 950 Pinetree Rd. SE. 
See Rudd's website for more information about the book and future dates on Mark's book tour.
Underground: My Life in SDS and the Weathermen was just published by HarperCollins and is available at Amazon, Barnes and Noble and, especially, your local independent bookseller.
Check out various book reviews here. From the book jacket:
In 1968, Mark Rudd led the legendary occupation of five buildings at Columbia University, a dramatic act of protest against the university's support for the Vietnam War and its institutional racism. Rudd was the charismatic chairman of the Columbia chapter of SDS, Students for a Democratic Society, the largest radical student organization in the U.S. After a violent police bust, the Columbia occupation turned into a student strike that closed down the entire campus, turning Rudd into a national symbol of student revolt. Rudd went on to become the cofounder of the Weatherman faction of SDS which took control of the student organization and helped organize the notorious Days of Rage in Chicago in 1969.
But Mark Rudd wanted revolution.
Rudd and his friends sought to end war, racism, and injustice—by any means necessary, even violence. After a tragic turn that lead to the death of three members, who were killed when the bombs they were making in a Greenwich Village townhouse exploded, they transformed themselves into the Weather Underground Organization. By the end of 1970, after a string of non-lethal bombings by the organization, Rudd, now one of the FBI's Most Wanted, went into hiding for more than seven years before turning himself in to great media fanfare.
In this gripping narrative, Rudd speaks out about this tumultuous period, the role he played in its crucial events, and its aftermath, revealing the drama and tension, as well as the naiveté of young activists, fighting in the name of peace and social justice, who believed that their actions mattered.
"I've spoken and answered questions at scores of colleges, high schools, community centers, and theatres about why my friends and I opted for violent revolution, and how I've changed my thinking and how I haven't, and most of all, about the parallels between then and now," Rudd writes. Powerful and shocking, Underground sheds new light on this controversial time that still haunts the nation.
April 3, 2009 at 12:30 PM in Books, Events, Film, Peace | Permalink | Comments (0)
Friday, March 20, 2009
This Weekend: ABQ Protests of Wars of Occupation, Rally to Bring Troops Home
From the Y6C: The New Mexico Year 6 Coalition (Y6C) will hold an "Occupation is a Crime" rally on Saturday, March 21, 2009 from 11 AM to 1 PM at the corner of Second and Copper NW, Albuquerque, at the Galleria Plaza, next to the Convention Center, downtown. The New Mexico Iraq Veterans Against the War will be joining the demonstration.
This local rally is in solidarity with the massive national March on the Pentagon being organized by ANSWER in Washington, DC on the 6th anniversary of the illegal invasion of Iraq in 2003. The rally is calling for an end to the expansion by the administration and Congress of the wars of occupation taking place in Iraq, Afghanistan, Pakistan, Palestine, and the impending invasion or Iran.
The Y6 rally is addressing in specific the vote of the new 1st Congressional District representative, Martin Heinrich, who voted on his first day in office for HR 34. This resolution was the political green light for Israel to continue the massacre in Gaza in January which was only made possible due to their large supply of U.S. weapons. About 1,500 people died, many of them women and children. Many new experimental weapons such as the DIME were tested on the civilian population, which is also a war crime.
Politically many people are calling for a democratic one-state solution, not a two-state apartheid arrangement.
The Y6 Coalition is calling on Rep. Heinrich to work with the national S30 movement to stop the next $30 billion installment of U.S. weapons to Israel. A representative for the Congressman's office will also address the rally.
Participants are being encouraged to bring signs, bring banners, shout loud. There will be political speakers and music.
PLUS: Early Friday morning, in support of the Saturday rally, the local chapter of the Iraq Veterans Against the War (IVAW) will set up a Tower Watch at the rally site. They will stay all day and night through Saturday. The Tower Watch is a national campaign by Iraq war veterans to demand an end to the colonial occupation of Iraq. They are asking supporters to come join them Friday and Saturday.
The Y6C is composed of the following organizations:
Albuquerque Another Jewish Voice
Albuquerque Center for Peace and Justice
Albuquerque Chapter Veterans for Peace
Albuquerque Raging Grannies
Columbia Solidarity Committee of New Mexico
Grassroots Press, www.grass-roots-press.com
Gray Panthers of Greater Albuquerque
Green Party of Bernalillo County
Iraq Veterans Against War - Albuquerque
Los Alamos Study Group
Middle East Peace and Justice Alliance
Nob Hill Tutoring
Nukes Out of Duke City
The Mission Committee of the Albuquerque Mennonite Church
Pax Christi Holy Rosary
School of the Americas Watch Albuquerque
Social Justice Council of the First Unitarian Church
Stop the War Machine
Stop $30 Billion Coalition
Unitarian Universalist Fellowship Social Concerns Committee
March 20, 2009 at 10:58 AM in Events, International Relations, Iran, Iraq War, Middle East, Military Affairs, Peace, Veterans | Permalink | Comments (0)
Sunday, February 15, 2009
Edward Grothus 1923-2009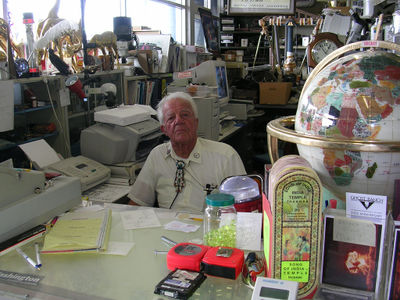 Ed Grothus at The Black Hole August 2005
Many of you know political activist and artist Barbara Grothus, and folks all over the world knew her illustrious dad Ed Grothus, who passed away this week. We were lucky enough to have gotten a meandering tour with Ed of his famous "Black Hole" in Los Alamos several years back while we were in Los Alamos for peace events commemorating the 60th anniversary of the atomic bomb blast in Hiroshima. Our visit with Ed was fascinating and moving. "Atomic Ed" will be missed by many, but his peaceful legacy will definitely live on. Here's a reminiscence of a life well lived that was put together by the Grothus family. Our condolences to all of Ed's friends and family.
Edward Bernard Grothus, of Los Alamos, died of cancer at home, at peace and surrounded by love on February 12, 2009. He was born June 28, 1923 in Clinton, Iowa. His family moved permanently to Davenport, Iowa in 1930.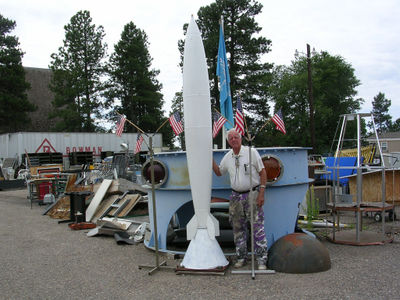 Ed Grothus with "stuff" outside The Black Hole
Following graduation from high school, he traveled extensively by ship and motorcycle. He attended the University of Iowa where he (most importantly) learned to play bridge and made lifelong friends. He eventually followed his father's trade as a machinist, the trade that brought him to Los Alamos in 1949. "Working at the Lab," he said, "gave me an education that I could get nowhere else." He met Margaret Jane Turnquist playing bridge in Los Alamos. They were married in 1951. In 1952 he began working at the Lab's R-Site where he was a link in the process for making "better" atomic bombs. By 1968, he had become an antiwar activist and was an alternate delegate for candidate Eugene McCarthy at the notorious Democratic Convention in Chicago. He left LASL in 1969 when his conscience could no longer tolerate his role in nuclear bomb development. Since then, because of his singularity in speaking out against the nuclear mission of the Laboratory, he became the most interviewed and photographed person in Los Alamos.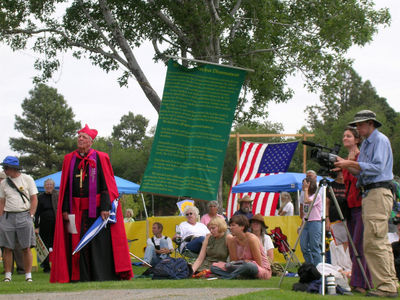 Ed Grothus dressed as Peace Cardinal at Los Alamos Peace Rally
Ed was a hardworking and successful entrepreneur who invested in "things." A child of the depression who extolled thrift and hated waste, he established the Los Alamos Sales Company in 1951 to buy and resell things -- mainly surplus equipment from the Los Alamos Laboratory. For many years the company operated as a catalog business, selling to universities world-wide. He typed and mimeographed pages that were assembled into catalogs by his children who also assisted with mailing, packing, and shipping.

Ed in front of Black Hole surplus-store-museum-studio-peace-shrine
Ed took an active interest in the community. When the government began to plan a subdivision for individual owners to develop, Ed got involved. He helped name the streets on Barranca Mesa and purchased the lot on which he built the first adobe home in Los Alamos. He took great pride in his plans and designs for the house, seeking to make it as durable, functional and maintenance free as possible. Nearly 60 years later, the house remains a testament to his attention to detail. Ed was a founding member of the do-it-yourself home builders association known as "The Nailbenders." Later, in a new area known as Pajarito Acres, he was the first to build a home with the intention that it would be a rental property. When government houses came onto the market, he bought and sold those too, and upon his exit from the Laboratory, he and Margaret used proceeds to purchase The Shalako Shop which they operated for thirty years.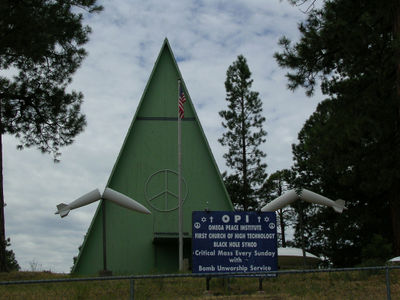 Ed's Omega Peace Institute in Los Alamos
In 1973, he purchased the Grace Lutheran Church property which he first called "The Omega Peace Institute" and later named "The First Church of High Technology." In 1976, he acquired the adjacent "Mesa Market" property, which remained a grocery store for two years. When the grocery operation ceased, the Los Alamos Sales Company began moving things into the building. In recent years, the operation became known as "The Black Hole," because "everything went in, and not even light could get out." The business is well-known to set-decorators, artists, inventors and tinkerers, and tourists from around the world. He worked at the business six days a week until his illness forced him to slow down in late 2008. He never stopped thinking about the business despite his physical absence from it.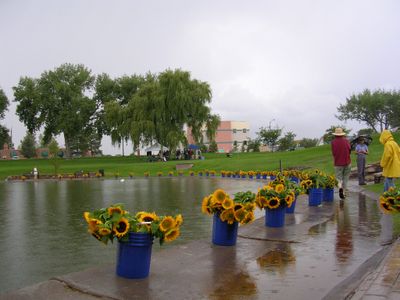 Sunflower peace display, 60th Hiroshima anniversary, Los Alamos
Ed refused to abandon The Black Hole during the forced evacuation of Los Alamos in 2000 when the government-set fire devastated the mountain landscape and burned more than 400 residences. The fire burned up to the foundation of the Black Hole, but Ed's vigilance kept the fire from consuming it. He was arrested after the fire passed and was sentenced to community service for "refusing to obey a police order." He had predicted such a disastrous immolation and had encouraged the County to build a perimeter road as a fire barrier. He strongly fought the use of salt on snowy streets because of its killing effect on trees and the subsequent erosion of soil and further environmental degradation.
Grothus was most known for his antiwar and antinuclear activism. He was a frequent writer of "Letters to the Editor" and in 1966 wrote "An Ode to a Leader, Misleading," dedicated to President Johnson. In it he wrote ". . .search and destroy, ignoble duty . . ." His motto became "Semper Fabricate, Numquam Consumite" or "Always Build, Never Destroy." As an early Obama supporter, Ed was pleased to note in his inaugural address that President Obama said, ". . . people will judge you on what you can build, not what you destroy." Despite his antiwar and antinuclear stance, he never called for the closure of the Laboratory. He said the Lab should stop making things useful only for killing, but he supported a mission for scientists to more efficiently harvest the energy of the sun, the infinite power source.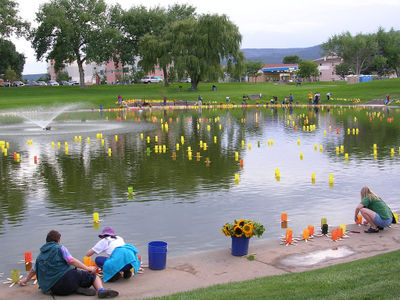 Preparing and launching peace lanterns, Ashley Pond, Los Alamos
Grothus designed and commissioned two granite obelisks to mark the explosion of the first atomic bomb. The obelisks were quarried and carved in China, then shipped to Los Alamos in December 2007. The obelisks are white granite and are designed to sit on black bases, "doomsday stones," engraved with text in 15 languages that describe the "most significant man-made event in human history." Important to him among the messages engraved in the stone was, "No one is secure unless everyone is secure." When erected, each monument will weigh over 39 tons and stand nearly 40 feet tall. At the time of his death, Grothus remained optimistic that the obelisks would find a home.
He was featured in numerous international magazine and newspaper articles and stories on national radio and television. He has appeared in various historical books, as a character in novels and, thanks to a variety of international artists, in theaters, galleries and music productions. He also has a significant presence on the internet. He was the subject of two documentaries including "Atomic Ed and the Black Hole," by filmmaker, Ellen Spiro, broadcast on HBO. He was also the subject of investigations by the FBI and Secret Service on several occasions.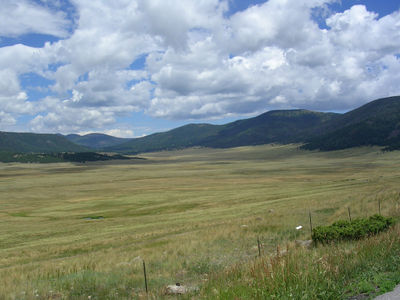 Near Los Alamos, NM
In 2006 he received a Lifetime Achievement Award at the Indigenous World Uranium Summit for his work to promote a Nuclear-Free Future. In 2007, he was humbled to be the first non-Native American to receive the prestigious Alan Houser Memorial Award from the Houser family at the annual Governor's Awards in the Arts for the State of New Mexico.
He was proud of his family with whom he enjoyed traveling, working, exchanging thoughts and opinions and sharing challenges and successes. Ed's deafness, "my only problem," was a cruel burden, not just for him. A voracious reader and life-long learner, his intellectual curiosity and interest in ideas, "things" and world events remained strong even as cancer consumed all his energy. "Dying," he said, "is not very exciting."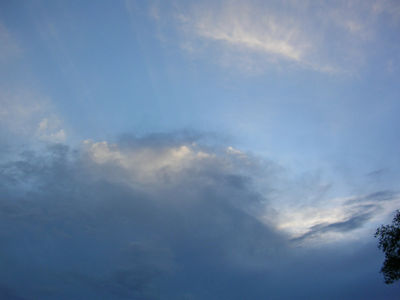 Los Alamos sky
The eldest of eight, he was predeceased by his parents, Edward Theodore Grothus and Regina Hebinck Grothus, his son Theodore, his grandson Preston Edward Burns, and his brother Joseph Grothus. He is survived by Margaret, his wife of 57 years, his children Barbara Grothus of Albuquerque, NM; Tom Grothus (Wendy Slotboom) of Seattle, WA; Susan Burns of Albuquerque, NM; and Mike Grothus (Heidi) and their children, Casey and Michelle Grothus of Niwot, CO. He is also survived by three sisters, three brothers, and their extended families. Loved and admired by many, despised by a few, he will not soon be forgotten.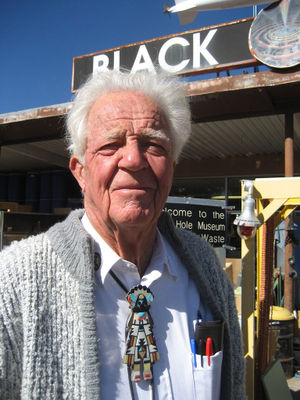 Ed Grothus and one of his ever-present bolos, 2006
Friends are visiting DeVargas Funeral Home at 623 N. Railroad Avenue in Espanola, NM from 1:00 to 5:00 on Sunday, February 15. There will be a private interment at Guaje Pines Cemetery. A public memorial service will be scheduled soon.
Peace begins in the heart. Life is short. In lieu of flowers, the family requests that you remember Ed by spending precious time with your loved ones.
Here's a video of Ed from last year that includes footage of his obelisks. And here's an article memorializing Ed from the Los Alamos Monitor.
Click on photos for larger images. Last photo by Telstar Logisitics. Check out more of their excellent photos of Ed and The Black Hole here. All other photos by M.E. Broderick, taken the weekend of August 6, 2005 during peace events in Los Alamos commemorating the 60th anniversary of the atomic bomb blast at Hiroshima. See her set here.
Technorati tags: Ed Grothus Los Alamos New Mexico nuclear LANL Black Hole
February 15, 2009 at 03:21 PM in Current Affairs, Local Politics, Nuclear Arms, Power, Peace | Permalink | Comments (7)
Tuesday, January 13, 2009
Tonight: Inaugurate Yourself with Sander Hicks
Inaugurate Yourself, the Nationwide Caravan of Peace and Truth, will be stopping at the Albuquerque Center for Peace and Justice tonight. Join a discussion with Sander Hicks, the provocative activist, author and founder of Vox Pop, from New York City.
WHAT CAN WE DEMAND?
Nonviolence. Green venture capital. 9/11 truth.
Are we inaugurating real change, or just lip service?
LET'S RAISE THE STAKES, TOGETHER.
8:30 PM, TUESDAY, JANUARY 13
Albuquerque Peace Center for Peace and Justice
202 Harvard SE
Albuquerque, NM 87106 FREE
Click for FLYER (pdf)
See below for more about this event.
How will the American people set an agenda in Washington that guarantees deep change? How can we aim high, and demand the impossible?
How can we guarantee Barack Obama will fulfill the hope and promise he has represented? (And how deep will the change really be, when you've put together a centrist cabinet?)
Inaugurate Yourself! will gather fellow rebels and radicals, spiritual people and political instigators, people who want to speak out and support Sander Hicks' "Three New Imperatives:"
1. We can visualize the US Government renouncing violence within our lifetime. If the Democratic Party won't embrace the radical call to peace and nonviolence of Gandhi, King, Jesus of Nazareth, Dorothy Day, and others, then it's up to us. The US can really lead the world for the first time, not with the strength of its right arm, but with a new ideal of peaceful conflict resolution. It's time for us to evolve. This is a natural next step.
2. We call on the US to start an innovative green venture capital program, to rejuvenate the economy, and change the whole paradigm of "dog eat dog" capitalism. Capitalism, too, must evolve. The government could have a role, not as a bumbling huge bureaucracy, but as a creative instigator and funder of conscious, sustainable new companies that act in the public interest, produce important new goods and services, and use the public markets to create a robust return for their original investors.
Want more? Sander Hicks JUST published a hot new piece on this at AlterNet.
3. In this "information age" the American people deserve a 1000% change in the flow of information about what the US Government actually does. We demand a full accounting, and total transparency. We demand an end to missing billions in the Pentagon budget. We demand an opening of files on the assassinations of King, the Kennedys, Malcolm X, full disclosure on the CIA and Pentagon's role in the 9/11 attacks, and a full accounting of the US's protection of the "9/11 terrorists" before 9/11.
This is the people's US National Speaking Tour, winding across the US and ending January 20 at the Inauguration of President Barrack Obama. It's instigated by Sander Hicks, and co-hosted by writer Chic Migeot (author of "The Talk.")
We're bringing the noise by bringing up the forgotten Louisiana 9/11 researcher murdered by the FBI. We're bringing memories from Waco from the time of the last big Democrat. We stand with the ghosts of New Orleans. We answer to a higher moral calling. We have a vision: it's time for the USA to lead the world, and renounce the use of violence.
Inaugurate Yourself!
January 13, 2009 at 11:54 AM in Current Affairs, Events, Obama Transition, Peace | Permalink | Comments (0)