Friday, November 07, 2008
Conservation Voters New Mexico Weighs in on Dismissal of Frivolous Lawsuit
Conservation Voters New Mexico and the CVNM Action Fund issued the statement below in response to the dismissal of the lawsuit against them and other nonprofits and individuals that was filed by Rep. Dan Silva, Sen. Shannon Robinson and Sen. James Taylor. The three former legislators were defeated in the June 3, 2008 Democratic primary by reform candidates Eleanor Chavez, Tim Keller and Eric Griego, respectively. The dismissal order was issued by District Court Judge Linda M. Vanzi.
The defeated lawmakers claimed in their filing that there was a wide-ranging conspiracy between certain nonprofits and the victorious candidates to defeat them "in their primary elections using fraud, corruption, acts of intentional misconduct, and other unlawful conduct." The suit sought to have the results of the three primary elections overturned, and the losing candidates declared winners
Statement of Conservation Voters New Mexico:
Judge Linda Vanzi has granted all motions to dismiss the frivolous lawsuit filed by Shannon Robinson, Dan Silva, and James Taylor against Conservation Voters New Mexico (CVNM) and other parties following those legislators' defeat in the June primary election.
"We are pleased and redeemed that the judge has dismissed this baseless complaint," said Sandy Buffett, Executive Director of Conservation Voters New Mexico. "These legislators lost their seats because the voters spoke and voted against entrenched and out-of-touch incumbents who had consistently sided with the polluters and industry special-interests over the protection of clean air, clean water and public health."
CVNM is organized under a 501(c)4 structure, with an affiliated political action committee (PAC) the CVNM Action Fund, allowing the organization to engage in limited, non-federal electoral activity.
"The CVNM Action Fund did indeed work as a PAC to defeat those legislators based on their anti-environment voting records and we are proud to have replaced them with pro-environment champions," explained Buffett. "Despite the vindictive lawsuit that attempted to distract us, we rolled up our sleeves again this fall to elect another wave of pro-environment challengers in the general election."
This fall, CVNM Action Fund voter contact included making over 50,000 phone calls, going door to door to over 6,000 households, and placing radio ads on over ten NM radio stations on behalf of endorsed candidates. CVNM Action Fund provided campaign resources to Steve Fischmann (SD37), John Sapien (SD9) and Tim Eichenberg (SD15), as well as Rep. Jeff Steinborn (HD37), Rep. Nate Cote (HD53), Bill O'Neill (HD15), Jack Thomas (HD60) Ben Rodefer (HD23) and several others. CVNM Action Fund also ran independent campaigns in the Public Regulation Commission races, successfully reelecting Jason Marks but falling short in efforts to elect Rick Lass.
17 out of 20 CVNM-endorsed candidates won their elections, including two pro-environment Republican incumbents Sen. Sue Wilson Beffort (SD19) and Rep. Kathy McCoy (HD22). Among the 20 endorsements, 16 are Democrats, 3 are Republicans, and 1 is from the Green Party.
"Combined with wins from the primary, we are proud to have replaced a total of five anti-environment incumbents with pro-environment champions to the State Senate and several new pro-environment leaders to the State House. Now, the environmental community can move beyond playing 'defense' in the Roundhouse against powerful polluting special interests and can pass strong, pro-active laws that protect New Mexico."
Although the CVNM Action Fund was outspent over 6 to 1 by oil and gas-funded political committees in various state races – 85% of CVNM-endorsed environmentally-minded candidates won their election while it appears that none of the oil and gas PAC-backed candidates won their races.
The CVNM Action Fund has been a registered PAC with the NM Secretary of State since 2004. The nonpartisan mission of the CVNM Action Fund is to elect pro-environment candidates and to work to defeat those elected officials who vote against the protection of our air, land, and water. CVNM Action Fund aims to elect a pro-environment majority in NM by 2013.
Also see the statement about the dismissal of the lawsuit released yesterday by the Center for Civic Policy, another nonprofit named in the suit.
November 7, 2008 at 10:56 AM in 2008 NM State Legislature Races, Environment, Ethics & Campaign Reform | Permalink | Comments (0)
Thursday, November 06, 2008
Sore Loser Lawsuit Against NM Nonprofits Dismissed Without Hearing
The Center for Civic Policy just released a statement about the dismissal of the crazy "conspiracy lawsuit" filed against a number of nonprofits and candidates by Rep. Dan Silva, Sen. Shannon Robinson and Sen. James Taylor, all of whom lost their seats in the New Mexico Legislature to reformers in the June 3rd Democratic primary. I'll be writing more about this soon but, for now, suffice it to say that the good guys won:
Today, the frivolous lawsuit brought against New Mexico Youth Organized, the Center for Civic Policy and a number of nonprofit organizations was dismissed. The suit was brought against the organizations in August by former state Representative Dan Silva and former state Senators Shannon Robinson and James Taylor.
"We are pleased with today's news and we certainly feel vindicated," said Matt Brix, policy director for the Center for Civic Policy. "This lawsuit was nothing more than an attempt to muzzle nonprofit organizations from educating the public about how their legislators vote. We look forward to continuing our work, including educating the public about how elected officials vote and from whom they receive contributions."
The suit brought by Silva, Robinson and Taylor was dismissed in its entirety against all named parties. See the Memoradum of Opinion and Order (pdf).
November 6, 2008 at 05:21 PM in 2008 NM State Legislature Races, Civil Liberties, Ethics & Campaign Reform | Permalink | Comments (2)
Monday, November 03, 2008
Dem Tim Jennings Recorded Robocall for Repub Leonard Lee Rawson

According to the blog of Santa Fe New Mexican reporter Kate Nash, Democrat Tim Jennings of Roswell (right), the current President Pro-Tem of the New Mexico Senate, recorded a robocall in support of Republican incumbent Senator and Minority Whip Leonard Lee Rawson. Rawson, who's known as a foe of campaign finance and ethics reform, among other things, is in a tough battle against reform Democrat and environmental supporter Steve Fischman in SD 37 in the Las Cruces area.
You can listen to Jennings' robocall here.
What a loyal Democrat, eh? He joins the ranks of fellow disloyal Dem Dan Silva, who got beat by Eleanor Chavez in the June primary in HD 13 in Albuquerque. Silva was also known as a foe of reform. Funny how that works. As a posted previously, Silva admitted to providing confidential voter registration data to the New Mexico Republican Party to assist them in their recent bogus "voter fraud" claims trumpeted by Rep. Justine Fox-Young.

Jennings reportedly is upset about a robocall he received from a "conservation group" he can't identify that is critical of Rawson's ethics. Even though Jennings claims he isn't "endorsing" Rawson (right), it sure walks like a duck to me (to use AG Gary King's infamous language). Nash reports that Gov. Bill Richardson isn't happy about it:
"It is unfortunate and inappropriate that Senator Jennings has chosen to interfere in a key Senate race against a strong Democratic candidate like Steve Fischman," Richardson said in a statement."His actions contradict what he told the Democratic State Senate Campaign Committee and me. At the very least he could have stayed silent. Instead, he has injected himself into a race against his own party at a critically important time."
Jennings also is quoted by Nash as saying:
"I have no desire to go against my party or anything else, but I for one believe you should stand up when somebody says something that isn't true." And, he said, as Senate president, he has to look out for the good of the whole body. "As the elected leader of the Senate, I'm not supposed to be for one party or the other, I'm supposed to be about what's right for the Senate."
Um, Tim, when you directly involve yourself in a partisan Senate race on the side of a Republican, that's not tending to Senate business -- that's butting in on election politics and seeking to preserve the status quo you have come to know and love.
A
New Mexico Independent
piece
reported Democratic Party of New Mexico Chair Brian Colon had this to say about Rawson's robocall:
[Jennings] is apparently more interested in holding on to his position of leadership in the Senate than he is in doing what is right for the people of New Mexico." "It is clear that he has made a deal with Rawson. Sen. Jennings' false robocalls on behalf of a notoriously right-wing Republican are shameful," Colón said. "He does not speak for Democratic leadership anywhere in New Mexico who look forward to working with new leaders from southern New Mexico — leaders like Steve Fischmann."
Certain Repubs and Dems seem to be behaving as if their common distaste for ethics reform is stronger than any partisan loyalties they may have. That's what sometimes happens when the interests of donors and access to sweetheart appropriations are at stake. Those used to the good ole' boy way of doing things get upset when challengers interested in ethics reform and environmental issues threaten to upset the status-quo apple cart.
November 3, 2008 at 07:09 PM in 2008 NM State Legislature Races, Democratic Party, Ethics & Campaign Reform | Permalink | Comments (7)
Thursday, October 30, 2008
NM Rep. Dan Silva Got Help with Legal Fees from GOP-Linked PAC
A story yesterday in the New Mexico Independent reported on expenditures by the New Mexico Turn Around PAC to the Dona Ana County Republican Party, as well as six Republican legislative candidates. The article also explained that the majority of donations to the PAC have come from "companies tied to the Yates family of southeastern New Mexico, which is the largest holder of oil and gas leases on federal land in the nation."
The PAC is supporting a number of Republican challengers to Democratic legislative candidates, including Kent Evans (vs. incumbent Jeff Steinborn, D-Las Cruces), Mike Tellez (vs. incumbent Andy Nunez, D-Hatch), Paula Papponi (open seat vs. Jack Thomas, D-Rio Rancho), Cathryn Brown (vs. incumbent John Heaton, D-Carlsbad), Tim Lardner (vs. incumbent Andrew Barreras, D-Tome) and Matt Rush (vs. Jose Campos, D-Santa Rosa). In fact, the majority of the funds raised by these Republican candidates has come from the New Mexico Turn Around PAC. The PAC has also given funds to the Bernalillo County Republican Party and Lisa Torraco, who's challenging incumbent Dem Kari Brandenburg for Bernalillo County District Attorney.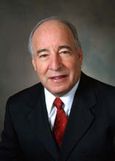 Dan Silva Gets PAC Money
Okay, it's not surprising that the Yates family and related oil and gas interests want to get rid of Democrats and replace them with Republicans who will be more likely to do their bidding with enthusiasm. But what is surprising is that none other than Rep. Dan Silva (right), a long-time Democratic incumbent defeated in the primary last June by challenger Eleanor Chavez, is apparently getting help with his legal fees from the New Mexico Turn Around PAC.
According to a campaign finance report (pdf) filed by the New Mexico Turn Around PAC on October 28, 2008, the PAC paid Rep. Dan Silva $5,000 for what it termed "assist w. legal fees." (See top of page 7 of the report.)
Questions
Why would Yates et al. be helping Rep. Dan Silva -- a Dem who's been ousted from his NM House seat in District 13 -- with his legal fees? Other than Silva, the PAC has donated funds only to Republicans. And why would Silva accept such support from a PAC that's working against fellow Democrats?
Also, does any of this tie in with Silva sharing confidential voter registration information with the New Mexico Republican Party that's being used to mount bogus "vote fraud" claims against ACORN?
It's a good guess that the "legal fees" referred to may be costs associated with Silva's suit seeking to overturn his defeat in the June Democratic primary election. Silva sued in conjunction with Shannon Robinson and James G. Taylor, who lost their NM Senate seats in the primary to reformers. The lawsuit alleges campaign finance fraud on the part of a number of local nonprofits. Shannon Robinson initially filed the case on behalf of himself and the two other lawmakers. (See two of my previous posts on the suit here and here.)
What's Going On?
So let's see. Silva seems to be helping the GOP by giving them copies of the voter registration forms of people who voted in the June Dem primary. Silva lost his seat in that primary and is mounting a lawsuit to overturn the results. Silva may well have gotten the registration forms from his legal counsel in the case, who has no doubt been searching about for evidence related to House District 13 to use in the suit. A Republican-dominated PAC then gives Silva $5,000 to help with legal fees of some sort.
What kind of Democrat would accept such help, and why? Sure seems like Silva is buddy-buddy with the New Mexico GOP and its big donors -- and is more than amenable to helping them go after a community organization that registers low-income and minority voters with fake claims of "vote fraud." I guess a $5,000 "donation" from a PAC tied to Republicans helps, even if it's a PAC that's trying to bring down Dem legislators in November. Rep. Silva, have you no shame, sir?
Technorati tags: Dan Silva New Mexico Turn Around PAC New Mexico Republican Party ACORN Shannon Robinson James G. Taylor Yates Petroleum
October 30, 2008 at 03:56 PM in 2008 General Election Voting, 2008 NM State Legislature Races, Election Reform & Voting, Ethics & Campaign Reform, Republican Party | Permalink | Comments (0)
Wednesday, October 29, 2008
The State of the Election (and Me)
You may have noticed that I've been concentrating on posting info on candidate- and election-related events. You may also have noticed that I'm still not keeping up with the explosion of events that are happening all over New Mexico as we count down the six days left before the November 4th election. Democrats are swarming to early voting events, polling places, canvasses and phone banks. Our candidates are all making the final push for money and volunteers. Get out the vote is the imperative. GOTV is IT.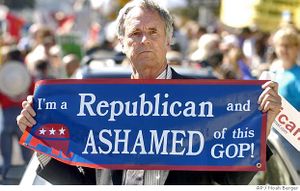 Meanwhile, the Republicans are concentrating almost entirely on slinging mud, trying to create doubts about our candidates and attempting to suppress voting in any way they can, no holds barred. Truth, ethics, fairness, facts? Not much of that on the R side of political spectrum as a tsunami of change builds and threatens to swamp Republicans up and down the ticket in almost every state -- even the red ones like Indiana, Montana, North Carolina, Virginia and more.
The Morally Bankrupt GOP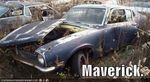 The GOP and its candidates are running scared, rudderless and desperate -- and their last-ditch efforts are taking on the gothic tones of a horror movie, the anti-logic fog of a dadaist work of art (without the irony). Without any appealing policies and few positive, attractive candidates, the Repubs have given up on winning on the issues and plunged into the realm of outrageous smears, illegal tactics, baseless innuendo and outright lies.
The Rove-Limbaugh-wingnut buzzwords are parroted everywhere among their ranks, calling our candidates socialists, Communists, fascists, redistributors in chief, elites, eco-terrorists, extremists, pals of domestic terrorists, scary, outsiders and worse.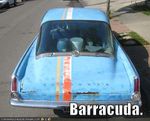 The "voter fraud" hounds are on the loose again, digging up fake "evidence," intimidating voters at their homes, using Drudge and Fox to flog their false claims and insulting community activists like ACORN.
They've been busy in battleground states trying to "purge" legitimate voters from the rolls in the tens of thousands and hold up the registrations of tens of thousands of new voters. They've been orchestrating vile robocalls, airing crazy ads, distributing phony election information and sending out viciously dishonest direct mail pieces.
The Good News? IT'S NOT WORKING
This time, it's not working. At last, it's not working. And candidates, activists, organizations, the Party and voters are fighting back. Lawsuits are being filed against the perpetrators, like "voter fraud" pusher Pat Rogers, his hired-hand private investigator and the New Mexico GOP. We're challenging the massive purge projects, and winning in the upper courts. Our candidates are refusing to take the bait, and are staying cool, loose and rational -- continually turning the focus back to the issues, where we're winning on almost every single one with Americans.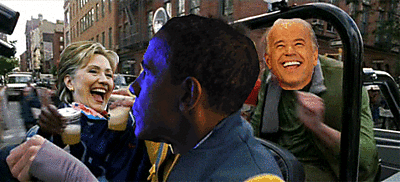 The Dems are on the right track. Electing more Repubs would keep us on the wrong track. These are the memes that are predominating among the voting public. Turning the page. Making a new start. Daring to try something new and different. Basing votes on the issues, not the scare tactics. Hoping. Uniting. Working hard to make it real. Winning.
Enough Is Enough
I know I'm not alone when I say I've had enough of the hate mongering, the veiled racism, the vapid insults, the accusations that we're not REAL Americans or patriotic, the nasty lies and the desperate, unethical measures being employed by the GOP and its minions. I find I can't even bring myself to write about it anymore, except generically. To probe and report every instance of the GOP's wrongdoing takes too much energy and brings too little return.
We all know what they're doing, and what they've been doing in every election in the past decade or more. They're just doing it with more vehemence and with even fewer ethical considerations this time around -- if that's possible. Because they know their neo-con, anti-regulation, screw the middle class concoction has been deconstructed, defrocked, thoroughly discredited and rejected. They know they're gonna lose, big time. And they just can't quite believe it. But as Honest Abe once said, you can't fool all of the people all of the time. Voters have wised up, mindful of the awful consequences of the Bush years that are crashing down on America, and the world.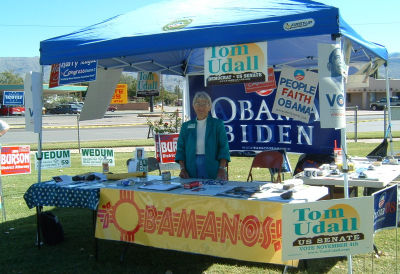 Onward to the Finish Line
So, anyway, I guess I'm gonna stick mostly with helping to publicize the events we can attend, the actions we can take, the info we need to help our GOTV be the best it's ever been. If you want the latest details on the latest outrages, the latest attack ads, the latest "voter fraud" garbage etc., it's easy to find elsewhere in this era of the internet. Thank goodness. As for me, I'll mostly keep plugging along with the tedious calendar items, the event announcements, the press releases and the recaps of gatherings for now.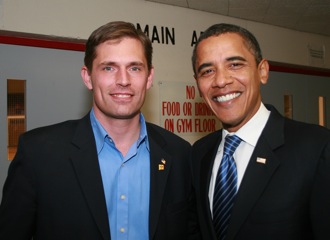 I've been blogging and we've all been meeting and working and pushing for grassroots activism and progressive Democratic gains since 2004 now -- and we're coming into the home stretch of what could really be our time, our mandate, our widespread victories. The only thing left to say is: vote early, volunteer, donate, don't let up, go to rallies, bring your friends, show up. They could still steal it. They could still pull something that works. We could still lose, so keep the pressure on.
Six days, six days, six days. We have to do whatever we can to elect Barack Obama, Tom Udall, Martin Heinrich, Ben Ray Lujan, Harry Teague, Jason Marks, Rick Lass, Victor Raigoza, Tim Eichenberg, Jeff Steinborn, Mimi Stewart, Maggie Toulouse Oliver, Bill O'Neill, Steve Fischmann and more. (Who am I forgetting?) It's now or never.
PS: Talk about timing. I just received a nasty robocall from the RNC "on behalf of John McCain," warning me how Obama is "dangerously inexperienced" and droning on about his intent to sit down with terrorists and side with all the wrong people. Ha. If they're robocalling the likes of me -- a Democrat since day one -- they must REALLY be panicking.
PSS: I just learned that people in ARIZONA are getting the same robocall. My, my. McCain's home state.
October 29, 2008 at 03:54 PM in 2008 General Election Voting, 2008 General Presidential Election, 2008 NM Senate Race, 2008 NM State Legislature Races, 2008 PRC Election, Democratic Party, John McCain, NM-01 Congressional Race 2008, NM-02 Congressional Race 2008, NM-03 Congressional Race 2008, Progressivism, Republican Party | Permalink | Comments (3)
Friday, October 17, 2008
(Updated) SD15: Snyder Attacks Eichenberg for Supporting "Green Collar" Job Creation
Update: Check out this thread on Duke City Fix where there's a discussion going on about green jobs and the ignorance of Diane Snyder regarding renewable energy and the local economy. The original post is by the owner of 310 Solar, an up and coming New Mexico solar company.
***********


We've all witnessed some really horrible and/or crazy and/or dishonest campaign attack ads, mail pieces, videos, speeches, TV appearances and more on the part of Republicans this election cycle -- but this one has to go in my top ten list of nutty tactics. And it happened right here in Albuquerque, in State Senate District 15, where progressive Dem challenger Tim Eichenberg (right) is taking on incumbent Repub Diane Snyder.
By all accounts, Eichenberg has been running a top-notch, grassroots, person-to-person campaign, and the word is he's got an edge in polling against the entenched GOP insider. In other words, he has a great chance of winning and giving us another important vote for change in the Roundhouse. No wonder Snyder is flailing about trying to discredit Eichenberg and rile up the conservative base in the district.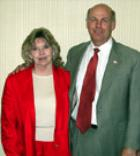 It's hard to believe in this era of global warming and creativity exploding in the area of renewable energy, but Snyder is trying to bag Eichenberg for his support of "green-collar" jobs. In a recent mailer, Snyder says Tim's plan for creating renewable energy jobs "could take years to accomplish in New Mexico," and adds, "that's time we don't have." You can see the mailer here (PDF). Clearly, Snyder has a lot in common with U.S. Senate candidate Steve Pearce, who also resides permanently in the age of oil and claims renewable energy jobs are way down the road. In the photo (above left) they look like two peas in a pod, don't they?

Maybe This Is Why
Recent campaign contribution reports show that Republican Diane Snyder received more than $18,000 in donations from big oil and gas and affiliated PACs -- including Chevron Corporation, Yates Petroleum, ConcoPhillips and the Navajo Refining Company. So I guess you could say she has a vested interest of sorts in holding back change -- and the potential creation of thousands of jobs in New Mexico. Just like right-wing Steve Pearce -- who just happens to be behind in the latest polling by 20 points in his race with Rep. Tom Udall.
Green Revolution Is Happening Now
We don't have to wait for years to see green jobs coming our way. Better known "green" companies in Albuquerque include Advent Solar and Schott Solar, which broke ground in early 2008 and is expected to create as many as 1,500 jobs at peak production in an eventual $500 million complex. Many more are ramping up and contemplating start-ups here. As Rep. Tom Udall often says, New Mexico could become the Saudi Arabia of solar, wind and other renewables -- if we make the right investments and provide the right incentives. Tim Eichenberg puts it this way:

"New Mexico is perfectly positioned to become the nation's leader in the new energy economy. But to be the leader, you've got to lead. Therefore, it's of the highest urgency that we invest now to capture our share of this industry and make sure New Mexico gets these jobs for our people. Senator Snyder's opposition to renewable energy only makes sense when you look at her campaign contributions", says Eichenberg. "Frankly, during her time in the legislature Snyder has acted more like an elected 'lobbyist' for special interests like the oil industry. She should have been working hard representing her constituents in District 15."

Donate Some Time or Money to Tim
More info can be found about Tim Eichenberg at his website. We need to help Tim win this race and get rid of one more Republican legislator who's clinging to the past and beholden to special interests. We need another dynamic and creative legislator who sees the true value of a green economy -- and the thousands of jobs it can bring. Please donate or volunteer some time to the Eichenberg campaign whether you live in his district or not. We'll all benefit if Tim defeats the backwards looking Diane Snyder.
Technorati Tags: Tim Eichenberg Diane Snyder New Mexico Legislature renewable energy green jobs Steve Pearce oil and gas campaign contributions
October 17, 2008 at 01:09 PM in 2008 NM State Legislature Races | Permalink | Comments (4)
10/18: Gov. Richardson, Mayor Miyagishima to Host Fundraiser for Jeff Sanborn in Las Cruces
Please join Governor Bill Richardson and Mayor Ken Miyagishima to help re-elect Jeff Steinborn for State Representative in New Mexico House District 37 at a reception on Saturday, October 18, from Noon to 1:30 PM at the Sunset Grill in Sonoma Ranch in Las Cruces. Suggested donation $100. Please RSVP to Trey Williams at 524-5814 or email trey@jeffsteinborn.com. For more info, see invitation (PDF). If you can't attend you can make an online donation at www.JeffSteinborn.com.
October 17, 2008 at 11:42 AM in 2008 NM State Legislature Races | Permalink | Comments (0)
Sunday, October 12, 2008
10/16: Fundraiser for Rep. Jeff Steinborn in ABQ with Speaker Ben Lujan
There are a number of House candidates in swing districts that are being challenged this cycle, and we can't afford to lose any of them -- especially from our progressive caucus from Las Cruces. It's vital that we help re-elect Rep. Jeff Steinborn in HD-37, who won a very close race last time out. Not surprisingly, the Repubs are challenging him again, and running their usual negative campaign against Jeff.
Click to read about Steinborn's many accomplishments in the New Mexico Legislature, which is even more impressive considering that he's only been a lawmaker for one term. No matter which House District you reside in, it's important that we hold onto this seat and Steinborn's votes for the change we need in Santa Fe.

Fundraiser to Re-Elect
Jeff Steinborn for State Representative
New Mexico House District 37
with special guest
Speaker Ben Lujan
Thursday, October 16, from 6-8 PM
Chama River Brewing Company
4939 Pan American NE, Albuquerque
Suggested Contribution is $100, but all donations will be graciously accepted. If you can't attend the event, you can donate online at ActBlue.

Hosts are: AFSCME, AFT, CVNM Action Fund, Drew Setter, Ed Mahr, Equality NM, Ironworkers Local 495, John Anderson, John Lee Thompson, Larry Horan, Mike Puelle, NEA-NM, NM Building Trades Council, Richard Romero, Todd Hotchkiss & Kathy Araki, Virtue Najjar & Brown PC
Technorati Tags: Jeff Steinborn Las Cruces New Mexico Democrats
October 12, 2008 at 04:40 PM in 2008 NM State Legislature Races | Permalink | Comments (0)
Friday, October 10, 2008
Saturday: Gov. Richardson, Martin Heinrich and More to Attend Matanza in Valencia County to Support Rep. Berreras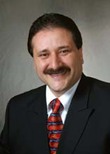 On Saturday, October 11, Governor Bill Richardson, Speaker Ben Lujan, Majority Leader Sen. Michael Sanchez, Rep. Elias Barela, and other local elected officials, as well as NM-01 Congressional candidate Martin Heinrich, will attend a community matanza and fundraiser for Representative Andrew Barreras' re-election bid in Valencia County. More than 250 people from the community are expected to attend.

Matanza for Rep. Andrew Barreras
Saturday, October 11 from 11 AM-2 PM
3555 State Highway 47, Peralta
"As a state legislator, Andrew has stayed true to the values and traditions of the people he represents. Even while he pushes hard for change in Santa Fe — to make sure we're looking at ways to create jobs and invest more in education and healthcare — his feet are always planted firmly in Valencia County," says Governor Bill Richardson.

Andrew Barreras was elected in 2006 to represent House District 7. He is a small businessman and active in his community and church. His family goes back many generations in Valencia County.
"Matanzas are a community celebration," says Andrew, "and given the concerns with what's happening to our economy I hope we can come together and reassure our community that we're working hard to make sure that our rural communities are getting the resources they need."

There will be door prizes, food and a jumper for the children. Community members will be asked to make a small donation to the event.

Andrew was elected in 2006 to represent House District 7. HD-7 covers the east part of Valencia County and runs from the Rio Grande on the west to the county line on the east. It encompasses Paralta, Tome, Adelino, Los Trujillos and Rio Communities.

Andrew's challenger is Republican Tim Lardner, President of New Mexico Travertine and Santa Fe Marble.
October 10, 2008 at 01:35 PM in 2008 NM State Legislature Races, Events, Local Politics | Permalink | Comments (0)
Wednesday, October 08, 2008
Tonight: Fundraiser for SD-10 Candidate Victor Raigoza
THIS IS A RACE WE CAN WIN!!!
Fundraiser for Victor Raigoza, State Senate District 10
Wednesday, October 8th, 5:30–7:30 PM
The home of Michelle Lujan-Grisham
1001 Los Arboles NW, Albuquerque
Suggested Donation: $50.00
The Bernalillo County Delegates to the National Democratic Convention are hosting a Fundraiser for Victor Raigoza. This is a race that Democrats can win and Victor is a great candidate. We need to make sure that we have a packed State Senate when we begin redistricting and Victor will be a strong Democratic voice in Santa Fe. Victor's district encompasses an area that includes parts of the Northeast Heights, North Valley, Los Ranchos, Corrales, and parts of Rio Rancho. Many of you may live in other districts, even in other communities, but this race is special. We Can Win in District 10 with your help!.
If you can make it, please, let us know – there will be light dinner refreshments and beverages – we would love to see you all. RSVP to Terri Holland at 604-3589 or Richard Cooley at 268-2439. If you can't make it, donations may be mailed to: CTE Victor Raigoza, 901 Copperhead Ct. NE, Albuquerque, NM 87113, or you can give online at www.victor4senate.com.
October 8, 2008 at 12:07 PM in 2008 NM State Legislature Races | Permalink | Comments (0)
Saturday, October 04, 2008
10/7/08: Reception to Support Re-Election of Rep. Al Park
You are invited
to join us for a Reception in support of
Rep. Al Park
To benefit his Re-Election Campaign
October 7, 2008, 5:30 – 7:00 PM
Nob Hill Bar and Grill
3128 Central Avenue SW, Albuquerque
Suggested donation: $25 per person
Click for FLYER (pdf) with more information
October 4, 2008 at 01:27 PM in 2008 NM State Legislature Races | Permalink | Comments (0)
Wednesday, October 01, 2008
North Valley Coalition Candidate Meet & Greet Set for 10/2/08
The North Valley Coalition (NVC) would like to invite you to come and meet your candidates for political office for the November election. This event will take place Thursday, October 2, 2008 from 7:00 to 8:30 PM at the Los Griegos Health and Social Service Center located at 1231 Candelaria Rd NW, Albuquerque. The NVC Candidate "Meet and Greet" will give you the opportunity to interact with the candidates one-on-one and talk to them about the issues that matter most to you! The following Candidates have been invited:
U.S. Senate: Tom Udall, Steve Pearce
U.S. Congress, NM-01: Darren White, Martin Heinrich
NM Legislature, District 17: Edward Sandoval, Ronald Toya
NM Public Regulation Commission: Tim Cummins, Jason Marks
Bernalillo County Clerk: Maggie Toulouse-Oliver, Richard Abraham
For additional information, please contact Chris Catechis at 271-9876.
October 1, 2008 at 09:31 AM in 2008 Bernalillo County Elections, 2008 NM Senate Race, 2008 NM State Legislature Races, 2008 PRC Election, NM-01 Congressional Race 2008 | Permalink | Comments (0)