« Friday: Bioneers Host Screening of Flow: For Love of Water | Main | Rio Arriba Political Heavyweight Emilio Naranjo Passes Away at 92 »
Thursday, November 13, 2008
Tim Keller Releases Statement on Dismissal of Suit by Opponent; New Faces in NM Legislature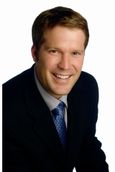 See below for a statement by State Senator-Elect Tim Keller (right), another target of the misguided, sour grapes lawsuit filed by defeated lawmakers Sen. Shannon Robinson, Rep. Dan Silva and Sen. James Taylor against the winning candidates, several nonprofits and other individuals. The suit, which sought to overturn the results of three June Democratic primary contests, was recently dismissed by District Court Judge Linda M. Vanzi. In essence, the accusations made in the suit were seen as baseless and nonsensical.
We look forward to the swearing in of three terrific new lawmakers who were harrassed by the lawsuit -- Senator-Elect Tim Keller (SD 17), Senator-Elect Eric Griego (SD 14) and Representative-Elect Eleanor Chavez (HD 13). They'll be joined by some other impressive Democrats who won (or appear to have won) Legislative races this time around by challenging Republicans -- based on the latest unofficial tally by the Secretary of State.
It looks like Dem John Sapien beat Sen. Steve Komadina in SD 9 by 50.3% to 49.7%, although the margin of votes between them is so small as of today (132) it may trigger an automatic recount depending on how the provisional ballots and canvass go. Tim Eichenberg beat Sen. Diane Snyder in SD 15 by 56.5% to 43.5%, or a healthy margin of 2,900 votes. And in another tight race, Steve Fischmann defeated Minority Whip Sen. Leonard Lee Rawson in SD 37 by 51.1% to 48.9%, or 585 votes.
On the House side, new faces will include Dem Bill O'Neill, who beat Rep. Teresa Zanetti in HD 15 by 52% to 48% or 579 votes, and Ben Rodefer, who defeated Rep. Eric Youngberg in HD 23 by 51.4% to 48.6% or 430 votes. In another close race, it appears that Karen Gianinni beat Rep. Justine Fox-Young by 147 votes, or 50.6% to 49.4% in HD 30, according to the latest tally. It looks like Dem Jack Thomas beat Paula Papponi in HD 60 to replace Dem Rep. Thomas Swisstack by a margin of 279 votes, or 50.8% to 49.2%. Swisstack vacated his seat to successfully run for Mayor of Rio Rancho. 
Nothing is official until tomorrow, when the county canvasses are over, and November 25 when the statewide canvass happens  and the election must be certified. But it sure looks like we'll be getting more of the change we need, this time at the Roundhouse in Santa Fe.
Statement from Tim Keller, State Senator-Elect, NM Senate District 17:
"I am pleased that the court ruled recently to dismiss the case which my former opponent and others sought to over-turn the results of the June primary election and have themselves re-instated as legislators.
In June the voters in my district spoke decisively in an election that was fair and complete. It's time that Shannon Robinson respect the will of the constituents he served and drop further appeals to a case that is baseless and a waste of elected official's time and taxpayer money.
I believe non-profits play an important role as advocates who hold elected officials accountable. They are a vital component of civic engagement and must be allowed to share the voting records of elected leaders with the public.
I am grateful to the voters who elected me to represent Senate District 17. I am looking forward to dealing with the issues which I was elected to address: economic development, investing more into our schools and finding solutions to our health care needs."
Also see our previous posts on the dismissal here, here and here. And you can check out a couple of our posts published when the frivolous lawsuit was filed here and here.
Technorati tags:
November 13, 2008 at 01:00 PM in 2008 NM State Legislature Races, Ethics & Campaign Reform, Justice, Local Politics | Permalink
Comments
Post a comment