Sunday, February 03, 2008
Sunday Bird Blogging: NM Prez Caucus Edition

Sunny the sun conure struts and nods for Obama
We're expected to believe that Democrats are breathlessly waiting to hear whether Gov. Bill Richardson will endorse Obama or Clinton for President. And we're supposed to be tantalized by the leaked reports that Richardson is watching today's Superbowl with the other Bill in Red River. Don't believe the spin.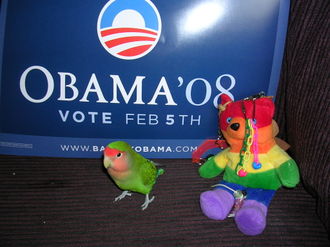 Bosco the peach-faced lovebird rallying for Obama with pal
What I've been hearing on the ground in New Mexico is that Democrats around the state have been on pins and needles wondering who Sunny the sun conure and Bosco the peach-faced lovebird will endorse. Now it can be revealed, in an exclusive report right here on DFNM. Both parrots are coming out publicly for Barack Obama, no ifs, ands or buts about it. Asked why, both avians answered, "Because no self-respecting Democrat should ever mark a ballot for a candidate who voted for the Iraq invasion and who is still dishonestly dissembling about the reasons she voted that way." I definitely think they have a point .... A Few Other Recent Endorsements of Barack Obama:
A Few Other Recent Endorsements of Barack Obama:
Kate Michelman, former president, NARAL Pro-Choice America
La Opinion, the nation's leading Spanish-language daily newspaper
February 5th NM Caucus
Click for a list of for New Mexico's Democratic Presidential Preference Caucus on Tuesday, February 5, 2008. These sites will be open from Noon to 7:00 PM. To find your precinct, look at your voter card, contact your county clerk or call the Democratic Party of New Mexico at 1-800-624-2457. Click for a that explains the process.
February 3, 2008 at 01:46 PM in 2008 Presidential Primary, Bird Blogging, Visuals | Permalink | Comments (4)
Thursday, January 31, 2008
(Video & Photos) Ted Kennedy Packs Hispanic Center Rally for Obama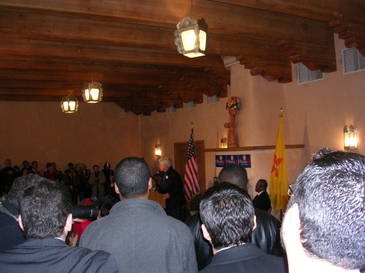 Sen. Kennedy stumps for Obama
Sen. Ted Kennedy led a raucus rally for the Barack Obama for President campaign this morning at the National Hispanic Cultural Center in Albuquerque. The crowd packed Salon Ortega, and wound down the hallway and out of the building, to hear Sen. Kennedy's stump speech for Obama. You can watch video of the speech (and Gene Grant getting a Kennedy prediction for the Super Bowl) at the KNME website. Here's coverage by the Albuquerque Tribune.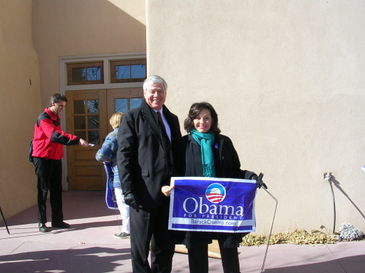 Patsy Madrid & husband endorse Obama
There were also enthusiastic introductions by local politicos like former NM Attorney General Patricia Madrid, State Treasurer James Lewis and State Senate candidate Eric Griego who have formally endorsed Obama.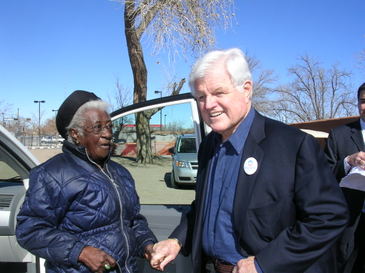 Obama supporters Miss Smith, Sen. Ted Kennedy after event
It was one of many spirited pep rallies in the February 5th Super Tuesday states in recent days for the surging campaign. Fired up -- ready to go. After his speech, Sen. Kennedy headed up north to appear at another Obama event today at 1:30 PM at Santa Fe Community College in the Jemez One Room.

Sen. Kennedy: Thumbs up for Obama, big day Tuesday


Eric Griego & Miss Smith (93-years-young) want change
The video clips above were taken after the Albuquerque event. See below the fold for more photos from the rally.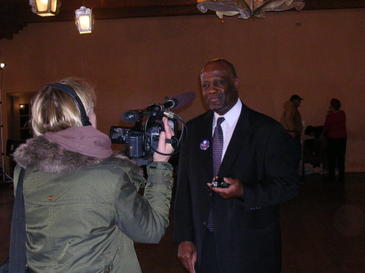 State Treasurer James Lewis interviewed on endorsing Obama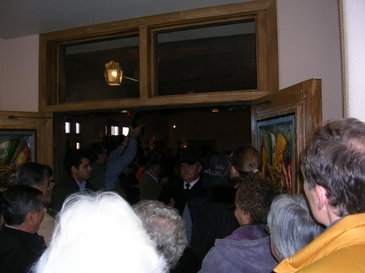 Overflow crowd at Salon Ortega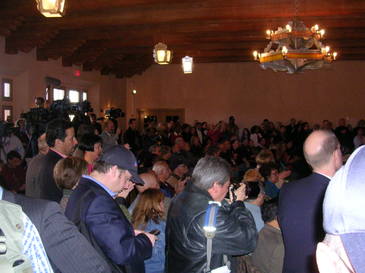 Packed room at National Hispanic Cultural Center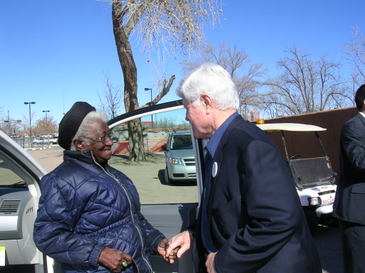 Miss Smith and Sen. Kennedy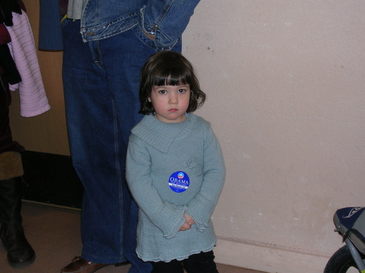 One of Obama's young fans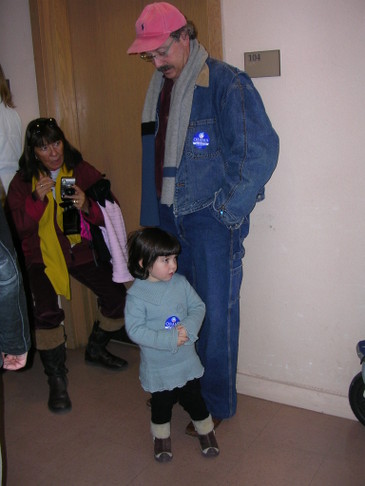 New Mexicans for Obama
Click on photos for larger images. All photos by M.E. Broderick. To see our previous coverage of the 2008 presidential primaries, visit our archive.
January 31, 2008 at 01:12 PM in 2008 Presidential Primary, Visuals | Permalink | Comments (5)
Saturday, January 12, 2008
Make Real Change With Bush Coins!

Hat tip to Booman Tribune
January 12, 2008 at 11:56 AM in Economy, Populism, Visuals | Permalink | Comments (2)
Wednesday, January 02, 2008
Photo of the Day: Rose Bowl Parade Protests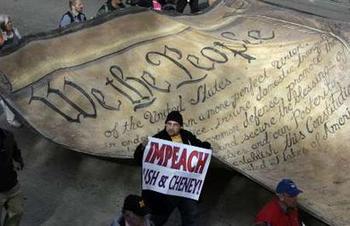 Protesters advocating impeachment of U.S. President George W. Bush and Vice President Dick Cheney carry a giant copy of the Constitution as they follow at the end of the 119th annual Rose Parade in Pasadena, California January 1, 2008. REUTERS/Mark Avery (UNITED STATES)
Also see these photos of the Rose Bowl protests on Flickr.
January 2, 2008 at 07:30 PM in Civil Liberties, Crime, Current Affairs, Impeachment, Iraq War, Justice, Visuals | Permalink | Comments (0)
Tuesday, January 01, 2008
Times Square Ball Drop: Corporate Logoland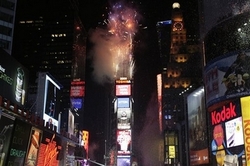 Is is just me, or is New York City's ball drop at midnight one of the most boring, ugly public celebrations of the New Year in the world? Every December 31st we are forced to endure prolonged, televised views of the huge, tawdry corporate advertising screens that now define Times Square, the crowds penned in place like beasts by hundreds of police barriers, the strobing, garish lights and that dumb ball traveling down the pole with a corporate logo at the bottom. Then there's the anti-climactic finish consisting of a paltry fireworks display that compares unfavorably with those in our smallest towns on the 4th of July.
That's bad enough, but it's made even worse by the vapid, clownish acts of the media talking heads, the often horrible musical performances, the new car models spinning on turntables like objects of worship and those awful hats worn by crowd members that advertise Pontiacs or whichever "official product" is being hawked in any given year. Don't forget the screeching multitudes who've been denied alcohol, bathrooms and nourishment -- and have been standing in the cold for up to 14 hours to assure their places close to the cameras so they can grab their 15 seconds of fame. Perhaps the most irritating thing is that they seem to believe it's worth it. They even seem thrilled to see Michael Bloomberg or Rudy Giuliani or A-Rod bragging how NYC is the center of the universe with the most impressive New Year's Eve celebration on the planet.
"Green" Ball Fall
This year we're told that the infamous ball is now "green," and uses LED bulbs for illumination, thus cutting electric usage to less than that of ten toasters, providing more than twice the brightness of last year's version and having the ability to generate 16 million colors. Yowsa. One small, unmentioned complication in this energy efficiency demonstration project? Those dozens of outrageously lit advertising signs and brightly shining buildings that line the square, pulsating 24/7 and sucking up electricity like monstrous energy sinks.
In Comparison
My favorite TV coverage of New Year's Eve occurred during the change of centuries, at The Millenium. At least that year we got to see diverse and often fascinating broadcasts of celebrations around the world, from Australia's Aborigines to the major cities of Europe to the Pacific Rim. I thought almost every single one of them was more compelling, beautiful and dramatic than the ones we get a glimpse of each year in Time Square. Beautiful civic or natural backdrops, better fireworks displays, exotic effects and music, diverse symbolism and traditions. And -- unlike the penned, cop-heavy, vigorously searched and "managed" crowds in New York -- celebrants in other nations are still permitted their champagne toasts in the streets and party hats without corporate logos. Lavish ad boards are rare or nonexistent in the vicinity of the celebrations.
Then again, too many Americans might feel lost if they were too far away from a corporate logo or a "Homeland Security" agent, even on holidays (holy-days). I guess it's only fitting, after all, that a corporatist, "growth" obsessed, consumer culture like ours focuses on an ad display like the one in Times Square to convey the feelings of the nation as a New Year dawns. At least for now. But as we all know, big changes are on the way .... one way or another.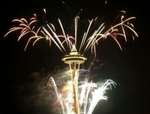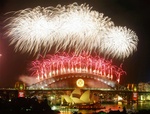 Sydney and Seattle (above). London and Paris (below)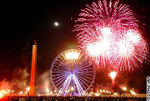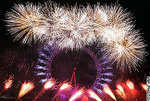 Angel Fire skiers with torches and a beach in India: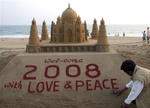 Johannesburg and Hong Kong: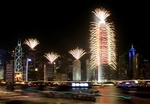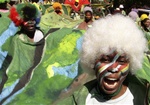 Click on photos for larger versions.
January 1, 2008 at 01:57 PM in Corporatism, Current Affairs, Visuals | Permalink | Comments (1)
Monday, December 31, 2007
Here's to a Progressive Twenty Oh Eight!

Auld Lang Syne ala Jimi

Check out 2008 New Year's Webcams from around the globe.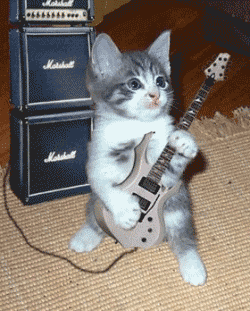 December 31, 2007 at 07:00 PM in Current Affairs, Visuals | Permalink | Comments (0)
Tuesday, December 25, 2007
Light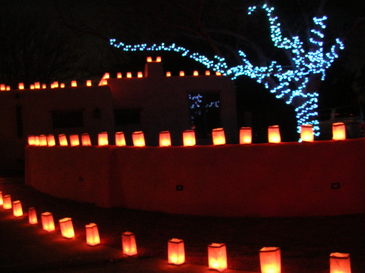 Christmas Eve in Albuquerque's North Valley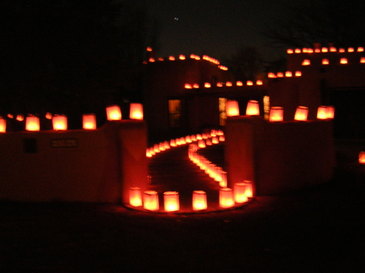 Luminarias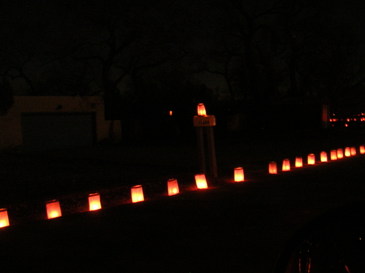 At our house: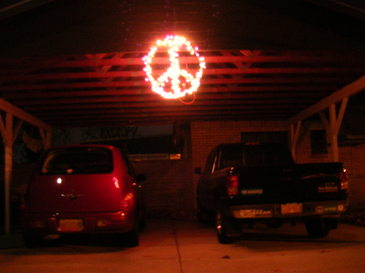 Peace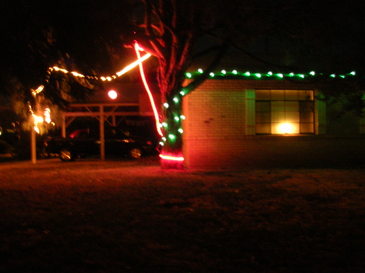 Merry Everything to All!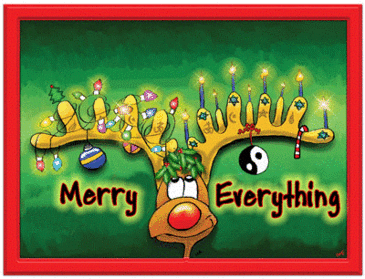 (Hat tip to D.A. for the reindeer.)
(Click on images for larger versions. Photos by M.E. Broderick.)
Also see posts here and here at Duke City Fix for more luminaria and lights photos. And for a couple of animated ruminations on Peace on Earth, check out this 1939 animation and the 1955 remake.
December 25, 2007 at 10:44 AM in Peace, Visuals | Permalink | Comments (0)
Saturday, December 22, 2007
Power to the People: Mike Gravel Raps
I don't know about you, but I miss Mike's outspoken presence at the too, too politically correct "debates."
December 22, 2007 at 10:40 AM in 2008 Presidential Primary, Civil Liberties, Peace, Visuals | Permalink | Comments (1)
Friday, December 21, 2007
Looking for Some Holiday Spirit, ABQ Style?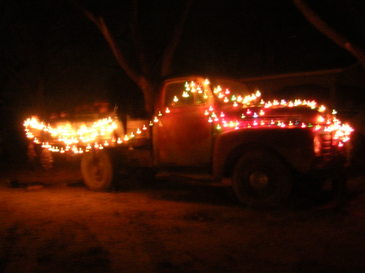 Try two posts on Duke City Fix today that are chock full of sensual adjectives describing the sights and sounds of the holiday season in Albuquerque. Start off with Natalie's It's Time to Get Lit, which starts off:
Ahhhhh... New Mexico in the winter. It smells better than it looks. Everything has turned grey-ish-dusty-brown and the mountains, for some reason, look further away. But every time I walk out the front door, I'm hit with the smells of someone's fireplace burning pinon, fresh tortillas cookin', roasts a-roastin', and pots of posole' simmering. Tamale making is in full swing here in the Duke City. There is a definite bite in the air that makes me want to gobble it all in. The sights are still very beautiful but the olfactory experiences here just can't be beat.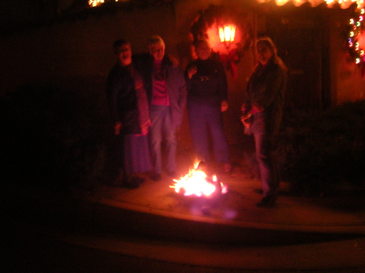 Next up, check out Las Posadas de Barelas by Barelas Babe, which describes the special sense of community among diversity provided by a traditional Christmas celebration in one of the oldest neighborhoods in the city. This year, Las Posadas will be held on December 22nd in Barelas. Excerpt:
In case you are not familiar with Las Posadas, it is a Hispanic tradition that reenacts the travels of Jose y Maria prior to the birth of Jesus, with the nativity procession moving from door to door in search of shelter. Carolers sing traditional Spanish songs seeking shelter, followed by the residents of the house and their guests denying this request. The procession continues to the next house in hopes of finding shelter, and at the last location, Sacred Heart Church, the doors are thrown wide open and everyone enters (except the burro, who always refuses).

Most of the Barelas households on the Las Posadas route participate every year, decorating their home with strings of lights and luminarias, and hosting parties on the night of Las Posadas. When the procession arrives, partygoers spill out of the brightly lit homes singing their parts in this age old ritual, which dates back to the 1500s when it was brought to the New World by the Spanish. It is uncertain when Las Posadas was first done in Barelas, a neighborhood that has its roots in the seventeenth century, but we do know that it has been an official event in Barelas for 62 years, thanks to the efforts of Patrick Turrieta and many others too numerous to name.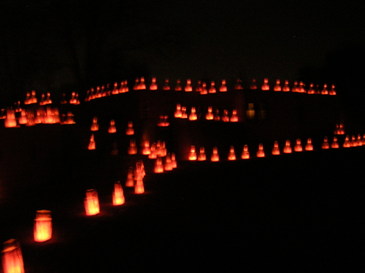 Planning for a walk or drive to see luminarias this Christmas Eve? The Albuquerque Journal offers a listing of neighborhoods known for their displays.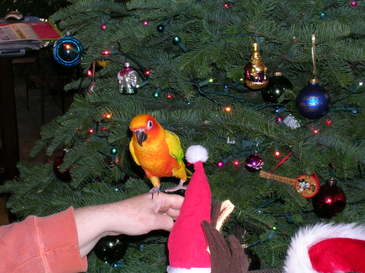 Last but not least, Sunny the sun conure says, "Don't forget to put out some extra treats at your birdfeeders at this wintry time of year -- there's a snowstorm on the way!"
Click on images for larger versions. Photos by M.E. Broderick.
December 21, 2007 at 09:52 AM in Peace, Visuals | Permalink | Comments (0)
Saturday, November 24, 2007
Black Friday: Gotta Love This
Crooks and Liars has the story.
November 24, 2007 at 05:00 PM in Impeachment, Visuals | Permalink | Comments (0)