« NM-01: TV Debate Tonight; Defenders of Wildlife Launches New Heinrich TV Ad | Main | Saturday: Join Tom Udall at GOTV Events in Pojoaque, Espanola, Taos »
Friday, October 24, 2008
10/24: Baracktoberfest! Yes We Carve! at North Valley Field Office (Or Carve Your Own)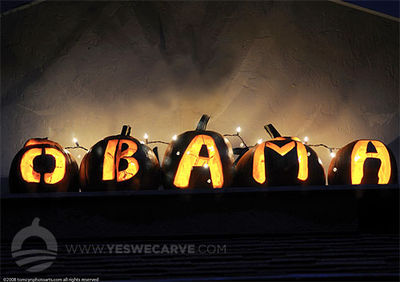 From the Campaign for Change:
Baracktoberfest! Yes We Carve! (Early Voting Event) 
Join us at the North Valley Field Office this Friday night, October 24, from 6-9:00 PM to carve Barack O'Lanterns and drink the cider! Amidst the revelry and spiced autumn fun, we'll be traveling in groups to vote at the early voting site nearby. Bring your friends and don't miss out on this first annual Baracktoberfest. The North Valley Field Office is located at 6344 4th St NW, in Albuquerque, two blocks south of Osuna on 4th. RSVP here.

For those who can't attend and/or who'd like to carve their own pumpkins, check out YesWeCarve.com. The site has Barack O'Lantern stencils to download, a contest where you can win an iPod Nano, photos of cool punkins and more. You can also organize a pumpkin carving event of your own at their Bring Your Own Pumpkin page. The Squashacity Of Hope!
October 24, 2008 at 10:17 AM in 2008 General Presidential Election, Events, Obama NM Campaign | Permalink
Comments
Post a comment