« Video: Gov. Richardson on Clinton, Obama Endorsement | Main | Saturday & Wednesday: ABQ Peace Events Mark 5th Anniversary of Iraq Invasion »
Friday, March 14, 2008
Conservation Voters New Mexico Endorses Eric Griego for State Senate District 14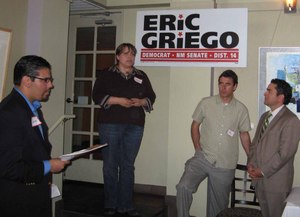 Speaking to Eric's pro-conservation record is Leanne Leith, CVNM's political director. That's Javier Benavidez, CVNM's outreach
coordinator (left), and Tim McGivern, former Weekly Alibi
editor (right) with Eric (far right).
Representatives of Conservation Voters New Mexico (CVNM) announced the group's endorsement of Eric Griego for State Senate at last night's well-attended campaign fundraiser at Albuquerque's Artichoke Cafe. Shown are photos are from the event, and here's the statement released by CVNM on their support of Griego:
Conservation Voters New Mexico has endorsed Eric Griego in his campaign to challenge incumbent State Senator James Taylor, District 14, in Albuquerque.
"Eric Griego has a proven track record of effectively turning our state's conservation values into successful public policies that protect the well-being and quality of life of all New Mexicans," said Sandy Buffett, Executive Director of Conservation Voters New Mexico. "Eric has the leadership and commitment to stand up to the powerful special interests that threaten our communities," added Buffett.
Eric speaks to crowd about the endorsement.
While serving as a City Councilor in Albuquerque, Griego sponsored many legislative initiatives important to the New Mexican values for which Conservation Voters New Mexico fights, including the Planned Growth Strategy (PGS) and efforts to protect the Sandia Mountains and the Valle Vidal. The PGS, along with its "pay-as-you-go" system of assessing new infrastructure impact fees to big developers, has helped to tackle Albuquerque's problem with sprawl development and has helped guide public investment back into established areas of the City.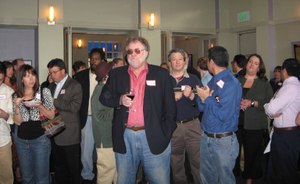 Part of crowd at Griego's fundraiser last night.
Griego also took on a tough fight to reform Albuquerque's water policies to better meet the needs of the city's residents without sacrificing the Rio Grande or the quality of life of future generations.
Conservation Voters New Mexico works to make the protection of our air, land, and water a top priority for elected officials, voters and candidates across the state. For more information on CVNM's legislative priorities and accountability work, please visit www.cvnm.org.
For more information on Eric Griego's campaign, visit his website. Whether you live in Senate District 14 or not, you can support Griego's candidacy by:
Making a donation (
online
or through the mail)
Hosting a house party
Encouraging your friends and family to support the campaign
Click on photos for larger versions. To read our previous coverage of 2008 NM Legislative races, visit our archive.
March 14, 2008 at 10:36 AM in 2008 NM State Legislature Races, Environment | Permalink
Comments
Please join us Saturday, June 21 at Alvarado Park 3-6pm for a celebration of all our Democratic candidates!
Posted by: Jane Wittrup | Jun 11, 2008 8:51:34 PM
Post a comment