« Shop at Cottonwood Mall Sunday Evening and Help Local Charities | Main | Coss for Santa Fe Mayor Campaign Meeting This Saturday »
Friday, November 18, 2005
The Dam Is Breaking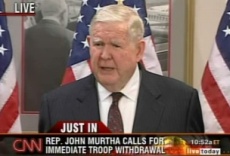 Democratic Rep. John Murtha, the top Democratic hawk in Congress, the senior Dem on the Defense Appropriations Subcommittee and a Viet Nam-era Marine vet, made an impassioned speech yesterday about the abject failure of the Bush-Rumsfeld Iraq policy. He then introduced a resolution for troop redeployment "as soon as is practible." Excerpts from speech:
The war in Iraq is not going as advertised. It is a flawed policy wrapped in illusion. The American public is way ahead of us. The United States and coalition troops have done all they can in Iraq, but it is time for a change in direction. Our military is suffering. The future of our country is at risk. We cannot continue on the present course. It is evident that continued military action is not in the best interests of the United States of America, the Iraqi people or the Persian Gulf Region.

. . . I believe we need to turn Iraq over to the Iraqis. I believe before the Iraqi elections, scheduled for mid-December, the Iraqi people and the emerging government must be put on notice that the United States will immediately redeploy. All of Iraq must know that Iraq is free. Free from United Stated occupation.

. . . My plan:

To immediately redeploy U.S. troops consistent with the safety of U.S. forces.
To create a quick reaction force in the region.
To create an over-the-horizon presence of Marines.
To diplomatically pursue security and stability in Iraq
The DCCC Stakeholder has the complete text of Murtha's statement and resolution, as well as video. Crooks and Liars has video in both Windows and Quicktime formats.
I really believe this is a tipping point folks. If Murtha can make the case this bluntly and demand immediate withdrawal of our troops, how can anyone in Congress with a conscience, a brain or any trace of real patriotism not do likewise, regardless of Party?
November 18, 2005 at 07:00 AM in Iraq War | Permalink
Comments
FOR ANYONE WHO IS NOT CLEAR ABOUT WHY WE ARE SO PASSIONATE ABOUT WHAT WE ARE DOING FOR THIS WEEKEND'S STATE CENTRAL COMMITTE MEETING....THIS IS WHY....AS REP.MURTHA SAYS, OUR COUNTRY IS IN JEOPARDY!!!!
THAT IS WHY WE ARE ALL WORKING SO HARD!!
OUR COUNTRY, OUR BIRTH RIGHT PLACE OF ORIGIN IS JEOPORDIZING THE WORLD.
THIS IS WHY WE ARE WORKING SO HARD, WITH A SENSE OF URGENCY!

Posted by: mary ellen | Nov 18, 2005 10:32:51 AM
What sucks is that Rahm Emmanuel of the DCCC and other spineless Dems are refusing to back Murtha's courageous stand and instead are hanging back waiting and saying next to nothing. Where is the Dem united front that a strong opposition party should be presenting on the Iraq war?
Come on Dems, speak truth to power NOW.
Posted by: El Norte | Nov 18, 2005 1:04:03 PM
You are so right El Norte. And Rep Murtha continued speaking for the truth throughout the weekend. SCC members gathered in Sant Fe for our fall meeting to try to speak the truth and get a platform like what Murtha was saying, but we were defeated on many accounts.
It really makes me wonder.
Is it possible for the dems to speak truth to power now or ever? Right now I am a wounded dem, fighting for what i believe is the systematic dismantling of this country for a few greedy f'ers gain. Greedy in $ and greedy in ego.
Meanwhile more people die, more people have no healthcare, more people are hungry and suffering, and more billions are going to this liar's war.
I say wake up people...IT IS UNSUSTAINABLE!
Posted by: mary ellen | Nov 21, 2005 3:04:57 PM
Post a comment