« October 2005 | Main | December 2005 »
Thursday, November 17, 2005
Shop at Cottonwood Mall Sunday Evening and Help Local Charities
On the evening of Sunday, November 20th, Cottonwood Mall in Albuquerque will be reserved exclusively for shoppers who have purchased Simon Evening of Giving Tickets from participating charities. The event includes discounts from over 90% of the retailers, family entertainment, food sampling and door prizes. Tickets can also be purchased at each entrance after 6:30PM. Christina Kent Day Nursery (CKDN) will receive a portion of the proceeds from all the tickets sold that evening. The tickets are $10 and the charities receive $7 from each ticket.
CKDN is a non-profit daycare center that provides low-cost daycare, education and nutritional services to the children of low-income working families.
CKDN plans to use the monies earned at this fundraiser to purchase Real Turf for two areas of the playground at CKDN.
PLEASE SUPPORT THIS FUNDRAISER!
Editor's Note: Mary Ellen is on the board of the Christina Kent Day Nursery (CKDN) and hopes many of you will shop at Cottonwood Mall this Sunday evening to benefit local charities including CKDN.
November 17, 2005 at 10:14 AM in Events | Permalink | Comments (0)
REMINDER: Rep. Bernie Sanders in ABQ Saturday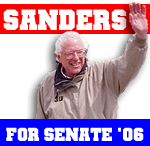 A Forum of Successful Progressive Candidates
Guest of Honor:
The Honorable Congressman Bernie Sanders, U.S. Representative, Vermont, Independent
and
NM House Rep. Mimi Stewart and Senator Cisco McSorley
Plumbers Hall, 510 San Pedro SE
Saturday, November 19, 1:00 - 4:30 PM
These energetic and successful progressive elected officials will share their stories of why they ran for office and how they won. Anyone interested in running for public office should attend! You will learn how to be elected even when you won't or can't generate huge corporate or special interest contributions. Win with vision and grassroots support while maintaining the moral high ground.
Join us to learn VALUABLE lessons from these DYNAMIC elected activists. They chose to run because they had the dream and motivation to represent their community and a PASSION to contribute! Candidates, campaign workers, interested citizens, and PATRIOTS are invited! Free admission. Tables for organizations to distribute materials, enlist activists, educate and motivate are ONLY $15.
Community Partners: Central New Mexico Labor Council, Gray Panthers of Albuquerque, Plumbers & Pipefitters LU 412, Albuquerque Teachers Federation Union, World Voices Newspaper. Need more Info? Martha at 275-0597, Luis at 463-3774, or marthacd@earthlink.net
PLUS:
Activists, Patriots and YOU Are Invited Meet US Congressman and Senate Candidate Bernie Sanders
Saturday, November 19, 2005, 6:30-9 PM
324 Richmond SE (corner of Coal and Richmond)
Food and refreshments
It's only $20 per person and $35 for couples (BYOB wine or beer)
Meet the longest serving Independent Representative in the House of Representatives! THE TRUE Representative of the People!
"A victory for Bernie Sanders is a win for Democrats, but he is not a Democrat " – Howard Dean
Listen to Bernie take unscreened calls on Thom Hartmann's radio show every Friday during the 10:00 hour. You are invited to call in. Simply click on "listen live" at www.thomHartmann.com (It's the finest talk show on radio: 10:00 – 1:00 daily)
Bernie Sanders for the Senate: THE Independent Voice for People! RSVP to 505-275-0597 or marthacd@earthlink.net
November 17, 2005 at 08:34 AM in Events, Local Politics | Permalink | Comments (0)
Wednesday, November 16, 2005
All Dems Welcome at Party Meeting Saturday

The Democratic Party of New Mexico is holding its State Central Committee (SCC) meeting at Santa Fe Community College in Santa Fe this coming Saturday. All Democrats are welcome and encouraged to attend and participate (although only SCC members can vote). If you have an interest in where the Party's at and where it's headed, join your fellow Democrats in Santa Fe this weekend for the Party's bi-annual meeting. Check the DPNM website for more information.
Registration and candidate tabling begins at 7:30 AM at the Witter Fitness Education Center, Room 216. A continental breakfast reception sponsored by Senator Jeff Bingaman will run from 8-9:00 AM on the Witter Center's mezzanine. The SCC Meeting starts at 9:00 AM at the Witter Center Gym and continues until 1:00 PM. Affiliated organizations and caucuses, including those for Democratic Women, Progressives, Veterans, Native Americans and Hispanics, will meet at 1:30 PM, with the Young Democrats of New Mexico convening at 2:00 PM.
Dean Not On Agenda
Unfortunately, DNC Chair Howard Dean won't be speaking at the meeting or holding a Party fundraiser, as was originally announced. We've heard conflicting reasons on why Dean won't be appearing. Rumors that Governor Richardson didn't want a visit right now from Dean have been circulating for weeks among Party members. This faction claims the DPNM dragged its feet in requesting an appearance by Dean or didn't make any official request to the DNC. Some insiders claim the DNC didn't want to schedule a visit given the current upheaval over the Treasurer's Office legal problems, while State Party officials claim they couldn't lock in a date because of travel snafus. Bottom line: nobody seems to know for sure.
Still, even without an appearance by Dean, the meeting promises to be a lively and spirited display of Democracy (big D) in action. The SCC has been invigorated by the addition of many new members from the grassroots who want to see the Party refocused and rebuilt from the ground up. Come on up to Santa Fe and see for yourself. Featured speakers at the SCC meeting will include Rep. Tom Udall, Sen. Jeff Bingaman, Gov. Bill Richardson and Eric Liu, former Deputy Domestic Policy Advisor for Bill Clinton.
November 16, 2005 at 11:10 AM in Democratic Party | Permalink | Comments (10)
Tuesday, November 15, 2005
Year End Push for the Valle Vidal
From the League of Conservation Voters:
As we approach the end of a full year of hard work here in the Land of Enchantment, all of us in the New Mexico field office want to encourage you to help us with our year-end push to help protect the Valle Vidal and make sure our representatives support sound national policies.

Little did we know at this time last year how important our energy policy would turn out to be. Since then, we have experienced the passage of 2 vast pieces of energy legislation that benefit Big Oil and leave consumers to fend for themselves; the harsh realities of our dependence on fossil fuels; and the renewed effort to drill in our nation's most precious places.

Before the year is out, there are important things you can do to help us protect the Valle Vidal and ensure that our representatives vote for sound energy policies:
Attend a Valle Vidal Public Hearing in Santa Fe
Sponsored by LCV Education Fund, Sierra Club, and the Coalition for the Valle Vidal, this hearing is your opportunity to register your concern for the future of the Valle with the US Forest Service -- before they finalize their management plan for the area.
What: Public hearing on the Valle Vidal
Who: New Mexico citizens, US Forest Service, Congressman Udall (invited), Senator Bingaman (invited)
When: Wednesday, November 16 - 6 - 8:30 PM
Where: College of Santa Fe, Tipton Hall
To attend click here
Sign Up Your Business to join the Coalition for the Valle Vidal
Elected officials such as Senator Domenici have become impressed by the growing list of business support for protecting the Valle. If you own or work at a business -- or know anybody else whose business might be interested in joining the Coalition -- this is a great way to show your support! Joining the coalition is free and you will get a handy-dandy packet including a window sticker.
To sign up a business, or for more information, click here to email me.

Write a letter to Rep. Wilson and Senator Domenici
We are banking on Rep. Wilson and Sen. Domenici's support for legislation proposed by Congressman Udall and Senator Bingaman to permanently close the Valle to mineral extraction. If they hear a groundswell of opposition from New Mexico constituents, they can be persuaded to support this legislation -- and it needs their support to make it! Rep. Wilson has already publicly opposed drilling in the Valle, let's ask her to put her vote where her mouth is!
For more information on writing letters click here to email me

Thanks for all your help and support, always. We can't do it without you.

Maggie Toulouse
Campaign Manager, Southwest
League of Conservation Voters
November 15, 2005 at 08:19 AM in Events | Permalink | Comments (0)
Monday, November 14, 2005
Hear Patricia Madrid at DPBC Third Thursday Meeting
Democratic Party of Bernalillo County
Third Thursday Meeting
November 17, 6:00 PM
UNM Law School, Room 2401
1117 Stanford NE
Click for map
Attorney General Patricia Madrid will address the Third Thursday meeting of the DPBC to present her views and agenda as a candidate for the seat in the U.S. House of Representatives from New Mexico. Please tell your fellow constituents about the meeting. All Democrats are welcome.
November 14, 2005 at 03:33 PM in Candidates & Races, Democratic Party, Events | Permalink | Comments (1)
Important Town Hall Meeting on Raising Statewide Minimum Wage
JOIN ACORN
IN THE FIGHT
FOR A FAIR WAGE
The fight continues. As a result of a slim loss this past election, the "Living Wage Campaign " goes to the state. We have invited various State Legislators to a "Townhall Meeting" at the Cesar Chavez Community Center. The meeting is open to the public and we'd like to see a huge turnout!
WHEN: Wednesday, November 16th, 2005
WHERE: César Chavez Community Center, 7505 Kathryn at Louisiana SE
TIME: 6:30 PM
WHY: We have invited State Legislators and the Governor's office to come and hear our community's views on a fair wage for New Mexico workers.
Please join us and bring a friend. FOR FURTHER INFO: CALL (505)-242-7411
David B. Perkins , ACORN Community Organizer
Editor's Note: For more information about the proposed raise in the state minimum wage, see our previous post. A website for the New Mexicans For A Fair Wage is under construction at https://www.nmfairwages.org/
November 14, 2005 at 01:01 PM in Events | Permalink | Comments (0)
NM Election Officials Try to Block Machine Inspections
Editor's Note: The Brad Blog, a national website, covered this story last week and includes a long comment thread debating the issues. Also, a recent article in Scoop Independent News provides a comprehensive look at the voting problems New Mexico experienced in the 2004 election. Perhaps most damning, a recent report from the highly respected, nonpartisan Government Accountability Office (GAO) confirms concerns about the security of electronic voting machines.
Voter Action New Mexico Update 11/08/05:
In the past week, two New Mexico election officials refused to allow the voter plaintiffs in the case of Patricia Rosas Lopategui v. Rebecca Vigil-Giron, et al. to conduct meaningful inspections of their electronic voting machines. This despite clear indications that there were serious problems in last year's presidential election with these same machines, which do not produce a voter-verifiable and auditable paper record.
Bernalillo County Clerk Mary Herrera has given no explanation for her sudden, flat refusal to permit any inspection after weeks of discussions between plaintiffs' attorneys and attorneys for the county. Plaintiffs have sworn statements from Bernalillo County voters who tried to vote on the county's paperless touchscreen voting machines, manufactured by Sequoia Voting Systems, and whose votes were switched before their eyes from the candidate they supported to a different candidate. Plaintiffs also have evidence that the County's widespread use of another type of paperless machine, the Shoup 1242, resulted in the erasure of votes that citizens tried to cast for presidential candidates.
San Juan County Clerk Fran Hanhardt permitted limited inspection of her county's voting machines. She would not, however, open the voting machines to permit plaintiffs' experts to examine their components. The experts included Dr. David Dill, a computer science professor from Stanford University with extensive knowledge of electronic voting machine issues. The reason? Doing so would void the County's warranty from the manufacturer, Election Systems and Software (ES&S).
Ms. Hanhardt also refused to allow plaintiffs' experts to examine or copy electronic files containing the results of the November 2004 presidential election that were stored in the machines' "redundant memories." The reason? The machines store the results of public elections in a secret, proprietary format that ES&S claims as its private property. According to Ms. Hanhardt, allowing plaintiffs' experts to see those results in their original form would violate the county's contract with ES&S, which prohibits disclosure of proprietary information.
However, plaintiffs' experts did cast votes in simulated voting on two touchscreen machines, and noted several anomalies. Several times when they tried to vote for a candidate, the "X" appeared instead in the adjacent box for a different candidate. Once when boxes for two candidates were pressed at the same time, neither registered a vote but an "X" appeared in the box of a third candidate between them. In addition, the experts were able to cast ballots that contained no votes whatsoever, something the County Clerk and her staff had told them the machines would not permit. They did this by first selecting the "straight party" option, which marked votes for every candidate of the selected party on the ballot. Next, they pressed the boxes for each of the party's individual candidates, which erased those votes. Finally, they pressed the "Vote" button, and the screen notified them that they had successfully voted
The right to select our governmental representatives in free, fair and transparent elections is the foundation of our democracy. Before electronic voting, candidates, political parties and ordinary citizens had the right to monitor and observe every step of the election process. Unfortunately, that is no longer the case.
Neither unreasonably broad warranty restrictions nor the intellectual property claims of private corporations should trump the public's right to know exactly how their votes are recorded and counted. Elections officials should not be able to contract away this right when they buy voting machines. They should not be able to hide behind contracts with private companies to avoid having a bright light shown on the inner workings of the paperless electronic voting machines. Unless and until everything about how these machines work is open to public scrutiny, voters are being asked to take it on faith that electronic voting is accurate, reliable and secure. With everything that is known in other fields about the prevalence of programming errors, software bugs, and hacking where computers are concerned, that is asking too much.
What comes next? The attorneys for the plaintiffs will ask the court to order the defendants to permit full inspections of the voting machines. They will also proceed to amass more evidence by taking depositions of witnesses from public elections agencies and the private voting machine companies.
Let us know what YOU think info@voteraction.org. Voter Action is a project of the International Humanities Center. www.voteraction.org
November 14, 2005 at 09:33 AM in Local Politics | Permalink | Comments (2)
Sunday, November 13, 2005
Tell The Truth
Dean on Meet the Press this morning:
Video courtesy The Brad Blog.
Transcript of entire show (including segment with Ken Mehlman, RNC Chair) courtesy MSNBC
Podcast courtesy MSNBC.
November 13, 2005 at 01:52 PM in Democratic Party, Media | Permalink | Comments (3)
Sunday Bird (Bath) Blogging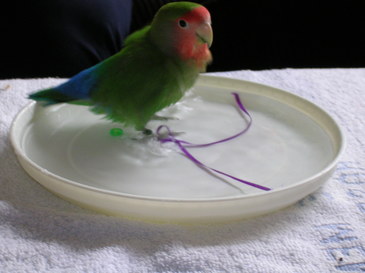 Sunday is often bath day for Bosco the peach-faced lovebird. Here he is getting ready to splash. Sometimes we have to coax him into his bathtub with bright-colored ribbons and beads. He can play hard to get.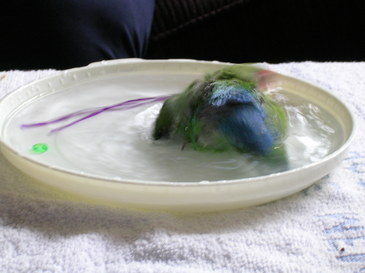 Eventually, though, he plunges in and splashes and submerges and flaps and wiggles. When he emerges, he shakes his rear end in what we call his lobster tail boogie.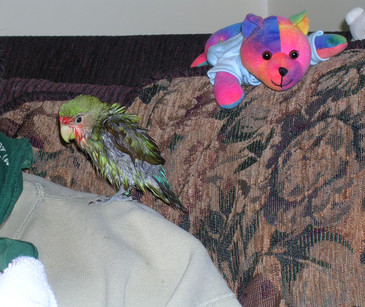 Afterwards, he likes to perch on your shoulder and rub his wet feathers in the crook of your neck. If he's in an especially chummy mood, he lets us scratch him all around his neck and head, guiding our fingers under his beak and and around his tiny eyes and up to the crown of his head. He's very particular, fussy even. Ah, nothing like the distinctive smell of a wet lovebird on a Sunday morning, kinda musty yet sweet.
November 13, 2005 at 11:25 AM in Bird Blogging | Permalink | Comments (0)
Saturday, November 12, 2005
All Dems Invited: State Party Resolutions Committee Set for 11/15
The Democratic Party of New Mexico will hold a State Platform and Resolutions Committee Meeting:
Tuesday, November 15, 2005 at 10:00 AM
Plumbers and Pipefitters Hall
510 San Pedro SE, Albuquerque 87108
Click for map
The meeting is for submission and review of resolutions. All Democrats are welcome to attend and comment at the meeting, but only Committee members will be allowed to vote on the resolutions.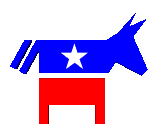 The meeting time was changed from the evening to the morning hours so that it wouldn't conflict with the DNC Kickoff Campaign gatherings that are being held Tuesday evening around NM and the nation. Click to host or attend a DNC Kickoff event. The events will include participation in a conference call with DNC Chair Howard Dean.
Here's a list of the members of the State Resolutions Committee:
APPOINTED:
Marty Cope
Eric Elison
Jennifer Garcia
Ben Ray Lujan
Mel O'Reilly
Kevin Pohl
Christine Trujillo
ELECTED COMMITTEE MEMBERS:
Zoe Economou
Don Dutton
Stephen Fettig
Ignacio Lucero
Marshall Martinez
Cliff Reed
Connie Salazar
The State Resolutions Committee is chaired by DPNM Chair John Wertheim. Here's a link to the official call to the meeting.
November 12, 2005 at 01:07 PM in Democratic Party, Events | Permalink | Comments (1)