Friday, January 29, 2010
Rep. Jeff Steinborn's Rule Change to Allow Committee Webcasting Unanimously Passes NM House

Rep. Steinborn discusses his bill
Rep. Jeff Steinborn's (D-Las Cruces) measure to have official webcasts from House committee meetings during the legislative session was approved unanimously by the House of Representatives today. The vote makes the measure a House Rule that goes into effect immediately, according to a statement released by the House Democrats.
"Today is a historic day in the New Mexico House of Representatives, said Rep. Steinborn. "This new rule, will for the first time, open up our committee meetings to all the citizens of New Mexico. Most of the work of the legislature takes place in the committee meetings, so this new rule represents a giant step forward in increasing the transparency of our state government. I'm appreciative of my colleagues for joining me in taking this important step."
House Resolution 2 creates a new House of Representatives rule requiring House committees to immediately begin broadcasting New Mexico House committee meetings as an audio stream on the Internet. The rule calls for audio and video broadcasting beginning next session.
The State Senate currently has no rule for broadcasting its committee meetings, although it does allow video and audio webcasting of its floor sessions.
Previously, the House allowed audio but not video of its floor sessions. Today, however, the House passed HR 1, a bill to require the provision of video from the House floor.
You can find the available streams here.
January 29, 2010 at 03:58 PM in Ethics & Campaign Reform, Las Cruces, NM Legislature 2010, Web/Tech | Permalink | Comments (1)
Wednesday, January 20, 2010
NM House Dems Now On Twitter, Facebook, YouTube; Video of Day 1

Video clips from Day 1 of NM Legislative Session
The New Mexico House Democrats issued a press release announcing that they can now be followed on Twitter @NMHouseDems and Facebook.
They'll also be uploading video periodically to their YouTube channel at www.youtube.com/NMHouseDemocrats. In addition, some of their press releases will come with attached video quotes that will also be available on the NM House Democrats YouTube and Facebook pages.
January 20, 2010 at 10:44 AM in Democratic Party, NM Legislature 2010, Web/Tech | Permalink | Comments (0)
Saturday, November 21, 2009
LG Candidate Brian Colón Launches Campaign Website (And It's a Hub of Activity)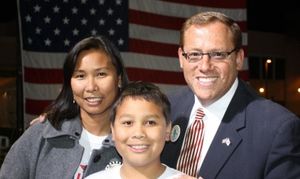 Featured on the front page: the Colón family
Brian Colón, who's running to be the Democratic candidate for Lieutenant Governor in New Mexico, today launched his new campaign website at http://www.electcolon.com/. He previously had just a bare-bones page at that URL, primarily for fundraising. Now that the campaign season is heating up he's got a fresh new site with lots of multimedia, a blog and all the latest bells and whistles. There's an emphasis on social media too, with easy links to Brian's accounts on Facebook, Twitter, YouTube and Flickr, as well as a running feed of his latest Tweets.

Campaign website exclusive: kid Colon
Both Colón's campaign and his new website clearly are geared to easy and personal interactive communication, energetic outreach to folks all over the state and on-the-ground grassroots organizing. Colón has been sending out down home and personal weekly updates on his activities to supporters for a couple months now, and this website can be seen as an extension and expansion of that.
Colón's campaign is operating out in the open, with lots of public contact and input, and an emphasis on day-to-day, face-to-face campaigning. Even during this early stage of the campaign, Colón's travel schedule has been extensive and grueling. He's out there meeting people at every turn, on a personal, "retail politics" level not often seen these days. His campaign website is set up to report on all this interaction, as well as encourage engagement with the campaign online and offline -- to make supporters part of the action, part of Team Colón.
Right now on his website, you can download a nominating petition and gather signatures, take a survey on the issues that are important to you, enter a statement to be used on the website to voice your support and encourage others to join the cause, register to host a house party, volunteer for his campaign, endorse Brian's candidacy, invite Colón to an event, donate to the campaign or sign up to get on his mailing list.
In the issues section, it's telling that Colón lists Constituent Services at the top of the list, right before Ethics:
I've spent my entire life bringing people together to solve problems. As your next Lt. Governor, I will work to be a hub of information and assistance to everyone who interacts with state government. I know that New Mexicans are some of the hardest working people in the country and I want to spend every day promoting our workers, our industry, and our wonderful way of life. Constituent service will be an important focus of the Lt. Governor's Office under my administration, ensuring a better New Mexico for all of our families.
Colón clearly sees the importance of the Lt. Governor serving as what he has termed a "conduit" between ordinary New Mexicans and government and vice versa, just as he did when he was a conduit between grassroots Democrats and the Democratic Party infrastructure when he chaired the DPNM. He defines his focus as pragmatic -- bringing people together to find solutions to problems. His campaign website is structured in a similar way, as a hub of activity with tools that make it easy for information and messages to flow in both directions -- out from the campaign and in from the public.
Like Brian's campaign, his website is designed to be active and interactive with lots to draw people back to visit on a regular basis. It's a nice contrast to the kind of static candidate websites that used to be the norm and, unfortunately, sometimes still are. Well done.
November 21, 2009 at 11:51 AM in 2010 NM Lt. Governor Race, Brian Colon, Web/Tech | Permalink | Comments (3)
Monday, November 16, 2009
Rep. Ben Ray Luján Using Social Media Tools to Reach Out to Constituents
Rep. Ben Ray Luján (NM-03) has been an early adopter of using social media as a tool to communicate with constituents and supporters. He's been using Twitter and Facebook accounts for some time now to send out personal messages and news of his activities in Washington. His latest venture involves using an interactive ad on Facebook to survey the views of his constituents on the public option in health insurance reform: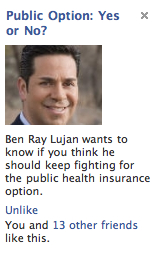 Asked about his use of social media, Rep. Luján had this to say:
"As a member of Congress, it's my job to listen to and represent the people of New Mexico's Third Congressional District. I've visited communities across the district to listen to New Mexicans' views on health insurance reform. And I've reached out to thousands of New Mexicans through telephone town halls. Now, I'm using the internet to connect with my constituents. I'm a strong supporter of the public option, and together, our voices are more powerful. I want to hear from you and take your voice back to Washington."
Expect much more of this from politicos at all levels as we move into the 2010 election cycle. First it was Franklin Roosevelt's use of radio to communicate via his fireside chats. Next came John F. Kennedy's television campaign and presidency. Much later, Howard Dean's 2004 Blog for America emerged on the scene to create a watershed of grassroots-netroots-small donor campaigning. Last year, Barack Obama refined and expanded interactive net communications, fundraising and activism using the enhancements of Web 2.0. This year social media have taken center stage in political communications. What comes next is anybody's guess.
November 16, 2009 at 01:26 PM in Obama Health Care Reform, Rep. Ben Ray Lujan (NM-03), Web/Tech | Permalink | Comments (1)
Thursday, November 12, 2009
Sen. Tom Udall Directs 25 Computers to NM Elementary Schools
The office of Senator Tom Udall (D-NM) announced this week that 25 computers will be donated to five New Mexico elementary schools through the Senate's Computers for Schools program. The computers are being directed to schools struggling to keep their computer labs and classrooms up to date with evolving technology.
"We need to make sure New Mexico's students are learning how to use computers at an early age and many of our public schools simply don't have the resources to keep up with ever-changing technology," Udall said in a statement released by his office. "I am glad to have the opportunity to help put these computers in the reach of New Mexico school children who need them."
Each school selected to receive five computers was chosen by Udall based on need and lack of resources. The schools will put the donated computers to work in individual classrooms or to help update an existing and outdated computer lab.
The schools receiving five computers each are:
Peñasco Elementary, 13 School Road, Peñasco
Emerson Elementary, 620 Georgia St. SE, Albuquerque
Kit Carson Elementary, 1921 Byron Ave. SW, Albuquerque
Chaparral Elementary, 300 East Lisa Drive, Chaparral
Hatch Valley Elementary, 801 East Herrera, Hatch
The Senate's Computer for Schools program was established to direct educationally useful surplus computers from the Senate to classrooms around the country. Sitting senators have the option of donating up to 25 computers to public schools in their state that have registered with the program. The computers, which are no longer in use by the Senate due to routine equipment upgrades, are in excellent condition and wiped clean of memory before being sent to the schools. The computers must be allocated in groups of five.
New Mexico schools interested in participating in the program may register on the General Services Administration web site at www.computers.fed.gov.
November 12, 2009 at 09:07 AM in Education, NM Congressional Delegation, Sen. Tom Udall, Web/Tech | Permalink | Comments (0)
Monday, October 19, 2009
NM Legislature Special Session: Live Streams Available
The NM House Rules Committee is meeting this morning to determine whether bills proposed by Representatives are germane according to Governor Richardson's proclamation. The NM Senate is scheduled to convene today at 11:00 AM and the House at 1:00 PM. You can listen to House activities, and watch or listen to Senate proceedings, at the New Mexico Legislature website. Also, KUNM will provide audio live streams, and the New Mexico Independent will again be hosting a live blog from the Roundhouse.
October 19, 2009 at 10:00 AM in Events, NM Legislature Special Session 2009, Web/Tech | Permalink | Comments (0)
Saturday, October 17, 2009
Staff Cuts in NM House Reduce Costs for Special Session
Note: The trusty reporters at NMI are liveblogging from today's Special Session. You can also listen to audio proceedings in the House and watch or listen to proceedings in the Senate at the New Mexico Legislature website. And KUNM is offering audio feeds from both chambers.
We received a press release from the New Mexico House just as today's Special Session of the New Mexico Legislature was finally being called to order in the House chamber about 3:00 PM today after some delay. The Session was called by the Governor to resolve the state's approximate $660 million budget deficit The statement touts an effort by the House to reduce expenses by cutting back 13 staff positions and, in many cases, assigning double duty to employees to increase efficiency.
"We're trying to understand the situation and get through this economic crisis as quickly and as frugally as possible, while preserving essential services for our citizens," Rep. Ken Martinez (D-Cibola, McKinley, San Juan) said in the release.
"Collectively we've made every effort to reduce expenditures in the Feed Bill for this special session as compared to the last special session," Speaker Ben Lujan (D-Santa Fe) said.
Last year's special session called for just over $113,000 to pay House legislative staff. The Feed Bill for this special session has been trimmed by about $11,000 bringing costs to around $102,000.
"We're doing what we can to keep costs down. Hopefully this special session will be short so that we can get in, get our job done and get home. The truth is that what's spent here is insignificant compared to the problem we face with the budget deficit," Rep. Tom Taylor (R-San Juan) said.
"We are considering it our responsibility to operate under budget this special session in comparison to the last special session," Rep. Luciano "Lucky" Varela (D-Santa Fe County), Chair of Printing and Supplies, said.
October 17, 2009 at 03:21 PM in Media, NM Legislature Special Session 2009, Web/Tech | Permalink | Comments (5)
Friday, October 16, 2009
Udall Announces ABQ Firm to Receive $1 Million to Expand Rural Broadband Access
Senator Tom Udall announced yesterday that the Albuquerque business Agavue, LLC will receive $1.12 million to build computer centers in Cerillos and Manzano. These centers will each contain 10 computers with printers, technical support and high speed broadband Internet service, according to a statement released by Udall's office.
In addition to the wireless broadband services that will be made available to the community residents, the Community Connect centers will provide employment opportunities as well as training on Internet usage.
"Broadband access is an essential tool for economic development in New Mexico's rural communities. This funding will provide for new technology centers equipped with computers and a staff to teach new users how navigate the Internet," Udall said. "I commend Agavue's efforts to spread broadband access to all corners of the state."
The funding will comes from two grants administered by the U.S. Department of Agriculture, Rural Utilities Service Community Connect Broadband Grant Program.
"We are extremely pleased by the confidence that Rural Utilities Service has shown in our company to deliver this much needed new broadband internet service to these two deserving communities. We will begin immediately building our new WiFi broadband network to Cerillos and Manzano," Scott Schooley, CEO of Agavue, LLC said.
Agavue, LLC is one of the largest Internet service providers in New Mexico.
October 16, 2009 at 10:31 AM in Broadband, NM Congressional Delegation, Rural Issues, Sen. Tom Udall, Web/Tech | Permalink | Comments (1)
Thursday, July 09, 2009
Weigh in on Day 3 of the Health Care Reform Debate
We're on Day 3 of the 4-day health care reform debate happening on the ABQ City Seeker page at the online Albuquerque Journal. Today's assignment was a tough one, as moderator Charlie Eisenhood came up with special questions for each of us to answer based on what we had argued on previous days. You can find today's posts here. Once again, we need your input in the comments section to spark the kind of back and forth that makes debates compelling.
I've been involved with health care policy wonk stuff in the past, so I've long known that the issues surrounding health care's many intersecting aspects make for complicated and and multi-layered analyses. This experience, however, has certainly underlined that view. It's easy to get into the weeds with complex details and ever-widening arguments. There's really no way to deal adequately with even some of the important issues in a mere four posts -- but I think we've all made good on trying. I hope you'll take the time to read what everyone has to say, even if you can't manage that right now.
Thanks to all of you who have participated so far. Visit again and keep the discussion going. If you haven't been over there yet, come on down. Click for Day 1, Day 2 and Day 3 of the debate. Tomorrow we'll be posting our summaries.
July 9, 2009 at 04:28 PM in Democratic Party, Healthcare, Republican Party, Web/Tech | Permalink | Comments (0)
Wednesday, July 08, 2009
Join In: Day Two of Health Care Reform Debate
As I posted yesterday, the Albuquerque Journal's online ABQ City Seeker page is featuring a discussion on health care reform that will appear thru this Friday. A variety of folks were invited to post their views, including yours truly, Brian Colón, Todd Sandman, Dr. Vicki L. Perrigo and Paul Gessing. Today, conservative blogger Mario Burgos joined the mix. Unfortunately, the Republican Party of New Mexico declined an invitation to participate in the online debate.
You are encouraged to read yesterday's posts, and check out the comment thread at the bottom of the page to see how the debate is developing. There's a new crop of posts up today, which you can access here. After you've read thru yesterday's and today's posts, please express your opinion on what's being discussed in the comment thread. We need your input to keep the conversation lively and interactive. Everybody seems to have an opinion on health care reform. Make sure your's is in the mix.
July 8, 2009 at 12:49 PM in Democratic Party, Healthcare, Republican Party, Web/Tech | Permalink | Comments (2)
Tuesday, July 07, 2009
(Updated) Help Me Out at Online Discussion on Health Care Reform
Update: The Republican Party of New Mexico was invited participate in the bi-partisan online health care reform discussion taking place this week hosted by the Albuquerque Journal. Upon learning of this, Democratic Party of New Mexico Chairman Brian S. Colón -- who IS participating -- said, "The Republican Party continues to prove that they are the party of no ideas. As health care costs spiral out of control and more than 23% of New Mexicans are without insurance, the state GOP has no ideas on how to fix a broken health care system.
"Voters made the right decision in November sending an all Democratic delegation to Washington. Our Party is working to implement the change voters so desperately need while the Republican Party continues to be the party of no ideas. Despite having multiple candidates who have announced for Congress, the NM GOP apparently still can't find anyone with an idea of how to fix our ailing health care system." I second that emotion.
************
Charlie Eisenhood, an Albuquerque Journal reporter who produces the newspaper's online ABQ City Seeker page, invited me and four other Albuquerqueans to participate in a discussion on health care reform that started today and will continue through Friday. Joining me in the online conversation are Brian Colón, who chairs the Democratic Party of New Mexico; Todd Sandman, who serves as director of public and government relations for Presbyterian Healthcare Services; Dr. Vicki L. Perrigo, an Internist/Dermatologist; and Paul Gessing, President of the libertarian-leaning Rio Grande Foundation.
Today and every day thru Friday, each participant will be discussing what he or she believes is the best way to reform the health care system. Today each of us answered a series of questions posed by Eisenhood, but the remainder of the week's agenda will be determined by each other and by the commenters. That means you.
Our online exchange needs your participation to make it truly lively, diverse and though-provoking. Regardless of where you stand on the health care debate, visit the debate page at ABQ City Seeker, read what the main participants and the commenters have to say and add your views. Then check back often thru Friday as the interplay among the contributors and commenters picks up energy and expands -- but only if you do your part to liven up the debate.
July 7, 2009 at 03:10 PM in Democratic Party, Healthcare, Obama Administration, Republican Party, Web/Tech | Permalink | Comments (2)
Wednesday, June 10, 2009
Diane Denish Launches Website for 2010 Gubernatorial Run

Website header: Click on image for larger version
Approximately 17 months before election day 2010, Lt. Governor Diane Denish has launched a campaign website with lots of bells and whisles at www.dianedenish.com for her run for New Mexico Governor. Two announced GOP contenders also have campaign websites up and running to varying degrees. Clearly, it's gonna be a long, long 2010 election season -- at least for the state's top slot.
Today, the Denish campaign announced the launch of the site in a press release. Excerpt:
Today we are unveiling our new website at www.dianedenish.com. This site will be our virtual campaign headquarters, where we can share information about the campaign, discuss policy ideas, organize volunteers, raise money, and more. I hope you will take a few moments to explore the site, and urge your friends to do the same.

If you have not already, please sign up to become a Friend of Diane. We are recruiting Friends of Diane in every corner of New Mexico as we build a statewide organization that is prepared to compete in every county of our state. Over the course of the summer, Friends of Diane will be hosting house parties, organizing grassroots fundraisers, participating in planning and training sessions and demonstrating support for my campaign in their local communities.
The website contains a section on What Others Are Saying about Lt. Gov. Denish that provides flattering quotes from a variety of prominent and not-so-prominent New Mexicans. They include Gov. Bill Richardson, Senate Majority Whip Mary Jane Garcia, Senate Pro-Tem Tim Jennings (referred to as a State Senator only), Patricia Roybal, who is VP of the LULAC Council in Albuquerque and Viola Florez, who is Dean of the UNM College of Education, as well as a couple of positive statements from the now-defunct Albuquerque Tribune.
The issues section contains short statements on protecting and creating jobs, educating tomorrow's workforce, building safer communities and an open and honest government -- representing the four areas the Denish campaign will no doubt focus on.

From the website: Meet Diane Denish
No Blog, No FaceBook, No Twitter? The bio video above and a set of photos from an Albuquerque campaign stop last year by now President Obama at a town hall on working women at the Flying Star Commissary are the current contents of the multimedia section. Unfortunately, I don't see any indication of a blog on the Denish site, which tells me there's a danger of the content getting stagnant. Although the site links to Denish accounts on Flickr and YouTube, there's no mention of FaceBook or Twitter -- the interactive social media sites that have become so vital to most net users. I hope that changes, don't you?
As for the GOP gubernatorial contenders, Greg Zanetti has the most developed campaign website, that contains the first of what will probably be many Video Missives. The first one is about swine flu, the Mexican government budget and the need for increased border security. The top three issues on his website are state government and personal safety, the economy and education, with a variety of "other issues of interest" below those. The site includes a transcript of the speech Zanetti gave during the teabagger demonstrations in April.
Current state party GOP chair Allen Weh also has a campaign website, but it's in the barebones stage at this point. Although he's posted no position statements, Weh's front page (Think Different) lists seven issues he apparently thinks are important: government corruption, New Mexico's budget, public safety priority, encourage business, NM's education system, healthcare costs and implement photo ID. Meanwhile, former NM-01 Rep. Heather Wilson and former NM-02 Rep. Steve Pearce remain mum on a possible run for governor from the R side.
June 10, 2009 at 12:36 PM in 2010 NM Governor's Race, Democratic Party, Republican Party, Web/Tech | Permalink | Comments (0)