Monday, February 09, 2009
(Updated) Call Senators and Reps Now on Stimulus Package
Update: The Senate voted to invoke cloture on the $829 billion Nelson-Collins substitute amendment to H.R. 1, the economic stimulus package, with Ted Kennedy making an appearance on the floor to vote in favor. Only three Repubs -- Collins, Snowe and Specter -- voted aye. All Dems voted for cloture. The final, pre-conference vote on the bill itself is set for 11 AM MST tomorrow. President Obama will hold a press conference tonight at 6:00 PM MST on the stimulus. The word is he wants more education spending in the bill.
*************
Paul Krugman again:
What do you call someone who eliminates hundreds of thousands of American jobs, deprives millions of adequate health care and nutrition, undermines schools, but offers a $15,000 bonus to affluent people who flip their houses?

A proud centrist. For that is what the senators who ended up calling the tune on the stimulus bill just accomplished.

... All in all, the centrists' insistence on comforting the comfortable while afflicting the afflicted will, if reflected in the final bill, lead to substantially lower employment and substantially more suffering.

But how did this happen? I blame President Obama's belief that he can transcend the partisan divide — a belief that warped his economic strategy.

... Mr. Obama's postpartisan yearnings may also explain why he didn't do something crucially important: speak forcefully about how government spending can help support the economy. Instead, he let conservatives define the debate, waiting until late last week before finally saying what needed to be said — that increasing spending is the whole point of the plan.
As always, read the entire column by Krugman. And then call Senators Jeff Bingaman and Tom Udall and Congressmen Martin Heinrich, Ben Ray Lujan and Harry Teague and urge them to push for repairing the damages wrought by Republicans and a handful of Dem trickle-down believers in the Senate. Here's a list of their phone numbers (pdf).
Here's a list of cuts in the Senate deal engineered by Senators Ben Nelson and Susan Collins. When you call, please be clear that you want ALL the cuts to be reinstated. Anything less will make the stimulus bill inadequate to the task at hand.
Once the stimulus package is passed in the Senate, which will probably take place tomorrow, it goes back to the House. The House can accept it as it, amend it and send it back to the Senate or vote to convene a conference committee to iron out the differences. Due to pressures to act quickly, it's expected that the conference committee option will be approved.
Here's what's happening on the stimulus today and in the next few days:
Today the Senate will debate the stimulus generally, as well as the Collins-Nelson (NE) package, which will be offered as an amendment. Under the terms of a unanimous consent agreement entered late last night, this is the last amendment permitted during consideration of the bill (H.R. 1), and no votes are expected today. Debate will run from 12 p.m. to 3 p.m. EST today. Majority Leader Harry Reid filed for cloture on the amendment, and by unanimous consent the vote on cloture has been scheduled for 5:30 p.m. on Monday, with post-cloture debate time to end at noon on Tuesday. At that point, we'll be clear for a vote on passage of the bill and a motion to go to conference with the House.

The bill will be subject to a point of order due to its deficit spending, but the point of order can be waived by a 3/5 vote of the Senate. So that means passage would ultimately have required 60 votes whether Republicans filibustered or not.
Here are some of the education cuts that "centrists" are so proud of:
$100 million for distance learning
$1 billion for Head Start/Early Start
$5.8 billion for Health Prevention Activity
$600 million for Title I (No Child Left Behind)
$16 billion for school construction
$3.5 billion for higher education construction
February 9, 2009 at 12:19 PM in Economy, Populism, Education, NM Congressional Delegation, Public Policy | Permalink | Comments (2)
Wednesday, February 04, 2009
Register Now for Aldo Leopold Centenial Celebration 2009 Event at NHCC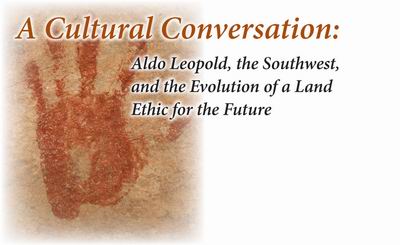 February 13-14, 2009
National Hispanic Cultural Center
Albuquerque, New Mexico
Click for FLYER (pdf)
As the opening event in the Aldo Leopold Centennial Celebration 2009, this "cultural conversation" conference is intended to foster creative discussion about the Southwestern roots of Leopold's land ethic, the roots of an environmental ethic in Hispanic and Native American traditions, and the historic and potential connections among them. The event is open to the public and welcomes participants from a wide variety of cultural backgrounds and perspectives.
The program will include keynote speaker Gary Paul Nabhan, a Lebanese-American scholar exploring the challenge of ethics in a time of global change, a look at the roots of a land ethic in the Southwest from Native American, Hispanic, and Leopold perspectives, and a series of four panel discussions on the following topics, each with panelists from varied cultural traditions and viewpoints.
PANELS
The Local & the Global
Aldo Leopold composed his landmark essay "The Land Ethic" in the late 1940s, at a time when environmental concern was becoming global in scope. The land ethic has since helped to undergird an emerging global environmental ethic, even while emphasizing the need for revitalizing local connections to, and within, our landscapes. This panel will explore connections between local and global conservation challenges playing out in the Southwest and beyond.
Sustainability Across the Landscape
Sustainability aims to build healthy long-term relationships between people and land across cultural boundaries and landscapes, from wildlands to working lands to suburban and urban neighborhoods. Our landscapes are interconnected by food, water, energy, and complex community and economic ties. This panel will examine the challenges of sustainability.
Community Engagement
Over the last two decades, community-based approaches to environmental stewardship have taken root in settings from rural to urban. This movement has deep roots in Leopold's own work on watershed health in the Southwest and Midwest. This panel will explore community-based projects and their contributions to the still-evolving land ethic.
Climate Change & Culture
With the reality of anthropogenic climate change now setting in, we face a cultural challenge unprecedented in human history. In his early work in the Southwest, Leopold had some inkling of these large-scale, long-term environmental changes. His land ethic now provides an essential part of the broader ethical foundation we must all create as a "thinking community." This panel will address this great challenge from historical, scientific, and philosophical perspectives.
Friday Evening Activities
Join us Friday evening for a special night of music, poetry, storytelling, and film! We will feature Aldo Leopold's daughter, Estella, telling stories about her family's Hispanic roots. Noted folk singer Cipriano Vigil and family will offer traditional Hispanic music of northern New Mexico, including some favorites of the Leopold family. Filmmakers Steve Dunsky and Dave Steinke will show a short preview of a new documentary film on Aldo Leopold and share their experiences filming the Leopold legacy. And more, including Malpais Borderlands rancher-poet Drum Hadley and Native American stories and poems.
Register
Registration is only $15, plus optional meals. Click here to register online by credit card, or download a registration form that you can print and mail or fax to us. If you have registration questions, please contact Jeannine Richards at jeannine@aldoleopold.org or 608.355.0279 ex. 25.
The event is co-sponsored by the Aldo Leopold Foundation and the National Hispanic Cultural Center. Additional funding provided by the New Mexico Humanities Council through the We the People initiative of the National Endowment for the Humanities, the Center for Humans and Nature, the University of New Mexico, and the U.S. Forest Service.
S c h e d u l e
Friday, 13 February

1:00 PM Welcome
1:15 PM Keynote: Ethics in a time of Global Change, Gary Paul Nabhan
1:45 PM Roots of a Land Ethic in the Southwest: Susan Flader, Gregory Cajete, and Estevan Arellano
4:00 PM Panel I: The Local & the Global
5:30 PM Reception and buffet dinner (optional)
7:30 PM Film, stories, poetry and music from Southwestern traditions
Saturday, 14 February

8:00 AM Welcome
8:15 AM Panel II: Sustainability across the Landscape
10:15 AM Panel III: Community Engagement
11:45 AM Buffet Lunch (optional)
1:00 PM Panel IV: Climate Change & Culture
2:45 PM Break-out group discussions
4:00 PM Closing Round Table
5:00 PM Adjourn
February 4, 2009 at 09:39 AM in Events, Minority Issues, Native Americans, Public Policy, Rural Issues | Permalink | Comments (0)
Friday, January 02, 2009
Will Dems Use Their Power to Reverse Bush-Era Abuses?
Must read as Dems prepare to take control of the executive branch and both houses of Congress: Glenn Greenwald astutely dissects the disastrous attacks on American civil liberties and constitutional protections over the last decade -- many of them conducted with Democratic approval or acquiescence -- and challenges Dems to have the backbone to reverse course. Excerpt:
For the last seven years, Democrats have repeatedly cited GOP political dominance to excuse their wholesale failures to limit, let alone reverse, the devastating war waged by the Bush administration on America's core liberties and form of government. With a new Democratic president and large majorities in both Congressional houses, those excuses will no longer be so expedient. As dark and depressing as these last seven years have been for civil libertarians, culminating in an almost entirely grim 2008, there is no question that the Obama administration and the Democrats generally now possess the power to reverse these abuses and restore our national political values. But as the events of the last 12 months conclusively demonstrate, there are substantial questions as to whether they have the will to do so.
January 2, 2009 at 01:01 PM in Civil Liberties, Corporatism, Crime, Government, Iraq War, Justice, Obama Transition, Public Policy, Terrorism | Permalink | Comments (1)
Monday, December 29, 2008
Rep. Mimi Stewart to Intro National Popular Vote Bill; 76% of New Mexicans Support Ditching Present Electoral College System
In a recent survey (pdf) of 800 New Mexico voters by Public Policy Polling, 76% of New Mexicans favored a national popular vote to elect the President of the United States. The National Popular Vote proposal would guarantee the Presidency to the candidate who receives the most popular votes in all 50 states. New Mexicans are clearly in agreement that the electoral college, as currently configured, is no longer a fair mechanism for electing a president -- if it ever was. And one of our best progressive lawmakers is set to do something about it.
A National Popular Vote bill sponsored by Rep. Mimi Stewart (right) will be introduced during the upcoming 60-day legislative session, which begins on January 20, 2009.
"It's time for New Mexico to support a fair system that values every vote equally," Stewart said. "The current winner-take-all system allows for a candidate to win the Presidency without winning the most votes in all 50 states. Recent elections proved that the Electoral College system requires massive reform. I firmly believe that the National Popular Vote proposal is the right choice for our state."
Would All States Benefit? One of the most common criticisms of a switch to the popular vote in determining presidential winners reflects the perception that smaller and less populated states might lose some of the clout they have in the current electoral college system. I asked Rep. Stewart about this aspect of her bill, and she doesn't buy it.
"The argument that smaller states like New Mexico are at a disadvantage under this proposal is a false one," Stewart responded. "Our current system focuses on targeted swing states, limiting the participation of the vast majority of states with no guarantee of which states will be targeted from one election cycle to the next. The adoption of the National Popular Vote proposal is critical for all states, largely or sparsely populated, because it guarantees that every vote will be valued equally."
NM Poll Results Show Across-the-Board Support: In this month's New Mexico poll, the National Popular Vote proposal received overwhelming support from cross-sections throughout the state -- from Democrats and Republicans, women and men, Hispanics and Anglos, and across all age groups. The poll results also reflect similar trends in a recent national poll and the polls of 25 other states, all of which garnered over 70% public support for the national popular vote.
NM Results - Support National Popular Vote:
Democrat 84%, Republican 64%, Other 68%
Women 84%, Men 66%
White 73%, Hispanic 83%, Other 57%
18-29 yrs 73%, 30-45 yrs 73%, 46-65 yrs 78%, 65+ yrs 76%
What the Bill Would Do: The National Popular Vote bill would take effect only when enacted in identical form by states possessing a majority of the electoral votes—that is, enough electoral votes to elect a President (270 of 538). When the proposal is in effect, all the electoral votes from the states that enacted the bill would be awarded as a bloc to the presidential candidate who receives the most popular votes in all 50 states (and District of Columbia).
Progress Across the Nation: The National Popular Vote bill has been enacted by states possessing 50 electoral votes — 19% of the 270 necessary to bring the law into effect. The four states are Hawaii, Illinois, Maryland, and New Jersey. The bill has passed 22 state legislative chambers, including one house in Arkansas, Colorado, Maine, Michigan, North Carolina, and Washington, and both houses in California, Hawaii, Illinois, New Jersey, Maryland, Massachusetts, Rhode Island, and Vermont.
Popular Vote History: The United States has elected Presidents who haven't won the national popular vote in four of the nation's 55 presidential elections (and one in seven of the non-landslide elections). We all recall the 2000 election, when Al Gore won the popular vote but lost to George Bush on the basis of the Electoral College tally (as well as various underhanded acts). And a shift of a few thousand votes in one or two states would have elected the second-place candidate in five of the last 12 elections. A shift of 60,000 votes in Ohio in 2004 would have defeated Bush despite his nationwide lead of 3,500,000 votes.
"In my opinion, having a President elected once who hasn't won the national popular vote is one time too many," Stewart concluded. "We must do everything in our power to ensure it never happens again by adopting a fair system that fully empowers the voter to choose the President."
More Info: The poll (pdf) was conducted on December 16-17, 2008 by Public Policy Polling and has a margin of error of plus or minus 3.5%. For more information on the National Popular Vote, visit www.nationalpopularvote.com, check out this Wikipedia entry on the movement or see a backgrounder on the national popular vote issue offered by Common Cause.
Technorati tags: Mimi Stewart national popular vote electoral college presidential elections New Mexico New Mexico Legislature
December 29, 2008 at 01:05 PM in Election Reform & Voting, Local Politics, NM Legislature 2009, Public Policy | Permalink | Comments (8)
Wednesday, December 17, 2008
Slap in the Face to Gay Americans: Obama Picks Rick Warren to Lead Inaugural Invocation
Above is an ad recorded by the porcine Rick Warren in support of Prop. 8. As John Aravosis says at AmericaBlog, "If you watch the video, in addition to invoking Obama's name to justify homophobia, Warren talks about how (he claims) gays are only 2% of the population. And how we shouldn't let 2% of the population decide what we do on this issue. Gee, wonder how he feels about Jews, who are also 2% of the population. Watch the video, and prepare for your head to explode.
Update: Have complaints to share? Email Parag Mehta, Obama's LGBT liaison on the transition team, at parag.mehta@ptt.gov. Feel free to share your missive to the team in the comments.
********
Enough. Enough. Enough. I've been silent or muted in my criticism of some of Obama's less than stellar cabinet picks and other appointments -- and there are many to complain about if you're a real Democrat or progressive. I've held back on criticizing Obama's reticence to say anything powerful or real during his transition about Wall Street's wholesale sacking of the U.S. Treasury thats been going full tilt the last few months. It made me angry that it was Blogojevitch who went to Republic Windows in Chicago and stood with the fired workers -- and not Barack. But Obama's lastest bone-headed decision takes the cake, and I find it completely intolerable.
As reported in a Politico article, Obama has picked the awful, money-grubbing, "evangelical," anti-GLBT preacher, Rick Warren, to give the invocation at the presidential inaugural. Could he have made a worse choice? Warren and his multi-media Saddleback Church racket were front and center in enthusiastically supporting California Prop. 8, which negates California's constitutional protections for same-sex marriage. In opposition to a recent California Supreme Court ruling, Prop. 8 returns the state's gay population to second class citizenship, something every single Democrat -- if not every real American -- should be opposing vocally if they wish to maintain a claim to be supportive of equal rights for all.
This isn't a theocracy last time I looked. Yet here's Obama rewarding a preacher who believes the entire population should be forced to live by his personal church's teachings. Warren has compared gay marriage to "legitimizing incest, child abuse, and polygamy." I can't tell you how much this disgusts me.
I wonder how Obama would have felt if Clinton had picked a Ku Klux Klan functionary to give the invocation at one of his inaugurations. You know, to bring people together, racist or not, so we can rise above "partisanship." I also wonder what the results would be if, even today, we allowed California to put African-American rights -- or maybe mixed racial marriages -- to a referendum vote.
Negative Reactions
I have to agree with Joe Solomonese on this one (see full text of his letter at the end of this post):
"Your invitation to Reverend Rick Warren to deliver the invocation at your inauguration is a genuine blow to LGBT Americans," the president of Human Rights Campaign, Joe Solomonese, wrote Obama Wednesday. "[W]e feel a deep level of disrespect when one of architects and promoters of an anti-gay agenda is given the prominence and the pulpit of your historic nomination."
This isn't the first time Obama has dissed GLBT citizens. Last summer gay groups complained, but were rebuffed by Obama, when an "ex-gay" singer led Obama's rallies in South Carolina.
The Real Problem: Dem Politicos Have No Spines
Here's the real problem at the root of the issue: Democratic candidates and officeholders refuse to publicly support gay marriage, even though almost all of them support it in private -- or at least when they're raising significant sums of money and getting lots of volunteer hours from GLBT voters. Instead, they fall back on the copout of supporting "civil unions" or "domestic partnerships," which do not -- let me repeat that -- do not give couples the same or even a similar array of civil rights that are bestowed on straight married couples.
Like the other Dem parrots, Obama has said he opposes same-sex marriage, but he also claimed he opposed Prop. 8. Not surprisingly, Prop. 8 supporters used Obama's statements against gay marriage in their radio and TV ad campaigns to bolster their credibility. Heckuva job, Obama. Sorry, the integrity of "separate but equal" treatment of certain classes of citizens went down the tubes long ago, as Obama well knows.
More Reactions
Here's what others have to say about Obama's choice of Warren:
"It's a huge mistake," said California gay rights activist Rick Jacobs, who chairs the state's Courage Campaign. "He's really the wrong person to lead the president into office.

"Can you imagine if he had a man of God doing the invocation who had deliberately said that Jews are not going to be saved and therefore should be excluded from what's going on in America? People would be up in arms," he said.

The editor of the Washington Blade, Kevin Naff, called the choice "Obama's first big mistake."

"His presence on the inauguration stand is a slap in the faces of the millions of GLBT voters who so enthusiastically supported him," Naff wrote, referring to gay, lesbian, bisexual and transgendered people. "This tone-deafness to our concerns must not be tolerated. We have just endured eight years of endless assaults on our dignity and equality from a president beholden to bigoted conservative Christians. The election was supposed to have ended that era. It appears otherwise."
People for the American Way also issued a statement critical of Obama's choice of Warren, saying it was a "grave disappointment." Excerpt:
Pastor Warren, while enjoying a reputation as a moderate based on his affable personality and his church's engagement on issues like AIDS in Africa, has said that the real difference between James Dobson and himself is one of tone rather than substance. He has recently compared marriage by loving and committed same-sex couples to incest and pedophilia. He has repeated the Religious Right's big lie that supporters of equality for gay Americans are out to silence pastors. He has called Christians who advance a social gospel Marxists. He is adamantly opposed to women having a legal right to choose an abortion. Rick Warren gets plenty of attention through his books and media appearances. He doesn't need or deserve this position of honor.
Speak Up Dem Officeholders!
I hope other Democrats and progressives, including our new members of Congress, speak up and encourage Obama to rethink his selection of Warren to lead the inaugural invocation. To do less would be siding with the forces of backwards, narrow thinking and hate-filled bigotry as we move towards the second decade of the 21st century. You can't claim to be a leader in the push for enlightened change and do otherwise, at least in my book.
The complete text of the letter sent to Obama by the Human Rights Campaign:
Let me get right to the point. Your invitation to Reverend Rick Warren to deliver the invocation at your inauguration is a genuine blow to LGBT Americans. Our loss in California over the passage of Proposition 8 which stripped loving, committed same-sex couples of their given legal right to marry is the greatest loss our community has faced in 40 years. And by inviting Rick Warren to your inauguration, you have tarnished the view that gay, lesbian, bisexual and transgender Americans have a place at your table.
Rick Warren has not sat on the sidelines in the fight for basic equality and fairness. In fact, Rev. Warren spoke out vocally in support of Prop 8 in California saying, "there is no need to change the universal, historical definition of marriage to appease 2 percent of our population ... This is not a political issue -- it is a moral issue that God has spoken clearly about." Furthermore, he continues to misrepresent marriage equality as silencing his religious views. This was a lie during the battle over Proposition 8, and it's a lie today.
Rev. Warren cannot name a single theological issue that he and vehemently, anti-gay theologian James Dobson disagree on. Rev. Warren is not a moderate pastor who is trying to bring all sides together. Instead, Rev. Warren has often played the role of general in the cultural war waged against LGBT Americans, many of whom also share a strong tradition of religion and faith.
We have been moved by your calls to religious leaders to own up to the homophobia and racism that has stood in the way of combating HIV and AIDS in this country. And that you have publicly called on religious leaders to open their hearts to their LGBT family members, neighbors and friends.
But in this case, we feel a deep level of disrespect when one of architects and promoters of an anti-gay agenda is given the prominence and the pulpit of your historic nomination. Only when Rev. Warren and others support basic legislative protections for LGBT Americans can we believe their claim that they are not four-square against our rights and dignity. In that light, we urge you to reconsider this announcement.
Sincerely, Joe Solmonese
President
Human Rights Campaign
Also see my later post on this topic.
December 17, 2008 at 06:34 PM in 2008 General Presidential Election, Civil Liberties, GLBT Rights, Minority Issues, Obama Transition, Progressivism, Public Policy, Religion | Permalink | Comments (17)
Targeted Nonprofits File Federal Suit Against New Mexico Secretary of State

Yesterday the Center for Civic Policy (CCP) and Southwest Organizing Project (SWOP) filed a lawsuit (click for complaint) against Secretary of State Mary Herrera (right). The suit stems from Herrera's letters to the two nonprofit organizations earlier this summer – letters ordering CCP and SWOP to register as state political committees.
Following consultations with the Office of the Attorney General, Secretary Herrera reversed her earlier decision in which she determined that New Mexico Youth Organized did not have to file as a political committee. New Mexico Youth Organized is a project of the Center for Civic Policy.
In both cases, the Secretary of State has refused to disclose the cause for the registration orders.
"We're concerned that if the Secretary of State is allowed to arbitrarily order nonprofits to register as political committees, without explanation, it will muzzle the important civic engagement work of our sector," said Matt Brix, Policy Director for the Center for Civic Policy. "While we didn't want to file suit against the state, we were left with no choice. Nonprofit organizations have a responsibility to inform the public about the votes of elected officials and the source of their contributions. Furthermore, the public has a right to know what elected officials are doing in their name."
The suit was filed in federal court.
Background


Click to see Herrera's August 18, 2008 letter to New Mexico Youth Organized. And here's our August 19 post commenting on Herrera's action. Also refer to our August 10 post for more background on what prompted Herrera's August 18th letter, based on advice she received from Attorney General Gary King (right) that has been kept confidential.
A long and winding road to this juncture was set in motion when three status quo Dem lawmakers looked like they would be ousted in the June 2008 primary by three reform Dems in heavily Dem districts. The three challengers eventually were victorious, with Tim Keller defeating long-time incumbent Sen. Shannon Robinson in SD 17, Eric Griego beating Sen. Paul Taylor in SD 14 and Eleanor Chavez besting Rep. Dan Silva in HD 13.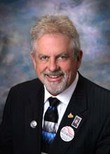 Defeated Sen. Shannon Robinson (right) was particularly incensed about his pending (and later, actual) loss. He couldn't seem to grasp the fact that voters no longer believed he represented their interests, with the majority preferring to vote for his energetic, persuasive opponent. He launched into wildly accusatory public diatribes in the media -- and even on the NM Senate Floor -- claiming that he wuz being robbed. Robinson blamed nonprofits that had sent out direct mail pieces after the 2008 Legislative Session informing the public about his voting record, and how the votes he made seemed to be in sync with the wishes of his big donors. I guess in Shannon's world it's a bad thing when your constituents know what their State Senator is doing at the Roundhouse, and where they're getting their campaign cash.
Robinson ended up complaining to AG Gary King about the educational activities of several nonprofits and King's office reportedly issued a letter to Secretary of State Herrera the next day advising that New Mexico Youth Organized's legal status should be changed from a nonprofit to a PAC. Then King apparently withdrew the opinion, reportedly calling the Secretary of State's Office a day later to instruct them to ignore the letter. The nonprofits, meanwhile, laid out a defense of their actions in a June 6 letter to Mary Herrera.
Nothing else happened until King issued an odd press release on August 8th claiming he was standing by his original advice. He said NMYO's mail pieces were campaign materials based on criteria spelled out in this now infamous determination:
"There's an old saying that if it walks like a duck and quacks like a duck, then its probably a duck," say AG King. "And I think we know a duck when we see one."
The last message the public got from AG King about the matter of the legal status of the targeted nonprofits came in the form of -- get this -- a leak on Joe Monahan's blog. As I posted last month, Monahan wrote that AG King was going to "act" on the "nonprofit mess" by year's end. He claimed King "told" him the $21,000 in fines that were levied by the Secretary of State on PRC candidate Jerome Block Jr. for his violations of public campaign finance law should be seen as an example of the kinds of fines King "has in mind" for nonprofits if he decides their actions violate state laws. Does anyone think it's wise for an Attorney General to issue statements about a pending legal matter in a gossip blog? I didn't think so.
Previous Lawsuit Against Nonprofits Dismissed
In addition to Robinson's complaints to the AG, he and the two other defeated legislators filed a poorly reasoned and sloppily written lawsuit in District Court against the three candidates who beat them in the primary, as well as several nonprofits. The suit claimed the candidates and nonprofits had mounted a conspiracy against the losers, and it asked that the results of the three primary contests be reversed. That suit was dismissed without hearing last month by Judge Linda Vanzi.
Stay tuned as this story continues to unfold.
Technorati tags: New Mexico Youth Organized Center for Civic Policy Southwest Organizing Project Gary King Mary Herrera New Mexico Attorney General New Mexico Secretary of State New Mexico nonprofits lawsuits Joe Monahan Shannon Robinson Dan Silva James Taylor Tim Keller Eric Griego Eleanor Chavez Matt Brix
December 17, 2008 at 11:24 AM in 2008 NM State Legislature Races, Civil Liberties, Crime, Government, Justice, Local Politics, Public Policy | Permalink | Comments (1)
Friday, December 05, 2008
Gov. Richardson Visits Mexico, Dodges Questions on NAFTA
An article in the Miami Herald reports on a visit to the private University of the Americas in Cholula, Mexico yesterday by New Mexico Governor Bill Richardson -- a day after Richardson was nominated to serve as Commerce Secretary in the Obama administration.
Richardson was south of the border on a previously scheduled trip to speak with members of the Mexican business community. Former Mexican Foreign Relations Secretary Ernesto Derbez accompanied Richardson and, when questions arose from the business folks about NAFTA, Derbez deflected them saying, "We won't give any answers to those questions."
The conservative government of Mexican President Felipe Calderon is strongly opposed to reopening NAFTA -- a possibility raised by Obama at a February 26 presidential debate:
"I will make sure that we re-negotiate in the same way that Senator (Hillary) Clinton talked about," Obama said then, referring to the trade pact. "I think we should use the hammer of a potential opt-out as leverage to ensure that we actually get labor and environmental standards that are enforced."
The article reported that Mexican "government officials said they doubted Obama would follow through on a campaign pledge to re-negotiate NAFTA," and quoted Mexican Agricultural Secretary Alberto Cardenas as saying it was "a little remote" that the United States would actually try to reopen the trade accord, implemented in 1994:
"If in the campaign, at some given moment in some American state, the president-elect was heard to make such a statement, I think we shouldn't get ahead of ourselves," Cardenas told reporters. "I see it as a little remote that such a re-negotiation would actually take place."
In an excellent article at the New Mexico Independent, Marjorie Childress addresses Richardson's free-trader reputation and how it may have evolved over the years:
Richardson has a reputation as a free-trade advocate who on the domestic front pushes low taxation, public investment in private ventures to spur economic development, and market-based solutions to social problems. In this respect he's a Clintonite — a DLC Democrat through and through. What makes him an interesting choice for Commerce, though, is his internationalist perspective and interest in diplomacy.

... While Richardson is a self-described free trader, he also seems to have evolved in his thinking about free trade regimes. In a visit to the Council on Foreign Relations this past summer, he spoke frankly about his views on trade and NAFTA. He was no longer running for president but was certainly still positioning himself for a spot in the next administration. In this light, his comments might be construed as being as much about himself as about what we might expect an Obama administration to prioritize.
So will Obama, long-time free-trade advocate Bill Richardson and others in the Obama administration really get tough on labor and environmental standards related to trade negotiations? Nobody knows. Way too many Democrats talk the talk when they're involved in a campaign, but somehow their promises seem to get lost when they're in office. Unions, American workers and environmentalists haven't been amused. We'll all be watching closely when the Obama administration takes up trade issues next year. Will there really be any "change we can believe in?" Clearly, labor unions and many others will be pressing Obama to level the playing field in terms of trade and disappearing jobs -- especially in an economy like this one.
Photo by M.E. Broderick.
Technorati tags: Bill Richardson Barack Obama Commerce Secretary Obama cabinet NAFTA Mexico free trade
December 5, 2008 at 03:09 PM in 2009 Gubernatorial Transition, Business, Economy, Populism, Environment, Labor, Obama Transition, Public Policy | Permalink | Comments (2)
Friday, November 14, 2008
Santa Fe's Mayor Coss Introduces Proposal to Strengthen City's Economy
Like the federal government, state, county and municipal governments are scrambling to devise and implement strategies to cope with the severe economic problems that are plaguing both the public and private sector worldwide. Officials everywhere are hard at work trying to create effective economic stimulus packages that match the times and local conditions. Here in New Mexico, Santa Fe Mayor David Coss released his proposal this week.
Mayor David Coss introduced a resolution at this week's City Council meeting to strengthen Santa Fe's economy through investments in the local economy and infrastructure improvements. Yesterday, the Mayor's Office released the following statement about the proposal:
"From home foreclosures, lost jobs and drops in retail sales, we see that Main Street America is in trouble. As our city and nation face increasing economic challenges, it is imperative that we continue to move forward and not back away from the policies and principles that make Santa Fe great," states Mayor Coss' resolution. "It is critical to address our city's financial state with a holistic approach that strengthens our economy through enhanced partnerships with local businesses, nonprofits and community organizations."
The resolution directs the City Manager to direct that the following actions be taken and investments made to move Santa Fe's economy forward and provide jobs for residents:
Invest $400,000 in promoting the city's 400-year anniversary status to attract additional visitors to our area.
Invest $500,000 in energy conservation and alternative energy to help homeowners and small business deal with climbing energy prices.
Act to gain increased economic benefit from our new community assets including the Santa Fe Community Convention Center, Railyard development and the Rail Runner Express.
Accelerate investment of $6 million capital improvement funding into upgrading City transportation infrastructure including roads, sidewalks and trails.
Adjust utility rate administrative structure to encourage conservation and economic development in the hospitality sector—hotels and restaurants.
The resolution is co-sponsored by City Councilors Rosemary Romero and Rebecca Wurzburger. Click to read the full resolution (doc). The resolution references the Mainstreet Stimulus Call to Action (pdf) issued by the U.S. Conference of Mayors.
The City's Finance Committee will meet at 5:00 PM on Monday, Nov. 17, 2008 to discuss the city budget.
November 14, 2008 at 11:15 AM in Economy, Populism, Government, Green Economy, Public Policy, Santa Fe | Permalink | Comments (0)
Thursday, October 23, 2008
Community Leaders Join Gov. Richardson to Support Regional Transit Ballot Initiative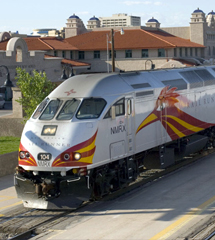 To my mind, one of the most important ballot initiatives this time out is the Regional Transit Gross Receipts Tax. Voters in seven counties are being asked to raise their gross receipts tax by one-eighth cent per dollar to fund regional transportation. Passage of the tax will result in 12.5 cents in additional tax on every $100 spent on taxable goods or services.
It's one thing to talk about reducing greenhouse gases and decreasing our use of foreign oil, but this is a chance to step up to the plate and support a transportation project that will do just that. Think about the gasoline savings that will pile up when the Railrunner is one day carrying passengers from Belen to the Colorado border, and all the stops in between. Toss in expanded bus service, and more travelers than ever will be able to leave their cars at home.
The proposed tax levy will raise an estimated $26 million a year in the Rio Metro Regional Transit District, which covers Bernalillo, Sandoval and Valencia counties. A similar tax will raise $8 million a year in the North Central Regional Transit District, which covers Santa Fe, Rio Arriba, Taos and Los Alamos counties.
In a related vein, it's been announced that community leaders will join Governor Richardson today to voice their support of the CRUISE campaign (Committee for Rail and Urban Infrastructure Systems Expansion). CRUISE supports the expansion of regional public transportation in the seven counties within the two regional transportation districts.
Norm Becker, President and CEO of NM Mutual of Albuquerque, and Ike Pino, General Manager of Rancho Viejo in Santa Fe serve as co-chairs. Dale Dekker of Dekker, Perich, Sabatini in Albuquerque serves as Treasurer. Since the formation of the steering committee a month ago, they have publicly advocated the passage of the regional transit ballot initiative by speaking to organizations and airing tv commercials. Community leaders from throughout the region will stand with the Governor to voice their support for the successful passage of the ballot initiative in the upcoming November election.
"The Governor made the impossible happen when he implemented his vision of public transportation and revolutionized our state," Pino stated. "We are proud to have the endorsements of NM AARP and NM Association of Counties. Together, we will forge a path of progress for New Mexico that will improve traffic congestion, air quality, and economic development."
The expansion of public transportation services include travel on the Railrunner from Valencia, and Sandoval counties to Santa Fe and increased ground transportation in the northern New Mexico counties of Santa Fe, Los Alamos, Rio Arriba, and Taos.
The CRUISE campaign committee has registered as a political campaign committee with the New Mexico Secretary of State's office. The CRUISE initiative, which appears before voters this general election on November 4th, will authorize a gross receipts tax at the rate of one-eighth of one percent. Once approved, it will become effective on July 1, 2009 and be written in accordance with the County Local Option Gross Receipts Act. 
The following organizations have endorsed the Regional Transit Ballot Initiative: 
NM AARP 
NM Association of Counties 
NM Oil and Gas Association 
Albuquerque Chamber of Commerce 
Santa Fe Chamber of Commerce 
Albuquerque Economic Development 
Albuquerque Downtown Action Team 
NM AFL-CIO 
NM AFT 
Plumbers and Pipefitters, Local 412 
NAIOP
October 23, 2008 at 12:30 PM in 2008 General Presidential Election, Environment, Government, Public Policy | Permalink | Comments (1)
Monday, October 20, 2008
Guest Blog by Lorelei Kelly - New Mexico: Centerpiece of a New Security Strategy
This is a guest blog by Lorelei Kelly, whose experience includes working with the underground democracy movements of eastern Europe in 1989, teaching at Stanford University's Center on Conflict and Negotiation, working on bipartisan national security education in Congress, and working as a professional mediator in both domestic and international conflict resolution settings. She recently co-authored "A Woman's Guide to Talking About War and Peace" and blogs at Huffington Post. She will be making a presentation tonight from 7-9 PM on "New Mexico and Our National Security Future: How to Frame an Argument for Change" at the Albuquerque Center for Peace and Justice. Click for more information on the event.
In the final weeks of this campaign season, and with Sarah Palin accusing Candidate Obama of being pals with terrorists--the McCain campaign is going to a familiar conservative comfort zone on National Security: fearmongering.
There are many reasons why the Republican candidates should not do this: First of all, it hurts our nation to make national security a political football. It endangers all of us because it silences debate. I worked in Congress for nearly a decade and saw the impact of this climate of fear. Entire conversations become off-limits. Israeli-Palestinian issues, for example, or defense spending...These public challenges would only benefit from better communication and more creative ideas. For a safer and more prosperous tomorrow, Americans should decidedly reject the kind of conservative leadership that has made our nation vulnerable and less equipped to handle today's real security threats. Americans need a new direction for national security--and New Mexico should be the centerpiece of it. Why? Because New Mexico remains economically dependent on a concept of security that no longer exists. The state's nuclear labs--full of brilliant people--must break with the past and lead the way forward.
America's leadership crisis on national security is not new. For nearly two decades, our elected leaders, both in Congress and the Presidency, have maintained a simplistic vision of national security that prevailed during the Cold War; "us vs. them" and "guns vs. butter". But the rationale for that worldview ended in 1991 when the Soviet Union disappeared. National security-wise, our world went from a world that was linear, predictable and technological to one that is chaotic, random and very human. It really isn't all about rocket science anymore. The terrorist attack on 9/11 made this change undeniably clear. Other examples exist: Our military's own doctrine now puts civilian protection and reconstruction at the center of its mission. Our soldiers and Marines could just as likely be engaged in positive social change activities as combat. Military officers testifying in front of Congress for the past few years have pointed out that the conflict in Iraq cannot be solved by the use of force. They wait, like the rest of us, for our elected leaders to have a new conversation about security.
New Mexico is poised to start a conversation about how national security is a much broader concept than it was even two decades ago. During the Cold War, security was easy to define as a military responsibility and to measure by arms control treaties and borders. Containment was the name of the strategy we used against the Soviet Union. But today's threats do not remain within borders. From global warming to pandemic disease, today's threats require the consideration of people across borders just as much as people within them. The notion of the nation state needs to evolve, and there is nothing more symbolic of this obsolete notion that nuclear weapons. The ability to dominate and coerce is fading. Where we need skills is in the ability to influence the intentions of others. Containment is not going to disappear completely, but we must replace that form of strength with legitimacy--the moral authority to lead.
A lot of great new initiatives are already happening at the state level in NM. Governor Richardson and others have taken significant steps forward on clean energy, environmental building standards, and collaborating with neighboring states. You can see more about that here: www.westernclimateinitiative.org/.
Back in 1993, at the end of the Cold War but before the Congress flipped to the conservatives, several organizations began a much-needed discussion about converting the activities of the nuclear weapons labs to modern needs. Environmental technology and renewable energy, for example. The best of these studies came from the Office of Technology Assessment, a think tank of scientific professionals who served Congress. Sadly, this organization, along with much of the institutional memory of the American legislature-was wiped out in 1995 when Newt Gingrich took over as the new majority leader.
But these studies--along with many others--are still relevant and ready to be implemented. You can find them online here: http://fas.org/ota/otareports/topic/dtopics/
In other words, converting the labs is not about reinventing the wheel. We just need to get it rolling. Many lab personnel are already contributing to a new vision for themselves and the future: on verification technology, cultural counter-terrorism research, convening international teams....
When Obama is elected president, we must support his efforts to lead the Congress in a conversation about a security strategy that truly meets today's threats. Elected leaders haven't had a serious priorities discussion for years. They have not put everything on the table, matched ends to means, and made some hard decisions about where we spend taxpayer dollars. The list of urgent issues for the next president is getting longer by the day, so New Mexico's leadership role on shaping this conversation matters today more than ever.
Lorelei Kelly
Policy Director, Real Security Initiative
www.thewhitehouseproject.org
202-487-7728
www.huffingtonpost.com
www.democracyarsenal.org
This is a guest blog by Lorelei Kelly. Guest blogs provides our readers with an opportunity to express their views on topics of interest. To submit a piece for consideration as a guest blog, click on the Email Me link at the upper left-hand corner of the page.
October 20, 2008 at 09:05 AM in Events, Government, Guest Blogger, International Relations, Military Affairs, Peace, Public Policy | Permalink | Comments (2)
Thursday, September 25, 2008
Let's Play "Wall Street Bailout" (Not)
Must See: The truly Democratic and democratic Rep. Marcy Kaptur of Ohio speaks truth to power on the absurd bailout bill, and suggests a better plan.
Note that the Sunlight Foundation has counted 357 parties so far this year sponsored by the financial services sector for (or featuring) lawmakers considering the bailout bill. Gee, I wonder why that is.
Go to votenobailout.org to express yourself via email. You can also call our Congressional delegation:
Domenici's office: 505 346-6791
Bingaman's office: 505 346-6601
Wilson's office: 505 346-6781
Udall's office: (505) 984-8950
Pearce's office: (505) 522-2219
Oh, and have you seen this one yet? Yes, it's a spoof but, sadly, it's so close to reality it hurts:
Dear American:
I need to ask you to support an urgent secret business relationship with a transfer of funds of great magnitude.
I am Ministry of the Treasury of the Republic of America. My country has had a crisis that has caused the need for large transfer of funds of 800 billion dollars US. If you would assist me in this transfer, it would be most profitable to you.
I am working with Mr. Phil Gram, lobbyist for UBS, who will be my replacement as Ministry of the Treasury in January. As a Senator, you may know him as the leader of the American banking deregulation movement in the 1990s. This transacting is 100% safe.
This is a matter of great urgency. We need a blank check. We need the funds as quickly as possible. We cannot directly transfer these funds in the names of our close friends because we are constantly under surveillance. My family lawyer advised me that I should look for a reliable and trustworthy person who will act as a next of kin so the funds can be transferred.
Please reply with all of your bank account, IRA and college fund account numbers and those of your children and grandchildren to wallstreetbailout@treasury.gov so that we may transfer your commission for this transaction. After I receive that information, I will respond with detailed information about safeguards that will be used to protect the funds.
Yours Faithfully Ministry of Treasury Paulson
(h/t to Terry Riley and TH)
September 25, 2008 at 12:43 PM in Business, Corporatism, Crime, Economy, Populism, Government, Public Policy | Permalink | Comments (3)
Wednesday, August 06, 2008
Friday: Gov. Richardson Wants to Hear Your Ideas for EXPO New Mexico
Governor Bill Richardson has announced he'll hold a community meeting at 1:30 PM on Friday, August 8, in the auditorium at the African American Performing Arts Center on the State Fairgrounds in Albuquerque. He wants to hear directly from New Mexicans who have ideas for redeveloping EXPO New Mexico (see aerial photo).
"I want to hear from the public, including the private sector and neighborhood associations, to explore every option for renovating the state fairgrounds," said Governor Richardson.
The Governor will be accompanied by EXPO officials, Finance Secretary Katherine Miller and local legislators, who will be available to the public for questions and comments about the state fairgrounds. The event will be moderated by Tim Keller, Senator-Elect from District 17, where EXPO New Mexico (the fairgrounds) is located.
Governor Richardson is interested in ideas that may include replacing Tingley Coliseum and the Downs Racetrack with a world class EXPO New Mexico Exhibit Center. In effort to maximize the use of the space, the State is open to considering alternative uses for the property, including community green space, multi-use buildings and commercial or residential development.
EXPO New Mexico consists of 237 acres within the city of Albuquerque and contains approximately 1,000,000 square feet of buildings and 7,500 parking spaces.
The community meeting will be held on Friday, August 8, 2008 at 1:30 PM in the auditorium at the African American Performing Arts Center on the State Fairgrounds. This event is open to the media and the public. We urge those who would like to attend, to arrive prior to 1:30 PM.
For more info on the process set out to garner redevelopment ideas, see the EXPO New Mexico website, this New Mexico Business Journal article and Request for Information (pdf) on Ideas to Redevelop the Property at EXPO New Mexico.
Technorati Tags: Bill Richardson EXPO New Mexico Albuquerque New Mexico New Mexico Fairgounds Tingley Coliseum Albuquerque Downs redevelopment infill Tim Keller
August 6, 2008 at 01:26 PM in Events, Government, Public Policy | Permalink | Comments (0)