Friday, March 11, 2011
3/11: Catch Lorene Mills' Interview with Glenn Greenwald on Wikileaks and More
"REPORT FROM SANTA FE" -- AIRING on KNME, Ch. 5.1
FRIDAY, March 11, at 10:30 PM
Hosted by LORENE MILLS
See Below for Airings on Other PBS Stations/Radio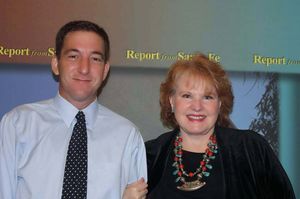 Glenn Greenwald, Lorene Mills
Highly recommended: This week's guest on "Report from Santa Fe" is award-winning columnist and civil rights activist, Glenn Greenwald -- one of my favorite online writers and reporters. His column on Salon.com blends legal analysis and investigative reporting about privacy and civil-rights issues often ignored by the mainstream media. Greenwald is a former constitutional and civil-rights attorney and is the author of <em>How Would a Patriot Act? and Great American Hypocrites. He is a frequent guest on television news shows and writes for the New York Times, the LA Times, and the American Conservative.
In this compelling interview with host Lorene Mills, Greenwald talks about WikiLeaks and the fate of Private Bradley Manning. They discuss famous whistleblowers such as Daniel Ellsberg, Karen Silkwood, Frank Serpico and Erin Brockovich, all of whom were motivated by "discovery of corrupt things and a belief that the people who are engaged in the corruption need to be exposed" which could then bring about much-needed reforms.
New media and new journalism are explored by Greenwald, especially in terms of the exciting developments in Egypt and the Middle East.
"A lot of times people get pessimistic about the prospects for political change, but the Middle East and the growing technology shows that even when it seems like it's very difficult, because the political forces are so great, citizens banding together in common cause can always find ways to bring about real political change," Greenwald says.
Studiously non-partisan, Greenwald believes that, "because our politics are so dichotomized between Republicans and Democrats, or left versus right, and people have to choose which side they are on, they don't end up actually assessing issues on an issue by issue basis. They know which side they are on and they automatically take the position that helps their side and hurts the other side."
The problem with that, adds Greenwald, is that aside from the fact it leads to somewhat irrational political discourse, "It becomes more like a football game where you cheer for your favorite side and root against the other one as opposed to being a rational citizen engaged in the process of understanding and analyzing issues and seeing where you come down on a position, regardless of what impact it has." Greenwald believes this divides people who actually have very common interests and, because of that, Greenwald strives to remain steadfastly independent in his analyses.
"The prime responsibility (of journalists) is to hold people in power accountable, whether they are Democrats or Republicans or liberal or conservative. People in power who don't have accountability will abuse the power and act corruptly," Greenwald said.
REPORT FROM SANTA FE will air this week on all three PBS stations across New Mexico:
KNME-TV/Channel 5.1 - PBS Santa Fe/Albuquerque – Northern & Central New Mexico, Friday night, 10:30 PM (there is no Sunday repeat this week)
KENW/Channel 3 – Portales – Eastern New Mexico, Saturday afternoon, 6:00 PM
KRWG/Channel 22 - Las Cruces – Southern New Mexico, Sunday morning, 7:00 AM
Albuquerque radio station KANW-FM, 89.1, at 9:30 AM on Monday
March 11, 2011 at 09:15 AM in Civil Liberties, Events, Government, Journalism, Media | Permalink | Comments (0)
Wednesday, February 16, 2011
House Education Committee Considers Bill Requiring Media Literacy as Elective in Grades 6-12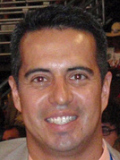 It's essential in a democracy for citizens to have the ability to understand and critically analyze the information they receive from sources like television, radio and the Internet. Legislation to ensure that students have an opportunity to learn how to do just that will be considered this morning, on Film and Media Day at the Roundhouse. The House Education Committee will hear testimony and consider the Media Literacy Bill proposed by Rep. Antonio "Moe" Maestas (D-Albuquerque). The legislation, House Bill 233, would require public schools to offer media literacy as an elective in grades 6-12 in New Mexico public schools. 
"New Mexico students must be offered curriculum that wholly prepares them for their future and, in today's 24-7 news and information age, media literacy has become just as important as financial literacy," Rep. Maestas said. "Students need to be able to digest and interpret useful information received from the various mediums of today's media and disregard potentially harmful or inaccurate information. Media literacy is one more vital tool we can arm New Mexico's children with to succeed in the job market and in life."
The first version of the Media Literacy Bill was passed two years ago. The law currently states that schools may offer media literacy as an elective for its students. However, Rep. Maestas and the Media Literacy Project have proposed the language be changed to schools shall offer media literacy as an elective. This would require schools to offer media literacy along with their other elective choices for students.
"New Mexico can only benefit from providing media literacy education as an elective in its 6-12 schools," said Andrea Quijada, executive director of the Media Literacy Project. "As media become more integrated into our social and political environment, it's essential that we equip our future generations with the critical skills they need to analyze media messages and marketing. Schools have a responsibility in making sure that their students have every opportunity to become literate in not just reading and writing, but in the media of our everyday lives."
 The Media Literacy Project is a non-profit organization that advances education and advocacy for media justice.
February 16, 2011 at 10:53 AM in Education, Media, NM Legislature 2011 | Permalink | Comments (1)
Thursday, January 20, 2011
(Updated) Call In to Susana Martinez on 770 KKOB Tomorrow - No Calls Allowed from Film Industry?
Update: It was impossible for us to get through on the call-in line to KKOB's Bob Clark show this morning, so I'm sure others had difficulty. The amazing thing is that almost all of the callers who did get through were Martinez fans, and most spent time fawning over her and her "positions." I found it to be miraculous how the callers' "questions" and comments matched so well with the talking points Martinez clearly wanted to recite. They were points identical to ones she used during the campaign and her State of the State address.
I did learn one thing: Susana has a great rote memory -- I bet she was a whiz at memorizing and reciting her multiplication tables in grade school. Rote learning has gone the way of the manual typewriter, but the skills of those years still live on in with Susana and many other right-wing reciters. Despite it all, she was tripped up was when she was asked how a certain budget item was handled in the LFC budget proposal in contrast to her own. She couldn't recall. Must not have been on her memorization assignment.
One caller asked her how much she made as governor and if her own pay was included in her plan to cut salaries. She sounded puzzled, and said she made about "about $110,000" -- she couldn't really remember -- but she admitted her pay hadn't been cut and said it was because the legislature sets the rate, not her. Hey Susana, put in a bill to cut it! I'm sure the legislature would go along!
Martinez then launched into a rather muddled discussion on how the state needed to start cutting expenses just like families have had to do. She must have forgotten that the state has already gone through at least THREE ROUNDS of cost cutting. Well, she's new on the scene. She thinks state budgeting solutions are a new item on the agenda that emerged when she was sworn into office.
Martinez also stumbled a bit on a question about the Rail Runner, mumbling something about how we need to reduce ridership in a long meander about a need to make the train faster by eliminating stops. Or something.
Only one supporter of the film industry tax rebate got through to ask a question, near the end of the hour, and she was rushed off the line. Tellingly, earlier pro-Martinez callers were allowed to ramble at length, even if they weren't making much sense.
Bob Clark lobbed softball questions to Susana and at times even went so far as to recite Martinez talking points and then inquire of Susana, "right?" I hope the Martinez campaign and other right-wing money sources are rewarding KKOB for their exquisite and constant service on behalf of right-wing propaganda messaging. Their whole outfit seems dedicated to that end.
***********
New Mexico's Republican Governor Susana Martinez will be on the Bob Clark show on 770 KKOB-AM tomorrow, Friday, January 21, starting at 9:00 AM. She'll be taking calls, but the word is that they're not going to allow calls from the film industry. Imagine that. No don't. Call in yourself and tout the benefits of the film industry tax rebate -- or anything else Susana is threatening to cut.
Whether or not you're employed by the film industry, please call the Bob Clark show tomorrow and let Gov. Martinez know how it's a no-brainer to continue the tax rebate as is. The listener hotline is: 243-3333ot toll free 1-800-460-0770.
January 20, 2011 at 06:55 PM in Film, Media, Right Wing, Susana Martinez | Permalink | Comments (5)
Tuesday, January 11, 2011
Stephen Jones: A Fire in a Crowded Theater
This is a post by contributing writer, Stephen Jones, of Las Cruces.
On a cold December morning in 1905 a small group of old friends of the late William Lloyd Garrison gathered at the door of the old African Meeting House on Commonwealth Avenue in Boston to mark the centenary of the birth of the fiery abolitionist leader. One passerby, Supreme Court Justice Oliver Wendell Holmes, out for an evening stroll, indignantly crossed to the opposite side of the street, telling his wife that nothing could induce him "to do honor to a man who broke the condition of social life by bidding the very structure of society perish rather than he not have his way -- expressed in terms of morals, to be sure, but still his own way."
For Holmes looking back at Garrison in 1905, being morally right was not worth the carnage of national conflict; rather it was better, Justice Holmes believed, to restrict provocative speech. Holmes, a veteran of national conflict, was three times wounded in Civil War battles from Antietam to Fredericksburg before returning to Harvard after the war to earn a law degree. He then practiced as a private attorney in commercial law before his appointment to a Federal Judgeship in 1878. In 1902 President Roosevelt appointed Holmes to the United States Supreme Court.
It was in the capacity of a Supreme Court Justice that Holmes wrote the majority opinion in Schenck v. United States, echoing his feelings on the limits to free speech he first expressed on Commonwealth Avenue, and shaped by his life experience as a soldier and a wounded veteran. Holmes likened what he viewed as dangerous speech to "falsely shouting fire in a crowded theater."
Charles Schenk, the Secretary of Socialist Party, had been arrested in 1917 under the wartime espionage act, for passing out leaflets at a military induction center. Schenk's leaflet urged inductees to defy the draft and refuse service as a "violation of rights." In his opinion Holmes found that Schenk's agitation presented "a clear and present danger" to the order of American society, and found that Schenk had no right to criticize the Federal government in a time of war. In Schenk, Holmes likened the agitator's speech to "falsely shouting fire in a crowded theater," the often improperly paraphrased sentence for which the opinion is best remembered.
Holmes Changes His Mind
Holmes' opinion in Schenk set off widespread debate among academic circles. After engaging in a spirited correspondence following his decision with Zechariah Chafee, a young professor at Harvard, and others, Oliver Wendell Holmes had second thoughts. In his written dissent in Abrams v. United States only eleven months later, Justice Holmes decided he had made an error and instead appealed for free and open speech. In his dissent in Abrams, Holmes concluded that suppression of free speech posed an even greater danger to the exercise of a democracy than its restriction in the interest of national tranquility.
In less than a year, Justice Holmes decided that suppression of the speech of a William Lloyd Garrison, or even of a Charles Schenk, might, in the end, have much worse consequences to the well being of the nation than the free exercise of open debate. In his dissent, Holmes wrote, "When men have realized that time has upset many fighting faiths, they may come to believe even more than they believe the very foundation of their own conduct that the ultimate good desired is better reached by free trade in ideas."
Relevance to Today's Debate on Vitriolic Speech
In the immediate aftermath of the assassination attempt on Congresswoman Gabrielle Giffords, there has been a lot of concern and public discussion of vitriolic speech in the airwaves and among certain so-called leaders, particularly the hate speech of many so-called "conservatives." Whether this overheated rhetoric drove a single disturbed individual to stalk Representative Giffords with a semi-automatic weapon we may never know. In the end, it is really a question to be decided by each one of us, individually.
Like most of us, I hope that the events of this past weekend will give some of us pause before spouting violent speech against our fellow citizens. That examination of conscience, however, is best arrived at by the members of the press, the political leaders of our nation, the media personalities who make their trade in creating division and by ourselves as individual citizens. It would be a mistake for any of us to seek to limit the free speech of any among us, onerous as it might be.
Words do have consequences, as we learned again this week. Any of us can, after all, falsely shout fire in a crowded theater if we choose to do so. If we do so, however, we ought to realize there will in the end be a price to be paid. Ms. Palin and others may now be learning this simple lesson. Time and reflection will ultimately tell. In the aftermath of this week's violent event there have been demands to restrict speech on the air and elsewhere. This would be a mistake.
Protect Our Best Values and Traditions
There isn't really much value in demanding that so-called "conservatives" refrain from carrying guns to political rallies, speaking in terms of "second amendment remedies" or branding themselves in terms of street warfare. By now we ought to know that those so-called "conservatives" have very little ability to restrain themselves, anyway. At the end of the day, their path is neither a long-term winning strategy nor a valuable vision for our future. As progressives, we had best stay our own course, and work to protect the best traditions of our nation, including protecting the free exercise of speech we may not like.
As horrified as we may be today, we should refrain from restricting the values we most cherish, including the free exercise of speech. As Dr. Martin Luther King, Jr. said in his Eulogy to the Martyred Children, in the aftermath of the killings of four young girls at a Birmingham church in 1963, "Somehow we must believe that the most misguided among them can learn to respect the dignity and the worth of all human personality." The violence and negativity of the speech of conservatives "may well serve as a redemptive force ... to transform the negative extremes of a dark past into the positive extremes of a bright future, and yet cause the nation to come to terms with its conscience. At the end of the day there is little to be gained, really, in restricting the speech of anyone, in the words of Dr. King, "who has fed his constituents with the stale bread of hatred."
To read more posts by Stephen Jones, visit our archive.
January 11, 2011 at 03:10 PM in By Stephen Jones, Contributing Writer, Civil Liberties, History, Media, Right Wing | Permalink | Comments (3)
Wednesday, December 01, 2010
Bullhorn Journal Exposes Inconvenient Truths on Paul Gessing, Rio Grande Foundation
All is not as it seems concerning Paul Gessing and his now rather infamous Rio Grande Foundation (RGF) -- the extreme right-wing "group" that constantly has its proposals featured in the Albuquerque Journal, as well as in other local media coverage. Whenever topics like the economy, state budget or taxes are discussed, Gessing or one of the other "spokespersons" connected in one way or another with the RGF have apparently become the go-to source for commentary on local media like public radio KUNM and KRQE News 13. Op-eds by Gessing and others in the RGF circle are often featured in the Journal -- many times without having the writers identified as RGF representatives. (See post on Clearly New Mexico.)
In other words, the outfit is given a lot of credibility and respect in our local political dialogue, whether or not it is deserving. The way in which much of the media has treated the RGF suggests the organization represents the views of a big chunk of our populace -- or at least a hefty membership list -- and that Gessing is a recognized national commentator on economic matters. Now it's been revealed that, in essence, the RGF may be nothing more than a shell organization created to publicize and push the kind of right-wing ideas that please its corporate donors, and that Gessing -- in some ways at least --may not really be who he pretends to be.
Gessing Caught Fudging?
Over at the Bullhorn Journal, Chris Dudley has been on a quest to find out who constitutes the "membership" of the RGF, and what credentials are held by its leader. He lays out a series of communications he's had with Paul Gessing, who serves as President of the RFG, which reveal that Gessing may have been less than honest about at least some of his experience.
For instance, Gessing has long claimed publicly that he has written "articles" for U.S. News and World Report, a national news magazine. Inconveniently, it now appears that the claim may be completely bogus. Dudley contacted the magazine to ask about Gessing's claim, and received this response:
"We have looked into this and we do not have any record of Paul J. Gessing writing any articles for us."
Oops. Gessing also claims that he has published "articles" in the Wall Street Journal and Washington Post. However, Dudley counters that he has found no evidence to support these claims either:
At this writing I have not heard from the Wall Street Journal's or the Washington Post's archivists regarding Gessing's claims to have 'written articles' for those newspapers. But I have searched the archives and I suspect that, at best, Gessing has written Op-Ed pieces or Letters to the Editor, a far cry from 'articles'.
In an open letter on his blog, Dudley had this to say about Paul J. Gessing:
Dear Media and my fellow New Mexicans, you have been astroturfed!

He has in effect used claims of having been published nationally to gain publishing credits locally; deceptive yet self-fulfilling.

I gave Gessing several opportunities to provide proof of authorship of something, anything, in the national outlets he claims. He replied, "I simply don't have the time or desire to go into all of my files," to find clips, or dates of publication or titles of articles or any proof whatever to avoid charges of deceptive practices by the Rio Grande Foundation and Paul J. Gessing.
RGF Membership and Funding
Dudley goes on to write about the conclusion he's reached about the makeup or "membership" of the RGF:
Gessing's 990-EZ for the Rio Grande Foundation's 501(c)(3) non-profit status (broken down in earlier posts) shows that they receive Zero, zip, nada dollars from membership dues. This despite the fact that they have an open call for dues paying members on their website. Here's the screen grab for The 9 Club, one of the funding regimes for RGF (see blog post for image).
So how many people actually make up the organization (other than staff)?
Considering the weight Gessing and his ideas are given on New Mexico media outlets, one would expect that the Rio Grande Foundation had a large base of organized, local members. However, after repeatedly begging (in rather unrecoited fashion) for Gessing to publish the number of New Mexico members in the RGF, I am forced to say that only eight New Mexicans can be said to belong to the Rio Grande Foundation.

Eight members. Eight. Not 24 or even 16 members. But eight.

... In gross terms, Gessing's organizational membership is .0004 percent of the population of New Mexico. Just think, you and seven pals can start a foundation and get on tv based on 3.98208064 × 10-6 community support.
Given all that, where does the RGF get its generous funding?
Astroturfing is when huge corporate interests start up local sounding fake 'grass-roots' organizations that use the massive amounts of money (Rio Grand Foundation spent almost a half million dollars last year) to sway public opinion in favor of corporate dominance of our public institutions. [emphasis added]

As best as I can figure the Rio Grande Foundation derives less than ten percent of it's income from local sources (basically two donors), with the rest mostly coming from prominent right wing corporate and corporate backed non-profits and foundations like The Donor's Capital Fund, Wal-Mart, and etc.
Dudley provides a list of RGF donors:
Of the roughly 250,000 RGF took in this year most was from out of state right-wing organizations. Here's the list:

Donor's Capital Fund, of Virginia, $122,500
State Policy Network, of Virginia, $30,000
Roe Foundation, of South Carolina, $15,000
Wal-Mart, of Arizona, $10,000
Atlas Foundation, of DC, $10,000

There were also two large New Mexico donors, both from Albuquerque;
Jeff Van Dyke, $12,000
Chris Baum, $5,540

So… if my math's correct, that's under nine percent of major donations from the state of New Mexico.

The other, roughly $53,300, monies that RGF took in are not delineated but let's make a safe bet and guess that not much of that is from NM either (remember, no new membership dues were paid to RGF in 2009).
As Dudley says, that's classic astroturfing.
RGF Budget Recommendations
Dudley says he got interested in Gessing and the RGF after reading a letter submitted by the RGF to Susana Martinez, New Mexico's Republican governor-elect, proposing ways in which to close the $450 million budget hole in New Mexico. The proposed plan has gotten a lot of ink in the local media -- I guess because reporters are incredibly impressed with the eight people who comprise the RGF -- or something.
This despite the fact that most of the RGF proposals are, shall we say, not very consistent with common sense or political realities. These include stopping the payment of the prevailing wage on public works projects, dismantling the Rail Runner and all its feeder routes (I wonder why Gessing et al. don't suggest that our road and sewer systems should pay for themselves), abolishing state support for the film industry, cutting by half the number of higher education branches and more than doubling (!) college tuition.
RGH Staffing
How about the staff of the RGF?
What's more interesting is the 'staff' of RGF, a litany of rightwing 'think tank' economists from the coasts, a New Mexico Cardiologist, a website designer and ... wait for it ...

A New Mexican who, "has 25 years of progressively increasing experience in corporate communications, public affairs, and business development." I don't have any idea what that means either, but, if I get an answer I'll let you know.
Calling All "Reporters"
Isn't it time that straight-up "reporters" probe a little more deeply into who and what the Rio Grande Foundation really is, what they are up to and why? Why is all this money flowing into our state to fund their activities and their support for allegedly "nonpartisan" vehicles like the New Mexico Watchdog blog and Capitol Report -- both of which employ the services of the same reporter? It's getting to be a regular syndicate here in terms of RGF-related mouthpieces and media outlets and yet I haven't seen one mainstream "news" outfit dig down and examine the group's makeup, the money that funds them or the fact that their "nonpartisan" messaging is sometimes anything but.
Dearth of Outlets to Challenge Right-Wing
With the New Mexico Independent gone except for one part-time blogger, it sure looks to me that most of the on-the-ground coverage out of the New Mexico Legislature will be coming from none other than RGF-related sources. Expect everything they put out to be supportive of right-wing ideology, legislation and lawmakers, not to mention our incoming Republican governor. Much of the news we'll be getting from Santa Fe during the session will be filtered through the right-wing prism of the Rio Grande Foundation -- and their corporate and right-wing extremist supporters. 
Unfortunately, the situation in New Mexico is not an anomaly. Right-wing interests have long been building up and funding powerful think tanks and online vehicles nationwide to carry their messaging, as well as the notorious right-wing talk radio and Fox News echo chambers. They will be pumping out their attacks on Democratic positions and politicos nonstop as legislatures meet, the 2012 election nears and redistricting is set to take place in every state. They'll get lots of funding and supportive TV and radio ads from both named and unnamed moneyed interests of the kind that were unleashed with the shameful Citizens United decision by the U.S. Supreme Court. Count on the Rio Grande Foundation's efforts to be a big part of that.
Lack of Progressive Support
What messaging and news sources will be available to fight back on our side with the facts we need to get out there to counter the right-wing onslaught? Your guess is as good as mine. I don't see much that exists now or is on the horizon. If nothing changes, we'll be fighting the good fight with one hand (or is it both hands?) tied behind our backs.
One bright spot has been the formation of We Are New Mexico, which is reportedly planning to expand its activities, but we need way more resources directed at getting the progressive message out there as we deal with serious economic, environmental, educational, health care and equality challenges. Where are you, supporters of progressive and Democratic values?
Why aren't our supporters here in New Mexico and nationwide helping to build think tanks, groom spokespersons and candidates and support blogs and other kinds of news and opinion outlets that can challenge the ideology-fueled right-wing machinery? It sometimes seems like our side is still operating like it's 1999. It's no wonder we're losing so many battles in the public eye. If the voting public doesn't get the facts or hear any persuasive arguments supporting our positions, how will we ever generate the support we need to succeed?
December 1, 2010 at 02:56 PM in Corporatism, Economy, Populism, Journalism, Media, NM Legislature 2011, Right Wing | Permalink | Comments (5)
Thursday, November 18, 2010
Powerful Testimony Abounds at Future of the Internet Hearing Supporting Net Neutrality and Broadband Access

Click for photo album
This is a report by Mary Ellen Broderick.
On Tuesday night, Federal Communications Commissioner Michael Copps, as well as other distinguished speakers, provided in-depth explanations of the importance of net neutrality and expanded access to broadband at the National Hispanic Cultural Center in Albuquerque. The hall was almost three-quarters full, the setting was dramatic and the graphic behind the speakers made the events message loud and clear: "SAVE THE INTERNET.com." A wide variety of citizens also participated by providing testimony about their views. 
I found the hearing to be very informative and compelling. It's impressive that the organizations chose New Mexico as the location for their first hearing on net neutrality since the return of Congress to Washington after the November election.  Unfortunately, I didn't hear the topic of net neutrality mentioned by any New Mexico candidate this fall, even though New Mexico ranks 47th out of the 50 states in terms of access to the internet because of high costs and inadequate services. Only 10% of Native Americans in the state are connected to the internet. No wonder our education statistics rank so low. Of course rural people, the forgotten Native Americans and other native New Mexicans are the ones that suffer -- especially low-income folks, whether inner city or rural.
If Governor-elect Susana Martinez really cares about the our people and our future, she should be pounding down the doors to demand net neutrality and access for all New Mexicans. This is the way to business growth, better health and stronger families -- it is a perfect win-win situation.
The hearing was co-hosted by Free Press, the Center for Media Justice and the Media Literacy Project. If you attended, I think you would agree they did a fine job. The event was well attended, the speakers were excellent and the public hearing portion featured a diverse mix of New Mexicans of various ages and backgrounds explaining what the internet means to them. There was very compelling testimony from middle school children to adults, from artists of the spoken word to health care providers. All stressed that they NEED the internet to function well in their daily lives. What would prevent them from having affordable and easy access to the internet? Corporate greed.
Let's face it, our country has severely fallen behind other nations in making this modern communication tool available for all. Without it, we are entering the 21st century with at least one hand tied behind our back -- and maybe even a patch on one eye and cotton stuffed in one ear. Severely handicapped.
What is net neutrality about? Simply, a fast lane for all versus a slow lane; monopolies setting the rules with only profit in mind versus common-sense regulations that assure fair access for everyone.  The issue of net neutrality is really about the future of all communication in America -- and who will have access. Who will learn and grow and who will be left behind? In the past, we have instituted rules developed for the common good in many areas important to the public -- highways, railroads, telephones, our public air waves. Now we need to do the same for internet access.
The battle is really about preserving our democracy.
The last speaker at the podium was FCC Commissioner Michael Copps. When I saw this rather curmudgeonly figure walking to the podium, I thought oh crap ... I know what this guy is going to say and it won't be good. But I was very wrong. I discovered that Copps is a true liberal -- in the traditional and best sense of the word. He talked about the needs of the people and strengthening democracy, about the greedy corporations, about the lack of comprehensive and even-handed news on our public air waves. It was refreshing to hear him discuss the importance of ensuring that our communication networks serve the public interest and provide access to wide-ranging and diverse news sources so Americans can be educated on informed on the issues.
"Right now we are not getting the news that democracy needs to sustain it," Commissioner Copps said. "Opinions are not facts."

Michael Copps on media failures
Commissioner Copps listened intently to each and every person testifying -- taking notes, nodding his head and even clapping at times! He was authentically engaged in the testimony. He said he hadn't heard from so many young folks in other hearings, and he found their sweet voices insightful in the debate. He said he also enjoyed the creativity of the spoken word artists who testified. What he saw and heard was pure New Mexico -- a whole crop of creative, smart, hardworking, caring people ready to engage in the battle at hand.

Spoken word testimony
In conclusion, Commissioner Copps urged people to stay involved and keep up the pressure for real net neutrality and ready access for all. He said although grassroots work is never easy, it's necessary to make sure the will of the people is heard. "Truth has got to go out like water across the land," he said. "People must understand what is at stake. You --action -- now" is what's needed.

Commissioner Copps calls for citizen action now
Click for a playlist of all the video clips from this hearing.
All photos and videos by M.E. Broderick.
You can see a video of the entire hearing at the New Mexico in Focus website, as well as a video and live blog archive at Freepress. Check out reports on various aspects of the hearing at local blogs NM FBIHOP and El Grito, at the Colorlines site, The Hill and Save the Internet.
November 18, 2010 at 02:27 PM in Hispanic Issues, Media, Minority Issues, Native Americans, Net Neutrality, Web/Tech | Permalink | Comments (2)
Wednesday, November 17, 2010
The New Mexico Independent Is No More
As you've probably heard by now, the online New Mexico Independent news site, which was launched in April of 2008, as of today is no more. This is very bad news for New Mexico's citizens, as well as independent media coverage of government and politics. Of course it's also depressing news for NMI's fine editor and staff who are now out of a job in harsh economic times, as well as for me personally. 
The word first came from the New Mexico Independent's editor, Gwyneth Doland, on Twitter this morning:
The New Mexico Independent as you know it is now closed. The site will remain live, possibly with a half-time blogger
I next heard from one of NMI's reporters, Matthew Reichbach, that "NMI is about to be officially out of business." 
Why? Apparently the website's parent organization in Washington DC -- The American Independent News Network, a 501(c)(3) nonprofit corporation -- has run out of money to fund more than a barebones operation with, at the most, one paid, part-time blogger/reporter on board. In addition, American Independent's sites in other states have reportedly been reduced to this same status in recent months, and the operation's national vehicle, the Washington Independent, is also having the bulk of its operations shut down.
The word is that fundraising for NMI locally, as well as for the parent organization, which is supported by a long list of individual and foundation donors, has been trending down significantly. As we all know, financial donations are down across the board in this serious economic downturn -- and you could say that NMI is just another casualty of the economic cataclysm that erupted at the end of the Bush administration. Almost all independent news organizations and blogs are feeling the pinch -- and it couldn't come at a worse time. Now, more than ever, our citizens are in dire need of top-notch reporting, commentary and analysis to counter the right-wing echo chamber and the increasingly corporate-controlled mainstream media.
Here in New Mexico, the situation seems especially dire. The Albuquerque Journal -- the so-called "paper of record" and the only truly statewide newspaper covering politics and government -- has apparently gone over to the dark side with obviously slanted and inadequate coverage of the 2010 election and beyond. Local TV news -- outside of public TV -- is all about murders and mayhem. Local "news" radio -- except for public radio -- is dominated by right-wing hate speech and shallow, baiting banter. It's getting harder and harder for anyone who's not a part of the right-wing juggernaut to get their message -- as well as the facts -- out to the general public.
Outside of Democracy for New Mexico, Clearly New Mexico and what we hope will be a renewed New Mexico FBIHOP, the local blogosphere network that once thrived has mostly been reduced to sites funded and/or directed in one way or another by right-wing interests -- whether they admit that orientation or not. Unlike Democratic or progressive entities and individuals, the GOP and its cronies are funding online sites and operations big time, often while hiding behind allegedly nonpartisan organizations like the Rio Grande Foundation. That's another reason why the loss of NMI will be felt so strongly.
While providing in-depth coverage on a myriad of issues both local and national, NMI specialized in filling a hole in local news about state government, especially in terms of the New Mexico Legislature and the operations of government entities like the Public Regulation Commission. In particular, its live blogging, video webcasting and on-the-ground coverage from the Roundhouse in Santa Fe during legislative sessions was ground breaking and incredibly illuminating in terms of exposing and explaining the nitty gritty of lawmaking in a way that ordinary citizens could understand it and get involved. Its extensive and live legislative coverage was unprecedented in the state, and pivotal in the never-ending battle for more transparency, accessibility and accountability in government.
With a new Republican governor and a legislature that will be battling incredibly complex challenges in terms of the budget, education, health care and so much more, NMI's contributions to factual reporting and reasoned analysis will be sorely missed. By me and so many others.
I know I speak for many when I extend my gratitude to the talented and dedicated folks who made NMI a must-read source of news and information during legislative sessions and election seasons, as well as all year round. Congratulations on a job well done during the two and a half years you served the citizenry of New Mexico. NMI, we hardly knew ye. You will be missed.
November 17, 2010 at 08:37 PM in Government, Journalism, Media, Weblogs | Permalink | Comments (10)
Monday, November 08, 2010
How Much DID the Albuquerque Journal Help Susana Martinez and What Should We Do About It?
There has been widespread grumbling about the Albuquerque Journal's political coverage leading up to the November 2nd election, as well as criticism about the process used to determine the paper's endorsements this year. The critiques have focused on problems like the paper's tendency to conflate news and opinion in its UpFront columns by Thomas J. Cole on the front page, its choice of headlines that sometimes had little to do with the content of the articles and its failure to clearly identify personnel affiliated with the right-wing Rio Grande Foundation when their writing is published in the paper's editorial section.
Other problems relate to the paper's prominent placement of articles favorable to Republican candidates, while burying articles with positive news about Democrats. Sometimes the problems center on what the paper doesn't cover, as much as what it does.
We've long known that the Journal's publishers lean hard right. However, this year that slant was apparent to many in the paper's news coverage -- especially regarding the race for governor -- as well as on the editorial pages where it belongs.
Tessier Probes Journal Bias
Denise Tessier discusses a number of these problems in her recent hard-hitting piece entitled, "The Push for the Nation's First Hispanic Female Governor" on the Albuquerque Journal Watch blog. Tessier, who worked for the Journal as a reporter, photographer, columnist, editor, editorial writer and editorial page editor from 1974 to 2005, as both a staff member (20 years) and freelancer, lays out how the Journal's coverage of the 2010 New Mexico governor race was often clearly biased towards Republican Susana Martinez, the eventual winner:
Before it outright endorsed her in an editorial, the Journal had already exhibited signs it was deliberately advocating for eventual winner Susana Martinez – through Thom Cole UpFront columns, other front-page stories and pro-GOP national wire stories. Support was conveyed also via the Journal's debate reportage, its choice of headlines, and in pertinent information left out of stories.

Before Martinez had even won the GOP primary there were indications the Journal was going to oppose Denish, no matter who the GOP nominee would be.
The article then goes into some of the many ways in which the Journal coverage skewed towards support of Martinez. For instance:
Traditionally, the Journal covered candidate platforms like this. But it didn't cover Denish's announcement – a significant plan, considering the Legislature had predicted a shortfall of that amount just months before. The Santa Fe New Mexican covered Denish's plan as soon as it was released. But on the day the Journal normally would have run it, the story in the Journal instead was "Weh Sues State Over Redacted Denish Files." Those who read the story would learn that GOP candidate Allen Weh's beef was with the Department of Finance and Administration over some public documents from Denish's office, rather than an issue with Denish. But the implication was that Denish had done something fishy.
The Journal held off on running Denish's platform until July, when it packaged it together with comments from Martinez.

The Denish platform rarely was mentioned after that. Even when the Sunday Journal ran its full-length profiles of the two history-making female candidates, the only reference to Denish's plan was three lines in the in the bullet-point list that ran at the end of her profile under the label "Budget."
More Example of Right-Wing Slant
Tessier also points out specific examples of the Journal's slanted coverage on the gubernatorial candidate debates, its headlines and story placement and a couple of Thomas J. Cole's biased UpFront columns.
Tessier's article also demonstrates how different the Journal's coverage of certain stories was compared to that of the New Mexico Independent and how the stories would have been handled in the Albuquerque Tribune, which ceased publication in February 2008:
Especially in these recent weeks, I was reminded of the absence of the Albuquerque Tribune, and was struck by how different the election looked when reading the New Mexico Independent. It was the Independent that first disclosed that Martinez received $20,000 from a Texas oil man who had crassly joked about rape. After the Independent's disclosure – and calls from the Denish campaign for Martinez to return the money – Martinez donated the funds to a rape crisis center. This ran two days later on the Journal's Elections page – not unusual for a "catch up" story. But its impact would have been different if the story had run on the front page – as it essentially did in the Independent (and as it likely would have run in the Albuquerque Tribune.)
Another factor Tessier examines is the Journal's front-page profile of Denish's husband, Herb, while neglecting to provide any coverage about Martinez's spouse. It also discusses the Journal's rehash of negative stories on Governor Bill Richardson in the weeks before the election that served to support Martinez's repetitive talking points that sought to portray Governor Richardson and Lt. Gov. Diane Denish as virtually the same person:
I would submit that the Journal buttressed that impression by running a number of stories critical of Richardson as the campaign neared its end.

... perhaps the electorate would have thrown out Denish even without the Journal's encouragement. But in the absence of an unbiased "leading newspaper" in New Mexico, that's something we'll never know.
I strongly encourage you to read the Tessier's entire column and pass it on to others who are concerned about the lack of a statewide source of genuine fair and balanced news -- not just the Fox News version that the Journal currently offers. While you're over there, be sure to check out previous posts that point out the Journal's shortfalls and biases, as well as some of its positive contributions by various reporters.
What Should We Do?
There's lots of discussion in political circles right now about the best way to protest the Journal's sharp and transparent shift to the right in both local and national news coverage. Many folks have already cancelled their subscriptions, others are discussing a possible organized effort to get people to unsubscribe and boycott Journal advertisers en masse and others, at the very least, believe we should be complaining loudly to the Journal every time its right-wing bias is detected in its news coverage, and demanding changes. What do you think?
You can check out a few of my previous posts about the Journal's unprecedented bias in this year's election coverage here, here and here.
November 8, 2010 at 02:44 PM in 2010 General Election, 2010 NM Governor's Race, Diane Denish, Journalism, Media, Right Wing, Susana Martinez | Permalink | Comments (8)
Sunday, October 31, 2010
NM Democrats Beating Republicans in Early Voting by 8000+ Votes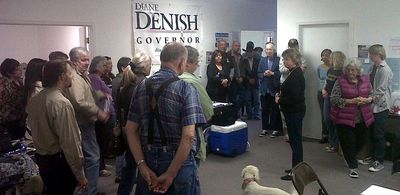 If you read or listen to the spinners of the pro-right-wing consortium that consists of the Albuquerque Journal-Brian Sanderoff-Joe Monahan-KKOB radio-Jim Villanucci-KOAT-TV (oh hell, lump in the rest of the TV "news" outfits) and others, you know that it's been proclaimed from on high, er low, that this election is a done deal. It's over even before election day has arrived. Right-Winger Message to Democrats: Don't even bother to vote on Tuesday.
It's a civic-minded bunch, isn't it? Having failed to do their duty in exposing the outright lies in so many GOP campaign ads, fully reporting the huge money flow to right-wing candidates, attending Dem candidate press conferences, asking why Susana Martinez refuses to be interviewed in the last weeks before the election or providing what used to be known as fair journalistic oversight of the campaigns, this bunch now appears to be on a coordinated campaign to hold down the turnout of Democrats.
We've all heard ad nauseum about the so-called "enthusiasm gap" of Democrats, and witnessed the dedicating slant feeding that myth and trying to make it a reality. Today there was even a headline on a Journal article by the always obedient "reporter" Sean Olson blaring that "Voters Face Long Ballot on Tuesday," even though the article itself only touches on that at the end. Hey potential voters -- don't bother because even the ballot, you know, is a bummer.
Dems Lead in Early Voting
I could go on down the twisting and turning path of collusion and slant provided by the main media machine in New Mexico, but let's just focus on one aspect of the spin for now: early voting turnout.
Here are the facts:
8,000 more Democrats than Republicans have voted early, according to the most recent data provided by the Secretary of State. This data does not include Early Voting that took place on Saturday, traditionally the busiest Early Voting day of the cycle, which is expected to increase the Democrats' early vote margin considerably.
Democrats also have a lead among "infrequent voters" -- those who typically don't vote in non-presidential year elections -- a group that most experts consider a key turn-out target in order to win in 2010.
Early vote and absentee data from New Mexico show that Democrats in the state are outperforming Democrats in other states with competitive Governor races, such as Florida and Colorado. [Denver Post, 10/30/10; Palm Beach Post, 10/29/10]
And internal polling from just a week ago showed a much closer governor race -- 45-46 -- among likely voters. The internal polling in other campaigns also shows tight races, not romps.
As Denish campaign manager Chris Cervini explains:
Actual votes matter a lot more than polls, and there's a reason that more Democrats than Republicans have already cast their ballots in this race. Democrats have a candidate who is a fighter for our families, while the Republicans are stuck with a nominee who sides with the powerful interests every time. Tuesday is the only poll that matters and we remain confident New Mexicans will vote for the candidate whose focus is on creating jobs, protecting public education, taking on predatory lenders, and making sure the wealthy out-of-state corporations pay their fair share. That's Diane Denish.
DPNM Chairman Javier Gonzales adds:
Polls will go up and down, but at the end of the day, the only numbers that matter are at the ballot box -- and that's where Democrats hold an unquestionable advantage going into Election Day. Democrats are energized, excited and getting to the polls in big numbers to support Diane Denish and their other Democratic candidates across New Mexico. That's exactly what we expect to see on Election Day, which is the only poll that truly matters.
The Democratic message to Democratic voters? Keep on keepin' on! If you didn't vote early, be sure to vote on November 2nd between 7:00 AM and 7:00 PM (find your polling place here). If you still have an absentee ballot, complete and hand deliver it to your county clerk or to your precinct by 7:00 PM on November 2nd.
Volunteer for Get Out the Vote (GOTV) efforts with Dem candidates, the party and OFA today through the end of election day on Tuesday, when the polls close at 7:00 PM. Urge your friends, neighbors and family members to vote and vote straight ticket Democrat.
October 31, 2010 at 12:44 PM in 2010 General Election, 2010 NM Governor's Race, Diane Denish, Media, Polling, Right Wing | Permalink | Comments (15)
Thursday, October 28, 2010
Fright Fest: Susana Martinez Hiding Out From Newspapers, TV Reporters, Business Leaders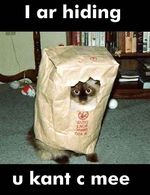 We all know Democratic President Franklin Delano Roosevelt's famous line, "The only thing we have to fear is, fear itself." Susana Martinez, the GOP candidate for New Mexico governor, apparently lives by a slightly different motto: "The only thing I have to fear is, transparency itself." What is she hiding?
Although Martinez likes to describe herself as a champion of open and transparent government, her recent actions tell another story. In the run-up to election day, Martinez has been sticking to scripted events -- or none at all -- and has been avoiding encounters with the press and others like she'll catch the plague if she has to answer any question about her positions. It's been a regular right-wing fright fest on the part of Susana -- or maybe she just has a thing about Halloween. 
First off, over the past few weeks, Martinez has refused to take part in newspaper editorial board interviews with both the Weekly Alibi and Santa Fe Reporter.
After Susana blew them off, the Santa Fe Reporter said, "Susana Martinez is the first gubernatorial candidate in this newspaper's history who declined to come in for an endorsement interview. So even if her ideas trounced Denish's, we'd be hard-pressed to endorse her. Why? Because the strongest tools against corruption, waste and bad policy are transparency and accessibility. Denish has a strong track record in these areas." The Reporter endorsed Denish.
After Susana dodged them, the Weekly Alibi wrote, "Susana Martinez was unable to come in for an endorsement interview, because, her people said, she was too busy. We called every day for weeks. She is the only candidate who couldn't participate in the Alibi's Election Guide. ... Answering a few of our questions would allow Martinez to communicate her ideas with our 165,200 readers. A candidate who doesn't make time to help voters understand her platform simply has no business in politics." The Alibi endorsed Denish.
The Denish Campaign also recently learned that Martinez ignored repeated attempts by public-broadcasting news organizations to interview her. These include KNME and Report from Santa Fe. And just today, the campaign got word that Martinez skipped out on a scheduled meeting this morning with the Greater Albuquerque Chamber of Commerce -- sending lieutenant governor candidate John Sanchez instead.
"Apparently Susana Martinez and her handlers don't have anything to say about the important issues facing New Mexico families," said Denish spokesman Chris Cervini. "New Mexicans should start to wonder what Martinez will do if elected. It is clear her sound bites and platitudes are masking an agenda that's dangerous for New Mexico's families, including siding with powerful corporations at the expense of New Mexicans."
October 28, 2010 at 01:19 PM in 2010 NM Governor's Race, Diane Denish, Media, Susana Martinez | Permalink | Comments (8)
Wednesday, October 27, 2010
10/28: Catch Energy Discussion with Diane Denish, Sen. Peter Wirth on KSFR FM 101 from 6-7 PM
Tune in to KSFR Santa Fe Public Radio on FM 101.1 this Thursday, October 28, from 6:00 to 7:00 PM. Co-hosts David Bacon, a long-time progressive activist, green energy advocate and sometime-candidate for public office, and Pat Leahan of the Las Vegas Peace and Justice Center will be interviewing Democratic governor candidate Diane Denish and State Sen. Peter Wirth on the topic of "The Future of Energy in New Mexico." Denish will be joining the conversation by phone from the campaign trail at 6:30 PM. Republican candidate Susana Martinez was also invited to participate in the discussion, but did not respond.
Albuquerque gets a strong signal from KSFR, but folks everywhere can listen to a live stream online at http://www.ksfr.org/. If you have questions you'd like answered during the show, just enter them into the comment thread on this post and David will gather them up for the show. 
October 27, 2010 at 03:05 PM in 2010 NM Governor's Race, Diane Denish, Energy, Environment, Media, Santa Fe | Permalink | Comments (0)
Tuesday, October 26, 2010
Rep. Ben Ray Luján Guest Blog: Cut Through the Spin, Misconceptions and Half Truths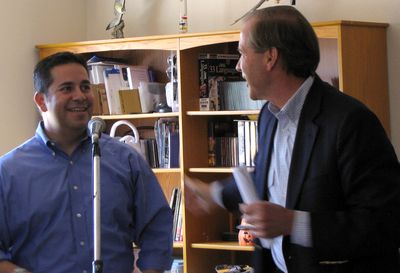 Rep. Lujan on campaign trail with Sen. Tom Udall
This is a guest blog by Rep. Ben Ray Luján, a Democrat who is running for a second term in New Mexico's Third Congressional District.
Today, we are a week away from Election Day, and we see that now -- more than ever -- we need to get ourselves, our friends and our family to the polls. This election is about a clear choice between the failed policies of the past and getting our country and economy back on track.
On Saturday, the Albuquerque Journal endorsed all Republican candidates for the House of Representatives. I'd like to take the opportunity to address some possible misconceptions that you may have heard.
First, I have worked to cut taxes for small businesses. In fact, there are sixteen different ones enacted over the last two years for small businesses alone. I worked to cut taxes for the middle class with the largest tax cut for working American families in our country's history. I fought for financial reform to make sure that big banks and predatory lenders can't take advantage of New Mexicans. And I fought for fiscal responsibility through the Pay As You Go (PAYGO) statute -- which says that when government spends a dollar somewhere, it should save a dollar somewhere else.
I opposed bailing out the big banks on the backs of the taxpayers. I voted against the re-authorization of the bailout (TARP) and made sure that Wall Street can't make the same reckless mistakes with Americans' money again.
We are not only up against ideas that drove this country's economy into the ditch; we are up against spin, misconceptions and half truths that are being spread. And that's why it is so important that your voice is heard this election.
Let's build on our momentum, keep our enthusiasm strong, and make sure that everyone gets to the polls. This campaign season, the endorsement that matters the most is yours.
Thank you for your time and for all that you do.
This is a guest blog by Rep. Ben Ray Luján. To submit a piece for consideration as a guest blog, contact me by clicking on the Email Me link at the upper left-hand corner of the page.
October 26, 2010 at 10:04 AM in 2010 General Election, Guest Blogger, Media, NM-03 Congressional Race 2010, Rep. Ben Ray Lujan (NM-03) | Permalink | Comments (2)