Friday, August 03, 2012
SHAMEFUL News from the GOP led US House of Representatives
The following is an interesting conglomerate of articles written about the tax bill being voted on recently in the House of Represenatives. This was prepared by the Americans for Tax Fairness.
Following the House vote yesterday to approve the GOP bill to extend all the Bush tax cuts, including those for households with incomes above $250,000, the richest 2 percent of Americans, one week after the Senate did the opposite, there were some great highlights in our daily clips that I wanted to share with you below.
The one Republican who voted no to extending Bush tax cuts: Marketwatch, 8/1/2012
Rep. Timothy Johnson [was] the only Republican to vote against a bill in the House extending Bush-era tax cuts for everyone by one year….  The Illinois representative has already broken ranks with many in his party when, in March, he said he was no longer bound to follow a pledge to the Americans for Tax Reform group not to raise taxes, according to the publication Roll Call. "I would never in a million years have considered this as some kind of a locked-in-granite pledge. Frankly, I didn't even remember it. That shows you how obscure it was to me," Johnson said to Roll Call.
Capitol Hill Whodunit as Congress Feuds Over Bush Tax Cuts: Daily Beast, Patricia Murphy, 8/1/2012 The Capitol Hill whodunit unfolded as the Republican-controlled House agreed 256 to 171 to extend the Bush-era tax cuts for all taxpayers for one more year…. The Senate rejected the same bill last week but passed its own version of the House Democrats' bill, extending the Bush tax cuts for those with income up to $250,000. "The two approaches demonstrate a glaring difference in priorities," [Senate Majority Leader Harry] Reid said. "But there's another difference between the two plans: Democrats' proposal is the only one with a chance of actually becoming law. President Obama has said he would sign it tomorrow." By contrast, the White House said Tuesday night that the president would veto the Republicans' tax-cuts-for-all bill…. A New York Times/CBS poll of three swing states out Wednesday found 58 to 62 percent of those surveyed supporting Obama's plan to boost taxes on those earning more than $250,000.
House Votes to Extend Tax Cuts, Accomplishes Nothing: Forbes, Kelly Phillips Erb, 8/1/2012. What's really going to happen is that – at least until November – the Democrats are going to oppose any plan that holds rates steady for the top 2% of taxpayers (those making $250,000 or more) and the Republicans will oppose any plan that doesn't extend the cuts for all taxpayers…. Democrats are taking a gamble that most Americans will continue to support their version of the plan (the one that passed the Senate). Most polls indicate that there is not wide support for extending the cuts to all taxpayers. So, I'm asking you: do you support extending the cuts to all taxpayers, all but the top 2% of American taxpayers or not at all?
Faith leaders oppose GOP tax plan: The Associated Baptist News, Bob Allen, 8/1/2012 More than 60 Christian leaders and theologians – including several Baptists – signed an open letter Aug. 1 criticizing a proposal backed by House Republicans to extend Bush-era tax cuts to the wealthiest 2 percent of Americans, while allowing enhancements to middle-class tax credits added in 2009 by President Obama to expire. The letter, coordinated by Faith in Public Life, came as the GOP-controlled House prepared to vote on a competing plan to a Senate bill that would renew tax cuts due to expire Dec. 31 on all but the wealthiest taxpayers. The House plan keeps those cuts in place but reduces benefits for the middle and lower classes. The faith leaders said how Congress votes on the tax measures "will have a profound impact on working families and the poor." They specifically opposed any plan that fails to extend improvements in the Child Tax Credit, which reduces the federal income tax on families by up to $1,000 for each qualifying child under 17, and the Earned Income Tax Credit, a refundable federal income tax credit for low to moderate income working individuals and families.
"These tax credits help families meet basic needs, reduce poverty, and remove barriers to work," the letter said. "It is hypocritical for lawmakers who talk about family values to abandon improvements in these effective, family supporting programs."
The faith leaders said reducing those credits would jeopardize the economic security of more than 15 million families and 36 million children. "This is simply unconscionable," they wrote…. "Favoring the wealthiest 2 percent over working families is irresponsible public policy that fails a basic moral test," the leaders said….
"Ultimately, these choices reflect our values and reveal our priorities as a nation," they said. "We urge members of Congress to put families and workers before ideological agendas that favor the powerful." ….
Jim Wallis, president of Sojourners and a member of First Baptist Church in Washington, D.C., called the Republican budget "an immoral document" because of how its priorities and principles apply differently to the rich and poor.
"I certainly don't believe that all our Republican lawmakers came to Washington to hurt poor people, but it's time for some of them to challenge the dominant forces in their party and face the consequences of such indefensible choices," Wallis said in a press release.
Bush Tax-Cut Votes All About November National Journal, Nancy Cook, 8/2/2012
Mitt Romney….will paint the Democrats as politicians willing to raise taxes on small-business owners. Never mind that a new analysis from the Tax Policy Center estimates that Romney's tax plan, well informed by the House Republicans, would disproportionately raise taxes on middle- and lower-income people who rely on tax credits and deductions: the same benefits Romney has vaguely promised to clear from the code in favor of lowering marginal rates.
Obama Says Romney's Tax Plan Favors Wealthy Only New York Times, Jackie Calmes, 8/1/2012
Mr. Obama cited a new study from the nonpartisan Tax Policy Center of the Brookings Institution and the Urban Institute, two centrist Washington-based policy research organizations. The analysis concluded that the sort of tax code that Mr. Romney has proposed "would provide large tax cuts to high-income households, and increase the tax burdens on middle- and/or lower-income taxpayers."
…if Mr. Romney reduced or eliminated other tax breaks to offset the revenue loss of his tax cuts — as he has promised, without specifics — the changes would shift $86 billion of the tax burden away from the high-income taxpayers and onto everyone else. Americans would lose some or all of existing tax breaks for mortgages, college tuition and health insurance….
The Tax Policy Center is widely respected in both parties, and its director was an economic adviser to President George W. Bush.
Mitt Romney's Tax Plan The Atlantic, Clive Crook, 8/1/2012
William Gale and colleagues look at a tax plan with Romney characteristics--they can't score the actual plan precisely, because it's too vague--and are decidedly unimpressed. Our major conclusion is that a revenue-neutral individual income tax change that incorporates the features Governor Romney has proposed - including reducing marginal tax rates substantially, eliminating the individual alternative minimum tax (AMT) and maintaining all tax breaks for saving and investment - would provide large tax cuts to high-income households, and increase the tax burdens on middle- and/or lower-income taxpayers. This is true even when we bias our assumptions about which and whose tax expenditures are reduced to make the resulting tax system as progressive as possible….
Paula Dwyer writes a nice column on the findings. I agree with her conclusion. Romney's plan looks "both politically infeasible and mathematically pie-in-the-sky".
Obama Emphasizes Deficit Credentials, Broadens Fight Over Bush Tax Cuts Huffington Post, Jon Ward, 8/1/2012
"To cut the deficit, we need everyone to pay their fair share." That's how President Barack Obama ended a 30-second commercial his reelection campaign released on Tuesday…. A two-front battle is Obama maintaining the fairness argument while trying to undercut Romney's advantage among voters for whom fiscal responsibility is a top priority. And that's a lot of voters.
The deficit ranks behind only the economy/jobs and health care in recent polls when voters are asked what issues are most important to them. Obama has been arguing for some time that Romney's tax plan will add $5 trillion to the deficit. But he got some ammunition Wednesday from the Tax Policy Center, when Urban Institute-Brookings Institution joint venture issued a report saying that Romney's plan to cut rates for all tax brackets, lower the corporate rate, and keep taxes on investments low, without adding to the deficit, would require taxes to go up for middle- and low-income earners….
Romney is either going to screw the working-class or that he'll be a fiscal profligate….
August 3, 2012 at 10:57 AM in Economy, Populism, Taxes | Permalink | Comments (0)
Tuesday, July 24, 2012
Rich Americans Tell Congress to End Bush Tax Breaks for Top 2%
From Voices for Progress: 87 of Richest Americans Tell Congress to End Bush Tax Breaks for Top 2% Urge Extension of Tax Cuts for Other 98% of Americans as Senate Vote Nears
Today, July 24, 2012, Eighty-seven of the richest Americans from 49 U.S. cities today sent a letter to Congress saying that it would be unwise and unfair to renew the special Bush tax cuts above $250,000 in household income that disproportionately benefit the wealthiest 2 percent. The Bush tax cuts for the top 2 percent give people who earn over $1 million a year an average tax break of about $150,000, according to the Urban-Brookings Tax Policy Center.
The letter is timely because tomorrow the Senate is expected to vote on the Middle Class Tax Cut Act (S. 3412). The bill would extend the Bush tax cuts for the 98 percent of Americans for one year, but would end them for household income levels above $250,000 that only benefit the richest 2 percent.
"As individuals who have greatly benefited from the opportunities America has provided, we urge you to support S. 3412, Middle Class Tax Cut Act to extend tax cuts for all Americans on the first $250,000 of their income, while ending the extra tax cuts that go exclusively to the wealthiest 2 percent," the letter says.
"Those of us who are business owners know that restoring taxes on the portion of our profits over $250,000 to Clinton era rates will have no impact on our decisions about whether to hire additional workers," the letter adds. "Indeed, only about 3 percent of "small business" owners have more than $250,000 in profits — and those businesses, though they may meet the technical legal definition of 'small,' can afford to pay their fair share of taxes like everyone else."
"Congress faces a choice," the letter concludes. "It can ask the wealthiest 2 percent to limit ourselves to the tax cuts other Americans get — those on the portions of our incomes under $250,000 — so that it can shrink the deficit while continuing to invest in education, infrastructure, clean energy, health care, and rebuilding a strong middle class. Or it can slash investments vital to our nation's future in order to be even more generous to those of us who need it the least. That shouldn't be a hard choice.
Compared to continuing all the Bush tax cuts for a decade, ending them for the richest 2 percent would save nearly $1 trillion (including debt service savings), according to Congress' Joint Committee on Taxation.
"Any successful entrepreneur who says the biggest driver behind their success was desire for a second Ferrari in their mega mansion garage is either kidding you or themselves," said letter signer Paul Growald, a former director of TechRocks and a trustee for the Rockefeller Family Fund who lives in Burlington, VT. "It's a myth that taxing the super rich discourages entrepreneurs. Should we be rewarded? Of course. But not with the lowest tax rates of any comparable country."
"My team used hard work, the rule of law and the internet to build a successful business," said Christopher Findlater, founder of Auto Insurance Shopper, now known as NetQuote.com, the world's largest insurance shopping site, with our 100 companies and 25 million customers. "I did not build this business myself. My team was wonderful and I include America on my team for funding and creating the Internet. We owe the next generation the opportunities that we had, including an affordable education and inspiring teachers. I try to make that possible and express my gratitude to America, and my fellow American citizens, by giving back. That means paying my fair share of taxes that I can afford to pay because I earned them, here, in America."
"Extending these exclusive tax breaks for the wealthiest 2 percent of Americans is the wrong prescription for our financial future" said Sandy Newman, president of Voices for Progress, which organized the letter and is a coalition member of the Americans for Tax Fairness campaign. "Our members, many of whom are millionaires, think it is irresponsible to give them extra cash they don't need and mortgage our nation's future on the backs of the middle class."
Voices for Progress, a project of The Advocacy Fund, is a non-profit organization formed in 2009 to educate philanthropists, business leaders, state & local elected officials, and other community leaders to enable influential people who are focused on promoting the common good to serve as a counterweight to the millions of dollars in self-interested lobbying that distorts national policy.
July 24, 2012 at 07:00 PM in Economy, Populism, Taxes | Permalink | Comments (2)
Friday, July 13, 2012
Heather Wilson Wants to Protect the Rich at the Expense of New Mexico's Middle Class
From Martin Heinrich for Senate:
U.S. Senate candidate Republican Heather Wilson has a history of putting herself and special interests first. In Congress, she voted for the Bush tax cuts for millionaires and billionaires at the expense of New Mexico's middle class.
Martin Heinrich refuses to allow New Mexico to go down that dark road again.
"There are several reasons that we must end the Bush tax cuts for millionaires and billionaires, but chief among them is the simple reason that we can't afford it," said Heinrich. "We followed Heather Wilson and George W. Bush down that road already, and America's middle class paid the price while the wealthy consolidated their grip on power."
Heather Wilson has always put herself and the special interests ahead of the people she was supposed to represent. While Congresswoman Wilson was voting against raising the minimum wage for New Mexico's workers, Heinrich was leading the fight on the Albuquerque City Council to raise it. Wilson took six pay raises during her time in Congress, while Heinrich rejected every congressional pay raise since he's been in office. Furthermore, Wilson has refused to reject the Republican plan that would end Medicare as we know it.
"The truth is, Washington needs to get its priorities straight," said Heinrich. "Moving our country forward requires fresh ideas and hard work. This campaign is about standing with working families and fighting for what matters most to New Mexico's middle class."
Wilson Voted Against Raising The Minimum Wage Six Times. In 2006 and 2007, Wilson voted six times against minimum wage increases or to kill Democratic attempts to even be allowed to offer a minimum wage increase. [CQ Floor Votes; HR 2206, Vote 333, 5/10/07; CQ House Action Reports, No. 110-3, 3/20/07; HR 1591, Vote 186, 3/23/07; Leadership Document, "Democrats are Fighting for a New Direction: A Pay Raise for Millions of Americans," 7/19/06; HR2389, Vote 382, 7/19/06; HR2990, Vote#364, 7/12/06; HR4411, Vote 360, 7/11/06; HR5672, Vote 319, 6/27/06]
Albuquerque Tribune Editorial Called On Wilson To Support Minimum Wage Increase While Allowing Her Own Pay To Go Up. In July 2006, the editorial board of the Albuquerque Tribune criticized Wilsonfor allowing a congressional pay raise to take effect while not supporting a meaningful increase in the minimum wage. They wrote, "The minimum wage has been stagnant at a mere $5.15 per hour for nearly 10 years now. That's just shy of $11,000 per year and well below the poverty line for a family of three. For more than half of that time, Republicans - including Wilson, Bush and Sen. Pete Domenici of Albuquerque - have controlled the federal government. During the same period in which the minimum wage has been stuck below the poverty level, Congress has managed to give its own members more than $30,000 in wage raises, to the current $165,200 per year. That salary is scheduled, based on cost-of-living arguments that apparently affect only federal legislators, to automatically rise to $168,500. Domenici and Wilson supported the raise. Wilson voted for it last week, while the state's other congressional Republican representative, Steve Pearce of Hobbs, continued his admirable practice of voting against congressional pay raises for himself and his colleagues…So why have Domenici and Wilson - often quick to support tax cuts for the wealthy, including repeal of the estate tax - been essentially AWOL on an issue that has gained substantial support among local lawmakers, despite its controversial nature and opposition by businesses? [Albuquerque Tribune, Editorial, 7/4/06]
Heinrich Led the Fight To Raise The Minimum Wage On The Albuquerque City Council. On April 20, 2006, the Albuquerque City Council approved a phased-in minimum wage increase by a 6-3 vote. The ordinance (COUNCIL BILL NO. O-06-20), sponsored by then City Councilor Martin Heinrich, was enacted on April 27, 2006. [Albuquerque Official City Website, "Minimum Wage to Increase 31% on January 1, 2007"]
Wilson Voted Six Times To Allow Congressional Pay Raises. In the House, Wilson voted six times to allow her own salary to increase. [CQ Floor Votes, 6/13/06; H RES 865, Vote #261, 6/13/06; CQ Floor Votes, 6/28/05; HR 342, Vote #327, 6/28/05; CQ Floor Votes, 9/14/04; H Res 770, Vote #451, 9/14/04; CQ Floor Votes, 9/04/03; H. Res. 351, Vote #463, 9/4/03; CQ Floor Votes, 7/18/02; H. Res. 488, Vote #322, 7/18/02; CQ Floor Votes, 7/25/01; H Res. 206, Vote #267, 7/25/01]
Heinrich Rejected Every Congressional Pay Raise Since He's Been In Office. Heinrich is a cosponsor of H.R.156, the Stop the Congressional Pay Raise Act and H.R.4255, the Stop the Automatic Pay Raise for Members of Congress in Fiscal Year 2011 Act.
Wilson Consistently Supported Bush-Era Tax Cuts That Overwhelmingly Benefited Millionaires. In 2001,Wilson supported President Bush's first round of tax cuts. In 2003, Wilson supported another round of tax cuts that overwhelmingly benefited the wealthy. In 2004, Wilson supported President Bush's budget that permanently locked in multitrillion-dollar tax breaks that mostly benefit the nation's wealthiest. In 2005, Wilson backed a Republican bill that extended capital gains and dividend tax breaks for the rich. And in 2006 Wilson backed another Republican tax break package that the Washington Post dubbed a "windfall for the rich, and a hole in the federal budget." [HR 1836, Vote 149, 5/26/01; HR 2, Vote 225, 5/23/03; Center for Budget & Policy Priorities, 5/28/03;; H Con Res 393, Vote 92, 3/25/04; Vote 621, 12/8/05; Chicago Tribune, 12/9/05; HR4297, Vote 135, 5/10/06; Washington Post, 5/11/06]
2006 Study: 99% of New Mexicans Taxpayers Are Net Losers Under the Bush Tax Cuts. According to a study conducted by Citizens for Tax Justice, 99% of New Mexican taxpayers were net losers under the Bush tax cuts. For the wealthiest one percent of New Mexico residents, who have an average income of $720,500, the tax breaks outweigh the added debt burden accumulated from 2001 through 2006 by an average of $14,450 per family member. They have received an average tax break of $50,630 per family member, which exceeds their added debt burden of $36,179 by $14,750. In contrast, the added debt burden accumulated from 2001 through 2006 outweighs the tax breaks for the other 99 percent of New Mexico residents by an average of $7,589 per person. They have received a tax break of $2,305, but their added debt burden is $9,894 per person. [Citizens for Tax Justice, "99% of New Mexicans Are Net Losers Under Bush Tax and Spending Policies," June 2006]
Heinrich Urges Vote to Make Middle-Class Tax Cuts Permanent. On September 27, 2010, Martin Heinrich released a letter he signed with 45 other House members to then Speaker of the House Nancy Pelosi urging that the Congress vote on permanent tax cuts for the middle-class before adjournment in October 2010. The letter also called on the Speaker for a vote to allow the Bush-era tax cuts for the wealthiest two percent of Americans to expire, using the additional revenue to close the federal budget deficit. [09/27/2010, Heinrich Letter]
Tax Cuts: Heinrich Fights For The Middle Class. Heinrich voted for H.R. 6467, the Middle Class Tax Relief Act of 2010, aimed at permanently extending the 2001 and 2003 income tax cuts for families making $250,000 or less and individuals making $200,000 or less. [12/02/2010, Roll no. 604]
Wilson Refuses to Take Position on Ryan Budget. In a March interview with the Albuquerque Journal's Michael Coleman, Wilson dodged the question of whether she would support the Republican plan. "For the second year in a row, Republican U.S. Senate candidate Heather Wilson declined to take a clear position," reported Coleman. "When I interviewed her last year, Wilson similarly refused to take a stand on Ryan's 2011 proposal." [3/24/12, Albuquerque Journal]
432 Days of Sidestepping. Heather Wilson has consistently dodged questions on the Ryan Budget since it was introduced in the House of Representatives on April 11, 2011. In an interview with POLITICO, Wilson stated, "I'm not in the House of Representatives. This is not something that I have to vote on." [7/8/11, POLITICO; 4/11/2011, H.CON.RES.34 Library of Congress, THOMAS]
New Report: The Republican Budget Showers The Wealthy With Close To $300,000 In Tax Breaks While Increasing The Burden On Middle Class Families. In June 2012, the Washington Post reported, "The tax reform plan that House Republicans have advanced would sharply cut taxes for the wealthiest Americans and could leave middle-class households facing much larger tax bills, according to a new analysis set to be released Wednesday … Households earning more than $1 million a year, meanwhile, could see a net tax cut of about $300,000 annually … Roberton Williams, a senior fellow at the Tax Policy Center, reviewed the Joint Economic Committee report. Although the numbers are rough, he said, the conclusions are largely accurate." [Washington Post, 6/19/12]
July 13, 2012 at 12:25 PM in 2012 NM Senate Race, Candidates & Races, Economy, Populism, Heather Wilson, Rep. Martin Heinrich (NM-01) | Permalink | Comments (1)
Friday, June 29, 2012
New Mexico House of Representatives Now More Than Ever
Ok....the republicans have got to deal with the huge Supreme Court opinion that "Obamacare" is the law of the land. God forbid ordinary people recieve healthcare. They have promised to keep that fight going, both on the Federal level and surely the State level and they will.
Open up the Journal today and read that Schott Solar is closing, more than 200 jobs gone in Albuquerque today. This is bad beyond believe. Of all industry that should be thriving is the making of solar panels. How incredibly sad that these jobs are going under.
Every republican that does not vote for green energy jobs, and who continues to be bought off by oil and gas should be voted out.
Now is the time folks. We know the positions of the republicans within the state and within the federal government. The hysteria from the republicans yesterday over the decision yesterday is real, they are furious about our socialists government.
The backlash from the republicans regarding this decision is going to be huge, and it is going to be in the form of money to smear every democrat that wants to bring jobs and dignity and security to our citizens.

So I ask you please contribute to Elect Mary Ellen Broderick HD30 or to whoever is the strong person in your district who is fighting against the republican fear machine. We must hold on to the NM House of Representatives Now More Than Ever.
June 29, 2012 at 10:33 AM in 2012 Legislature Races, Democrat, Economy, Populism | Permalink | Comments (0)
Monday, June 11, 2012
More Netroots Nation 2012 Keynote Speech by Van Jones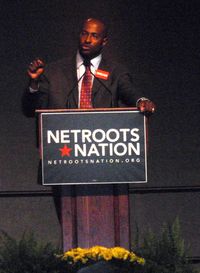 On Saturday night, the last night of NN12, we had several great speeches. The keynote was from Van Jones, the author and founder of the "Rebuild the Dream" project, and the author of the book The Green Collar Economy.
Van Jones was appointed by President Obama to a new position in the white house wikipedia says: In March 2009 Jones was appointed by Obama to the newly created position of Special Advisor for Green Jobs, Enterprise and Innovation at the White House Council on Environmental Quality, where he worked with various "agencies and departments to advance the administration's climate and energy initiatives, with a special focus on improving vulnerable communities."
Now doesn't that sound frightening and horrible? The republicans went after Van Jones like rabid dogs. In September 2009 he had to step down from the position. Think of where we would be in advancing Green Jobs if the republicans did not systematically go after this man who would have been so helpful and so needed for our country.
Listening to his speech at Netroots was very inspirational. In this shorter 6 minute portion of Van Jones speech below, he describes how we know exactly what we will be getting if the republicans gain control of the whitehouse and the senate and keep control of the congress. They come right out and say they will dismantle the EPA, and the Department of Education and more. They will take a wrecking ball to everything our fathers and mothers and grandfathers and grandmothers have fought so hard for. Listen to this short video.
Then if you have tome I would highly recommend listening to this 20 minute video of Van Jones speech. It is funny and direct and I found it inspirational for what we all have ahead of us.
June 11, 2012 at 07:40 PM in Economy, Populism, Green Economy, Netroots Nation | Permalink | Comments (1)
Saturday, June 02, 2012
CD1 Candidate Eric Griego at HQ with PCCC and Volunteers GetOutTheVote
At 10:30 on Saturday morning the parking lot was full and the energy was high down at the Eric Griego for Congress Campaign Headquarters. Lots of volunteers eager and ready to go. It is a very very close race and the winner will be the one who turns out the vote.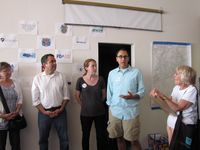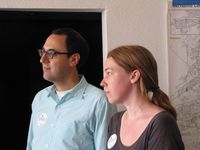 The Progressive Change Campaign Committee (PCCC) was in the house. Putting their feet where their money and mouths are and going door to door for Eric. Stephanie Taylor and Adam Green both co-founders of the PCCC, made statements on behalf of their supporters believe in Eric Griego. Paraphrasing: "Eric is running on holding Wall Street accountable, can a true progressive get elected saying he will not cave to the pressures of the fat cats."
Below is the co-founders of the PCCC introducing Eric Griego and Eric's powerful speech to his volunteers and supporters. Eric gets emotional 3/4 of the way into his speech when he is talking about people on fixed incomes giving $10 to his campaign, because they know he will not mess around with social security and medicare. Ten dollars is alot to people these days and Eric knows that. Also, if you do not have time to watch the whole video; watch from minute 5 to minute 7 most importantly . This is the quintessential Eric Griego " One human being sent to Congress with vertebrae."
 The next video is Abq Councilman Rey Garduno, giving a testimonial to his support to Eric.  
And the next video is the distinguished LaDonna Harris telling us why she believes in Eric at this time for this position.
Last but not least is Lucas Griego telling us to Vote 4 his Daddy!
June 2, 2012 at 01:46 PM in Candidates & Races, Economy, Populism, Environment, Eric Griego, Events, Progressivism | Permalink | Comments (3)
Eric Griego's Grassroots Campaign is Full Steam Ahead in Closing Days of Race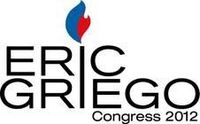 From the Eric Griego for Congress campaign:
Momentum builds as campaign raised over $56,000 in 24 hours, Secures Endorsement of National Wall Street Reform Leader Congressman Alan Grayson
Co-founders of the Progressive Change Campaign Committee, Adam Green and Stephanie Taylor, to rally dozens of volunteers tomorrow at campaign office for final GOTV efforts
In the last 24 hours, Eric Griego has raised over $56,000 and secured the endorsement of one of the leading national voices for Wall Street reform, Congressman Alan Grayson.
The surge in donations and the Grayson endorsement occurred as donors and New Mexico voters flocked to the only candidate in the race for New Mexico's 1st district who has firmly committed to reject any cuts to Social Security and Medicare benefits and ensuring that the Wall Street bankers who broke the law go to jail.
Over the next four days Griego's campaign plans to make over 15,000 phone calls and knock on 5,000 doors during 300 volunteer shifts with the help of its grassroots army of volunteers -- which includes dozens of seniors attracted to Griego's steadfast opposition to any cuts to Social Security, Medicare or Medicaid.
Tomorrow, Griego's campaign will hold a rally headlined by the two co-founders of the Progressive Change Campaign Committee (PCCC), Adam Green and Stephanie Taylor, to gather dozens of these grassroots volunteers to Get-Out-The-Vote at 10:30 AM at campaign headquarters located 929 4th Street SW, Albuquerque, NM.  PCCC has nearly 10,000 members in New Mexico's First Congressional District.
"Grassroots donors and volunteers in New Mexico and across the country are flocking to Eric Griego in the closing hours of this campaign because they know that he's the only candidate committed to protecting Social Security and Medicare benefits and hold to Wall Street accountable," said Ed Yoon, campaign manager.  "While our opponents continue working on their slimy attack ads, our grassroots volunteer team is focused on knocking on the doors and making the phone calls it will take to send Eric Griego, a proven progressive, to fight for us in Washington."
Building even more momentum, Griego's campaign was also endorsed by Congressman Alan Grayson, a national leader for Wall Street reform.  Grayson sent out an email to his supporters on Griego's behalf, allying Griego even closer to leaders in Congress fighting real accountability for Wall Street bankers.  The email focused on Griego's extraordinary biography as an unlikely success story if not for his close family and the benefit of key programs that help working families like Social Security, Head Start and Pell Grants.
Excerpt from an e-mail where Griego tells his own personal story: (Full text of email below.)
I grew up and I still live in the Barelas neighborhood, a working-class Hispanic area near downtown Albuquerque. The average household income in the area is about $20,000.
My personal values come from watching my mother struggle. Despite all of her hard work, and all of our hard work starting at a very young age, we would not have made it without society's investments in us, through programs like Headstart, public schools, public colleges, Pell Grants, etc.
My mom was able to retire, thanks only to Social Security, modest savings, and help from us. She had decent healthcare, thanks to Medicare, which she had paid into her whole working life.
As an elected official I have always fought, and I always will fight, for families like mine.
The response to the email and endorsement was overwhelming raising $28,000 for the campaign in 24 hours.
The full text of Alan Grayson's e-mail:
Dear friend,
This is former Congressman Alan Grayson. I'm going to let Eric Griego, a progressive candidate for Congress in New Mexico, explain this one himself:
"I grew up and I still live in the Barelas neighborhood, a working-class Hispanic area near downtown Albuquerque. The average household income in the area is about $20,000.
My brother, two older sisters and I were raised by my single mom. My mom was a housewife for 10 years, until my father left her in 1969. Then she had to join the workforce, with only a high school diploma.
My mom had to work two minimum wage jobs to get by. She was a secretary by day, and she worked as a cocktail waitress at the Disabled American Veterans hall on weekends. We all worked from the age of 13, or younger, to help support ourselves and the family. I sold newspapers in front of churches and intersections. My brother and sisters worked in restaurants.
We had only three rooms at home. My sisters slept in the same bed. My brother and I slept on couches in the living room.
Even with all of us working, we still had to rely on food stamps and free school lunches to have enough to eat. We wore second-hand shoes, collected in local shoe drives. Our only Christmas gift many years was a basket from the Knights of Columbus.
In 1970, my mom enrolled me in the Headstart Program. That changed both my life and hers. I learned to read and write, and my mother could focus on work, knowing I was in a safe place.
Thanks to state schools, my sisters and I became the first ones in our family to finish college, and even obtain graduate degrees. We all were able to do that only because we received scholarships, Pell Grants and student loans.
My personal values come from watching my mother struggle. Despite all of her hard work, and all of our hard work starting at a very young age, we would not have made it without society's investments in us, through programs like Headstart, public schools, public colleges, Pell Grants, etc. My mom was able to retire, thanks only to Social Security, modest savings, and help from us. She had decent healthcare, thanks to Medicare, which she had paid into her whole working life.
My mom died ten years ago, but in the last years of life she lived with dignity, and love. As an elected official I have always fought, and I always will fight, for families like mine."
The latest poll shows Eric Griego TIED in next Tuesday's Democratic primary in New Mexico. Your support can help to put him in Congress. Please donate $3 today.
We're all in this together.
Courage, Alan Grayson
June 2, 2012 at 06:37 AM in Candidates & Races, Economy, Populism, Eric Griego, NM-01 Congressional Race 2012, Social Security | Permalink | Comments (5)
Tuesday, May 15, 2012
NM Job Growth Last in West, Trending Downward Neighboring States Add Jobs at 4x, 5x NM Rate
For the second straight month, job growth in New Mexico came in a full point behind the national average and is now the lowest in the West, according to statistics compiled by the federal Department of Labor Statistics and published by the Martinez administration.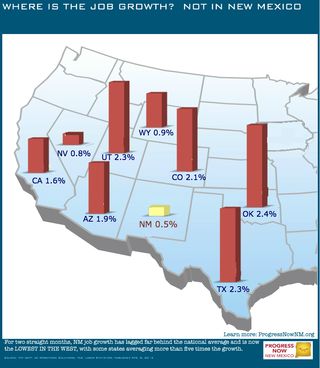 The latest job reports numbers show that New Mexico added just 804 jobs in March 2012; virtually unchanged from March 2011 (800).  By comparison, our neighboring states have continued to add jobs at a rate near or above the national average of 1.5%.  Oklahoma: 2.4%, Texas 2.3%, Colorado 2.1%, etc.
Even Utah, with a similar population and rural density far surpassed New Mexico with job growth coming in at 2.3%, a full 0.8% more than the national average.
Despite Martinez's claims that New Mexico is more business friendly under her watch, corporate CEO's recently lowered New Mexico's business friendly rating in its first reporting of New Mexico's business climate judged entirely by policies under a Martinez administration. 
"This governor has had almost eighteen months to turn jobs around.  While the rest of the West as a whole is leading job creation in the nation, New Mexico is bucking the trend," says ProgressNow NM's Pat Davis.  
"It's not enough to talk about jobs anymore.  We have to level the playing field for local businesses to incentivize Main Street job creation and stop vetoing critical public programs which create jobs in our small towns."
"Governor Martinez has spent more time in office talking about her next job in Washington than the one she has now in Santa Fe.  It's time to shelve the rhetoric and veto pen and get money back into our communities where people need to work."
A full analysis and links to the data is available online at ProgressNowNM.org
May 15, 2012 at 11:40 AM in Economy, Populism, Jobs, ProgressNow New Mexico, Susana Martinez | Permalink | Comments (2)
Sunday, May 13, 2012
Mother's Day and the Pentagon Budget Guest Blog by Rep. Mimi Stewart

Guest blog By Representative Mimi Stewart. Mimi Stewart is a State Representative from district 21 and State Director for the Women Legislators Lobby, a program of Women's Action for New Directions.
This Mother's Day, I am thinking about mothers and families all over our country. The past few years have not been easy. Families struggled to make ends meet and here in New Mexico we had to find ways to continue to provide vital services even as revenues tumbled. In Washington, DC Congress is trying to put together a budget for next year. I'm watching this process closely because our state counts on funding from the federal government to implement crucial programs. The budget process will affect each and every one of my constituents.
The budget passed by House Republicans will slash programs used disproportionately by women and families. In addition to the Medicare and Medicaid cuts you may have heard about, it cuts funding for programs like food stamps, child care, Head Start, job training, Pell Grants, and housing and energy assistance. Meanwhile their budget allows defense spending to continue to increase.
So while we've cut spending for domestic programs that support families, communities and businesses, Pentagon spending continues to grow. Each year, Congress appropriates more than half of discretionary spending to the Department of Defense, wars and nuclear weapons spending. Even without deficit reduction pressure, this overspending takes dollars away from needed domestic priorities that strengthen our economy and ensure that America can compete in the world marketplace. As chair of the Joint Chiefs of Staff Gen. Dempsey put it, "It makes no sense at all for us as a nation to have an extraordinarily capable military instrument of power if we are economically disadvantaged around the world."
Also, many tax dollars going into this enormous Pentagon budget are wasted on outdated security strategy. Over the next decade, we are slated to spend hundreds of billions of dollars on a nuclear weapons arsenal built for the Cold War era. These weapons are simply irrelevant to support our troops on the battlefield or to address 21st century threats.
In the past decade we have spent billions on war. Afghanistan is now the longest war in our nation's history, and we spent nine years in Iraq. Now some seemed prepared to go to war in Iran. Whether measured merely in direct financial cost, or in the broader and more profound cost of lives lost and damaged, we cannot afford to be a nation perpetually at war.
Finally one thing upon which I hope we can all agree is that the Pentagon, which swallows up such a large percentage of our budget, must be at least as carefully scrutinized for waste as other government programs. Right now the Pentagon cannot even pass an audit to show how it spends our tax dollars.
Some supporters of the Pentagon and their contractors tout money to the Pentagon as a jobs program. Sensible national security jobs make sense, and no member of Congress can ignore the effect of policy decisions on jobs. Nonetheless, economists have shown that federal investments in non-military sectors--like education, healthcare and clean energy--create more jobs than military spending. It makes sense to invest federal dollars in sectors that will create productive jobs that will help our economy grow for years to come.
We can make sensible reductions to Pentagon spending and invest in programs that will help build a vibrant economy for generations to come. This Mother's Day, let's honor hard-working women around the nation by calling on Congress to pass a budget that supports women and families and puts us back on the path to a sustainable economic recovery.
May 13, 2012 at 07:00 AM in Economy, Populism, Guest Blogger, Women's Issues | Permalink | Comments (0)
Tuesday, May 08, 2012
Struggling New Mexicans to Rep. Pearce: Stop Supporting Tax Breaks for Big Oil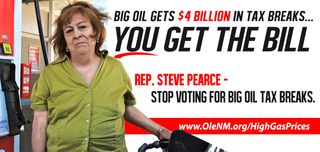 Above:Billboard campaign highlights Pearce's support for big-oil tax breaks while New Mexicans struggle to fill their tanks
(LAS CRUCES) – New Mexicans who are struggling to fill their tanks today contrasted the high cost average New Mexicans are paying at the pump with Big Oil's $137 billion in pure profits in 2011.
Standing under a billboard asking Rep. Steve Pearce to stop supporting tax breaks for the big-oil industry, average New Mexicans talked about their economic struggles. Since February of 2011, Pearce has voted 8 times to protect oil-industry tax breaks.
"It's unreal – we pay high prices and the oil and gas companies get away with huge profits at our expense. What's more? They also get $4 billion in tax breaks supported by Rep. Steve Pearce," said Las Cruces resident Christian Gomez. "Imagine, that money could be used to do all sorts of things like help people with disabilities, especially our disabled veterans who struggle to find jobs in this economy."
The billboard, which is part of a multi-media effort sponsored in part by the Organizers in the Land of Enchantment (OLÉ) Education Fund, aims to call attention to how ordinary New Mexicans are paying the price for oil-company tax breaks and educate the public about politicians who are consistently voting to preserve tax breaks for an industry that raked in $137 billion in profits in 2011 alone.
"New Mexicans need to know that they are not only getting ripped off by high gas prices, they are also being robbed when they pay their taxes as incredibly profitable oil companies get away with billions in unfair tax breaks," said Las Crucen Gloria Gutierrez-Taylor. "This is money that could be going toward education and raising up our community."
OLÉ Education Fund is a 501(c)3 non-profit organization committed to empowering and improving the economic well-being of working New Mexicans.
May 8, 2012 at 02:00 PM in Dona Ana County, Economy, Populism, Las Cruces, Steve Pearce | Permalink | Comments (0)
Elections Matter - GO VOTE!!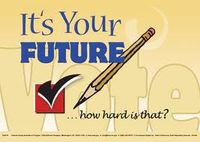 Early Primary Voting begins today, visit this Bernalillo County Website to find out where to go.
The Albuquerque City Councilconvened until 11:45 pm last night. The city council is made up of 5 Republicans and 4 Democrats. The Abq City Councilors are not up for election this year. However, a point should be made regarding our elected officials these days, there is a big difference in elected officials that vote for the corporations and big business and there own interests, and the elected officials who vote for the people, for the betterment of peoples lives.
Watching the City Council meeting unfold last night was yet another awaken. We saw the last of the public TV air waves in albuquerque be gobbled up by the conglomerate Comcast. Comcast has all the other stations and now they have these few stations as well. There is never anything on any of the 100's of stations, and now they have more to fill with dumbed down nothingness. Anything but letting the public message get out even through such a tiny crack as the 4 public access TV stations Albuquerque had until last night. Another victory for the corporations another loss for the people. Thanks to the Republican controlled Council and the Republican Mayor.
The other big loss for the people was the adoption of the sector plan in the Coronado Village area. This is a complex matter which the City Council has been dealing with for some time. Basically it will allow for the people living in an old established manufactured homes community to be displaced in the future for a big box store. It is no wonder the 5 R's voted for the zoning of the land to be returned to the type to allow big box stores like Walmart to move in.
So let's summarize all the losses just in one night due to the Republicans being in power in Albuquerque City Government.
No more public TV access for us, the citizens, the people who own the air waves which the comcast conglomerates are stealing, and the republicans are handing over to them.
Citizens whom have lived in a Manufactured home park, living a modest live, paying there fair share of taxes will be evicted soon for another Walmart to move in.
The big box store Walmart will move in and will not pay their fair share of taxes to New Mexico. Thanks to our republican governor whom vetoed SB9 a bill which would have stopped a loophole used by big box stores to opt out of paying their taxes to this state. SB9 passed the Senate and the House because it is good for New Mexico. Too many republican legislators voted against correcting this tax loophole which harms small business in our state, putting our own NM stores at a disadvantage. SB9 is commonsense bill, which would clearly help New Mexicans.
Here we are in yet another very big election during our lifetime on the planet. Everything is at stake, from contaminating our Earth more to our civil rights to exist in peace. Go vote, get your friends to go vote, get your family to go vote. Elections matter!
This primary election is a closed party affiliation vote. As citizens we must elect the best democratic candidates to run against the corporatist republicans in November. Much is at stake; President Obama's reelection, holding onto democratic control of the US Senate and regaining democratic control of Congress. And here in the state of NM; to maintain the majority in the NM Senate and House. Imagine the unraveling if our NM state house and senate fall into the control of the republicans.
May 8, 2012 at 12:46 PM in 2012 Primary Election, Corporatism, Economy, Populism | Permalink | Comments (0)
Monday, May 07, 2012
Senator Sanchez Announces $23.5 Million State Grant for Los Lunas High School Construction
On May 4th, Senate Majority Leader Michael S. Sanchez (D-29-Valencia County) announced today a $23.5 million grant from the state Public School Capital Outlay Council for the first of two construction phases to rebuild 75 percent of Los Lunas High School.
"The Los Lunas community has worked closely with the school district and the state to develop a new facility that will offer our students and teachers a first rate learning environment now and in the future," Senator Sanchez said. "It's been an effective team effort, with the state providing 80 percent of the construction funding, contingent on local matching funds of about $5.9 million."
Construction is expected to begin in early June, with the demolition of half the high school, and the construction of two new multi-story buildings. New facilities will include a cafeteria and kitchen, classrooms, science lab, vocational lab, computer lab and offices. Existing buildings will be renovated to include new fire protections systems, plumbing and electrical systems, along with new interior walls, ceilings and floors. This first phase of construction will be completed by late fall of 2013.
A second construction phase, to replace most of the remaining facility, will begin in early 2014 for completion by summer 2015. The current gym, auxiliary gym and performing arts center will be preserved.
"The current high school campus has had ten or eleven additions and renovations over the years," said Senator Sanchez. "As a result, program design and the use of space at the high school weren't optimum, which this design and construction will correct. The new facility will be safer and more functional…and will deliver the educational program that our community determined that it needs."
The new high school will have classroom space for 1,500 students in grades 9 through 12, while the core of the campus will be built to accommodate 1,800 students. Current enrollment is 1,358 students.
May 7, 2012 at 01:29 PM in Democrat, Economy, Populism, Education, Jobs, NM Legislature 2012 | Permalink | Comments (1)